The dogs out and about
28th December 2017
The very talented Ffiona Erskine visited and took some gorgeous photos of Kelly and Jake. Ffiona has previously taken many special photos of their mother Pria.
Here is Jake looking all handsome at 7 months old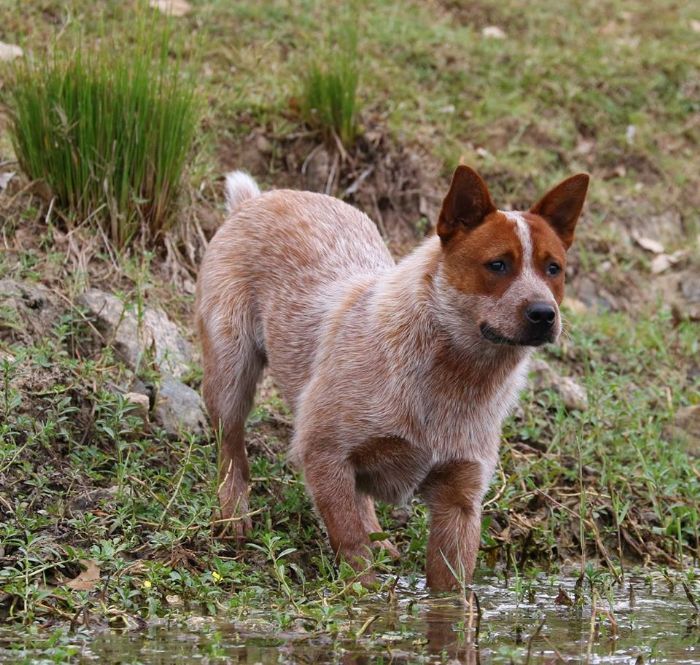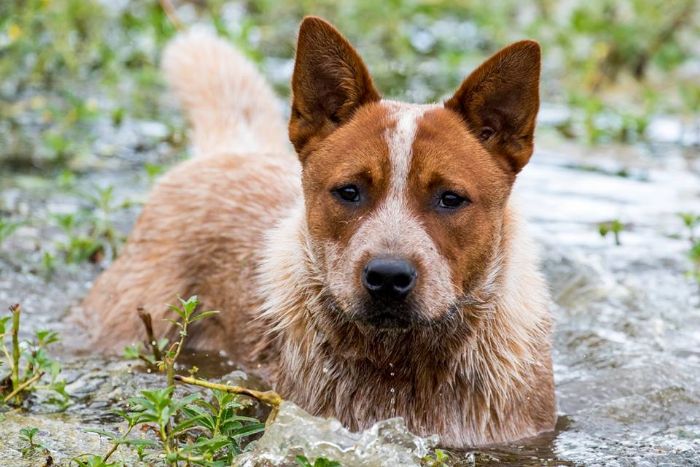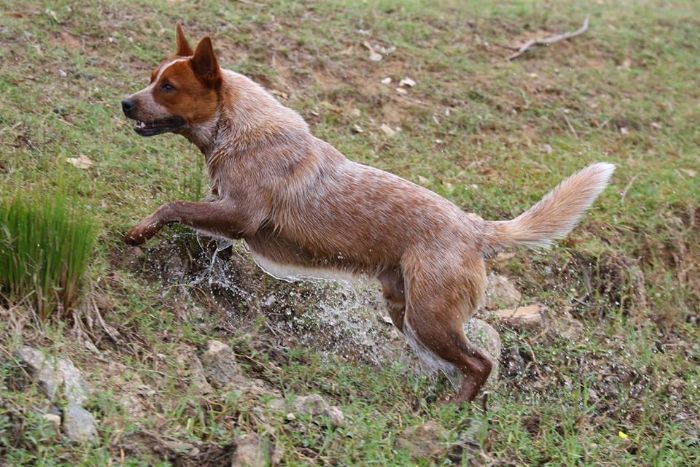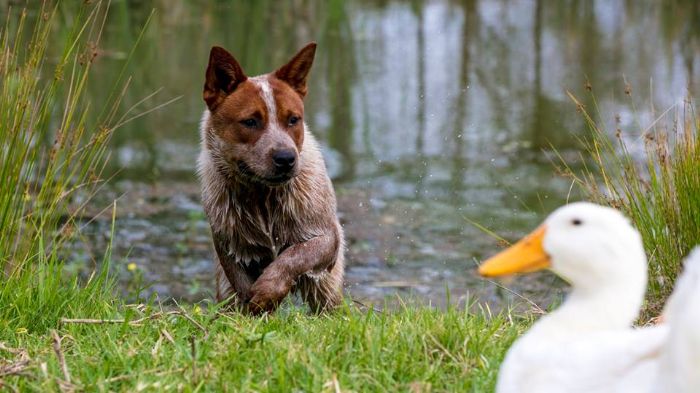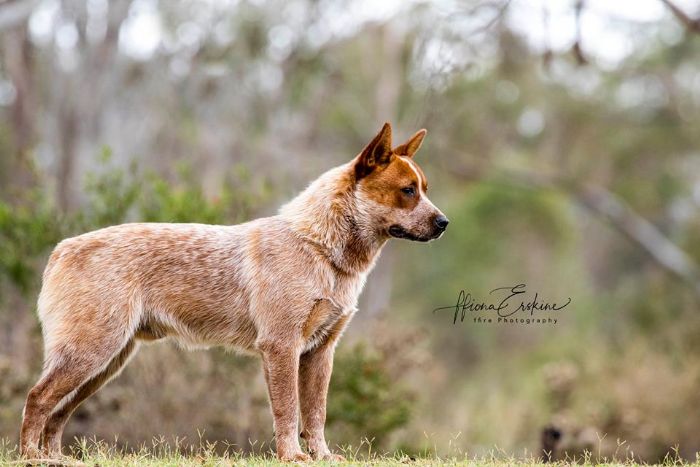 Kelly is 5 weeks pregnant so before her belly gets too big she showed off her skills to Ffiona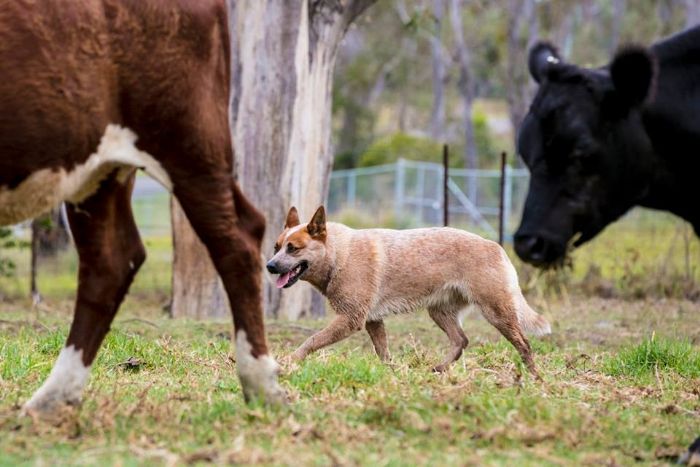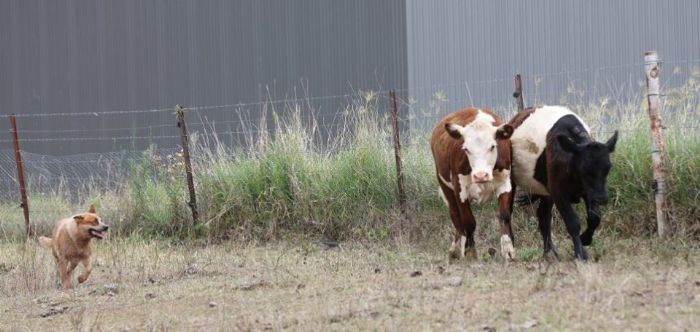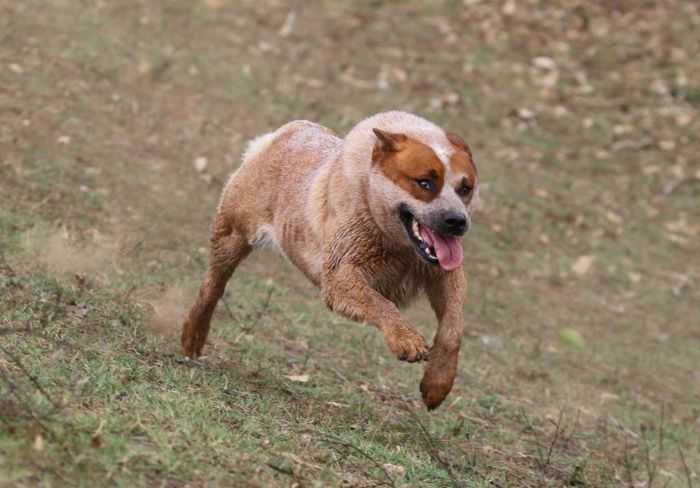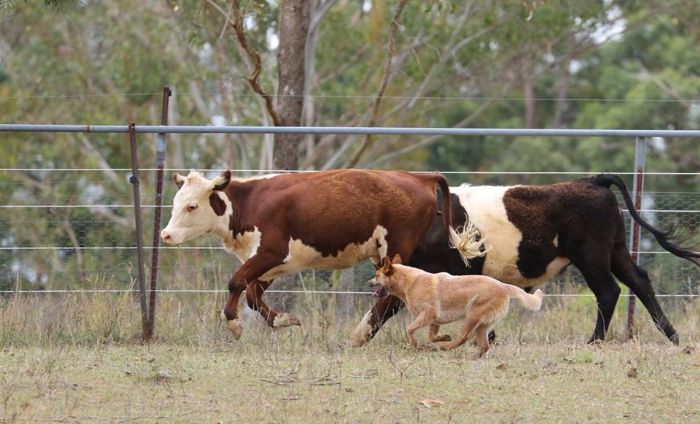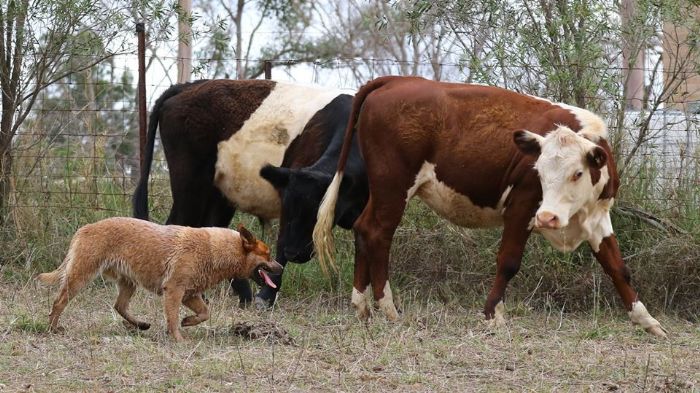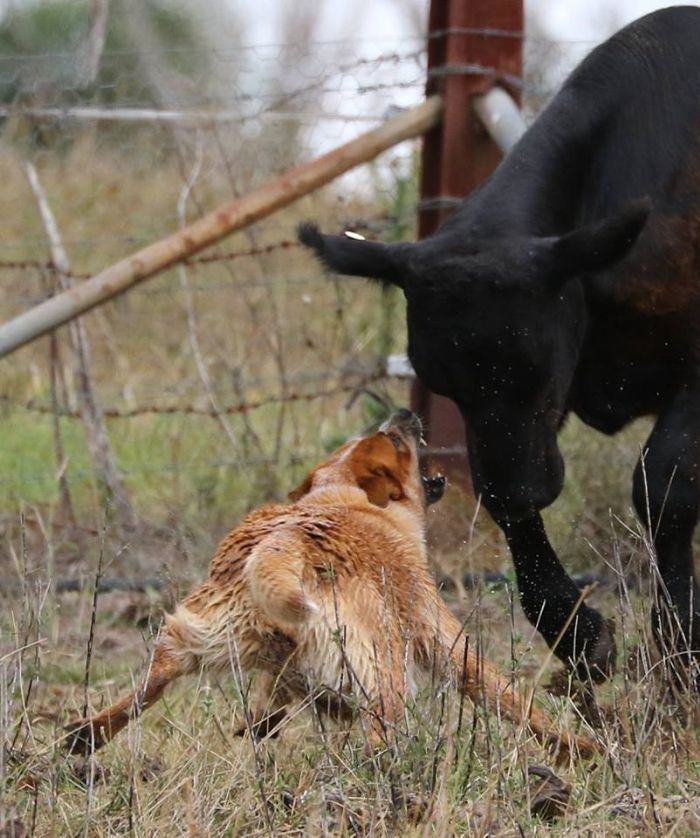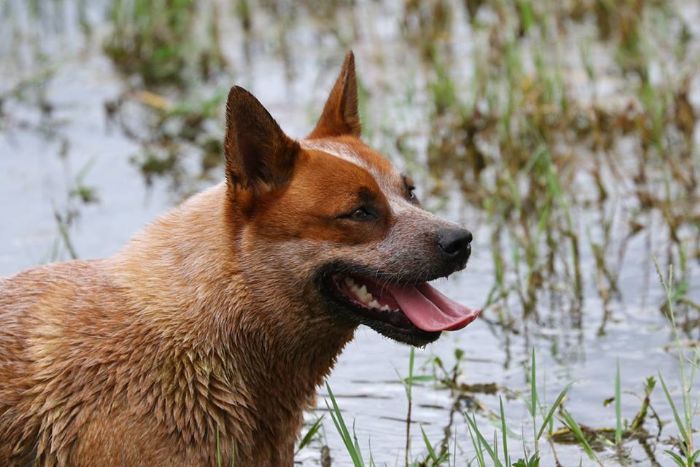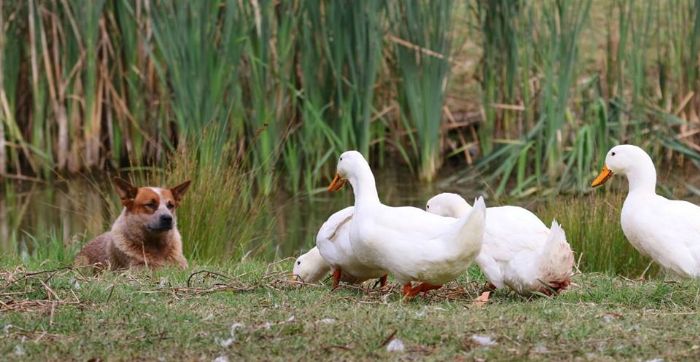 25th December 2017
Merry Christmas from the Erudite Dogs! We hope you have a lovely time with friends and family, both of the skin and fur variety!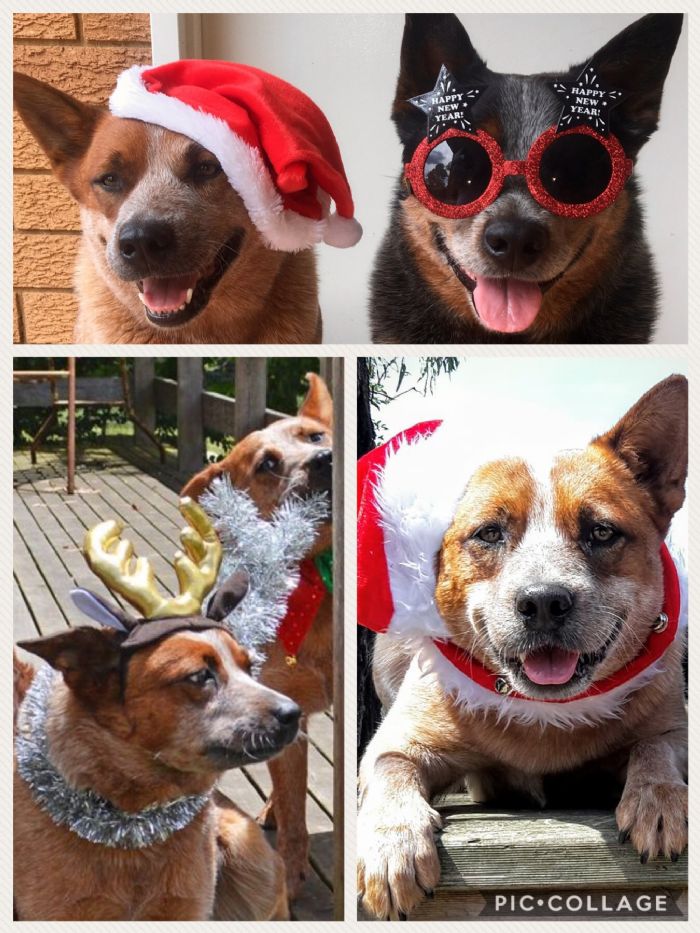 20th December 2017
Two confirmed pregnancies. Very excited to meet both these litters when they are born,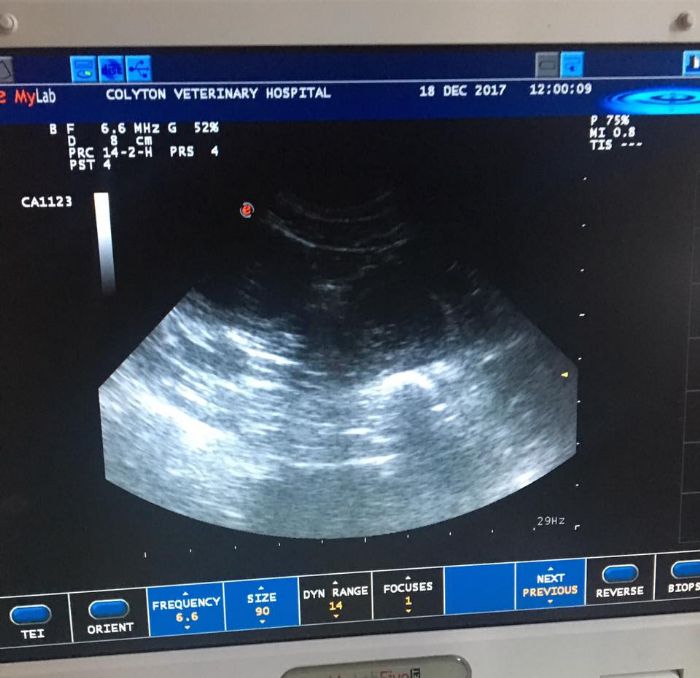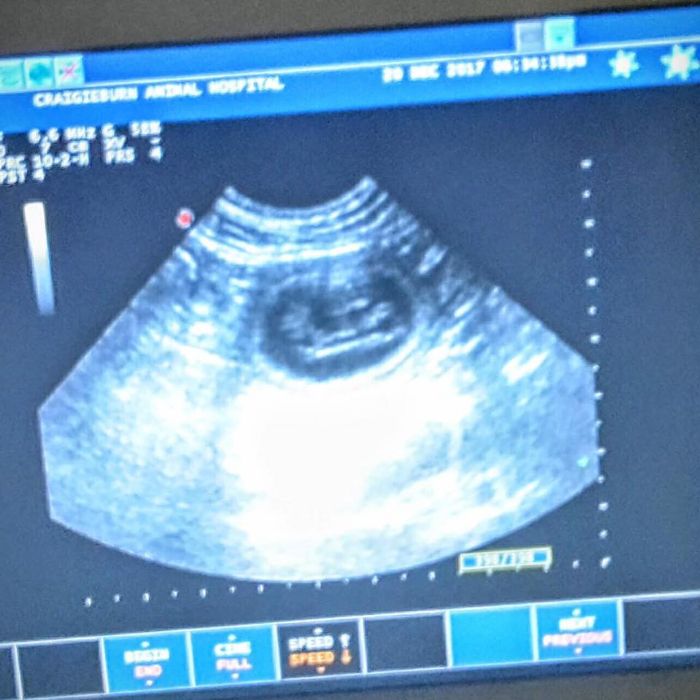 17th December 2017
Some new ducks at home and Kelly is making sure they learn to share their food. Part of my aim is to breed lovely dogs to have around a property which dont upset livestock.
16th December 2017
Pyro and CJ enjoying some time in Gippsland, Victoria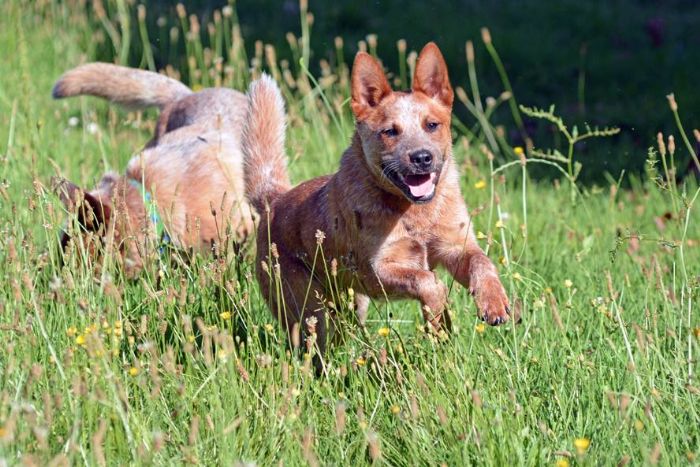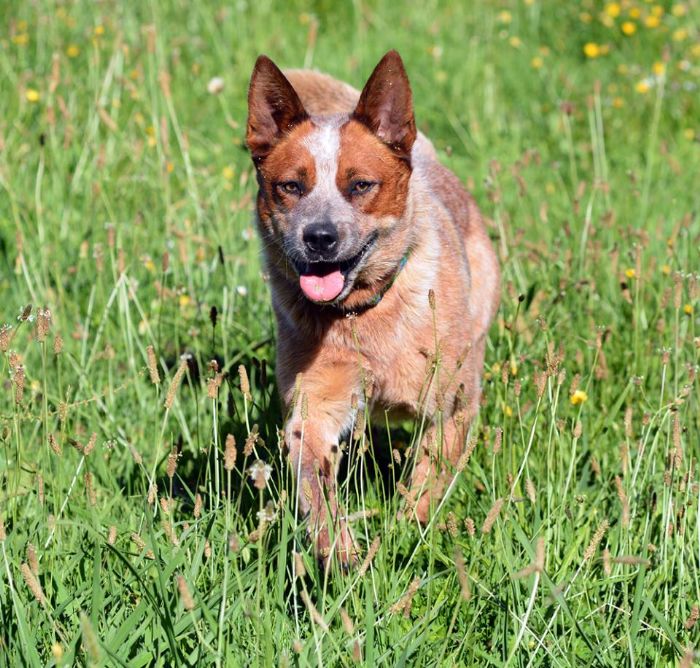 4th December 2017
More photos of some of the dogs at the clinic in Warragul, Victoria.
CJ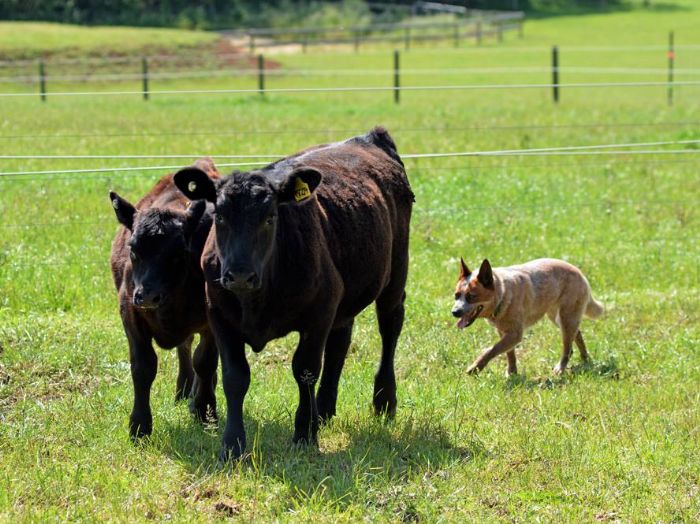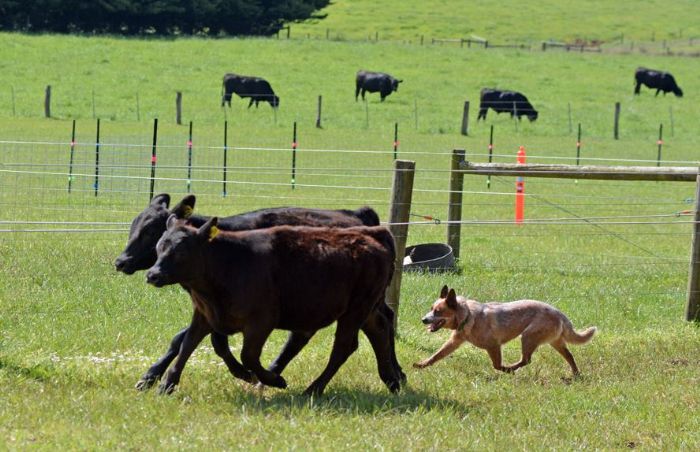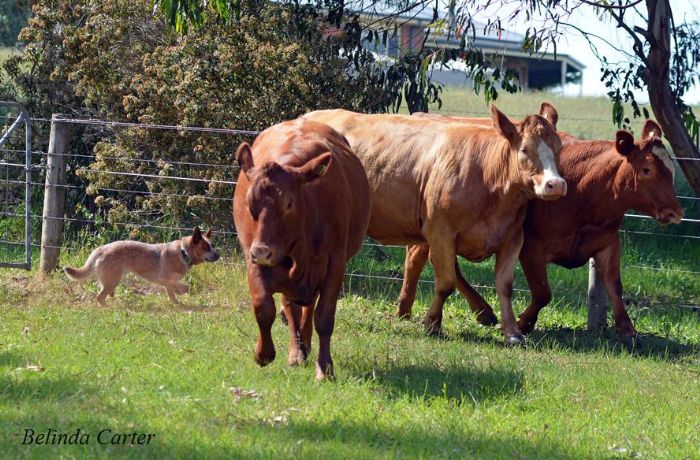 Esme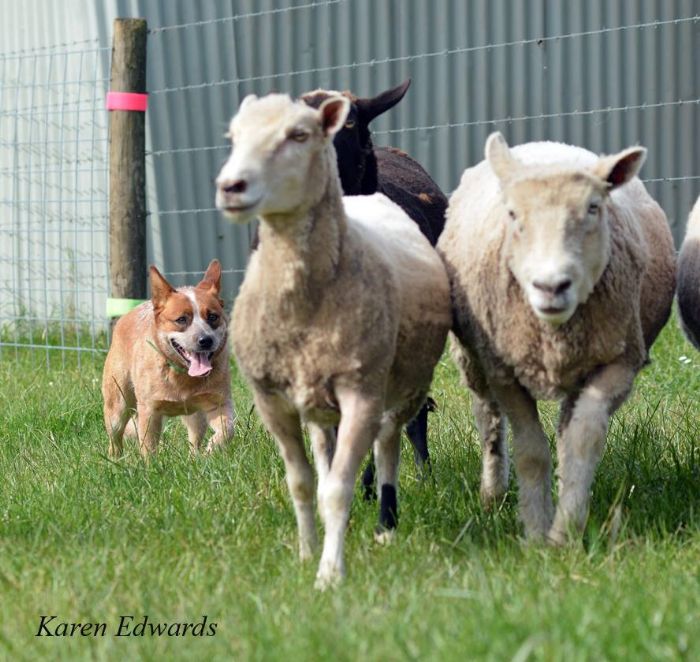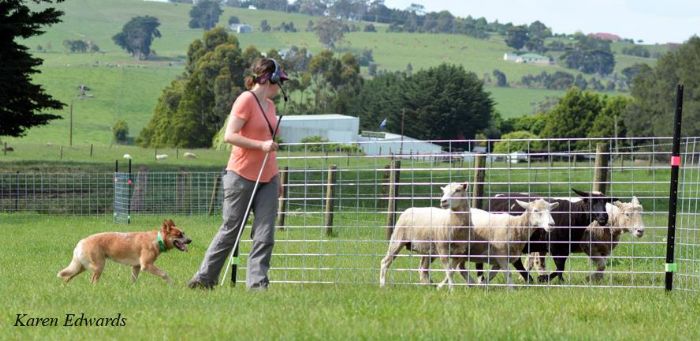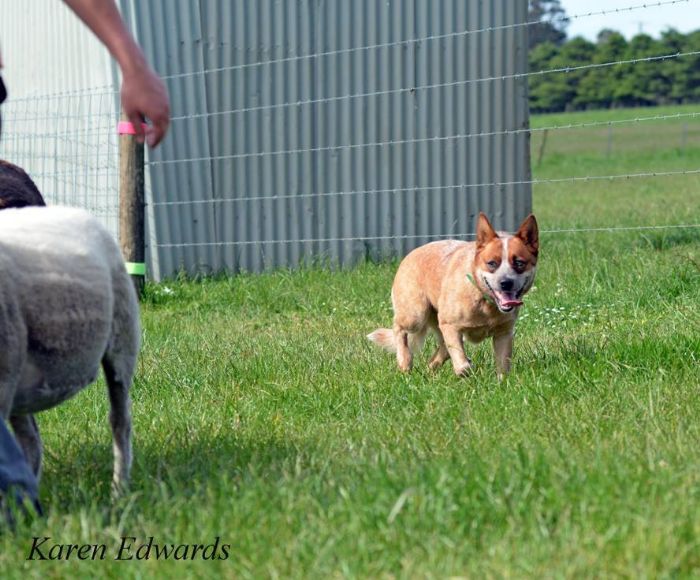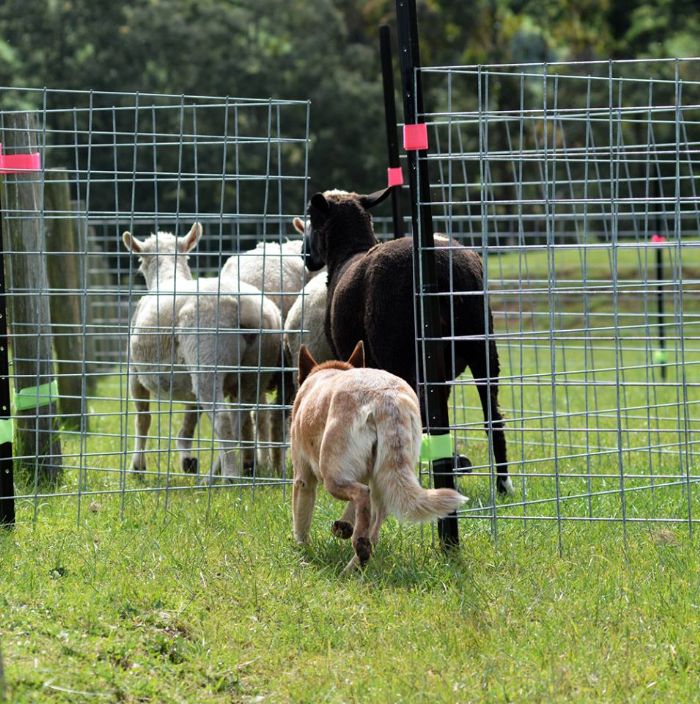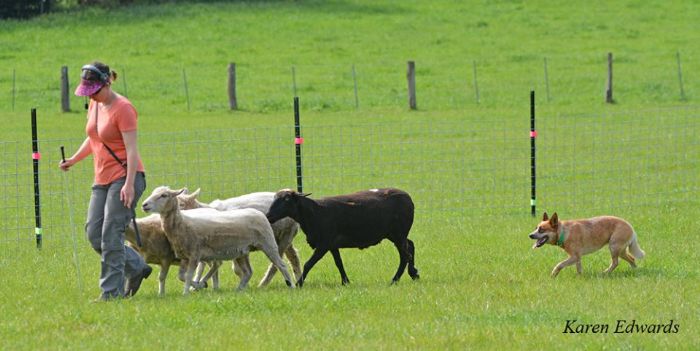 Kelly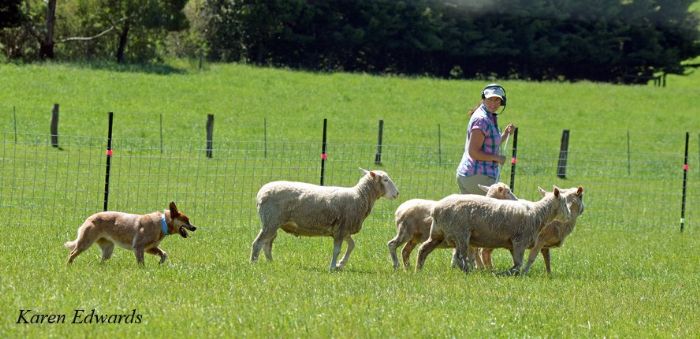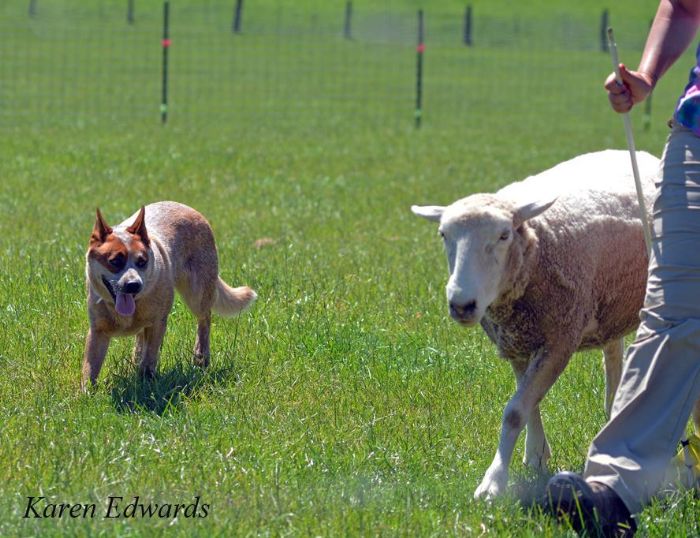 Zac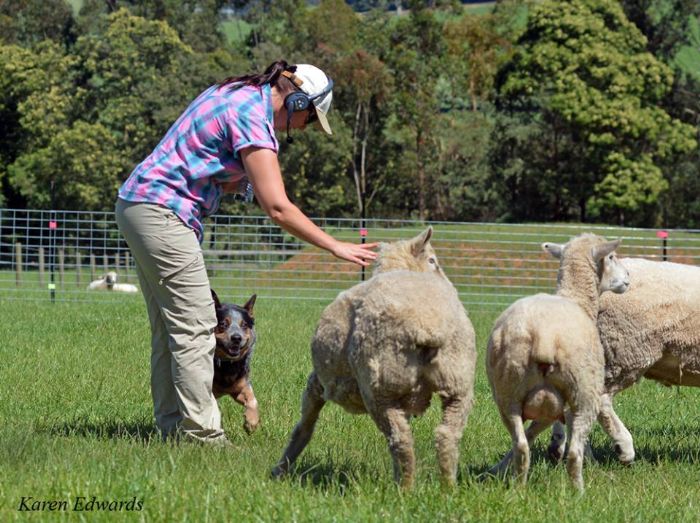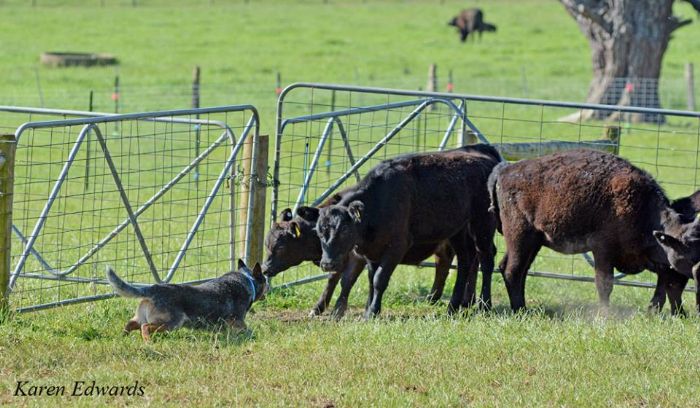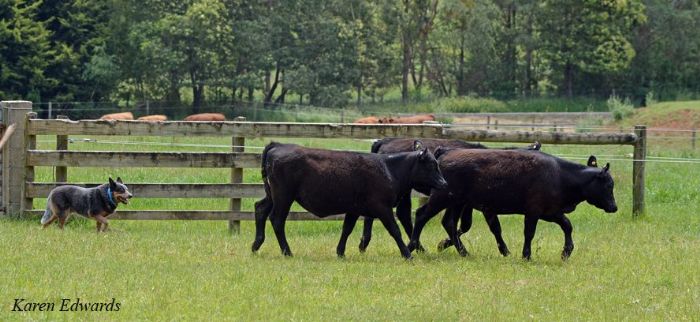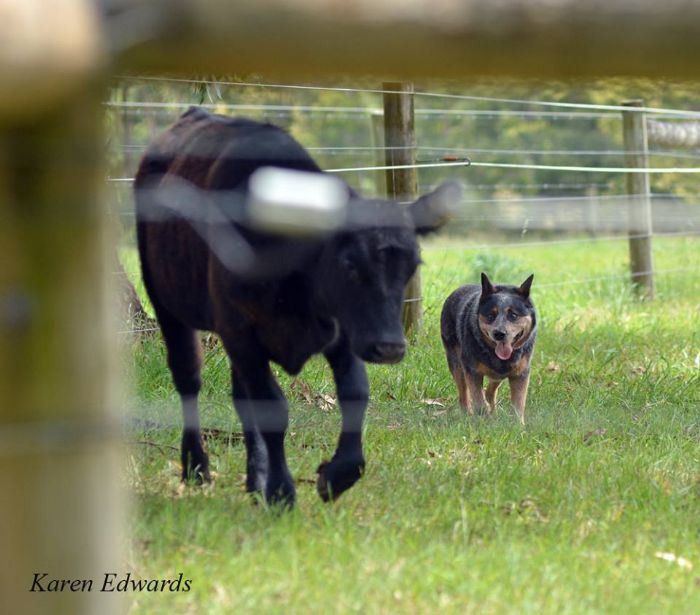 24th November 2017
Excited to announce both Kelly and Esme have been mated. Kelly has been mated to Ted (Ch Willowpark Bush Tribute RN HSAs) and Esme as been mated to Rowdy (Kylies Good Onya Rowdy USA) via artificial insemination with frozen semen. Both are due the last week of January.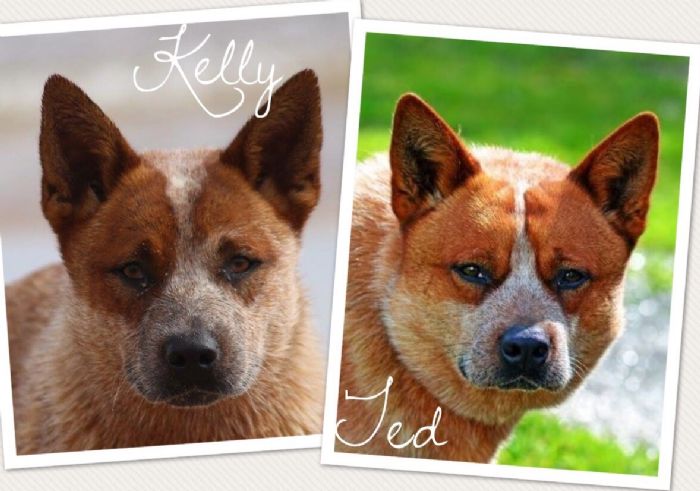 Kelly's pups should be great workers with lots of natural heading ability and athleticism. Esme's pups are bred along a well proven cross, and we anticipate they will be super trainable, all round dogs.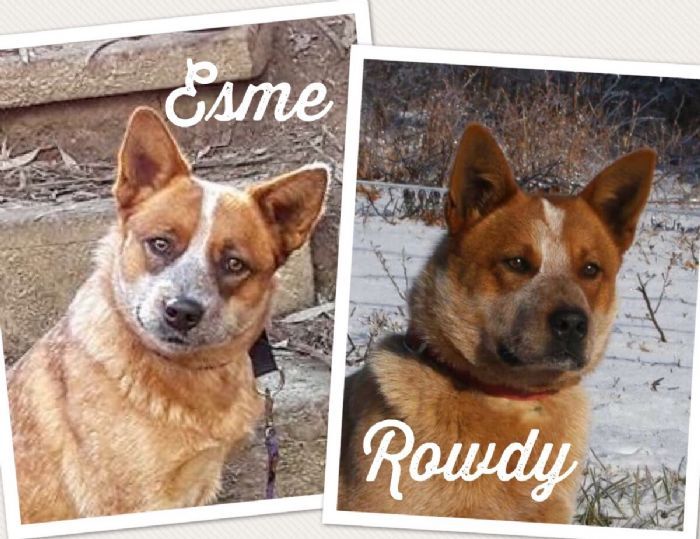 12th November 2017
CJ, Kelly, Esme, Zac, Jake & Pyro are all attending a clinic with Canadian Lynn Leach. Lynn has trained many Aust Cattle Dogs to the advanced levels of herding. It was very nice to have Lynn say she really liked the dogs because they are friendly, social dogs who are also good workers. More photos to follow but here are a few.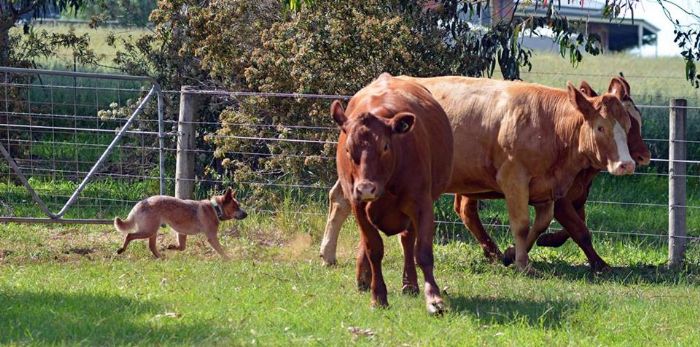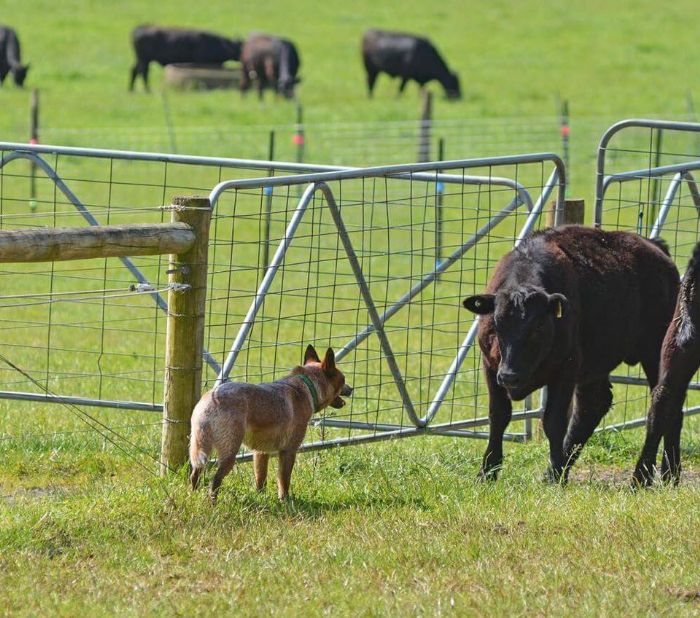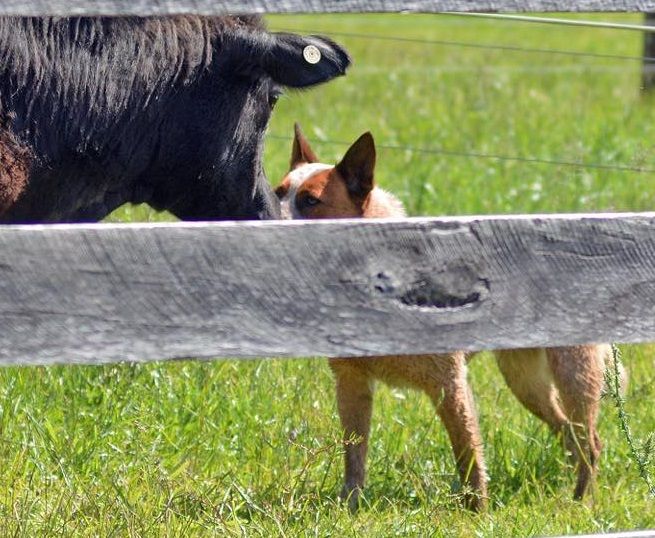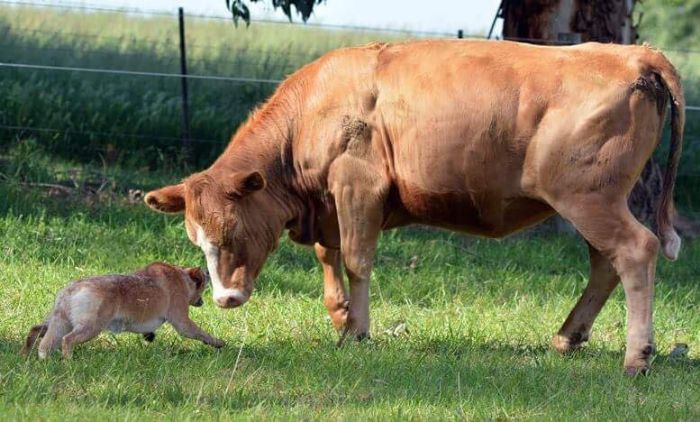 9th November 2017
Esme showing off her yard dog skills. Motherhood is now beconning her but next year we cant wait to see her Yard Dog Trial more.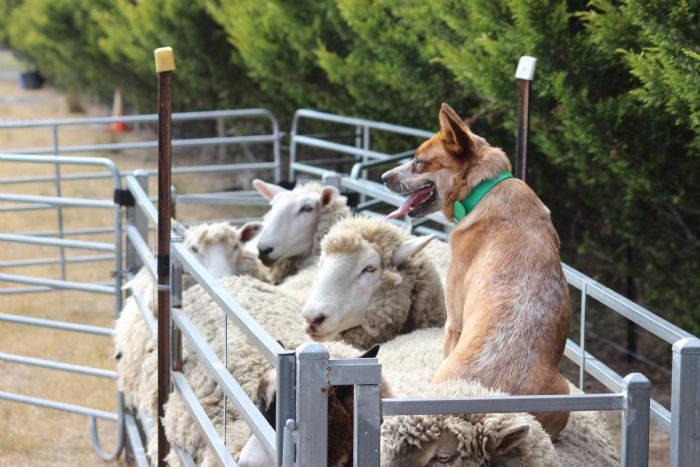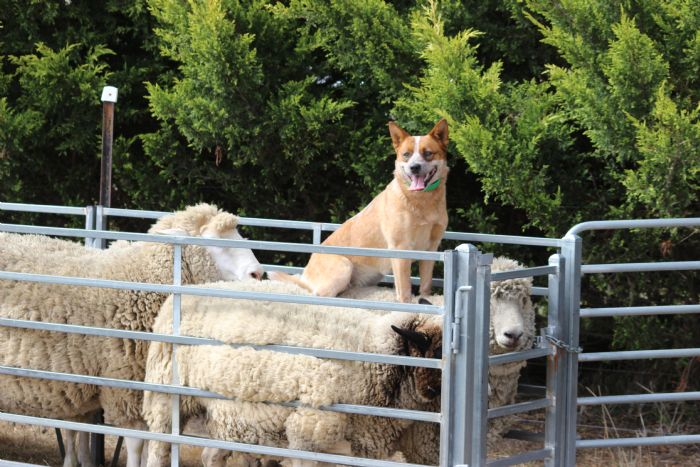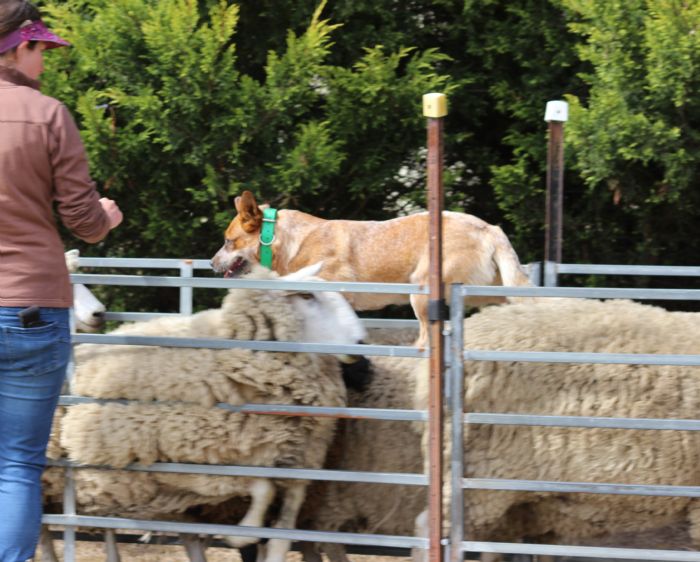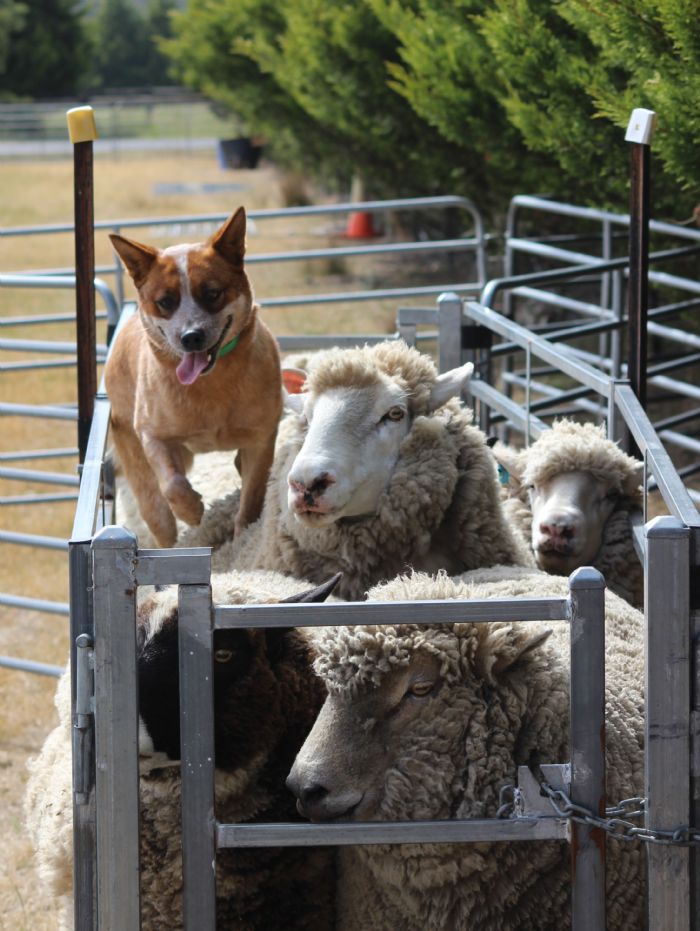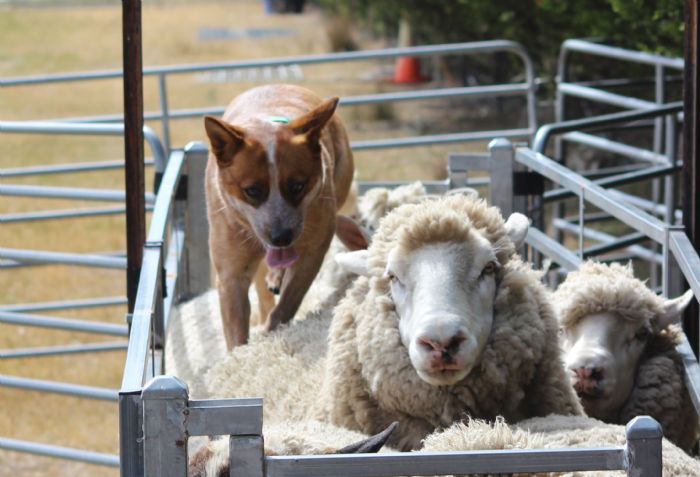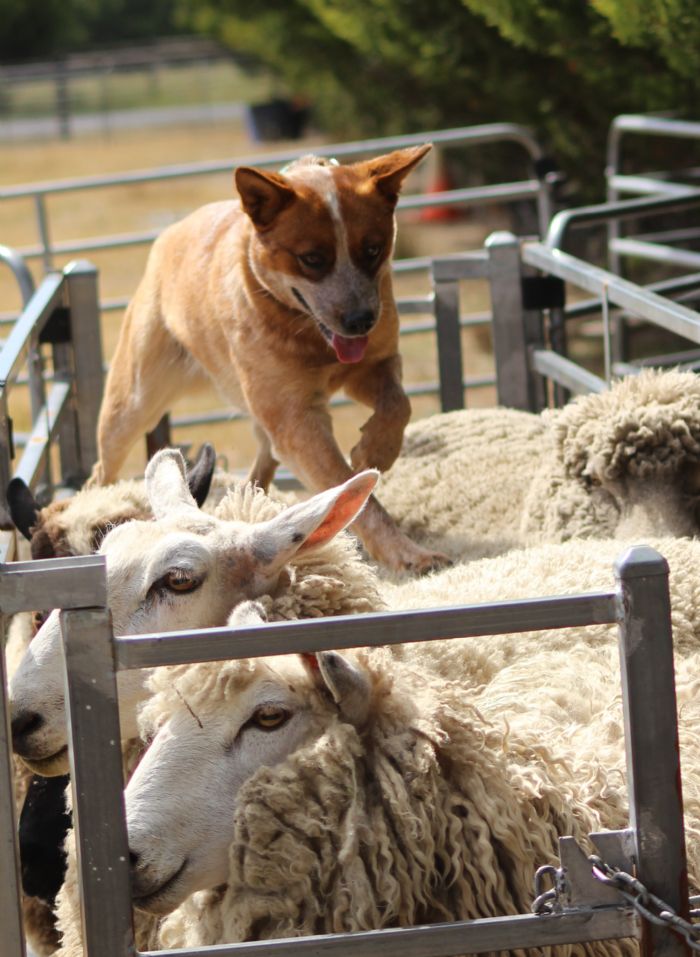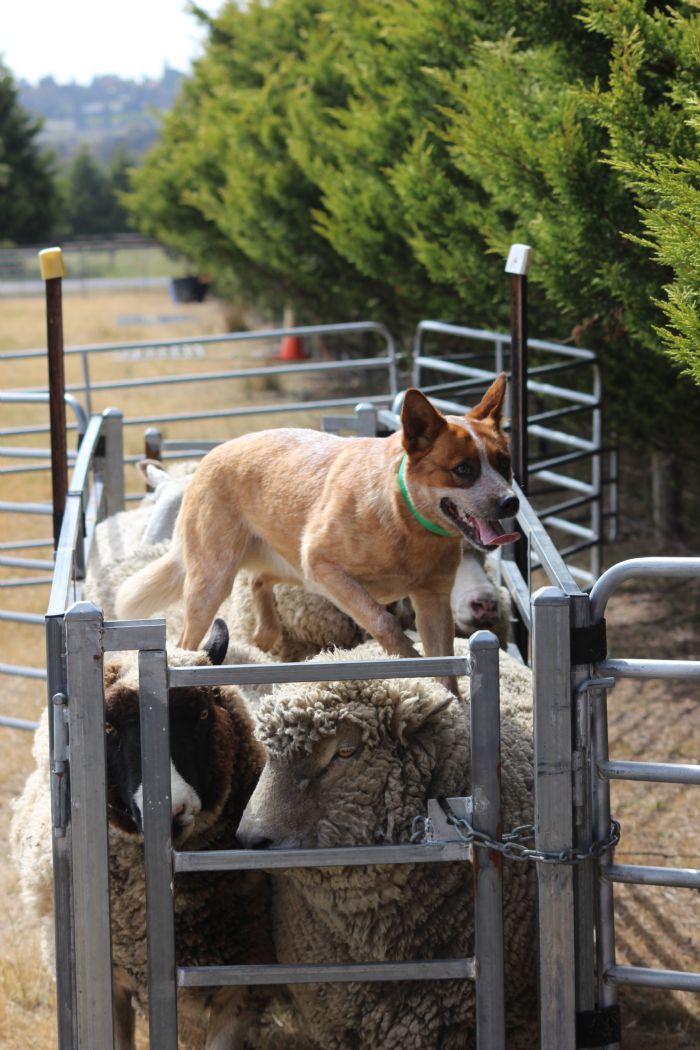 5th November 2017
Meg won herself a Best Baby Puppy in the Working Dog group at the Albury & Border Kennel Club.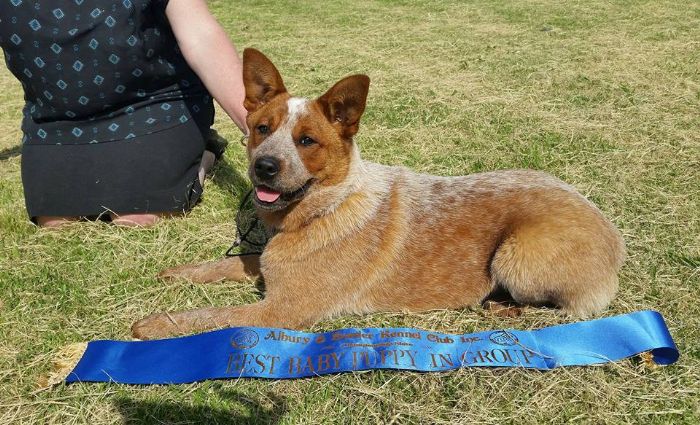 4th November 2017
Esme entered her first ever yard dog trial at Murchison, Victoria and got around the entire course and posted a score of 30! This is such an achievement to have one of the dogs out in the stock dog world and doing pretty well. Esme is still only 1 year old so the future is looking so bright! Yard trials are dominated by kelpies, and the dogs must collect and move sheep through a variety of yard, jumping up on their backs if necessary.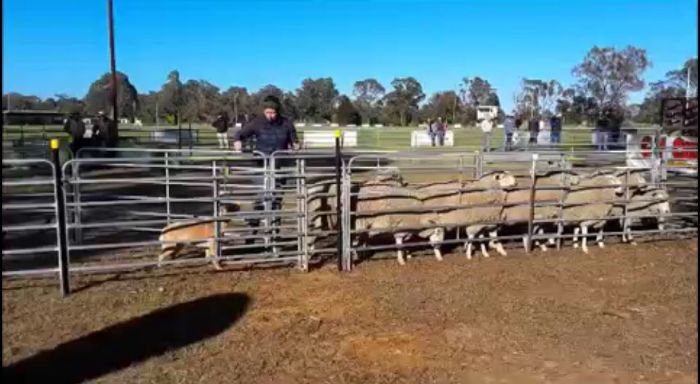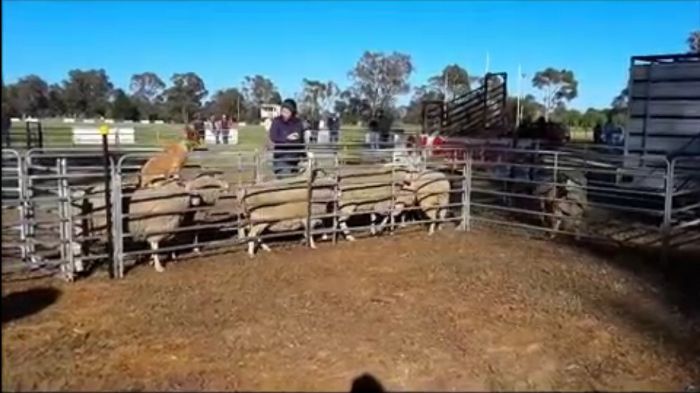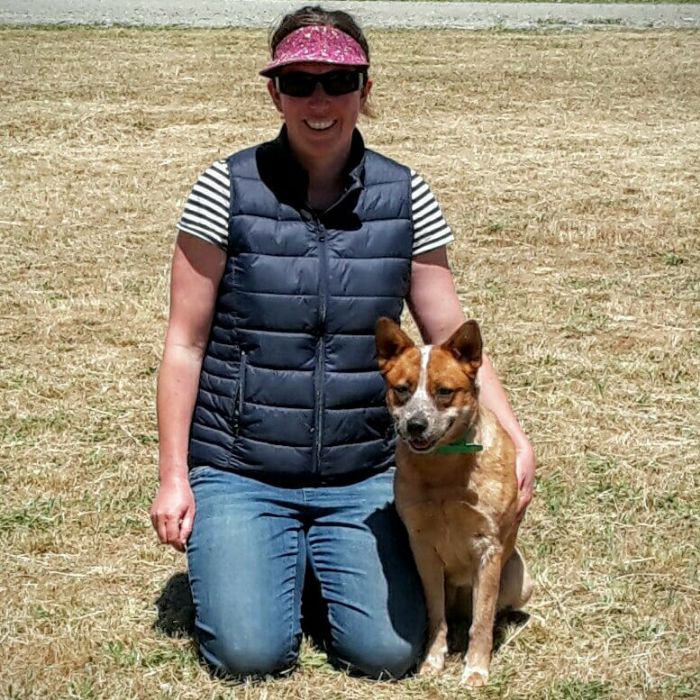 30th October 2017
Extremely excited to announce that Zac has become a Dual Champion! He finished off his Rally O Champion title at the Brush Farm Double Trial, with a 90/100 and a 98/100! This means he is a 'show' champion and a 'performance' champion. To gain this title he has worked his way through RN, RA, RE & RM titles, then gaining another 10 passes at RM level with a score 90 and over.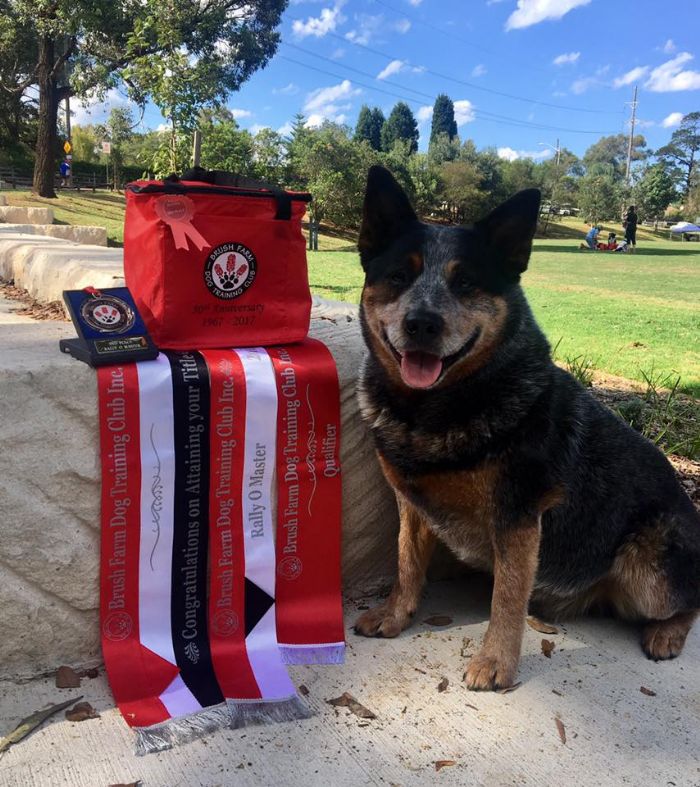 23rd October 2017
What a great weekend at the NSW Border Collie Club Duck Herding trial. Kelly is only a year old but her first duck trial she scores 91/100! Zac also did really well scoring 92/100 to almost win Runner Up High in Trial (just lost on a countback) to working kelpies! Zac now has his Novice title on all 3 stock types. Cannot wait to run him in Intermediate next year. Kelly finished the weekend with 2 passes of the required 3 for her duck title.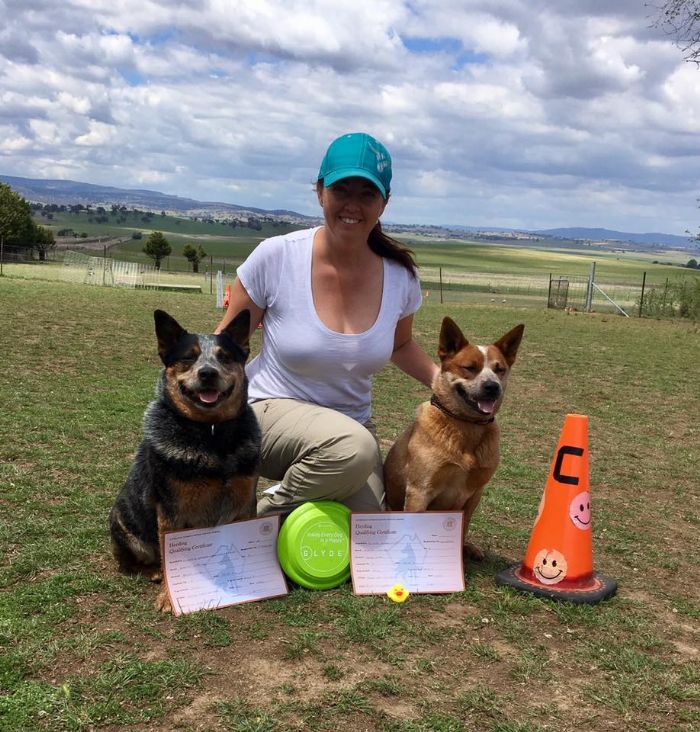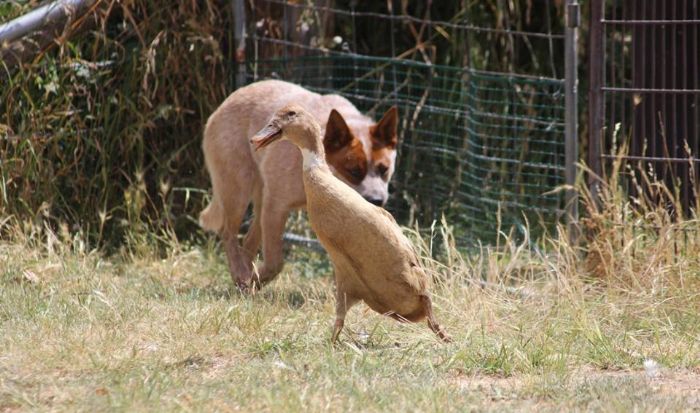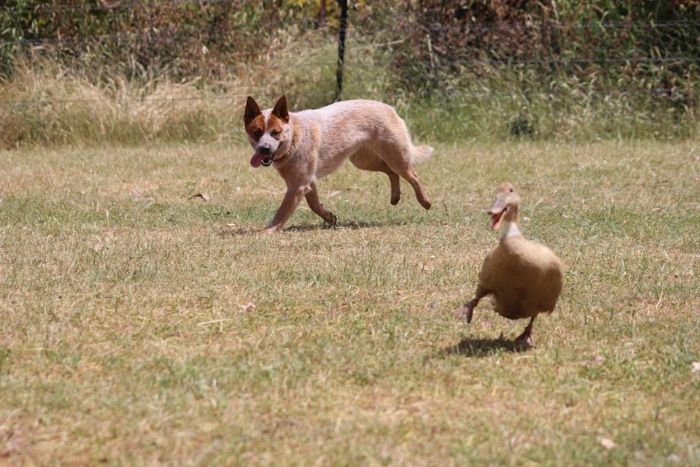 22nd October 2017
Handsome Maverick! He is from Tess and Mick.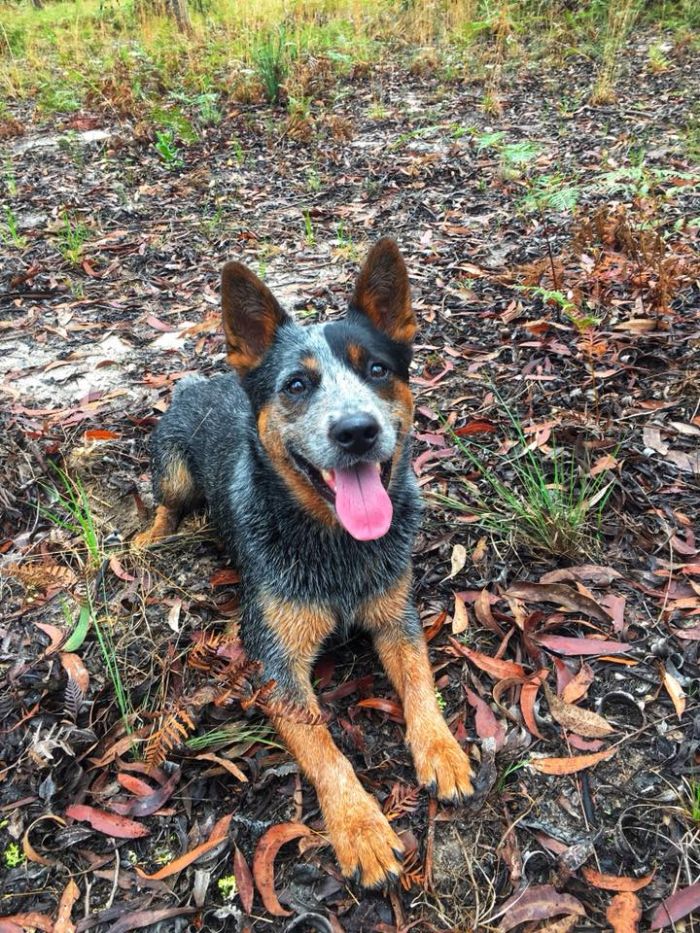 Meg is also filling out and is almost a carbon copy of her sire Rowdy at the same age. Nicky says she is doing really well at her obedience classes for the youngster she is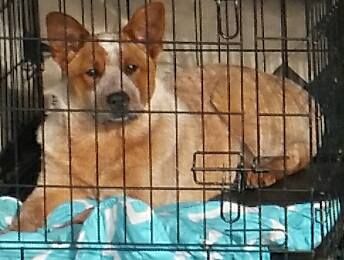 Her litter brother Jake is also having a great time as Hannah took him for a road trip to Mt Gambier in South Australia.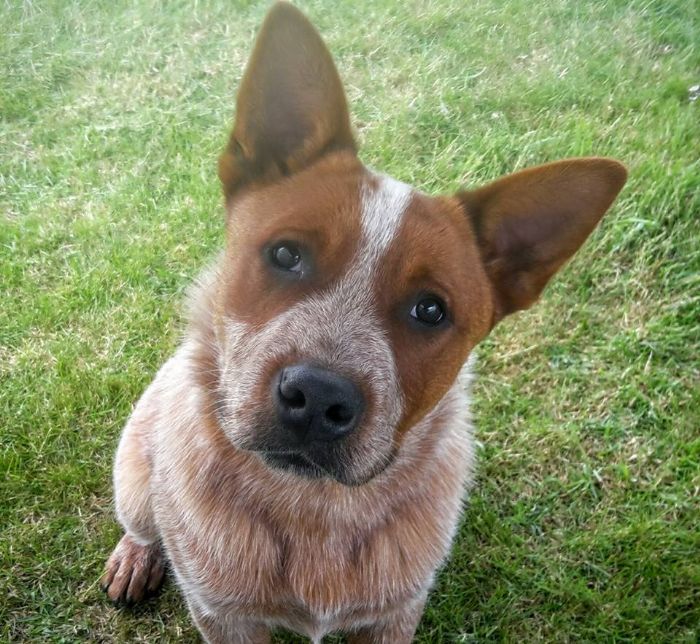 20th October 2017
The IPO training is coming along in leaps and bounds for Holly in South Australia. Holly is 1yo so her future is extremely bright!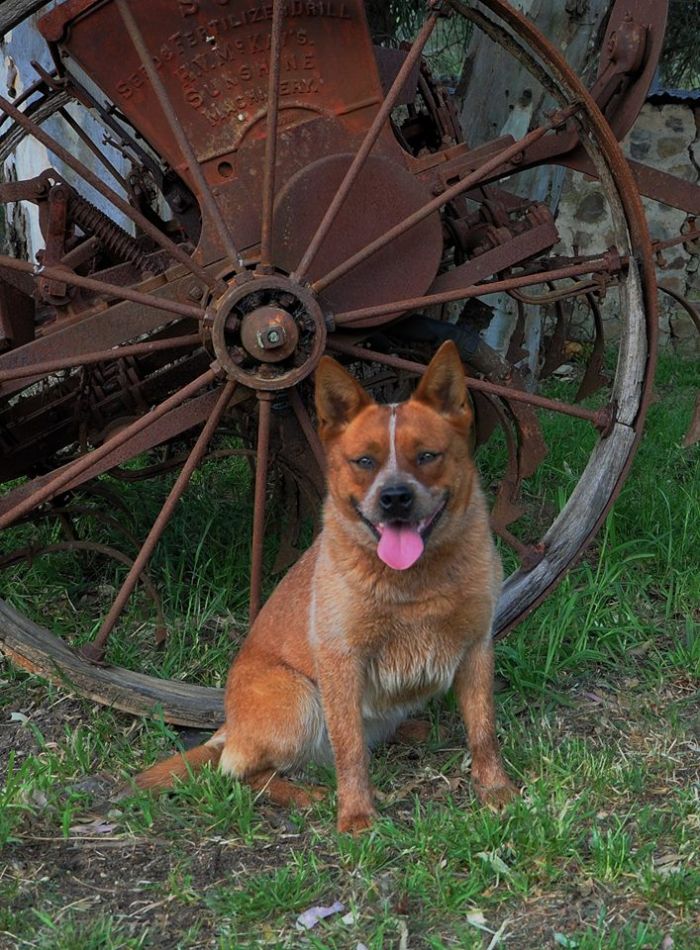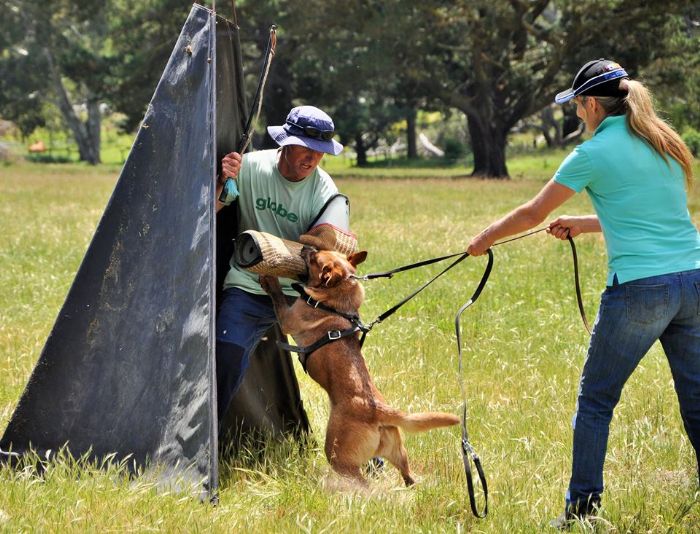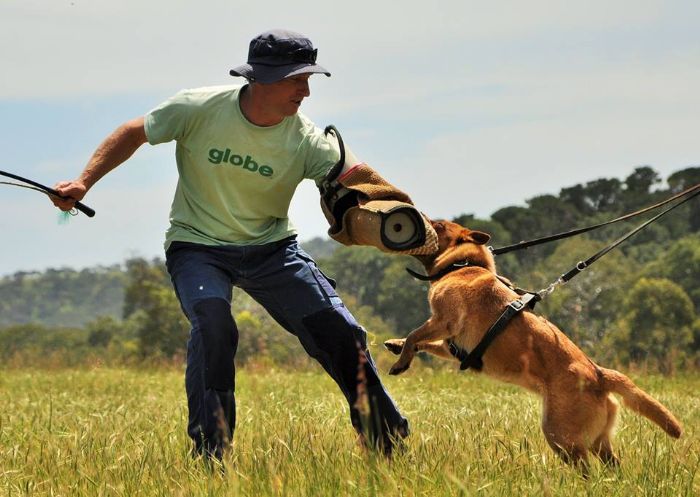 19th October 2017
Jax is almost 2, and growing into a handsome young man. He is from Mick & Tess.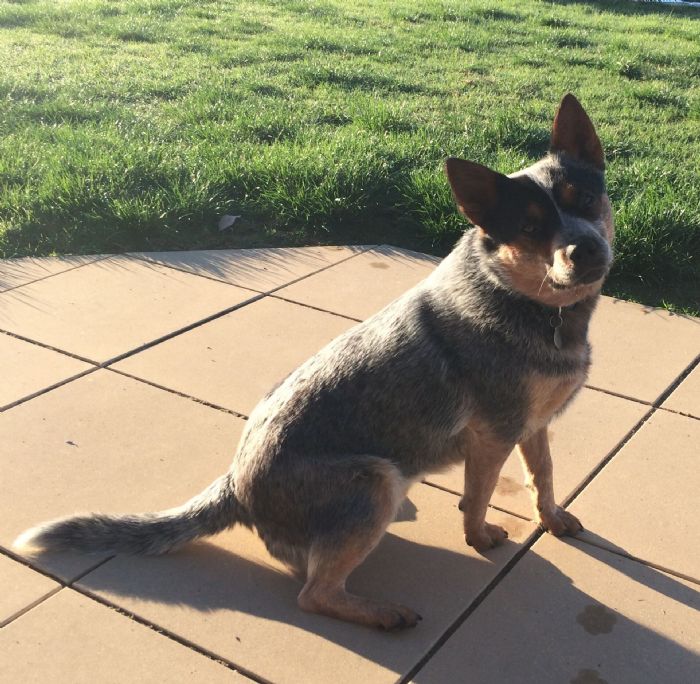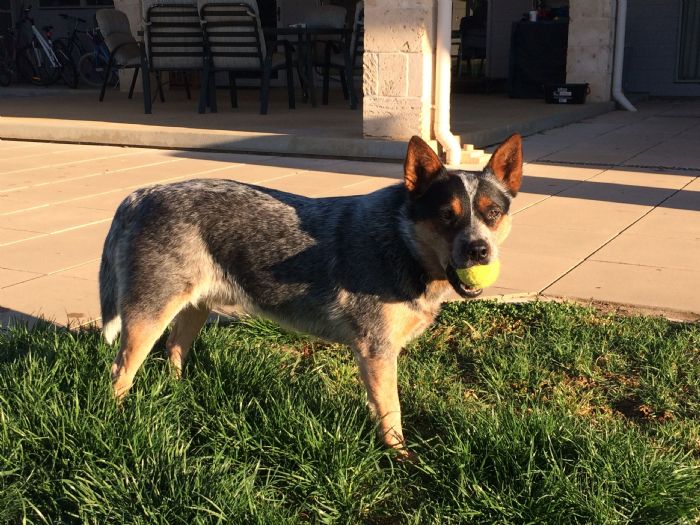 Meg is also growing into a strong, feminine girl. Almost 5 months old.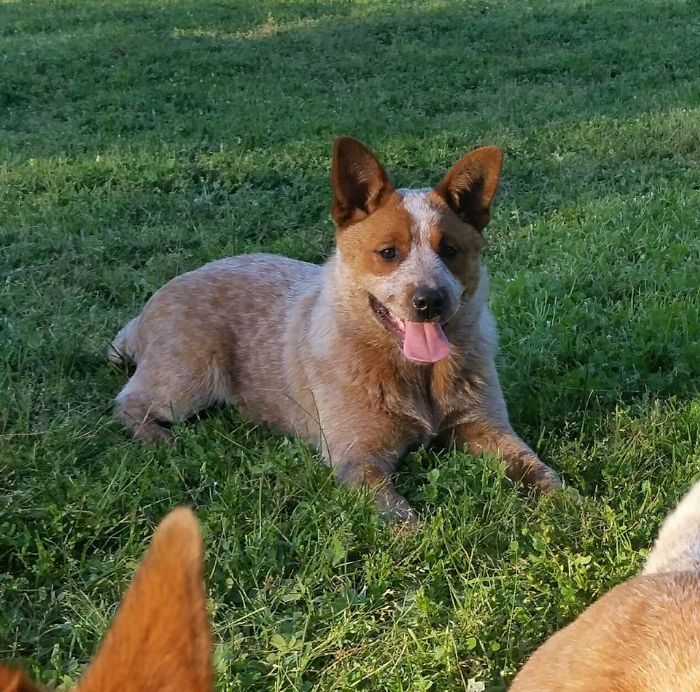 FInally, showing off her amazing athleticism which helps her be the amazing young herding dog she is, is CJ. Flying high for the ball!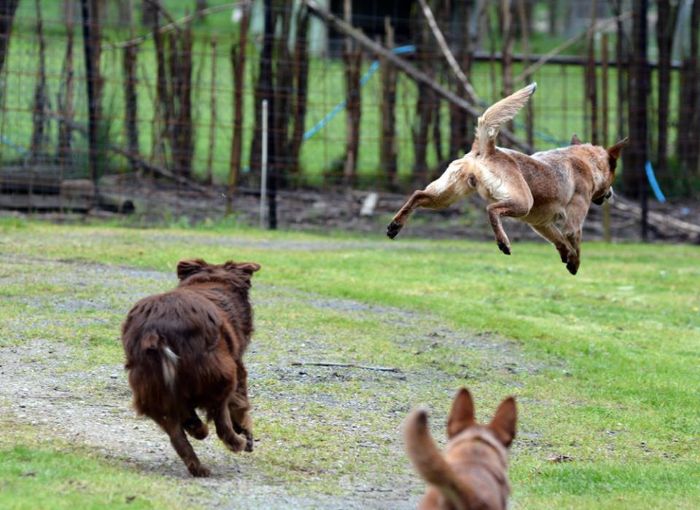 16th October 2017
Slow to update this website of late due to overseas travel but recently Esme won High In Trial at her first ever sheep trial with a score of 98/100 and CJ went Runner Up High in Trial with 97/100. This was against border collies, kelpies, coolies and many other breeds. In the past 2 trials the girls have won 3 of the 4 High in Trials and Runner Up High in Trials.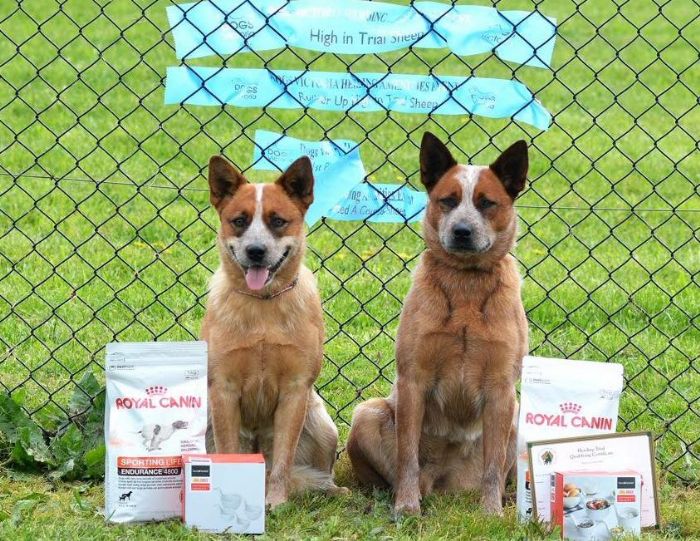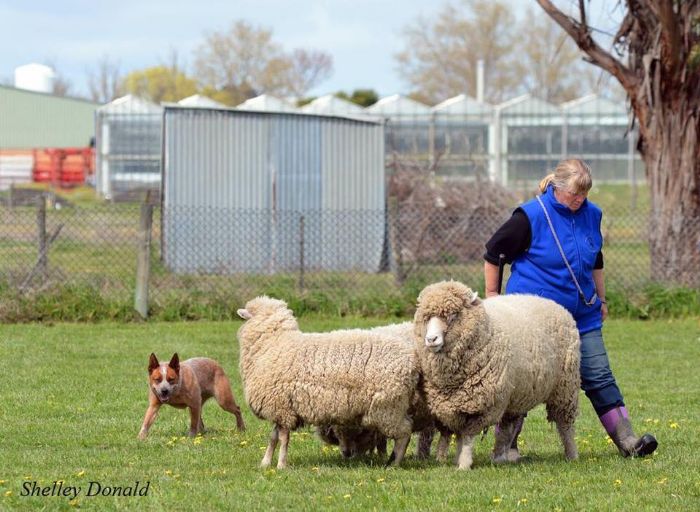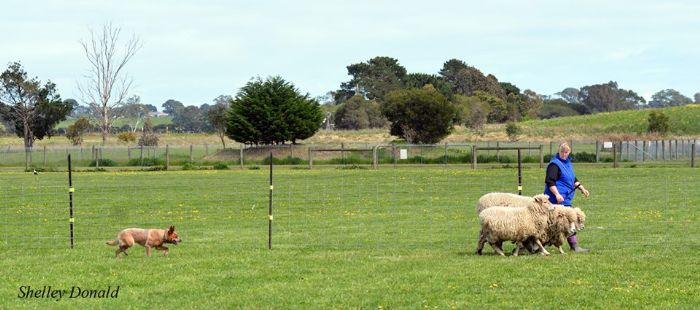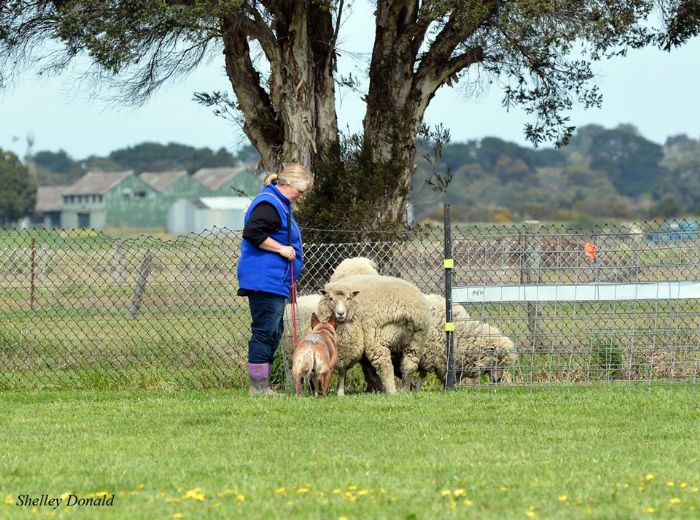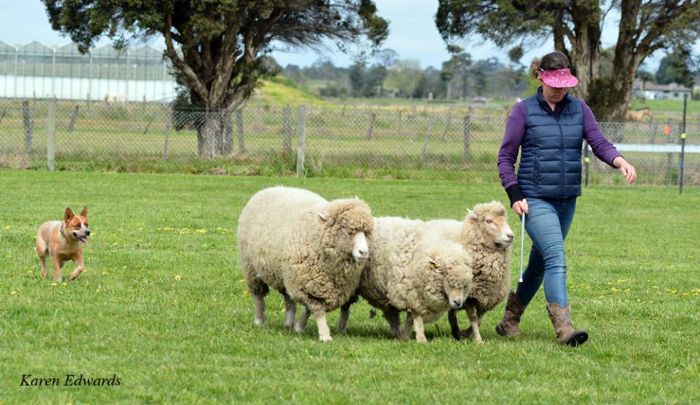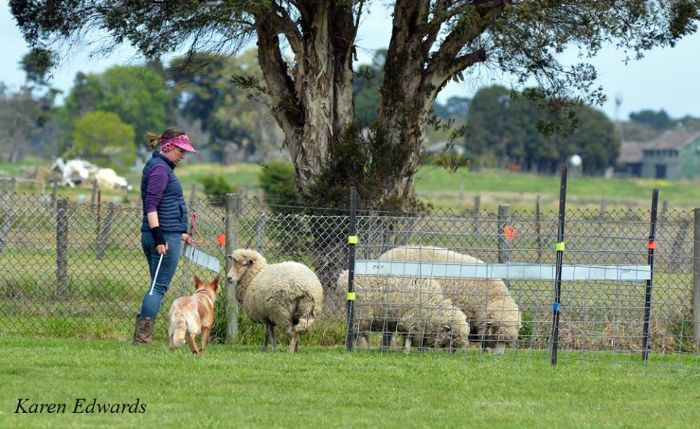 17th September 2017
Meg and Jake attended their first Specialty show, the ACD Club of NSW September Specialty. Both Meg and Jake won their respective Baby Puppy classes against much older competition, and ran off against each other for Best Baby Puppy in Show, with Meg beating Jake. It was so much fun and I was so proud to see both litter mates win their classes.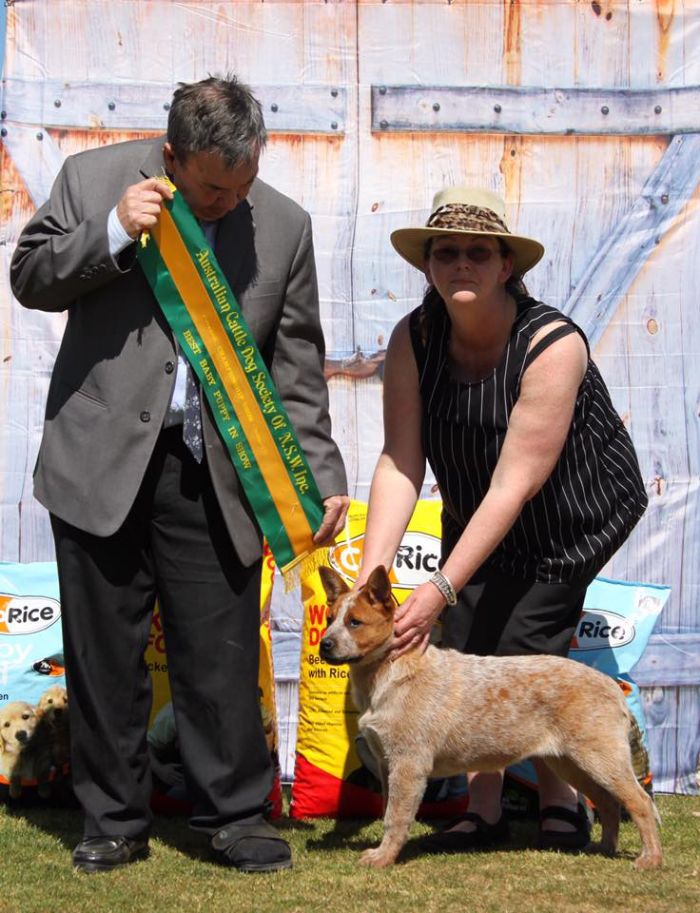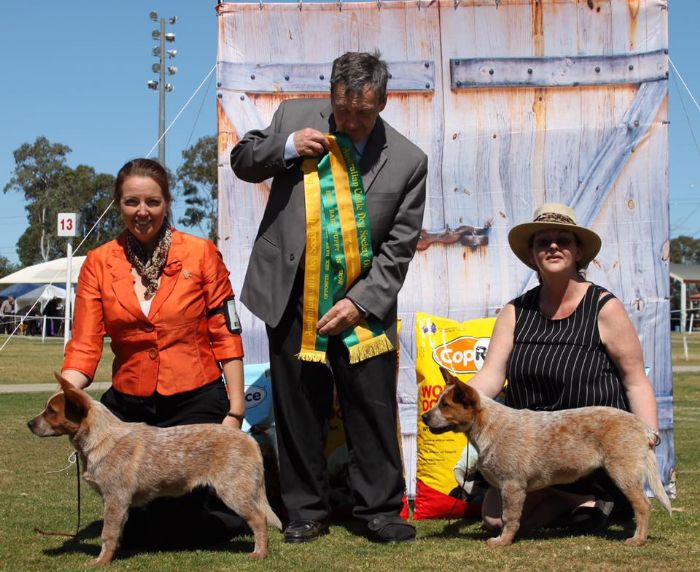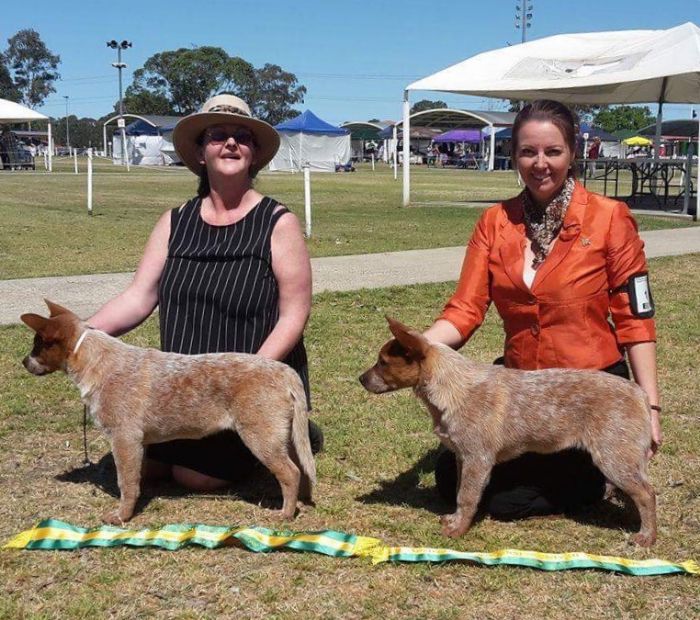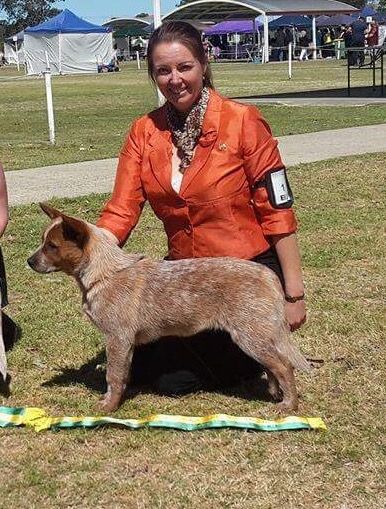 Jake is such a trainable puppy, only his 3rd show at 15 weeks old and not much training
After the show it was nice to go home and work Kelly and Esme on the cattle again. We are teaching them to walk up on stock in a calm, controlled manner, and also to steer the cattle from a distance appropriate enough not to upset the cattle. Both girls are more than willing to get in and push hard but we only want that to be employed when needed.
16th September 2017
Esme & Kelly have been training well on sheep, cattle & ducks. Here are some training videos, where we are working on style and control of stock.
13th September 2017
This stunning painting was done by Holly's owner Sharon. This is of Pria and will take pride of place on the wall.
Sharon does commissions, and specialises in animals and rural landscapes -
https://sharoncampbellsmithsart.com/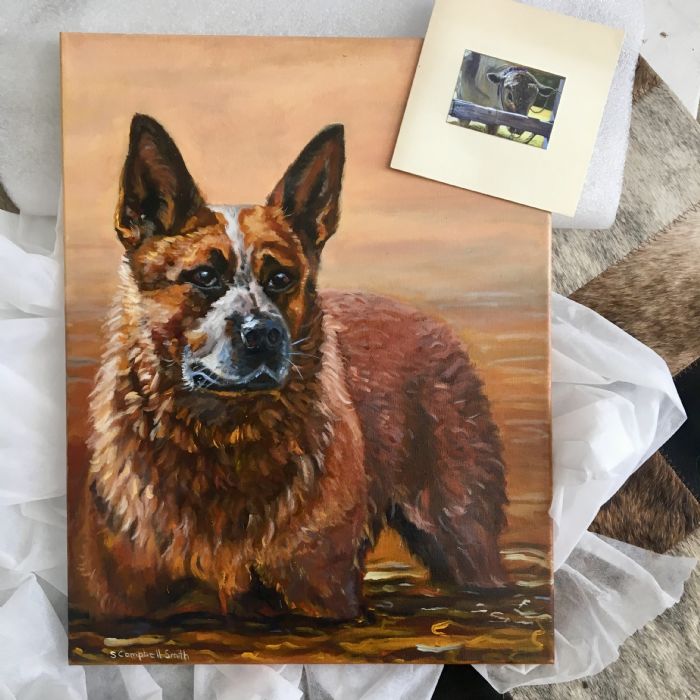 12th September 2017
The title certificates are starting to become numerous, with CJ's PT herding title breeders certificate arriving today.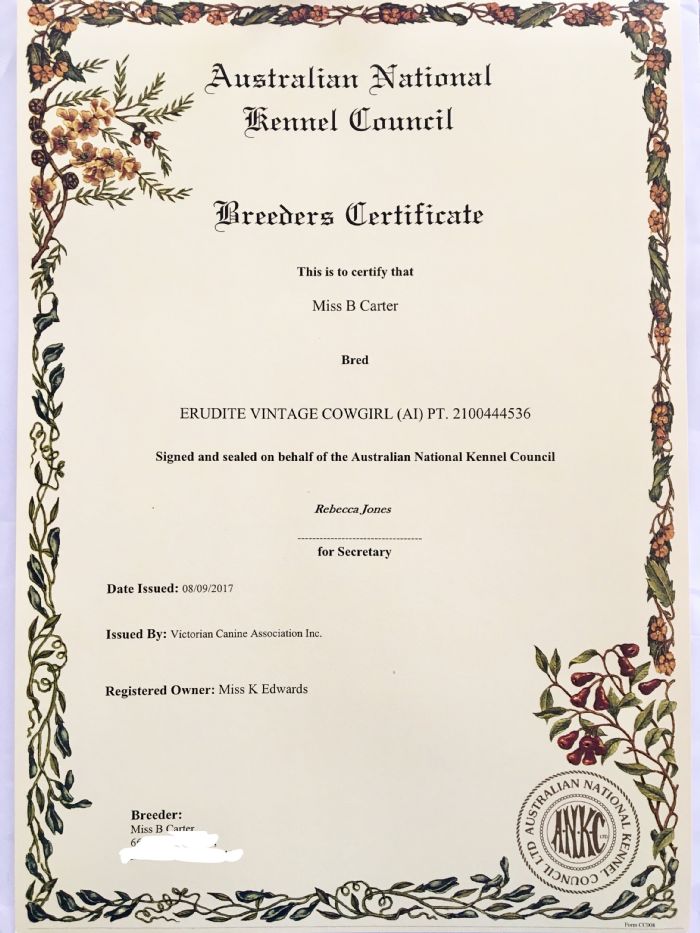 10th September 2017
CJ ended up with High in Trial at the Victorian Herding Association Trial. So proud of her scoring 100/100 at her first ever trial. She also gave Working Weight Pull a try today, which is a sport designed for harness dogs (Malamutes, Siberian Huskies, Rottweilers etc). She pulled 130kg on her first try, which is enough weight to earn her the first of the WWP titles, so maybe she might have a go at this sport too.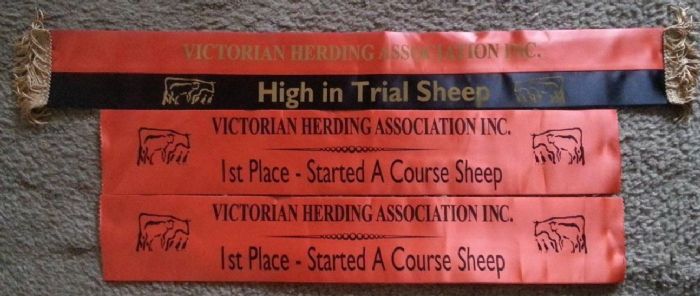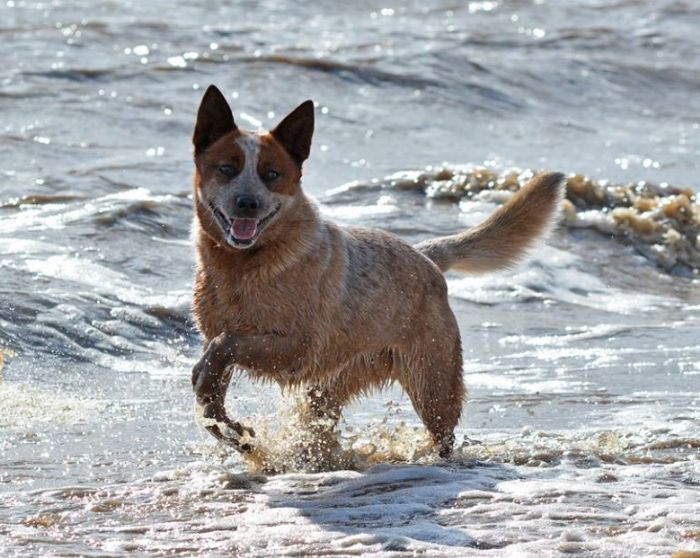 9th September 2017
It was a great day for Erudite dogs, with Jake winning Baby Puppy in Group at his 2nd show, beating some lovely other pups in the line up.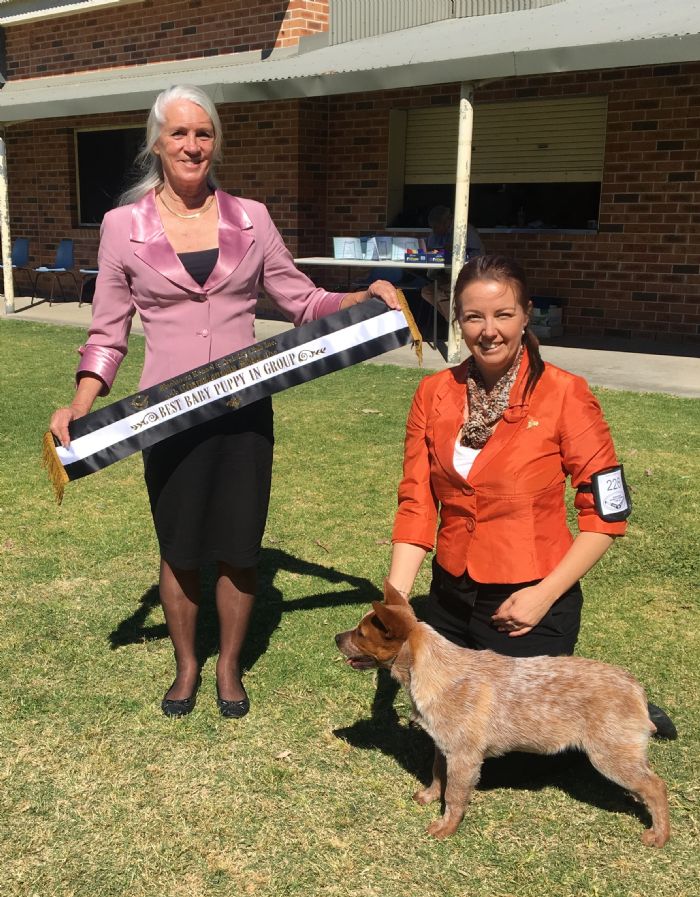 CJ and Karen were entered in their first herding trial together, WOW, they win both trials under different judges, scoring 96/100 and 100/100! CJ is currenty sitting on High in Trial and Runner Up High in Trial with 1 more day of the trial to go.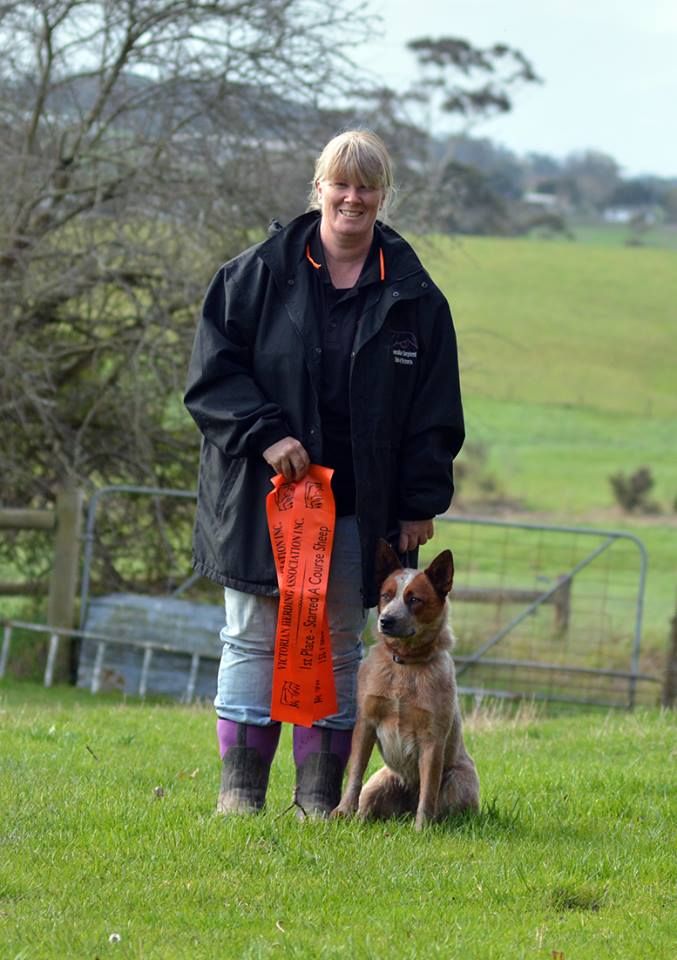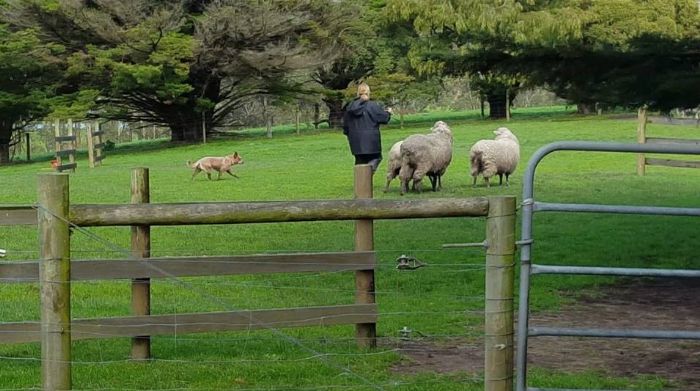 4th September 2017
I am so so happy that Pria is fitting in so well in Kansas. It seems she has already wriggled her way into their hearts, she is such a lovely girl. Now for her to just grow some coat back after the Rowdy puppies!
She is now featured on the Spaders website
http://www.k9cowboys.com/k9_cowgirls/multi_rubig_aust_ch_willowpark_whiz_kid_rn_hsas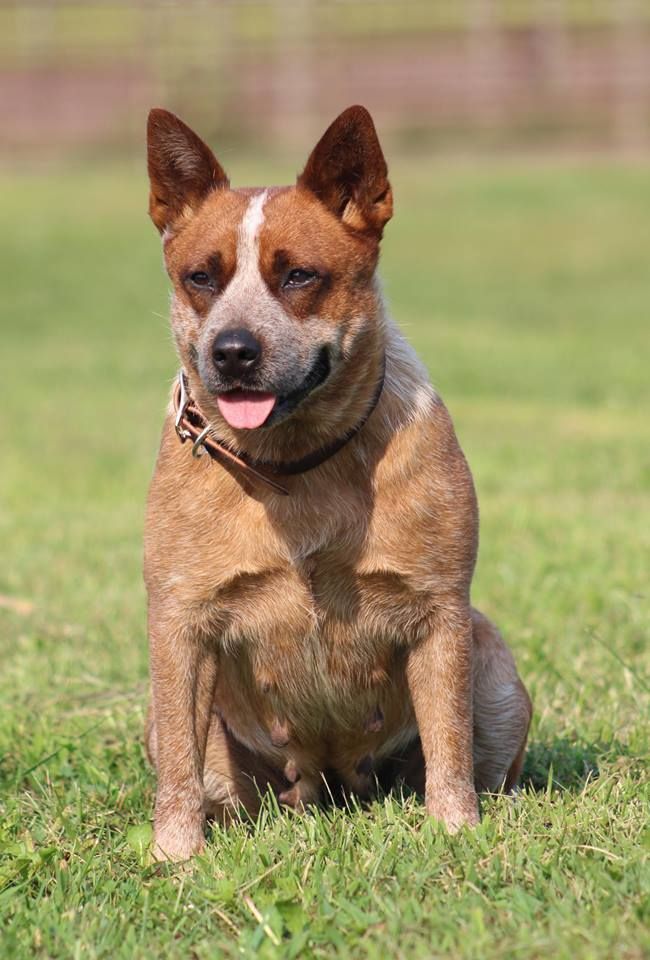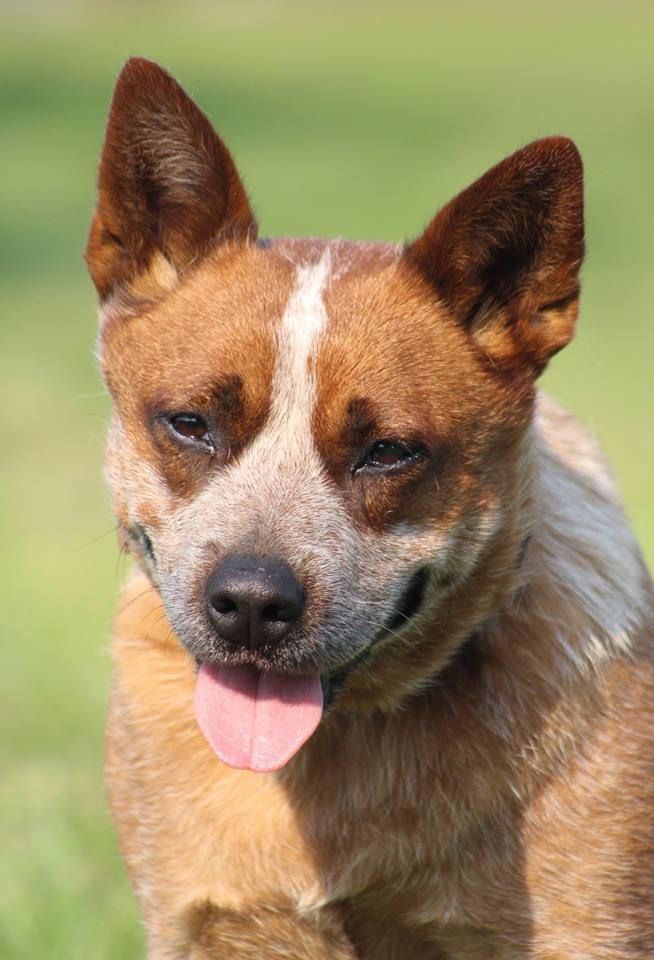 3rd September 2017
Zac has only 2 more passes now needed for his Dual Champion title now, after his 98/100 in the Masters class today.
1st September 2017
Little Jake went to his first show now that he is 13 weeks old. He is such a smart, trainable boy.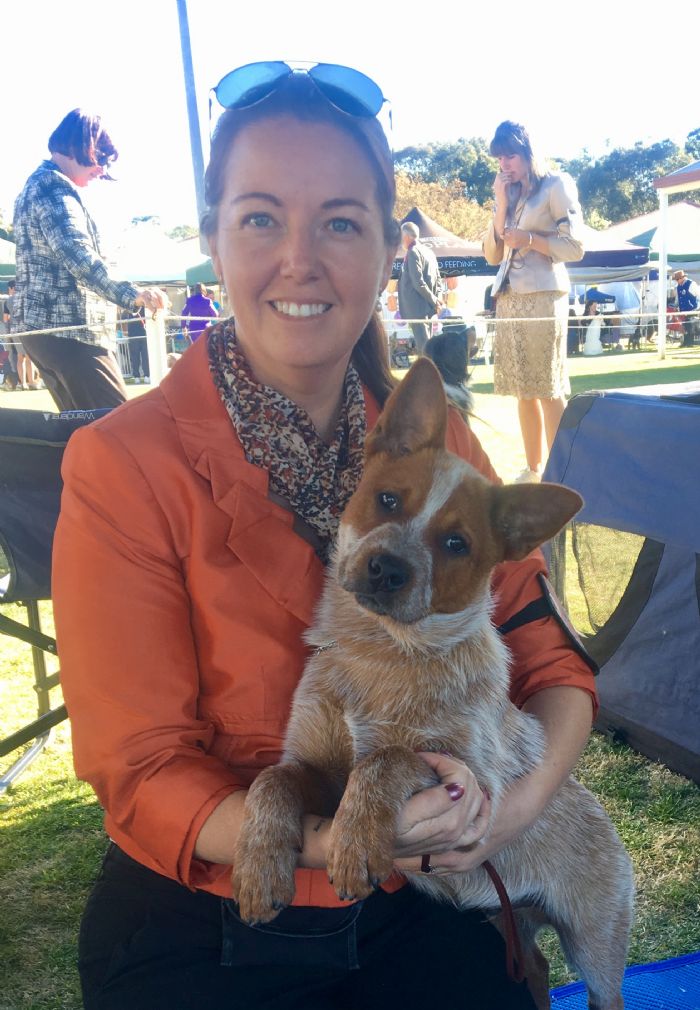 30th August 2017
Coco, who is a daughter of Tess & Mick, has been hard at work on the job site. Perhaps she should be the new Dulux dog!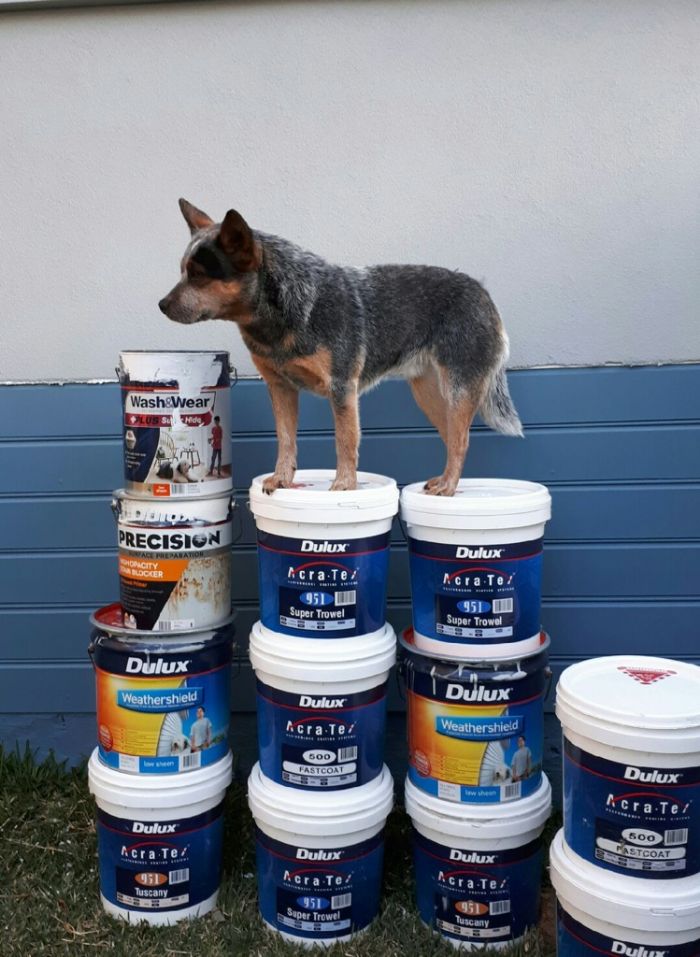 29th August 2017
The gorgeous Pria made her way to Kansas, USA. She is with friends, Brett & Jill, who have sent Spader Vintage Vaquero and Kylies Good Onya Rowdy semen to me, which has produced so many special and talented puppies. A few years ago Brett suggested using Kuawarri Vaquero over Pria. Because Ace has been deceased for a number of years Australian quarantine doesnt allow me to import it, so the next option was to send Pria to Brett & Jill to be artificially inseminated in the US. Kuawarri Vaquero represents some very special bloodlines. I cannot wait to see what they produce and to see the old bloodlines back here in Australia. Here is Pria with her new best friend.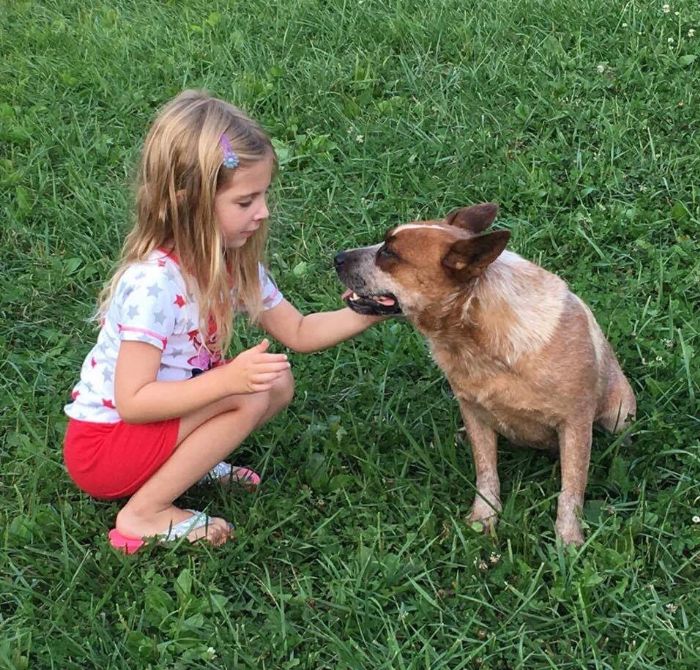 29th August 2017
Kopper is now 20 months old and has filled out into her impressive head. Amazing to think she is Kelly's litter sister!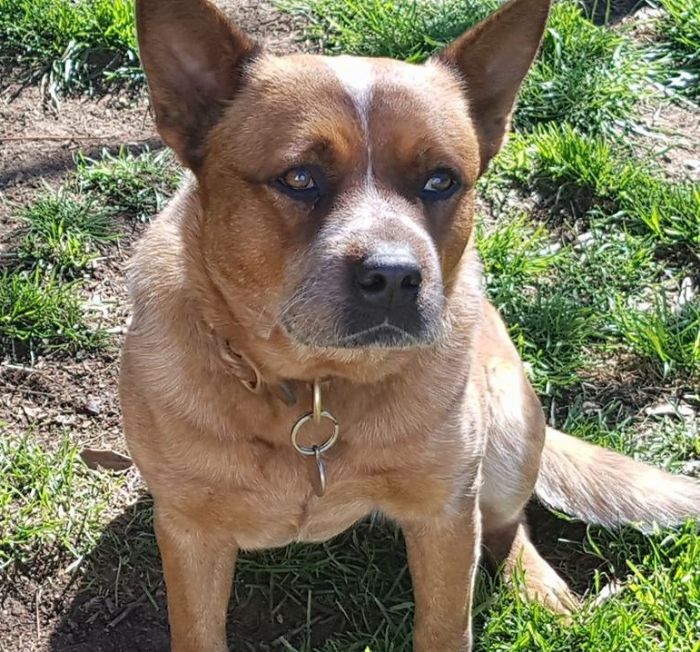 28th August 2017
Kelly did her first paid job today, originally the client had selected Pria but they missed her by 1 day. After looking at a number of red cattle dogs the client picked Kelly as their second choice. Kelly is primarily my upcoming herding dog and she has had no formal obedience training but she was a star, giving the client and photographer over 200 images. Look out for her on the packaging of some kibble soon.
She was such a good girl - ears up, ears down, tongue in, tongue out, looking up, looking forward with nose pointed up, stand, stay, sit, drop, head tilted, serious look, happy look, she did it all.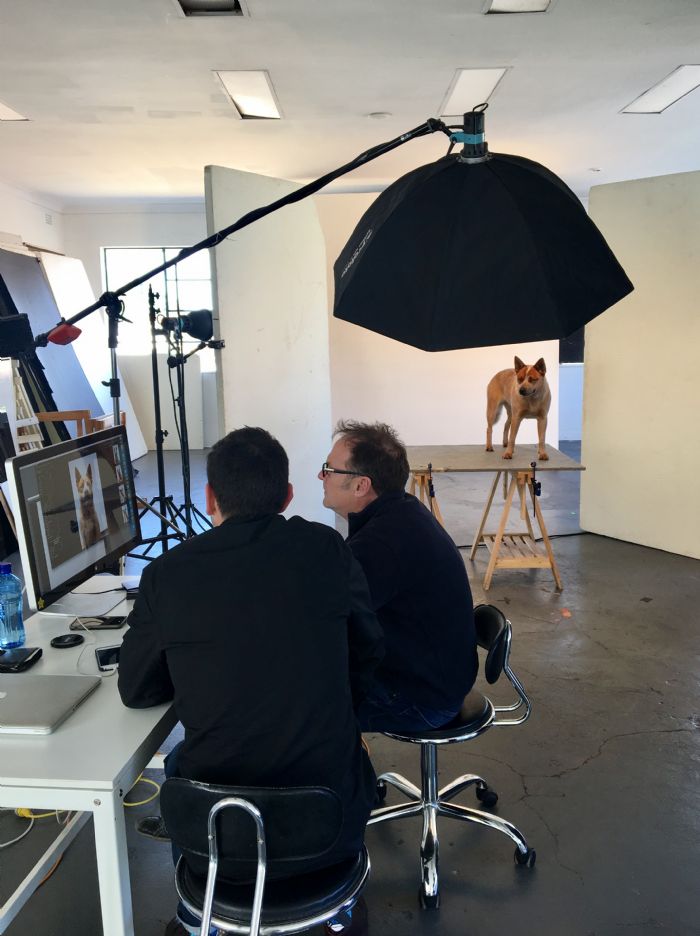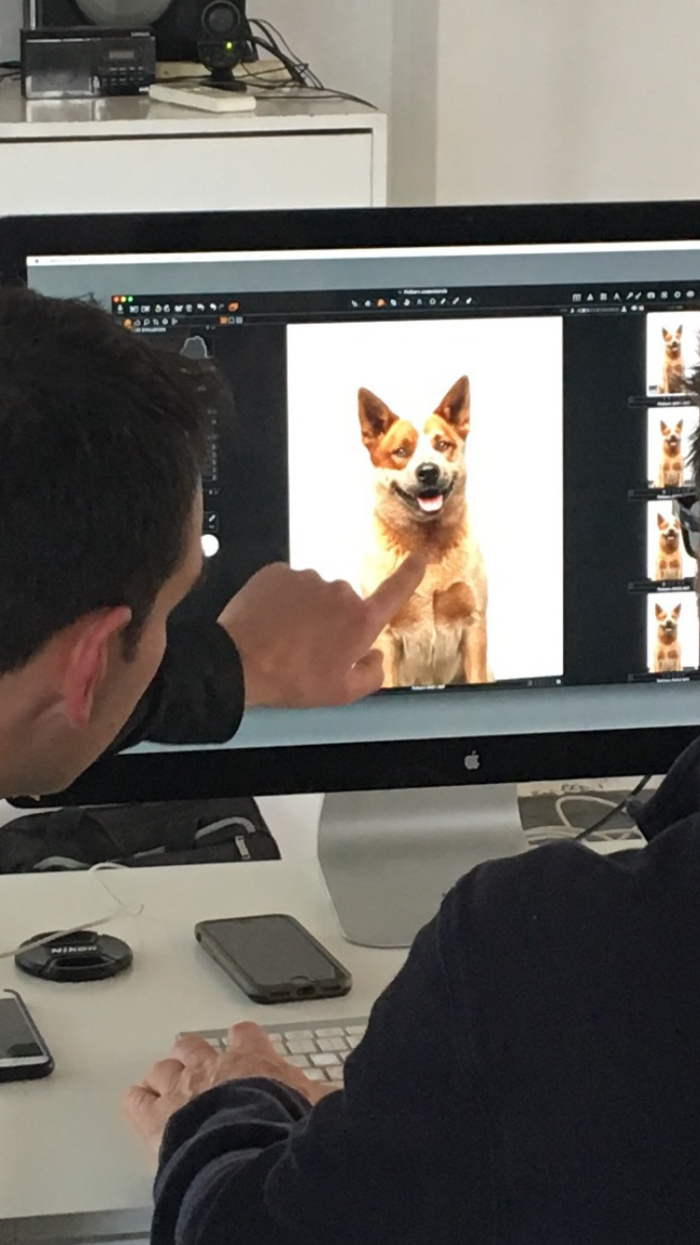 27th August 2017
A sad but exciting day as Pria left for Kansas, America, where she will be having a special litter and also training with the undoubtably the best cattle dog trainer in the world. I cant wait to go visit her early next year. Such a big decision but the opportunity to use some of the best ACD working genetics which have been stored on ice for many years, and Australian quarantine not allowing me to import meant Pria needed to go to America.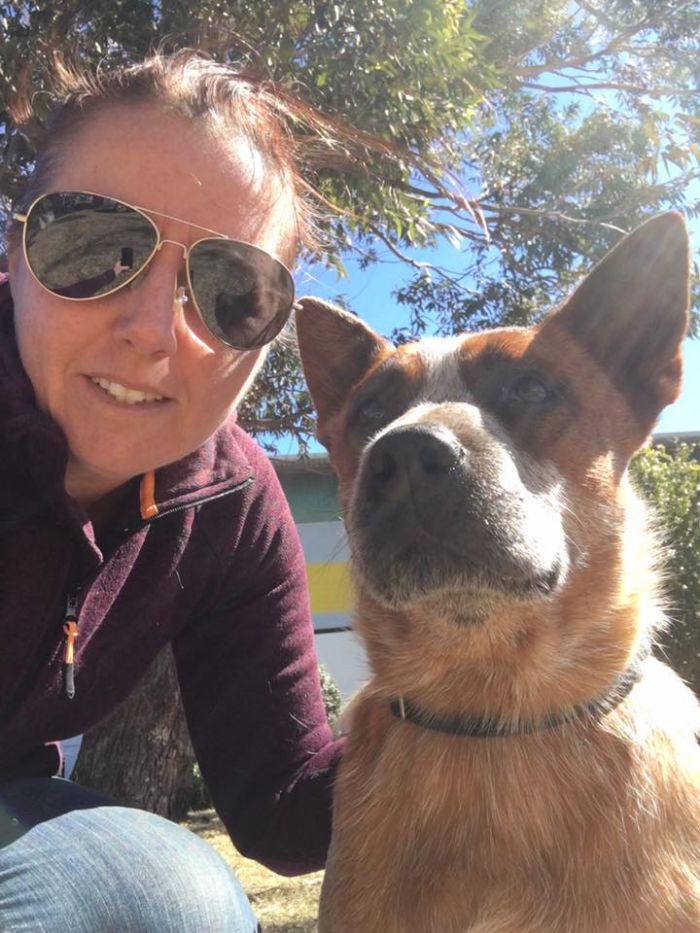 26th August 2017
Zac scores himself another RM pass at the Central Coast Rally O trial.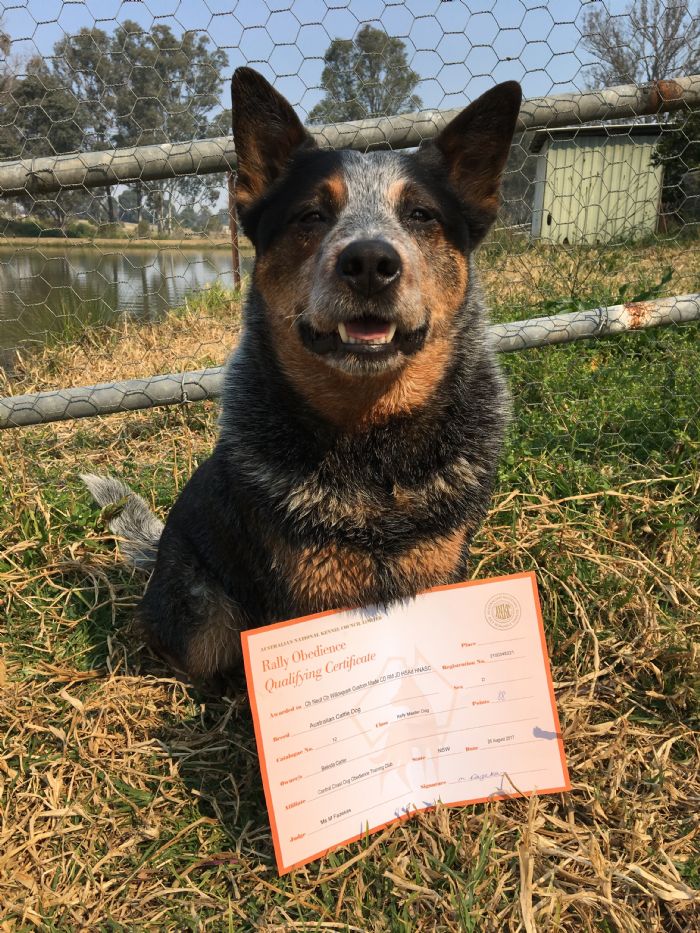 Kelly has also been working on longer distances to collect sheep. She has had a break from serious training but coming along in leaps and bounds now, and with cattle at home to work now I cant wait to see how she develops over the next few months.
20th August 2017
CJ earns her PT herding title this weekend at the ASCV trial in Victoria. This means all 3 girls from the Vin x Pria litter who are competitvely herding have attained this title at 19 months old. CJ was so precise with her work.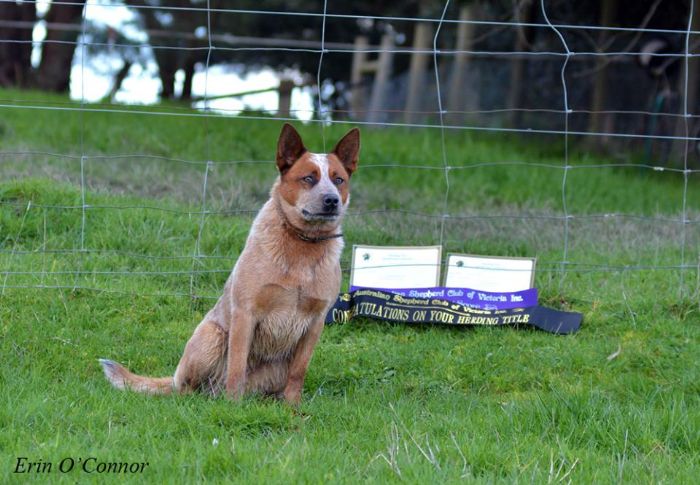 15th August 2017
We had our first training weekend, with 4 owners and 10 dogs in attendence, at H Bar Stockdogs. I will continue to organise more of these day, on both sheep and cattle for Erudite dogs so we can watch them develop to their full genetic capabilities.
The dogs also demonstrated the type of temperament I will continue to produce. 10 dogs from 4 seperate households having a great time together. Having dogs which understand and use context makes life far easier than reactive, dog aggressive dogs.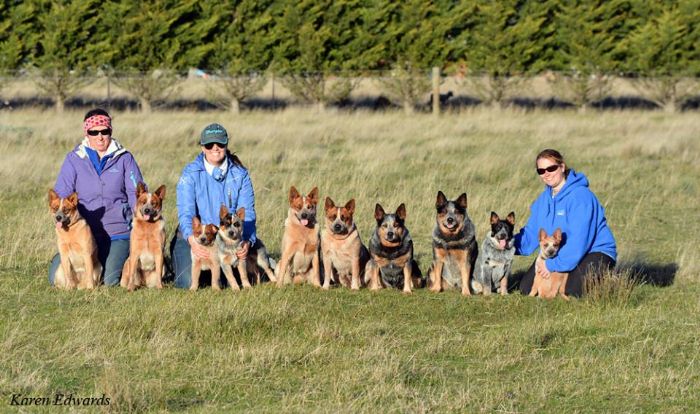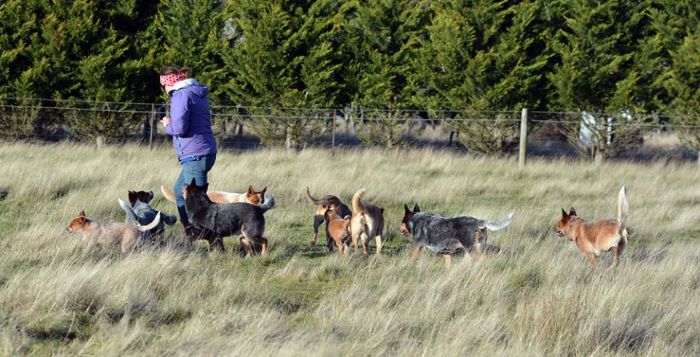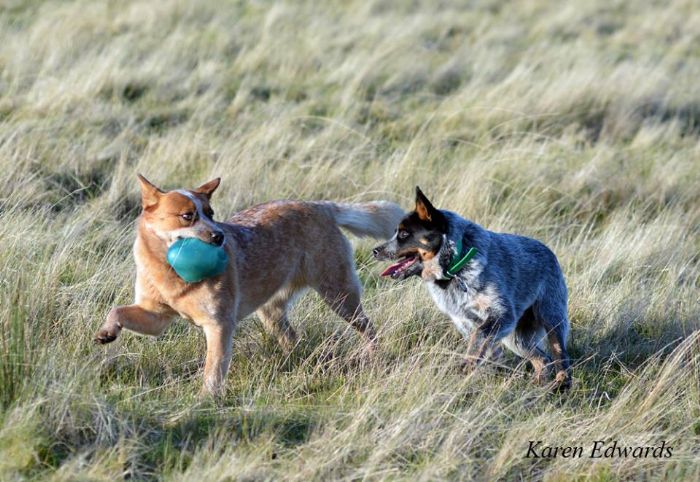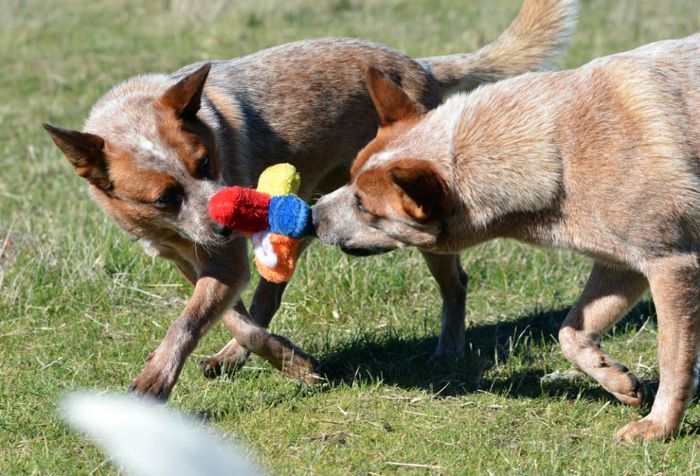 The 10 week old pups -
Pyro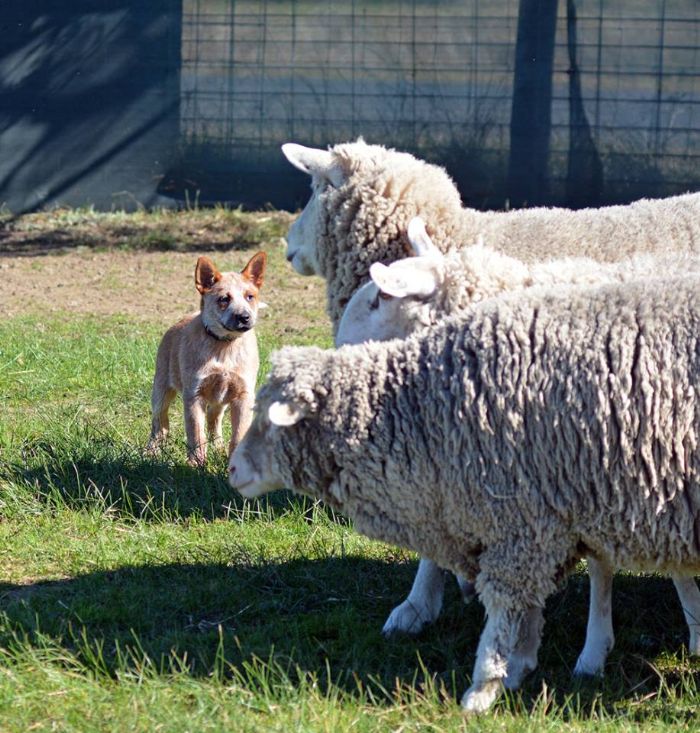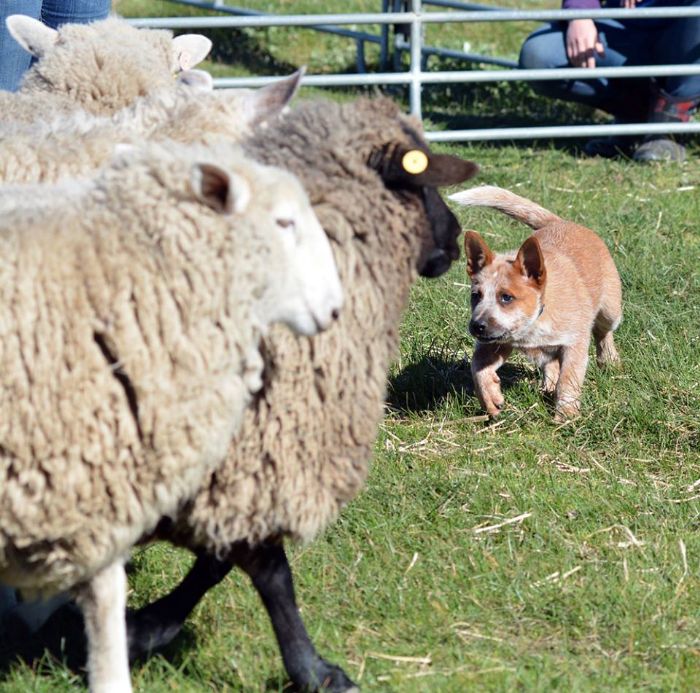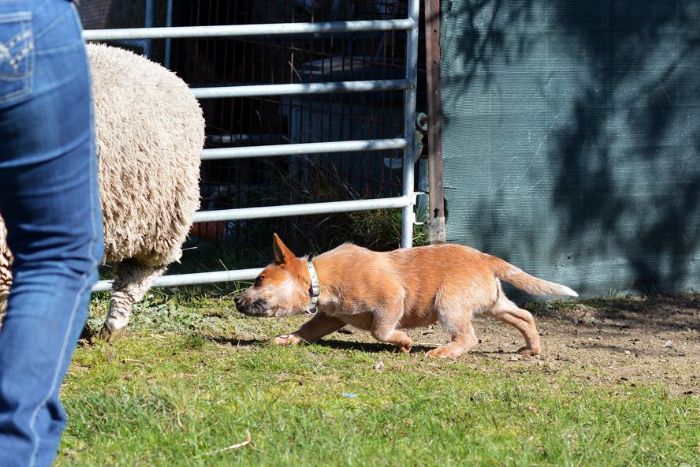 Jake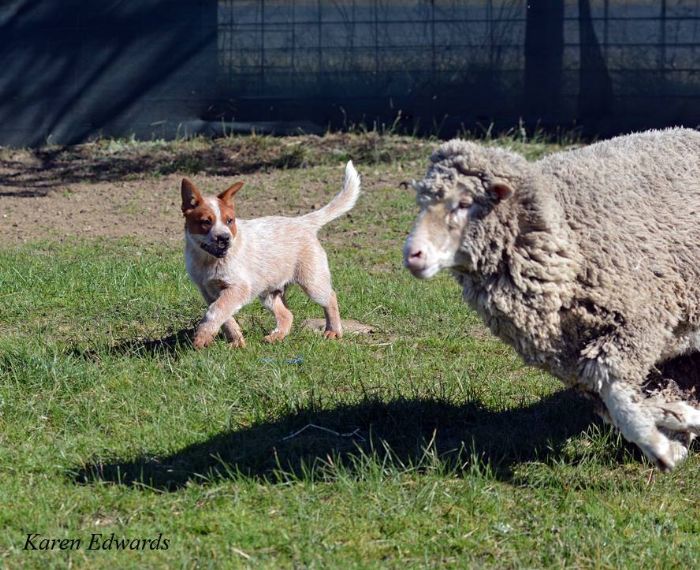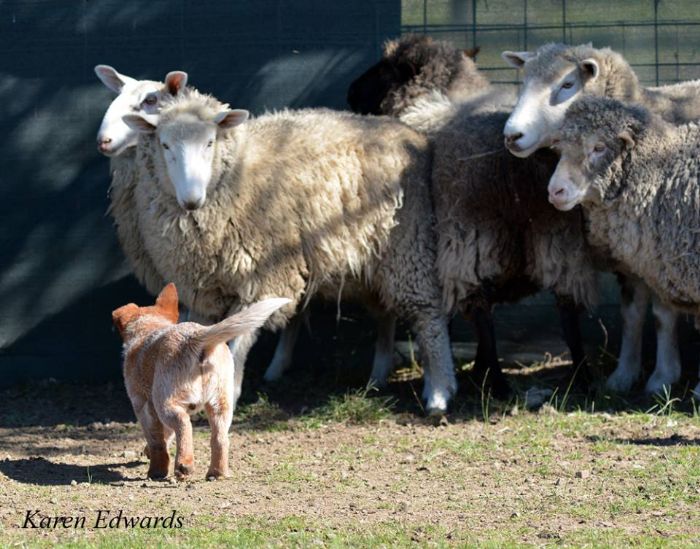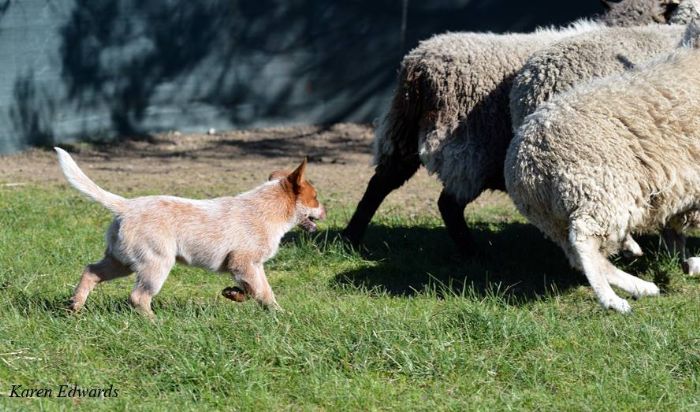 19 week old Skye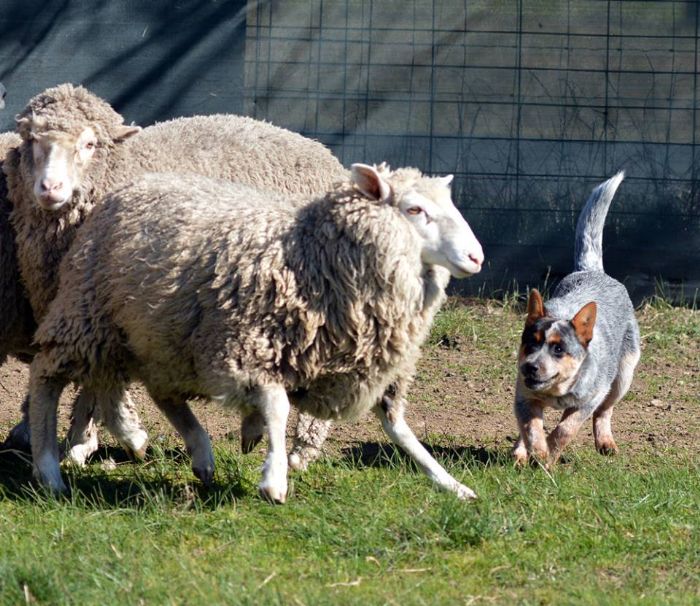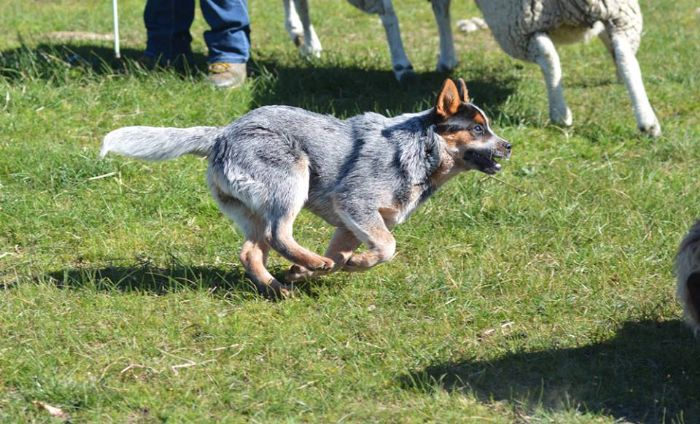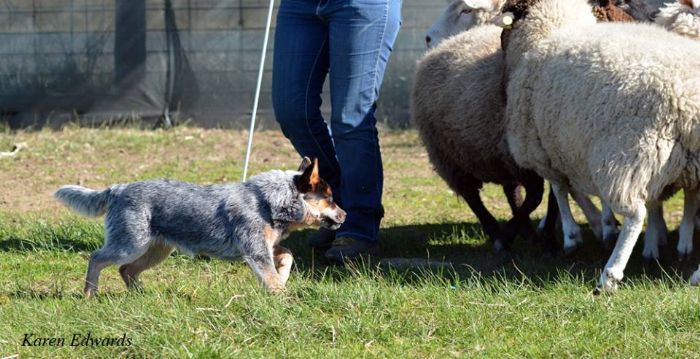 The 19 month old girls
Esme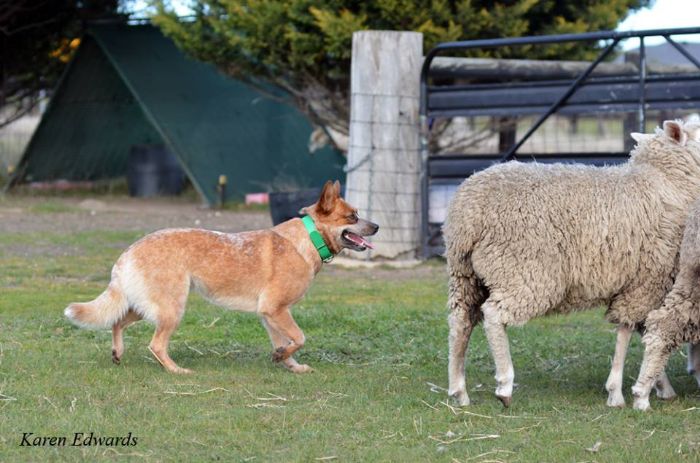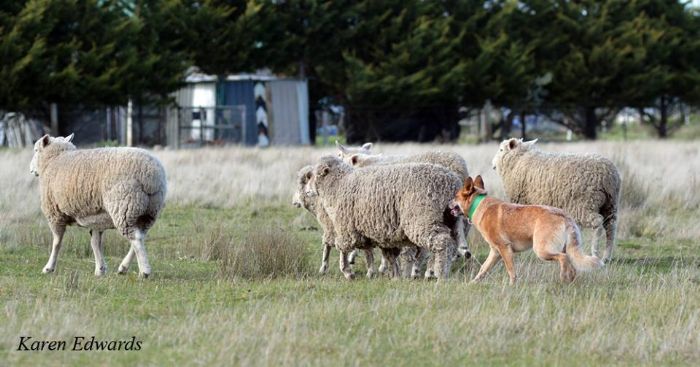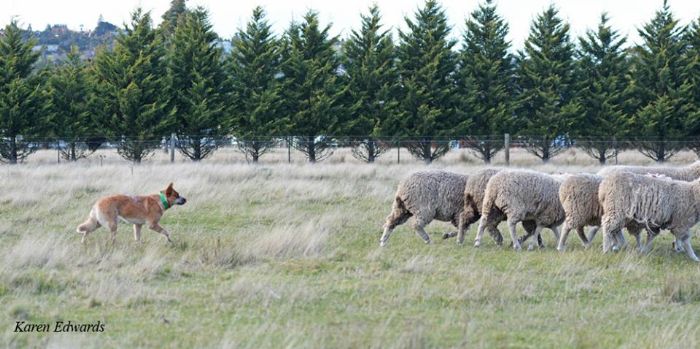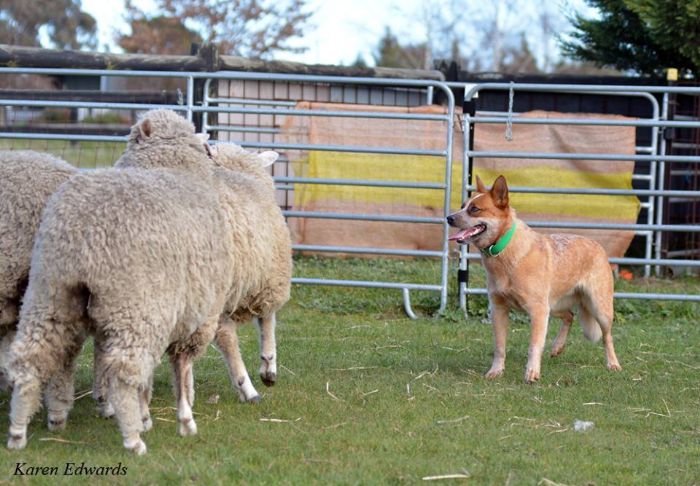 CJ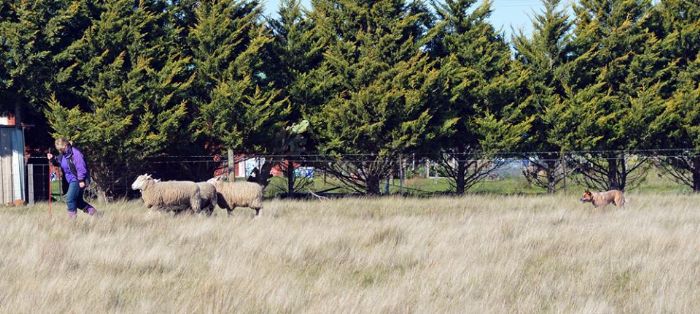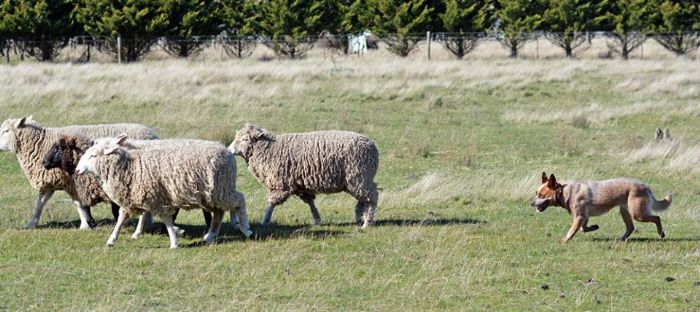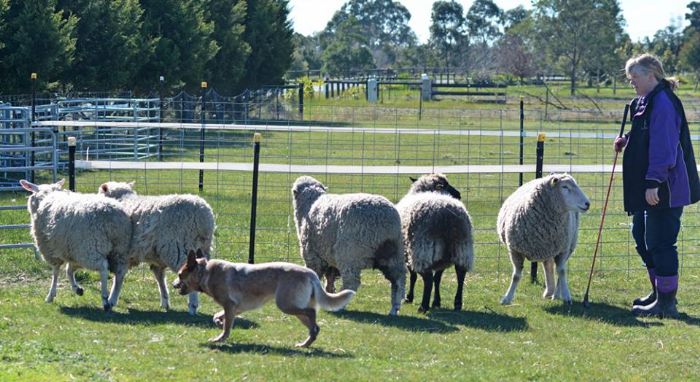 Kelly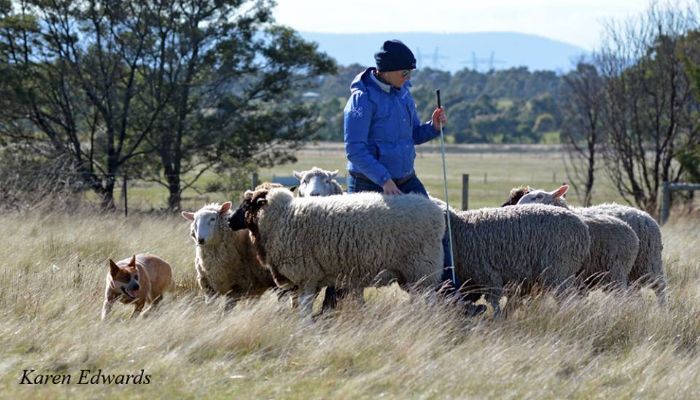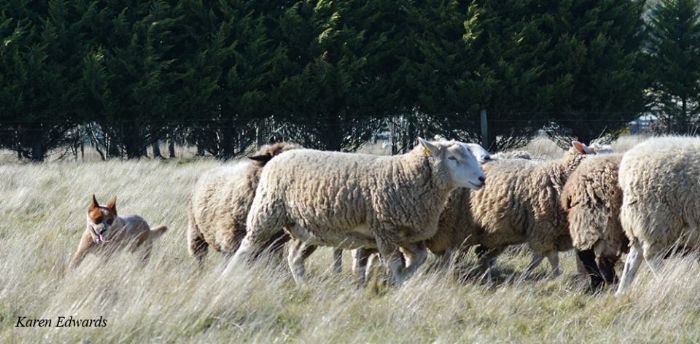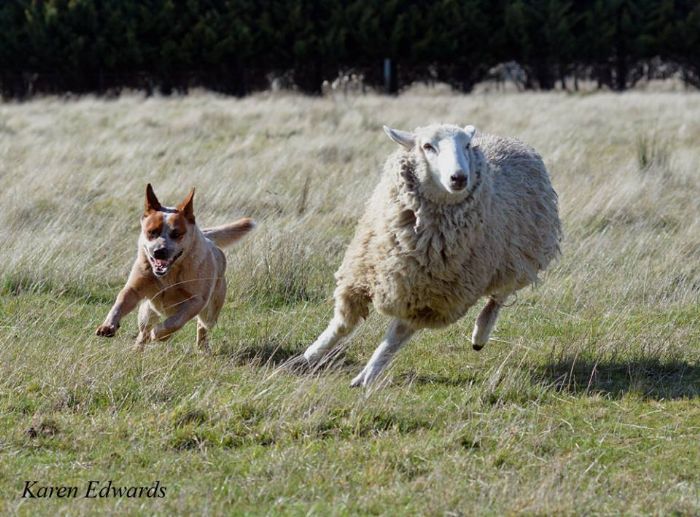 11th August 2017
Holly is maturing into a stunning girl, 19 months old now. This is her with her blue relative Darcey (Ted is Darcey's sire and Ted is Holly's grandsire).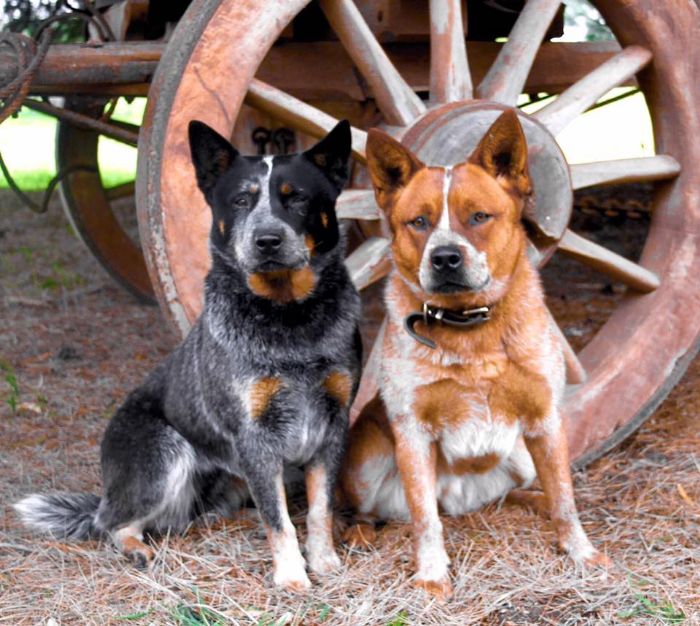 Pyro has been getting around. 10 weeks old and loving the beach and play dates. He is also loving his foundation training with Karen.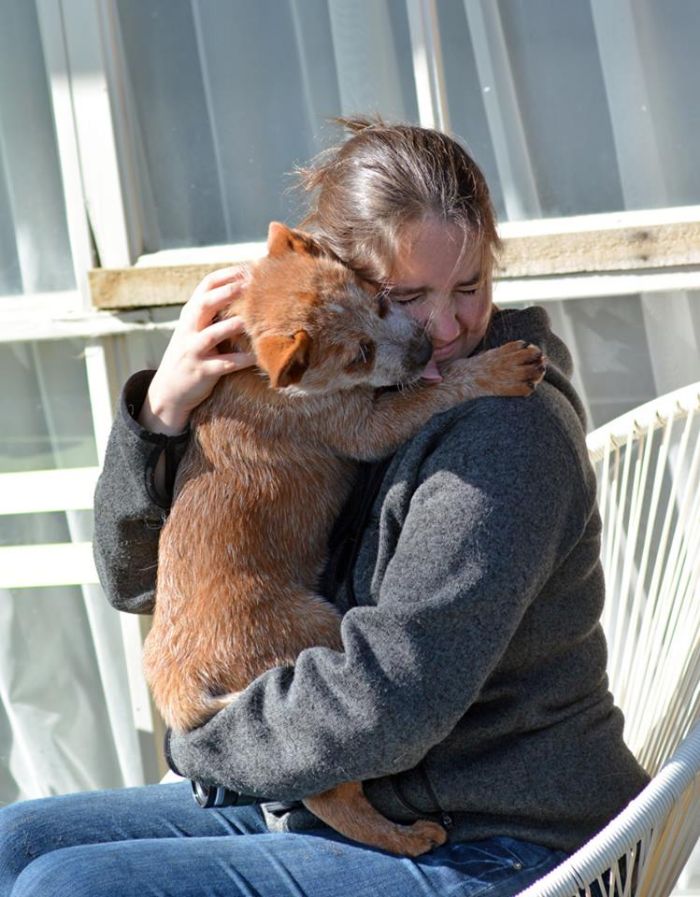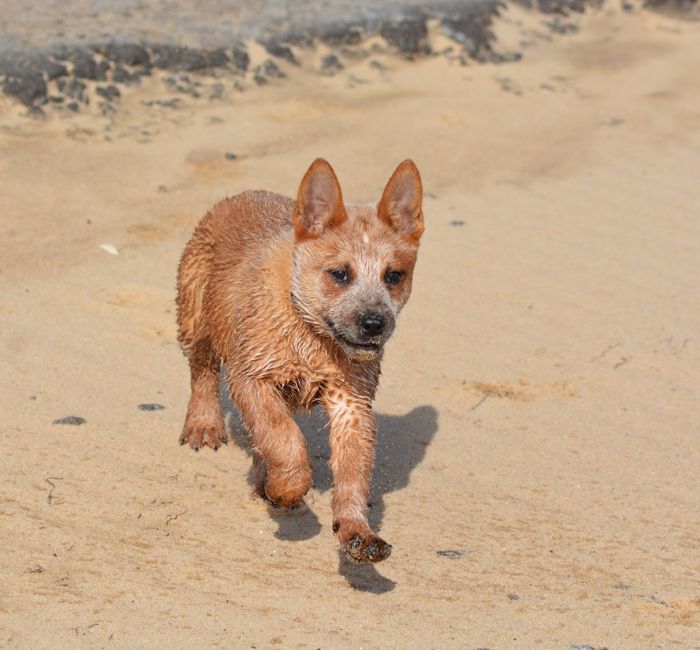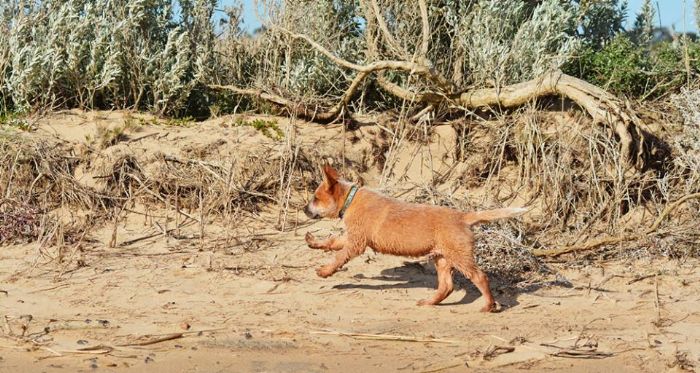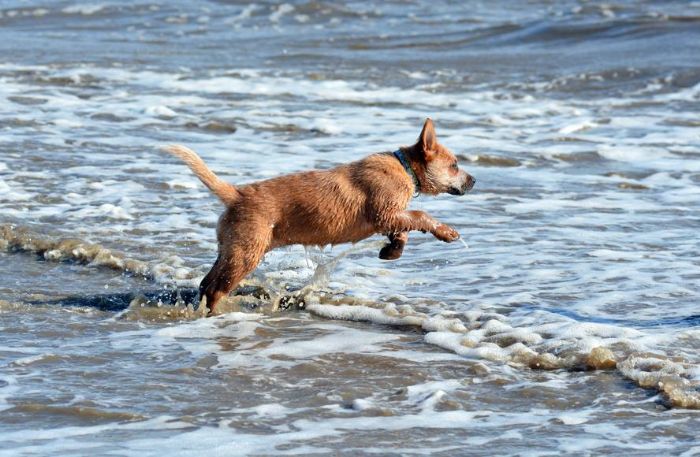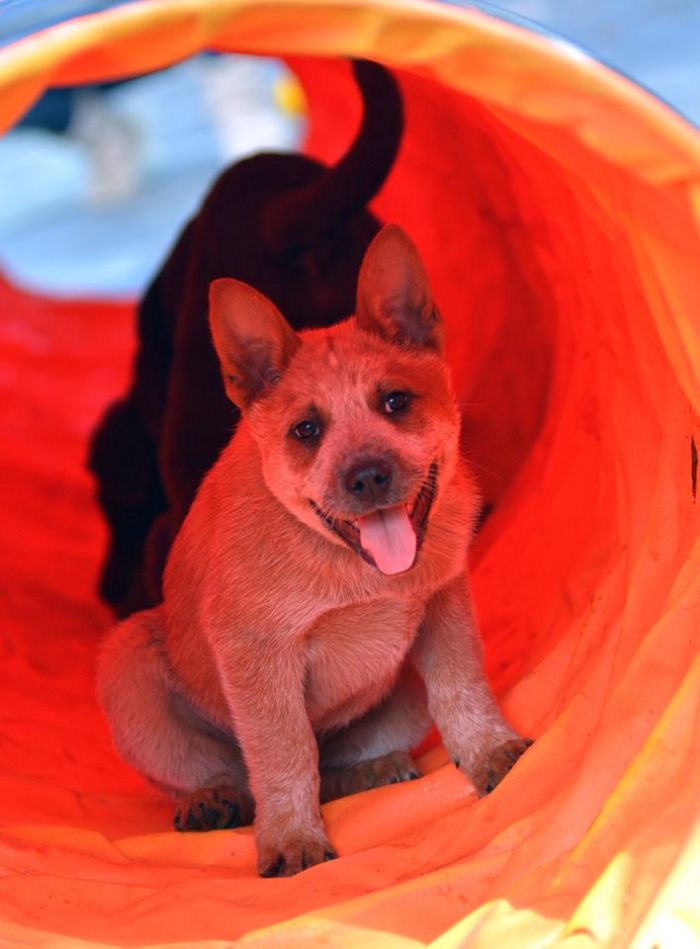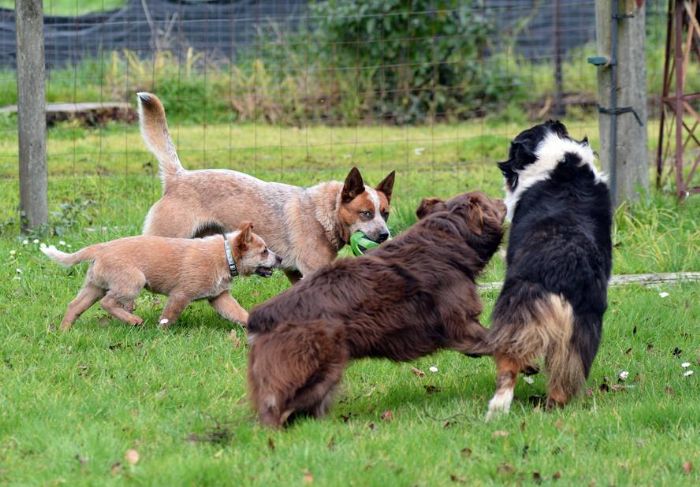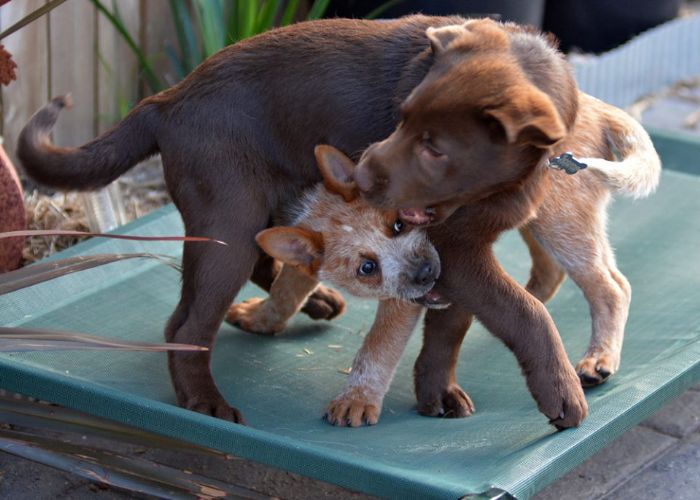 10th August 2017
Looking very handsome and pretty are litter mates Jacquo & Pandora. They are from Tess's 2014 litter.
Jacquo (Erudite Straight Shooter)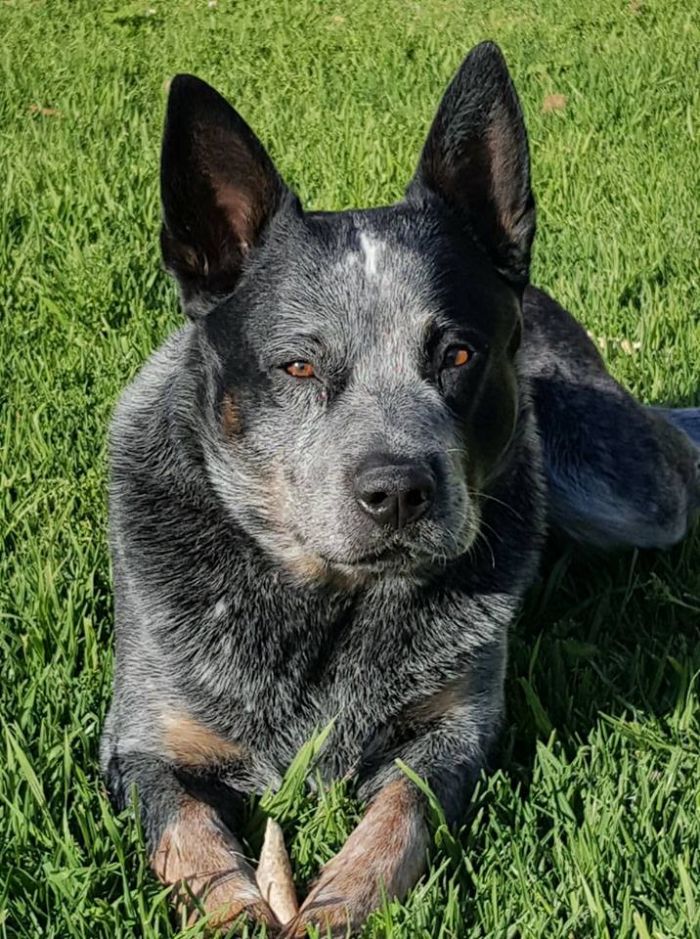 Pandora (Erudite Northern Lights), on the bank of the Lower Ord River, Western Australia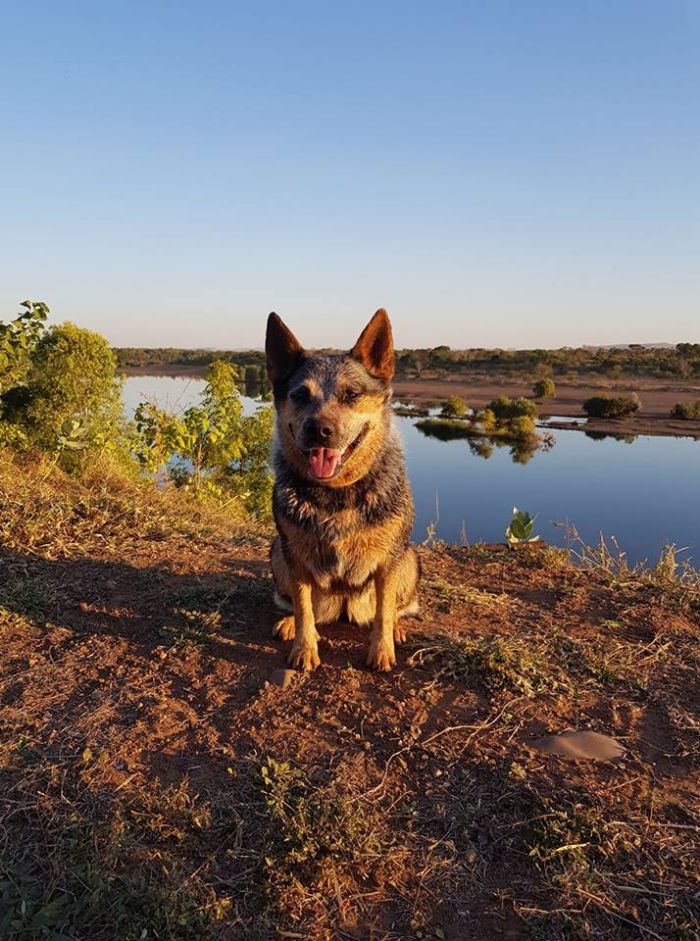 3rd August 2017
Kelly's first certificate arrived in the mail today as well, hopefully the first of many herding certificates.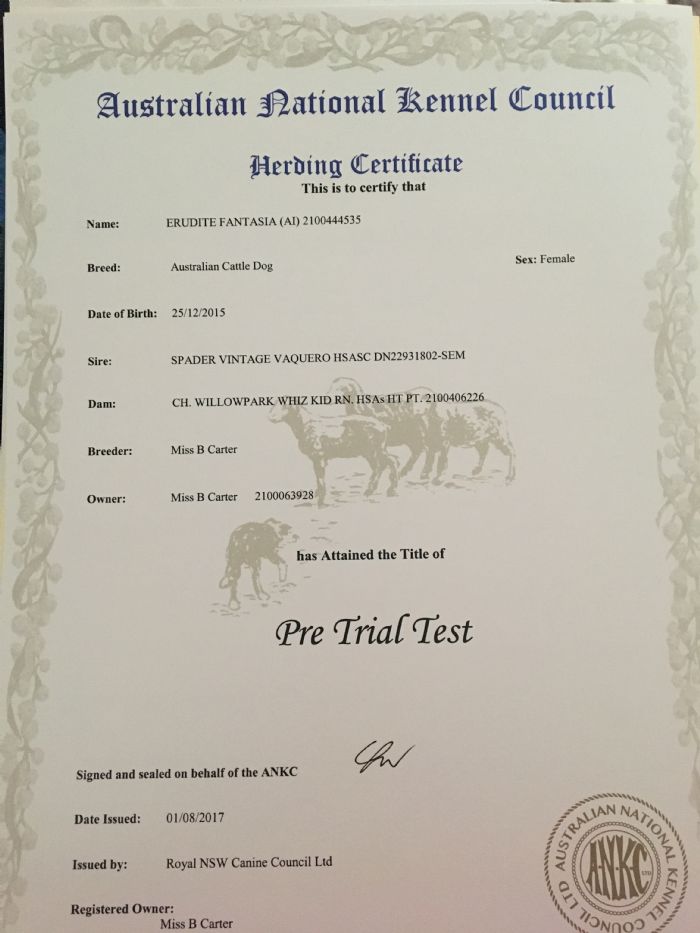 1st August 2017
Pixie met Holly, her new best friend today. I am really looking forward to hearing about the adventures these two get up to.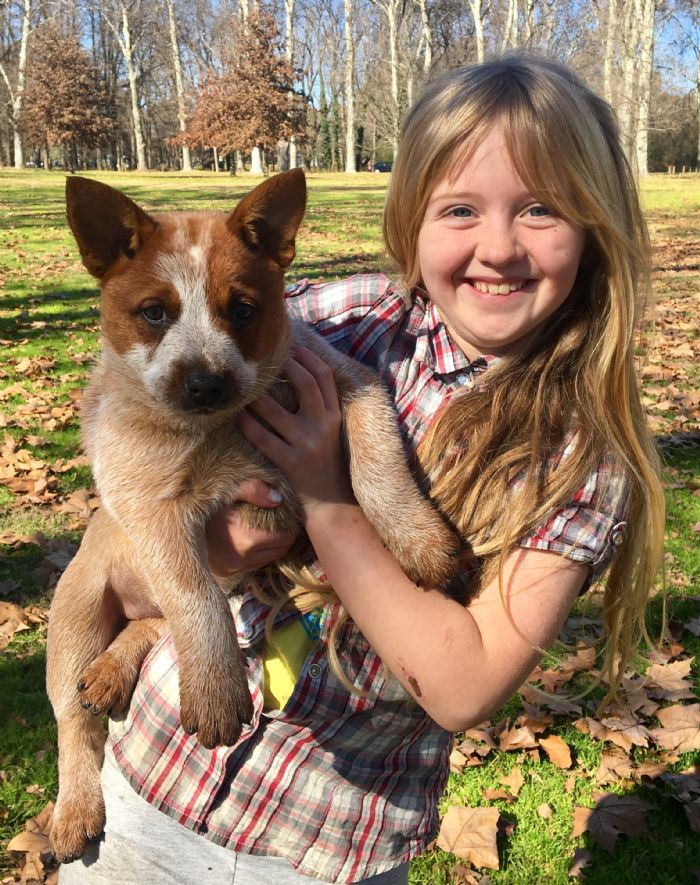 On the way to meeting Holly Pixie checked out the local Herefords at Gundagai. I just love how soft but confident she is - I like dogs who see stock as something to be worked and controlled, not chased and bitten.
31st July 2017
Meg is developing into such a lovely puppy! 9 weeks old today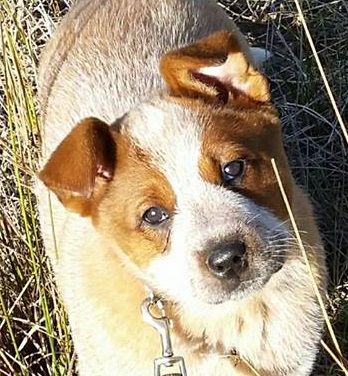 Plus Esme's PT certificate arrived today!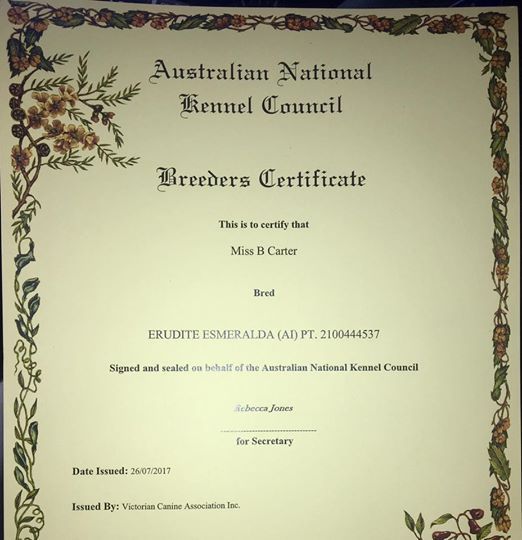 30th July 2017
Zac scored himself another qualification at Rally Masters level. He had a relaxing afternoon in the sun afterwards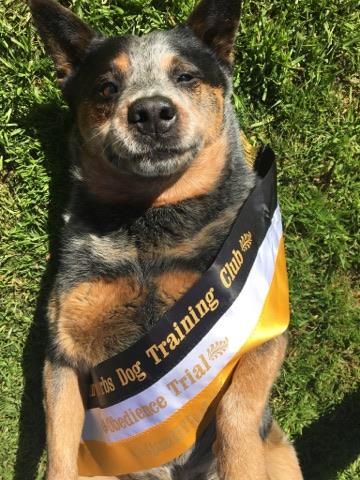 25th July 2017
Two of the pups went off to their new homes today. Both were such good pups on the long drive. They got to stretch their legs in the leaves at a lovely park in Albury.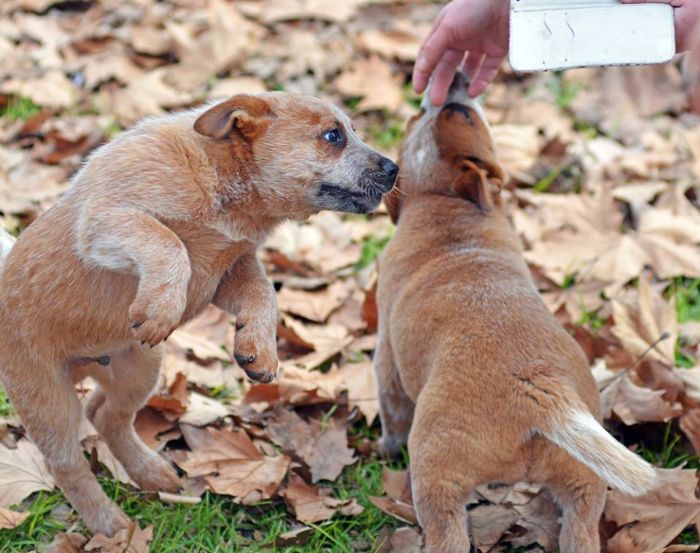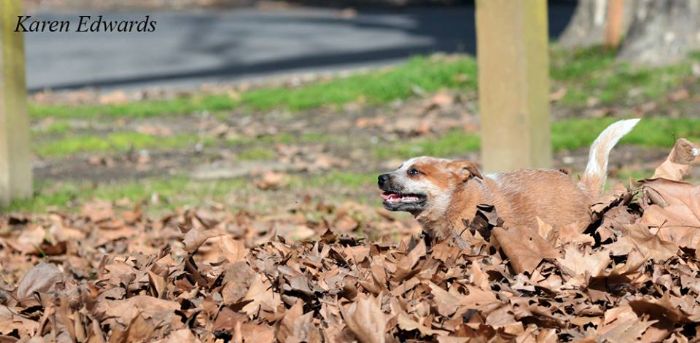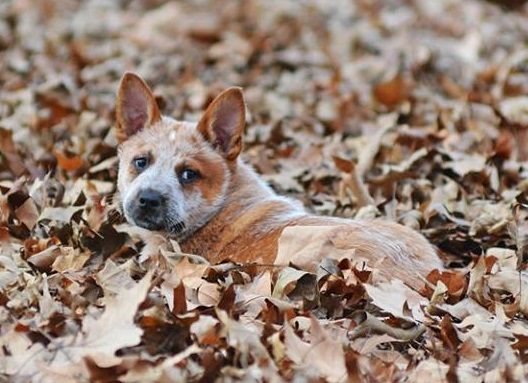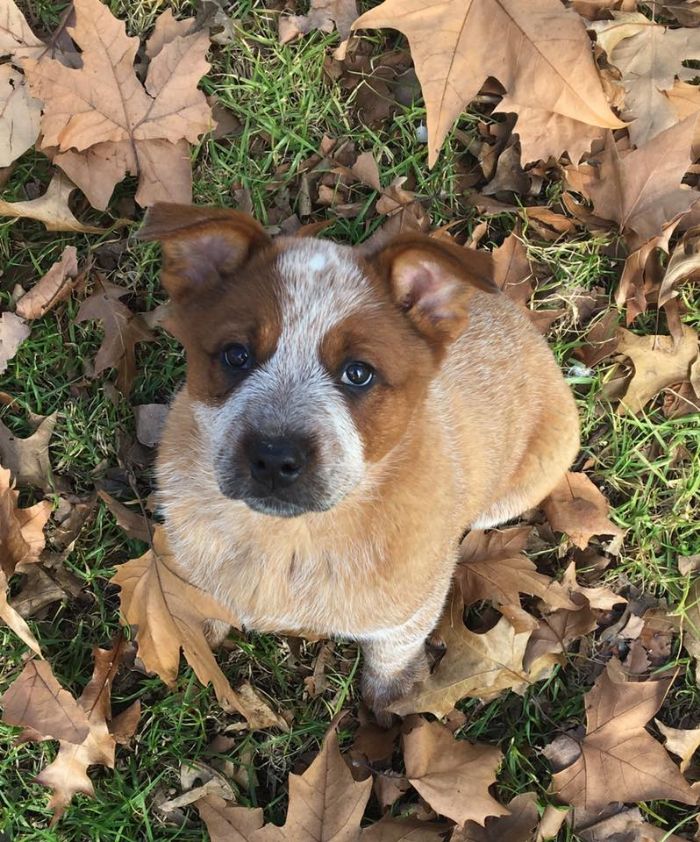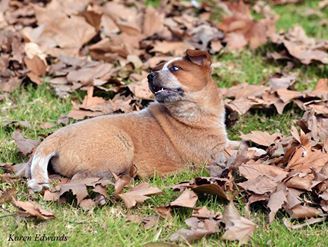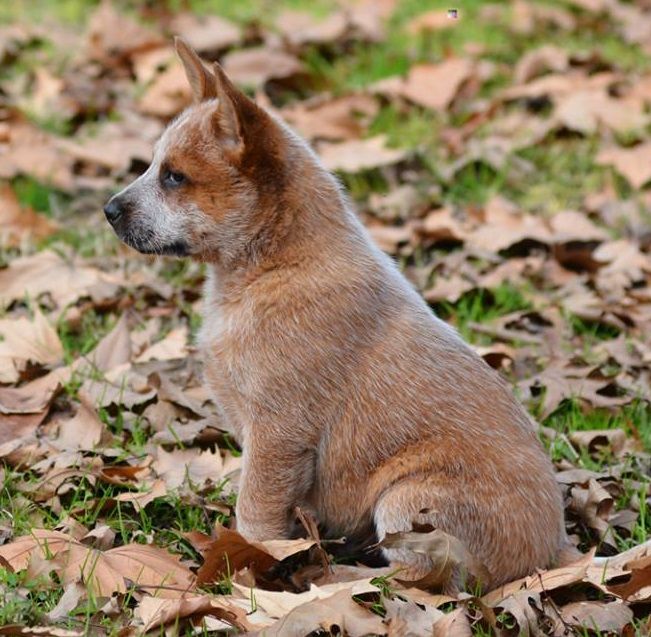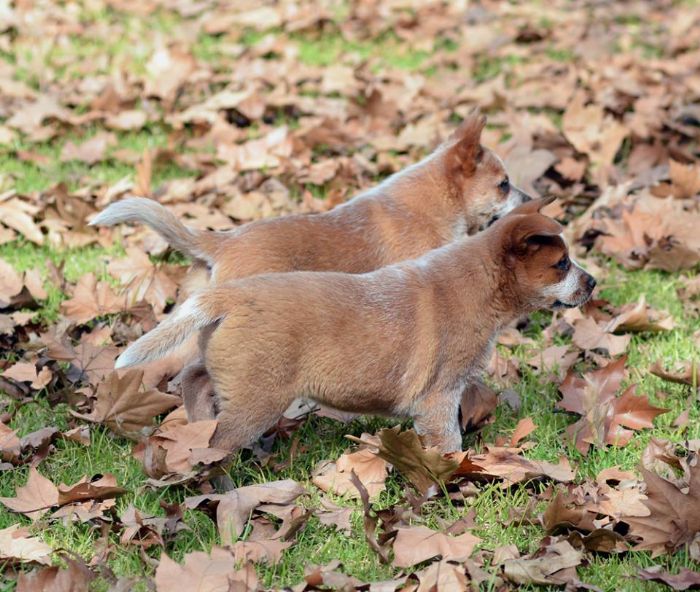 24 July 2017
The gorgeous Jake and his litter mates are 8 weeks old today. He is a stunning young pup.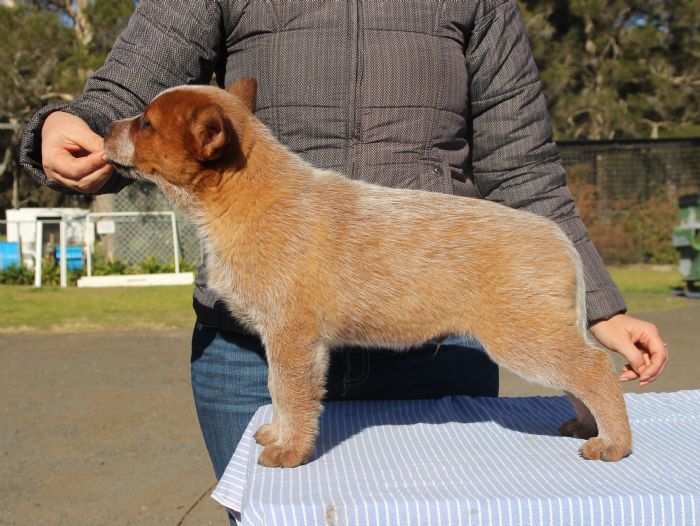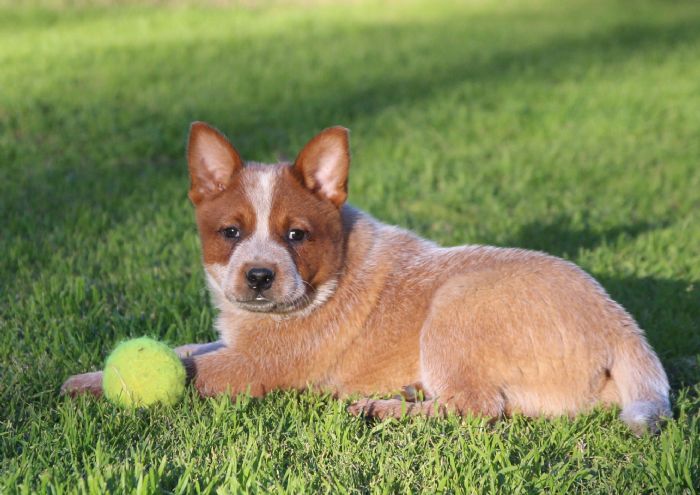 Meg, who is co owned with Nicky Hale, is also a stunning, strong girl. She is PRA A and PLL clear so will be valuable down the track. I will either put the French dog Ch Woylies Freddy IPO3 or the Amercian dog Spaders Vintage Vaquero HSAsc over her. The Vin over a Rowdy daughter cross works so well for Spader Kennels.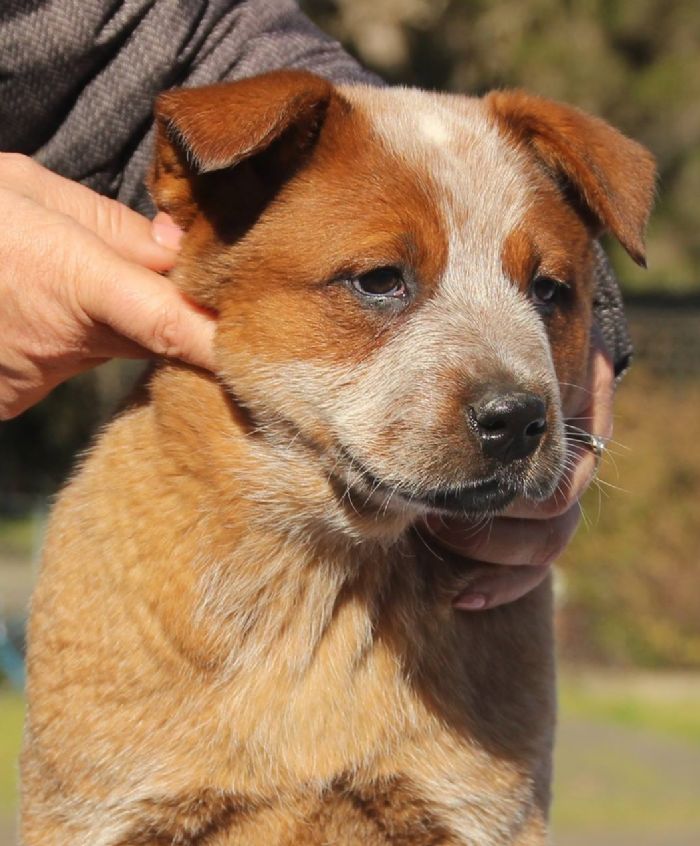 22nd July 2017
Kelly, just two weeks after getting her instinct certificate, earned her first Herding Started A Course Sheep title. Very happy with how much instinct she is showing.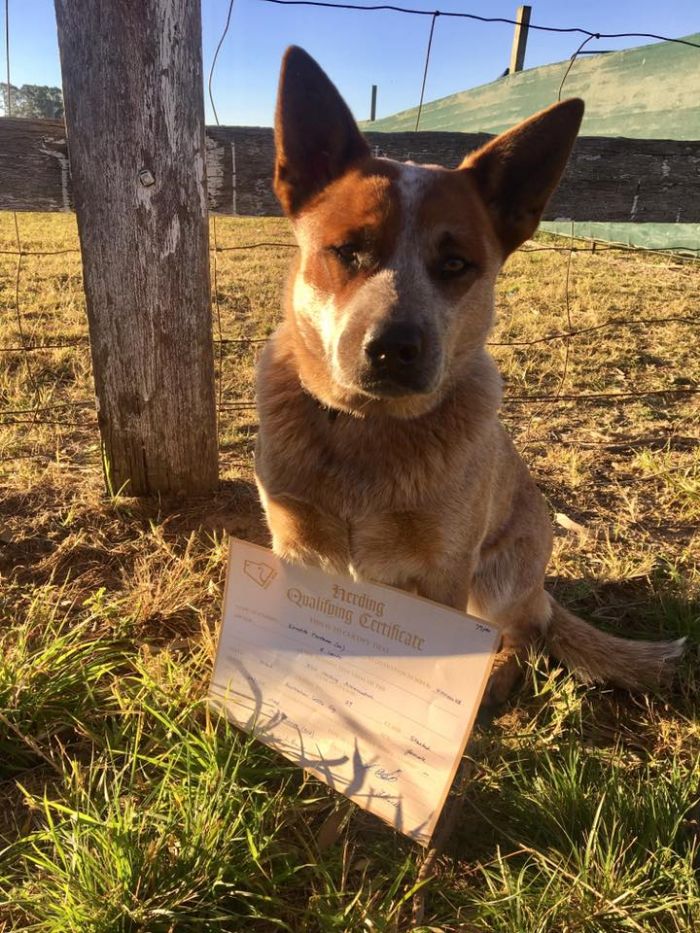 The other star was Zac who stock handled for 27 Instinct, HT & PT runs by himself. The two of us yarded, pushed through the race, drafted and set multiple sets of 5 sheep for every run. He was exceptionally tired by the end.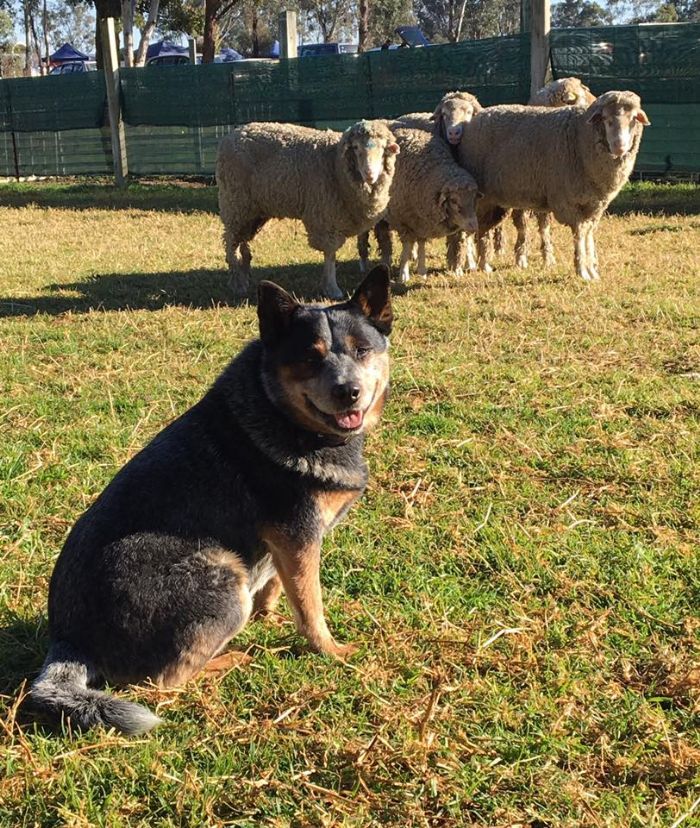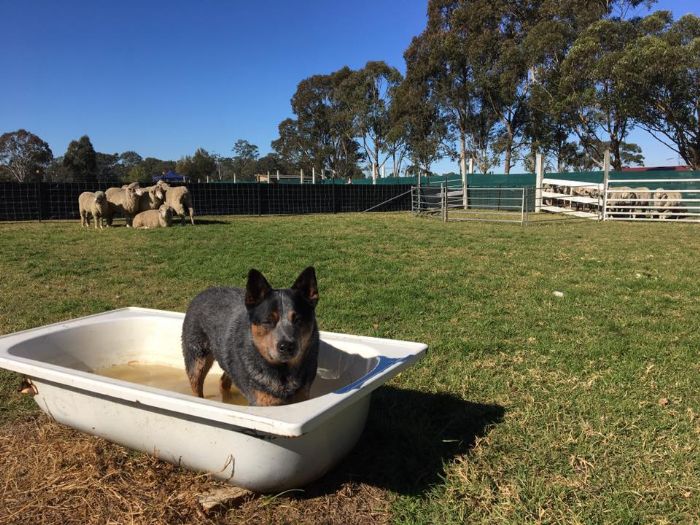 He is such a good boy with the sheep, calm but keeps them in line
19th July 2017
Check out Bandit deciding he needs to be the mascot at Headspace in Victoria. He would certainly cheer up many people with his affectionate cuddles. He looks like a newsreader!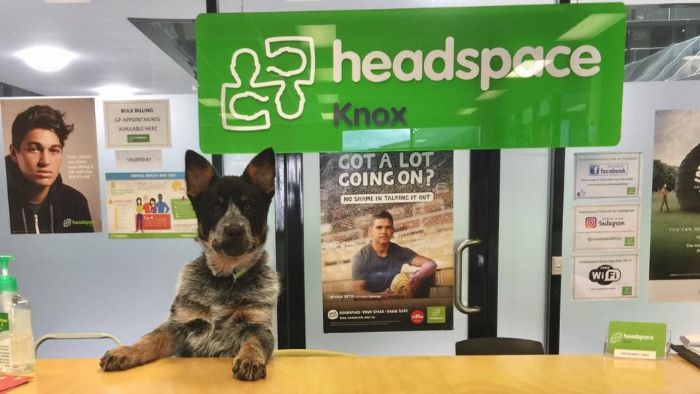 18th July 2017
Esme is edging closer to her Australian Champion show title with 3 Best of Breeds over the weekend at the Dareton Kennel Club shows.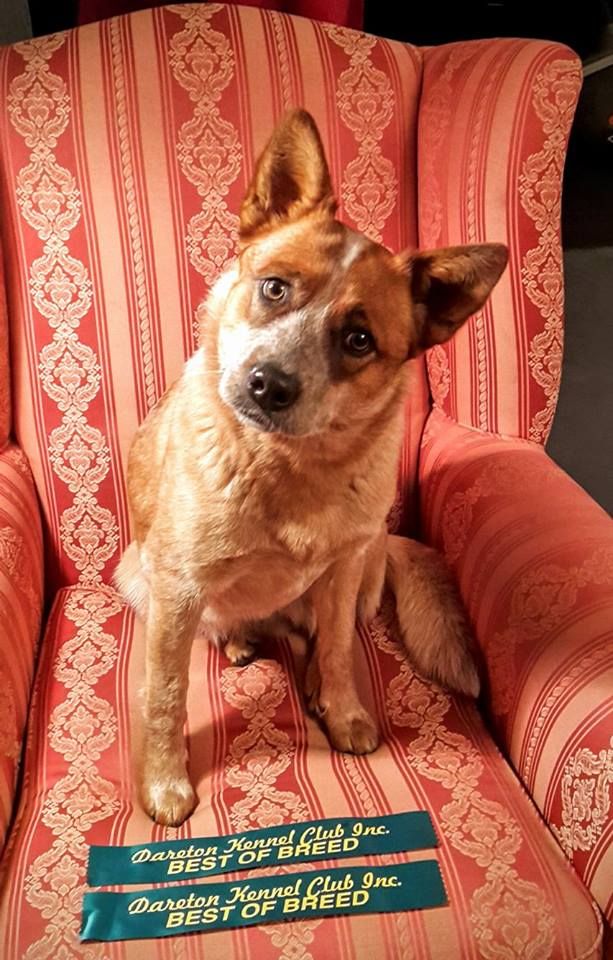 16th July 2017
Zac has only 3 more passes needed for his Dual Ch (RO) title! Here he is with his qually certificate from todays Penrith Kennel & Obedience Club trial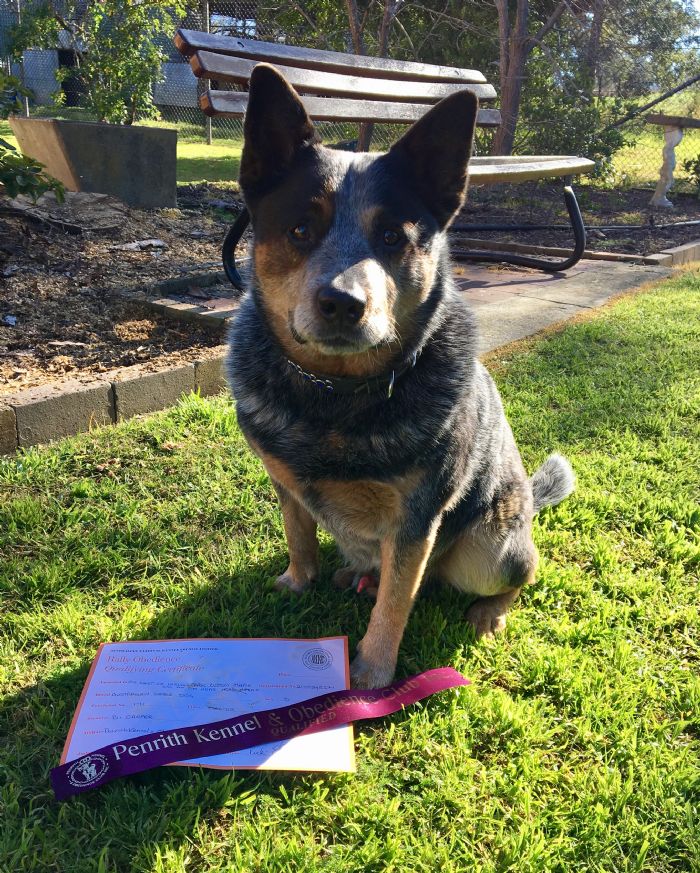 15th July 2017
Esme is getting closer to her Australian Champion show title with two Best of Breeds at the Mildura shows yesterday and today. She is looking more tired here than after working sheep in the paddock! Trotting circles must take it out of her!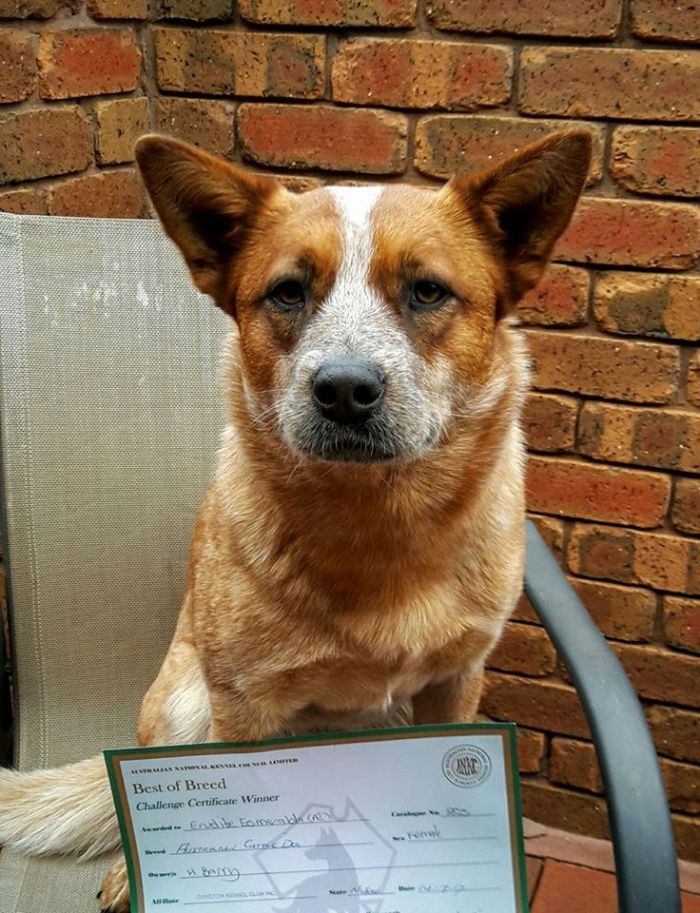 14th July 2017
Kelly spent a few days in Tamworth working on her cattle skills. We trained on a group of 12 down to a pair. Kelly is transferring her sheep skills over to cattle and also working on her pressure and release with the cattle. She is developing some nice skills of allowing the cattle to move off her with just presence and walking into their space, allowing them time to move off her and only resorting to a bite if they do not yield to her.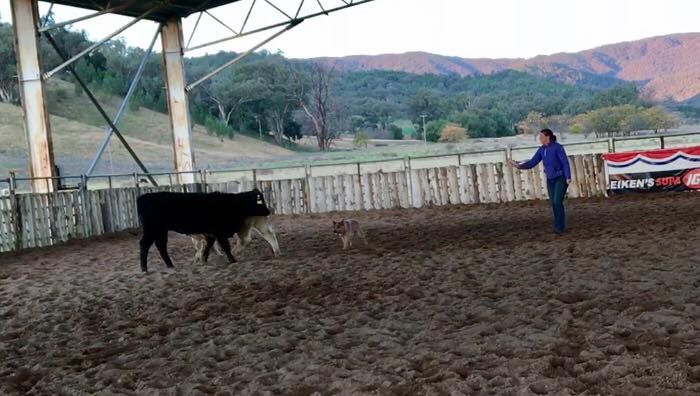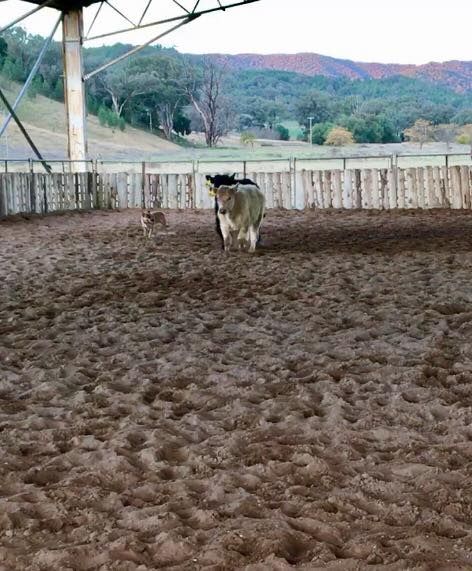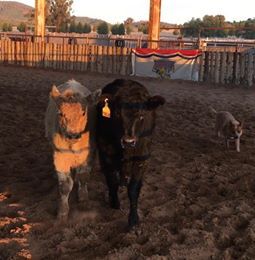 12th July 2017
The lovely Ffiona from FFire Photography took these wonderful photos of the Rowdy x Pria pups at 6 weeks old. I just love this litter. They are so bright and playful.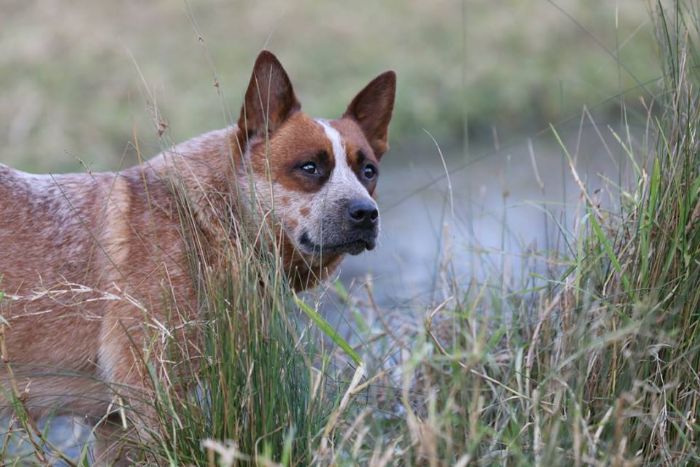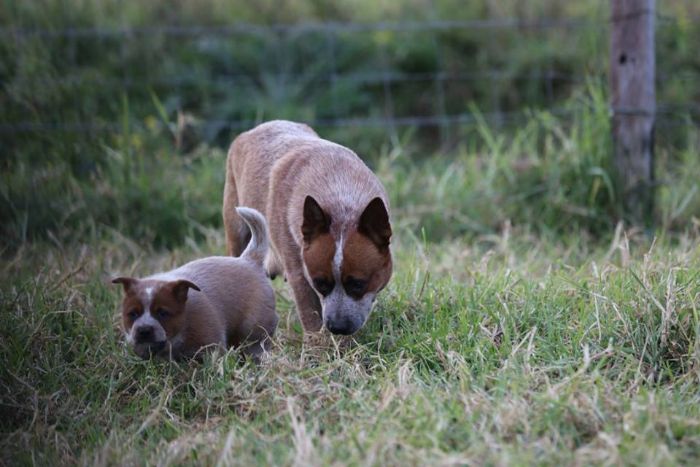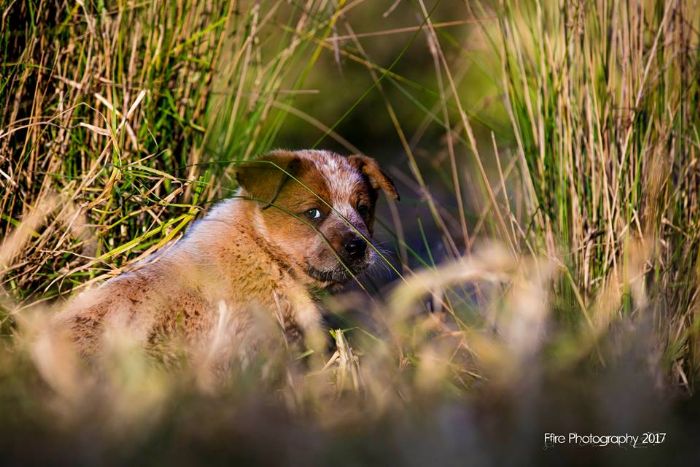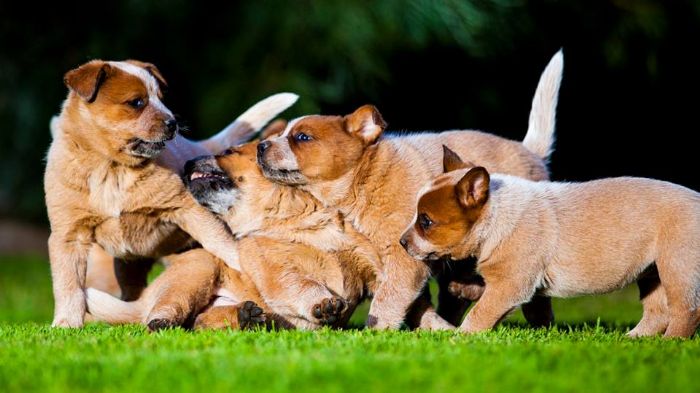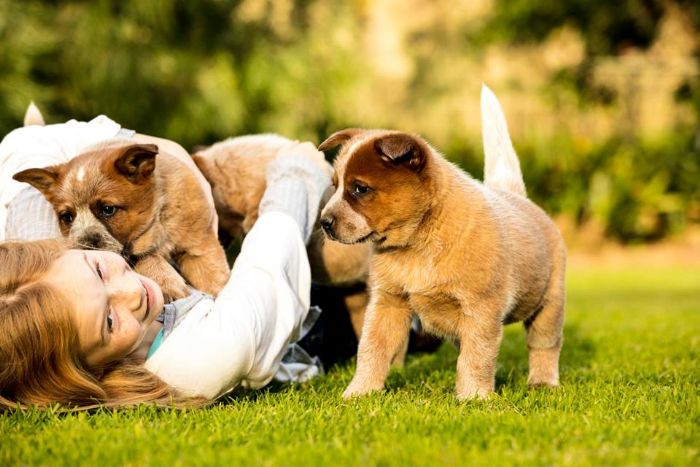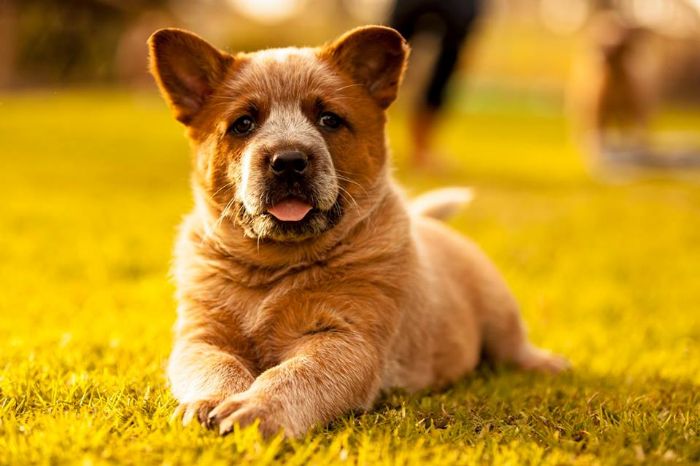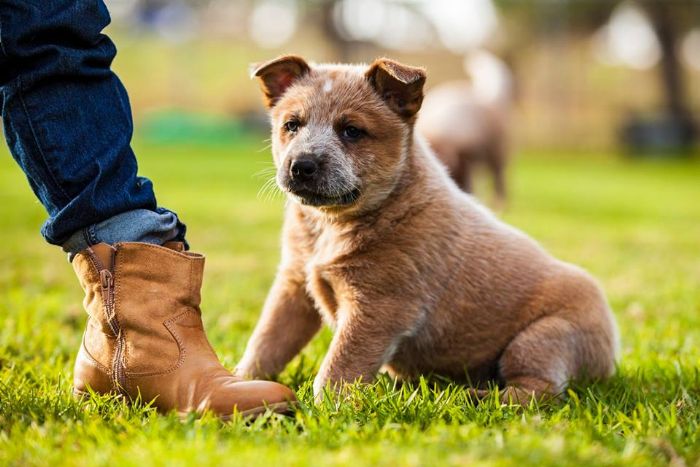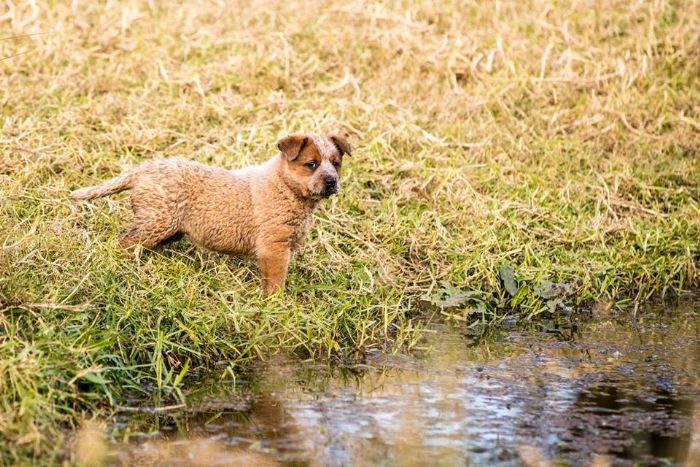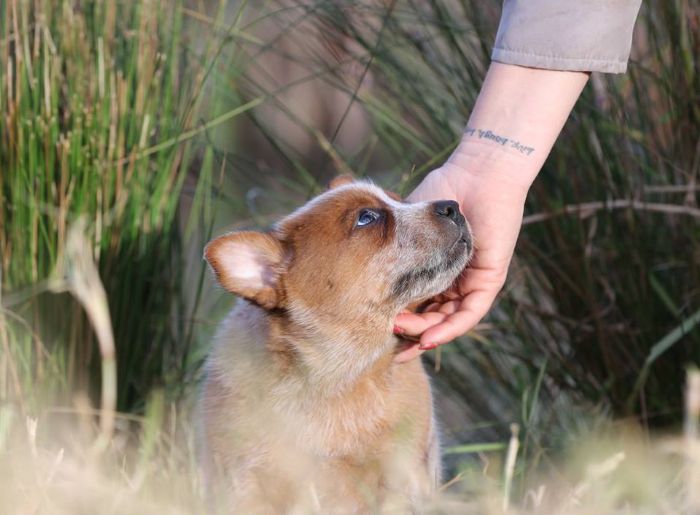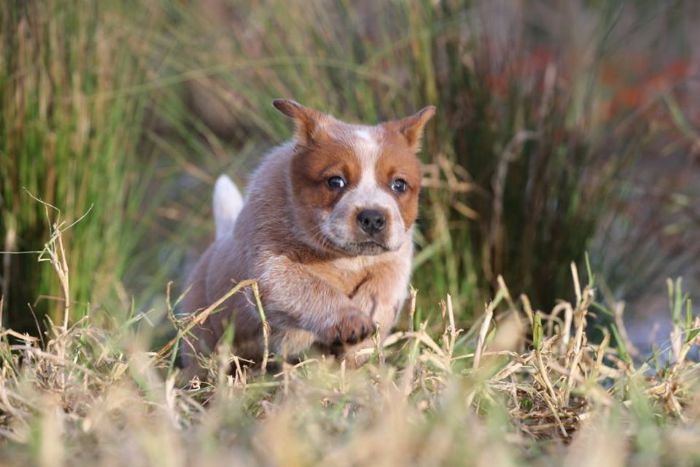 10th July 2017
Bandit had his first day at the beach on the weekend. His owner Sharon is doing a fantastic job of getting him out and about
9th July 2017
Kelly finished off her PT herding title today, with many comments that it was a stylish run which was really nice to watch. On to Started level now! This is the second title for my prefix.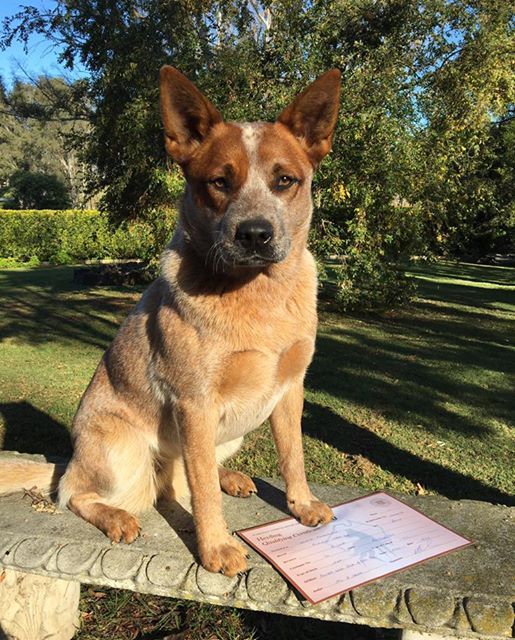 Little Jake is proving to be a cutie. The breeder and owner of his sire both agree they can see so much of Rowdy in him.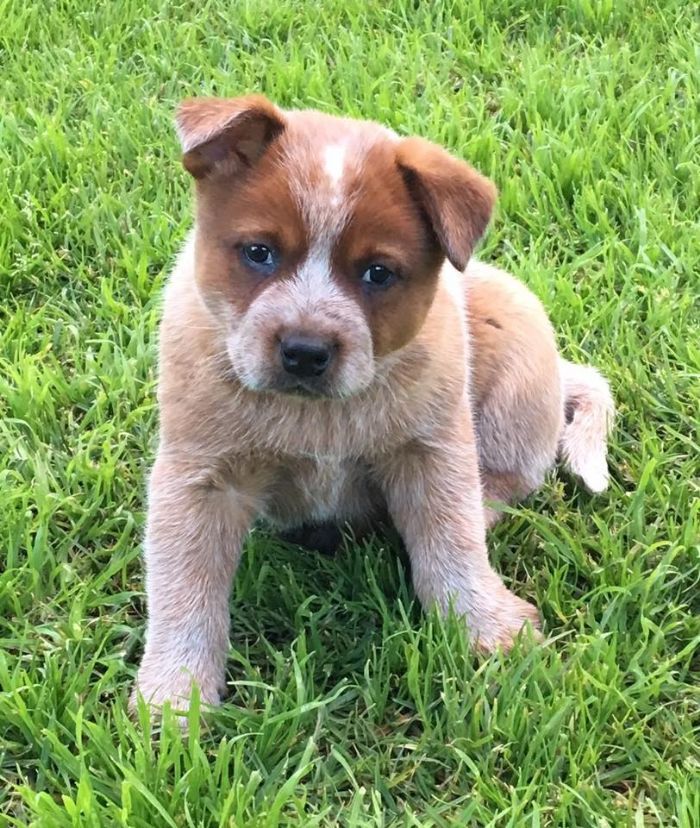 8th July 2017
Kelly went to the Bearded Collie Club trial today and easily passed both her Instinct Test and her first Pre Trial Test pass! The judges comments were that she shows lots of potential. Skye also came along for the day out and specialised in handing out cuddles.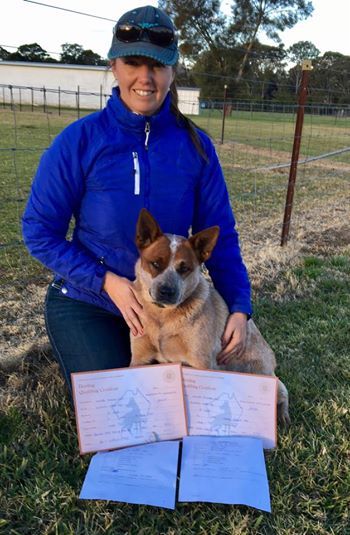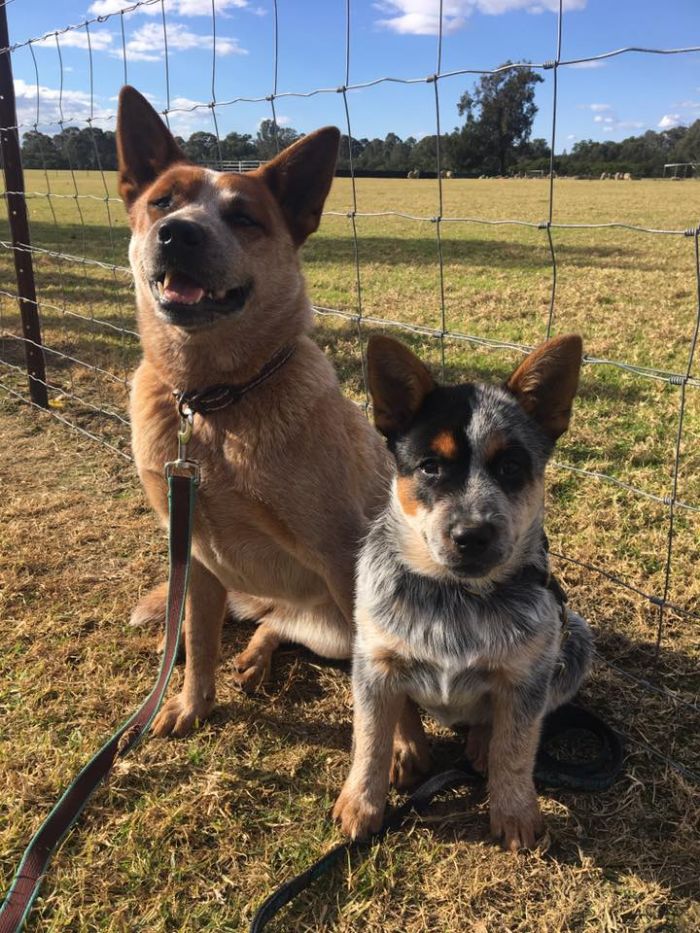 Minty went to his first herding lesson at H Bar Stockdogs today in Victoria. He showed lots of drive and like his sire he wanted to block them up.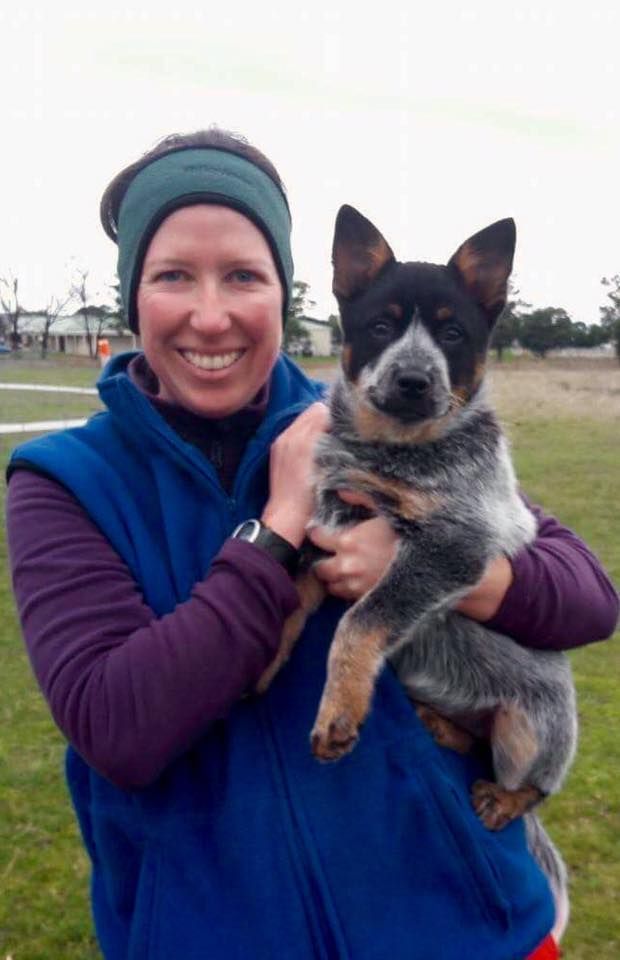 7th July 2017
Some great photos of Esme's PT run last weekend, where she earned her PT herding title, on a very frosty morning.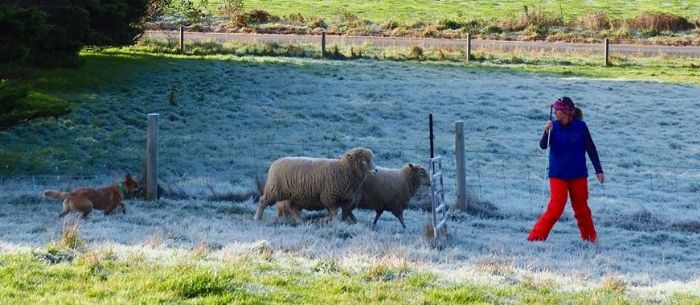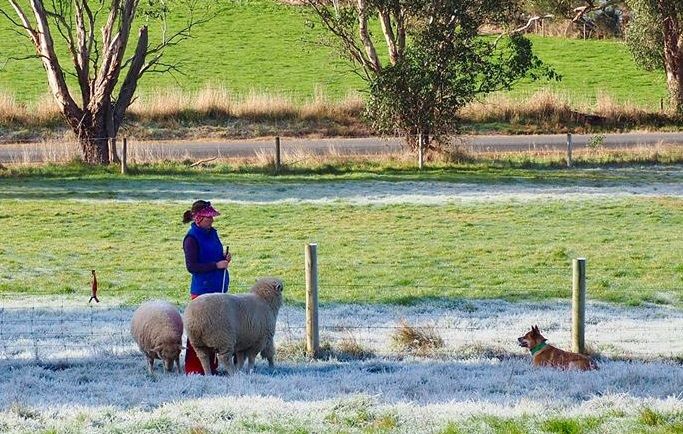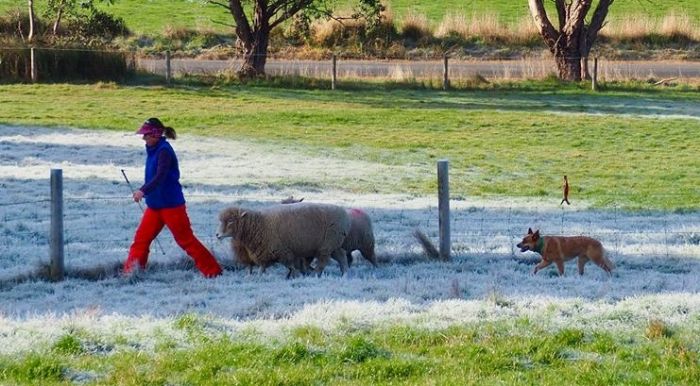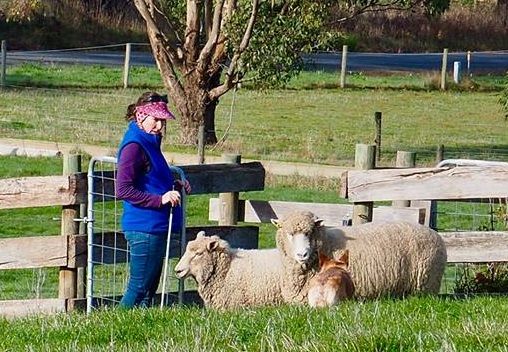 3rd July 2017
5 weeks old today for the Rowdy x Pria pups. So bright and happy and into everything!
Meg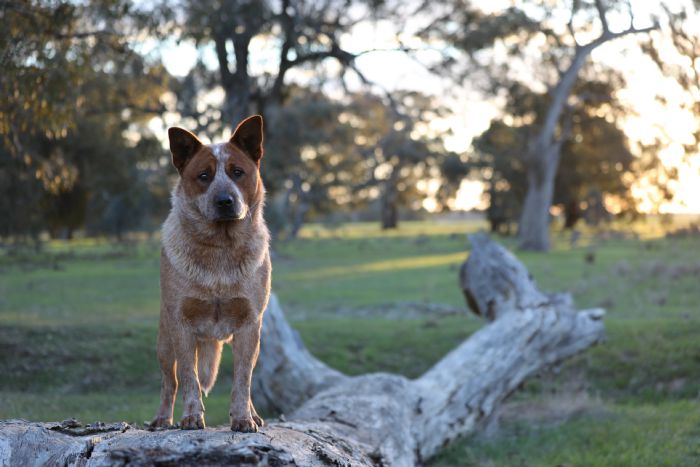 2nd July 2017
The first title for Team Erudite with Esme earning her PT herding title today at the Border Collie Club of Victoria Herding Trial. Esme skipped the lower level and went straight to PT and she also won the award for the most promising PT dog!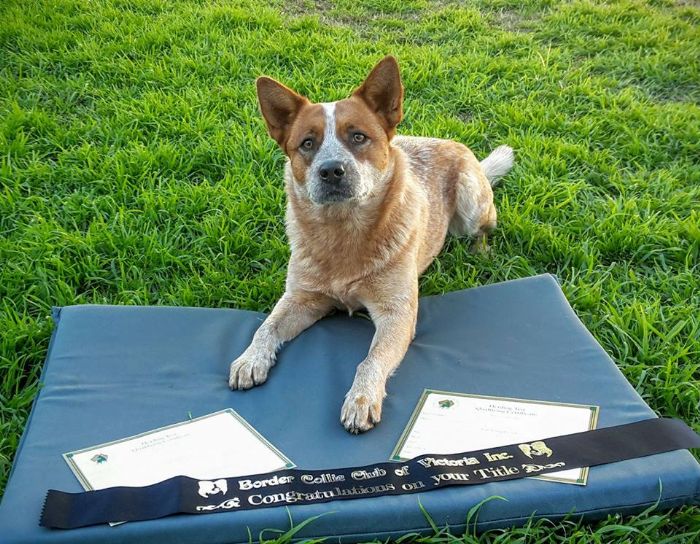 Zac and Tess also headed to the Brush Farm Rally Trial today and both earnt passes in the Rally Masters class.
27th June 2017
The very first post for this website! Having built and managed the Willowpark Kennels website for the past 5 years it seems its time to start a website for my own prefix. With the Vin x Pria litter about to start trialling hopefully there will be lots of news soon!
Here is the latest video of Esme working a single sheep.
Contact Details
Belinda Carter
Deniliquin, NSW, Australia
Phone : 0438 541302
Email :
[email protected]