The dogs out and about
24th December 2018
Esme's pups have all left for their homes, but we couldnt resist a bit of fun for christmas with them.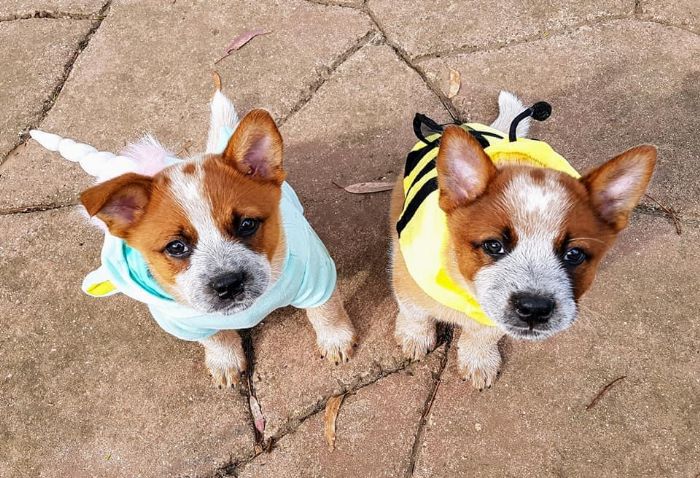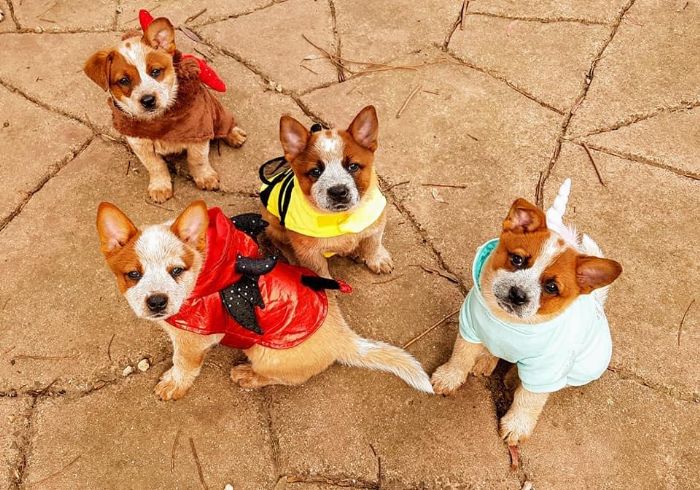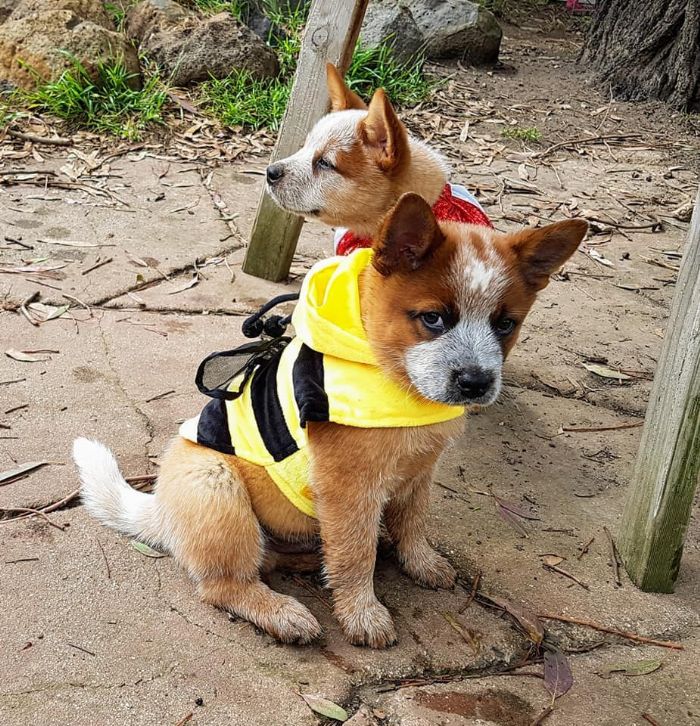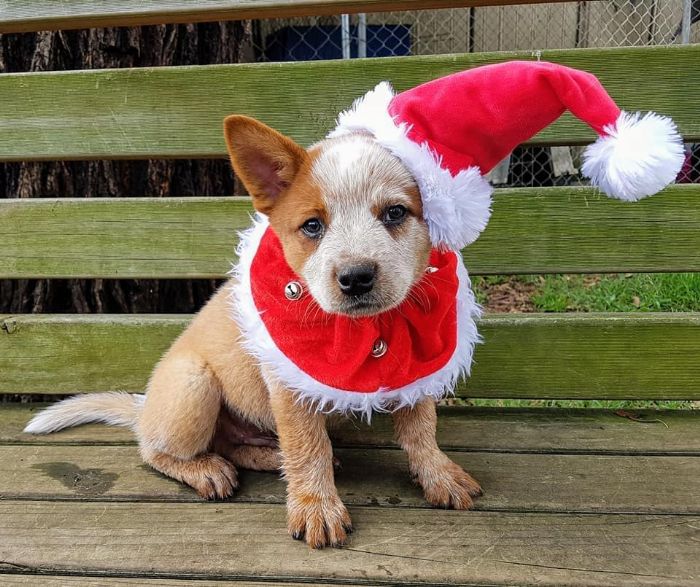 22nd December 2018
Tess had 3 red boys this morning to Pyro. All doing well and now to get some photos
16th December 2018
We gave the 7 week old Jake x Esme pups their first look at sheep. As a female is staying on to contribute her genes down the track we really wanted to see who, even at this tender age was keen, sensible, cognitive and wanted to control the sheep, not just chase. We are always looking for pups which want to 'block up', stop stock from escaping ect, and pups more interested in 'having a conversation' with the sheep and cattle. Run, grab and hold on pups we dont want to breed on with.
Very happy with Nettie, because she is also conformed like a serious work dog (ie - has legs), and has a personable attitude to life.
Nettie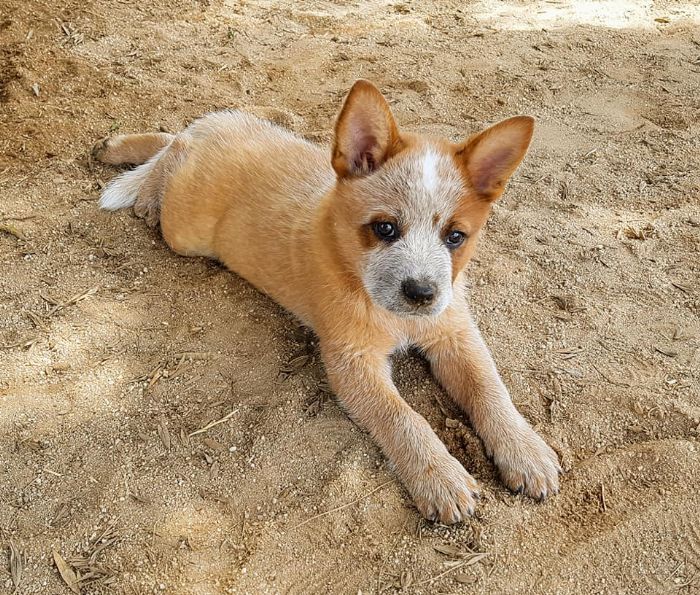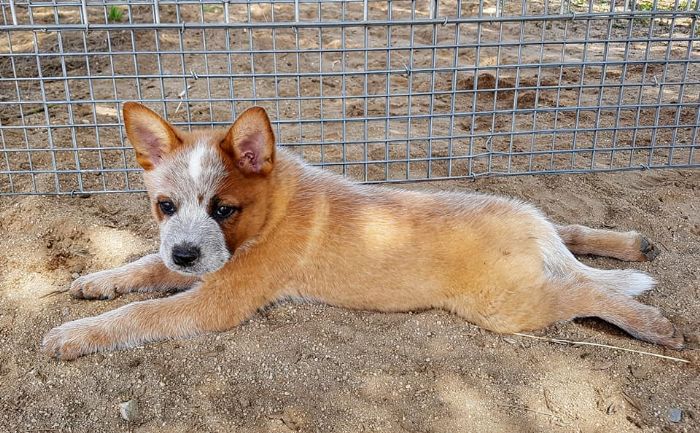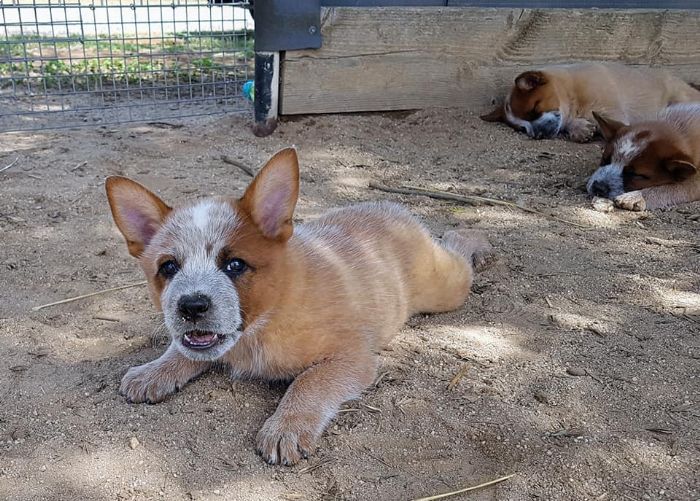 7th December 2018
One of my goals as a breeder is to produce extremely sensible dogs. Ones which dont chase other farm animals, and are trustworthy around livestock. Here are Jake and Kelly out around the horses.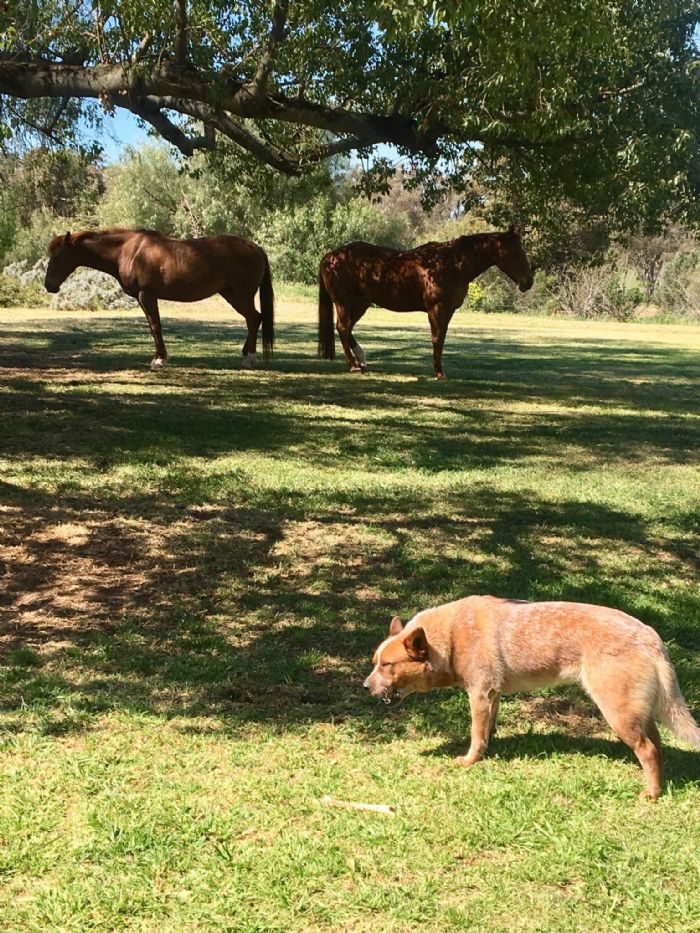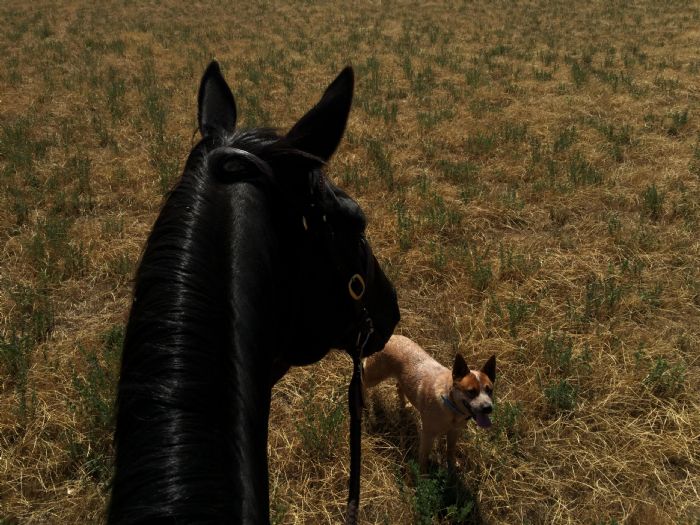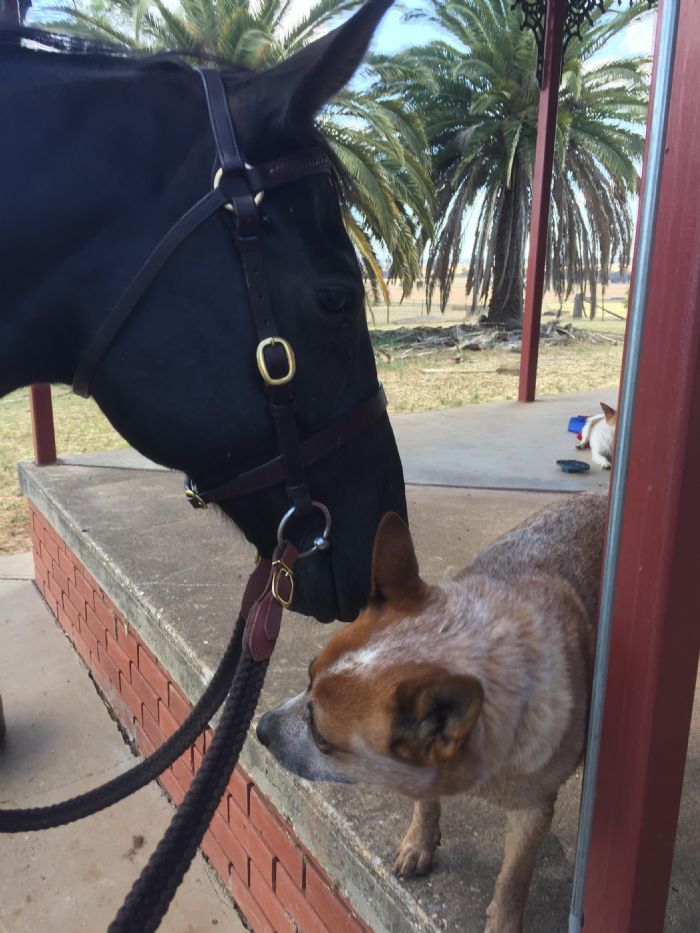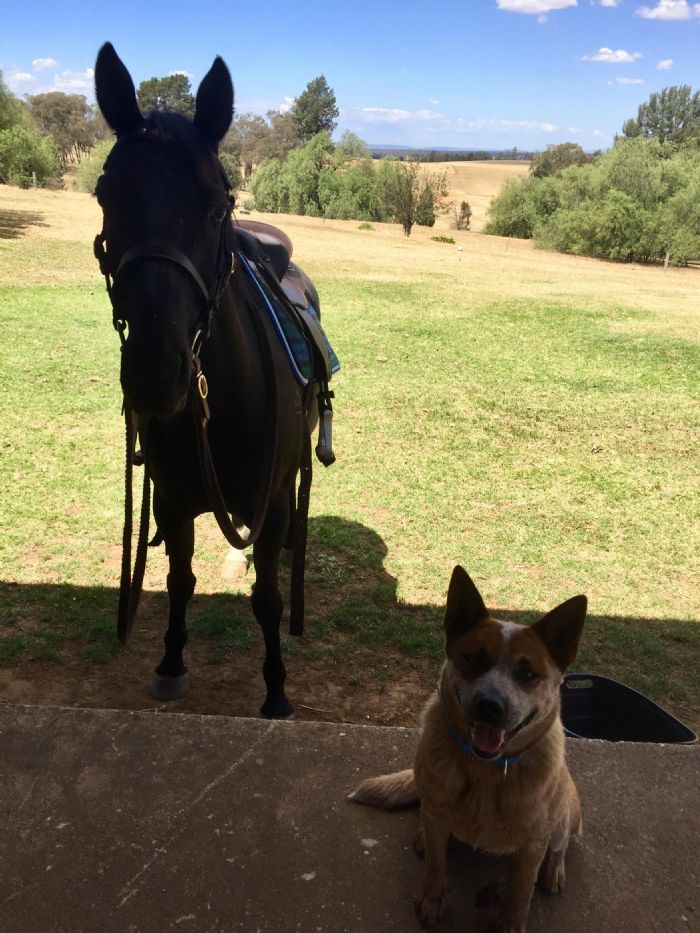 6th December 2018
6 week old needles for the puppies, who were all well behaved. Although Esme has decided life is far easier away from the pack of little teeth!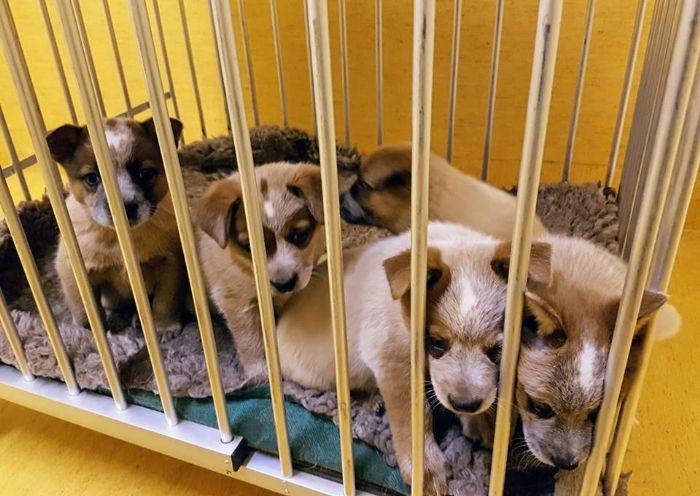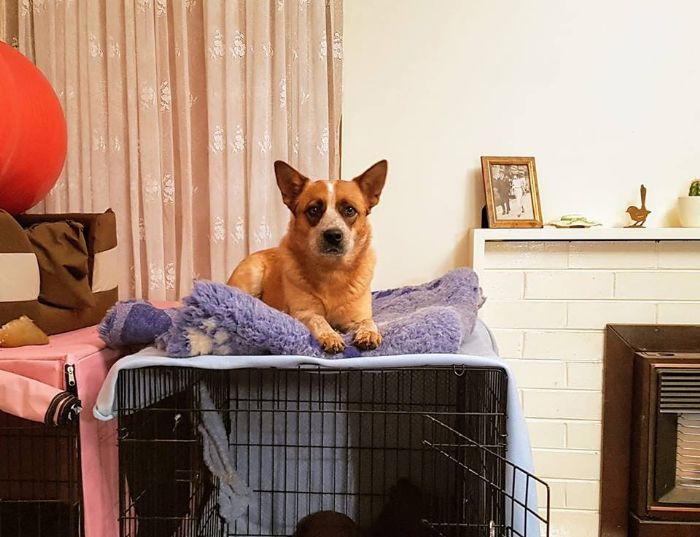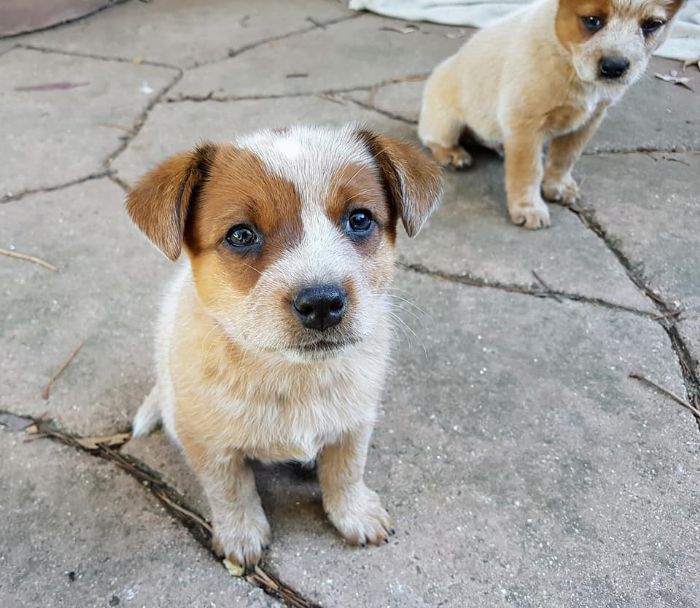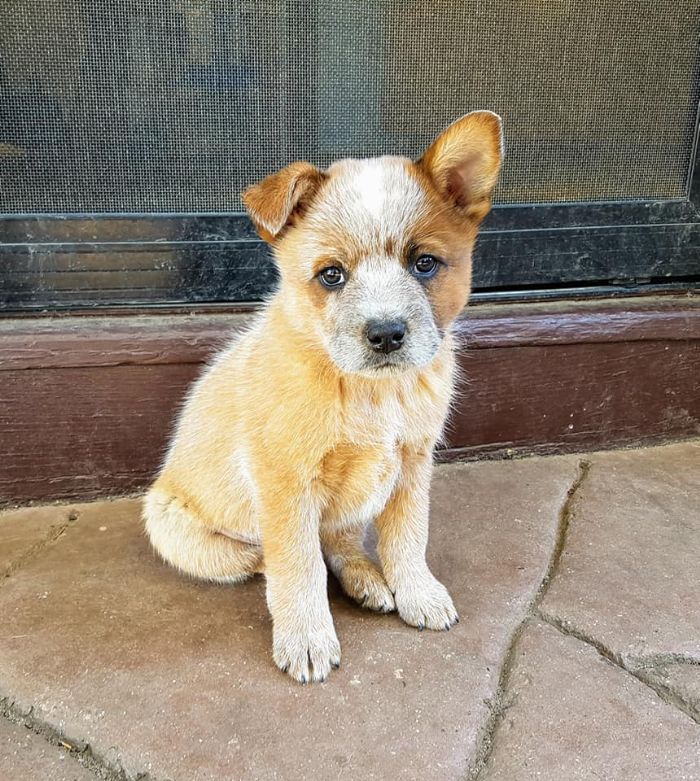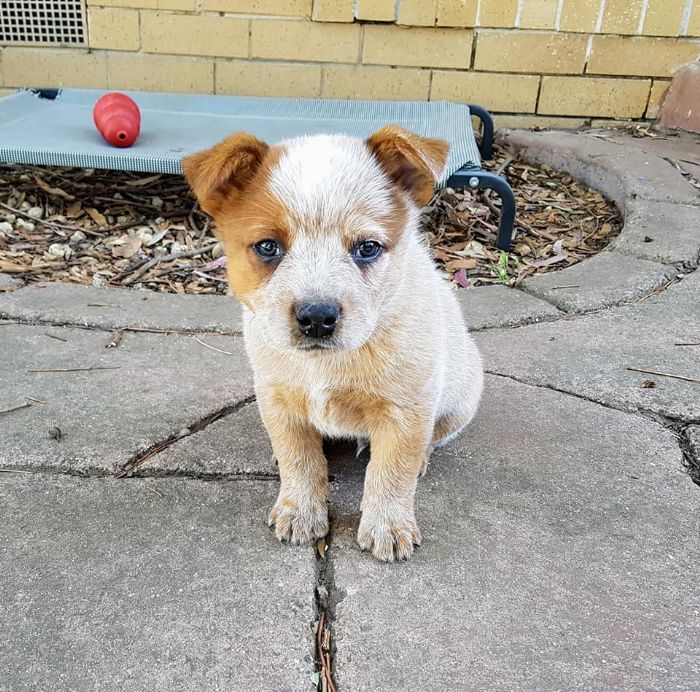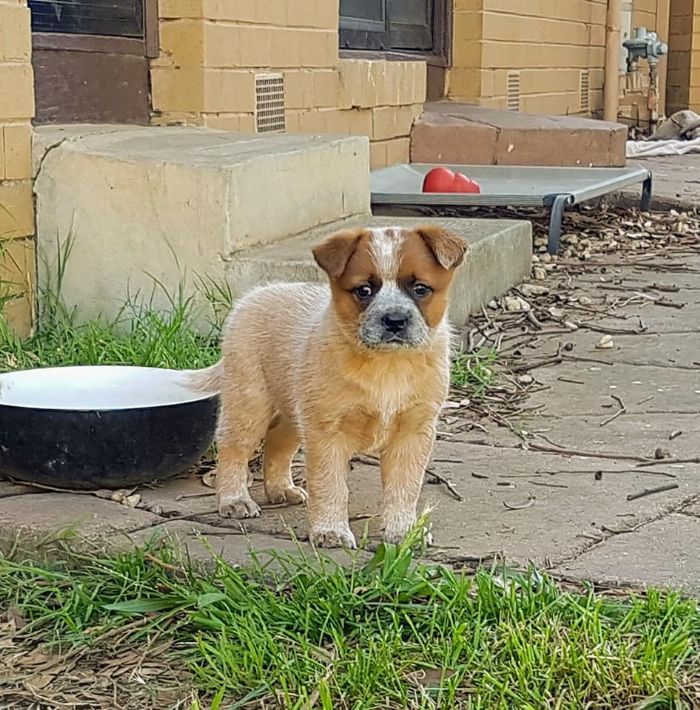 28th November 2018
​The Esme and Jake puppies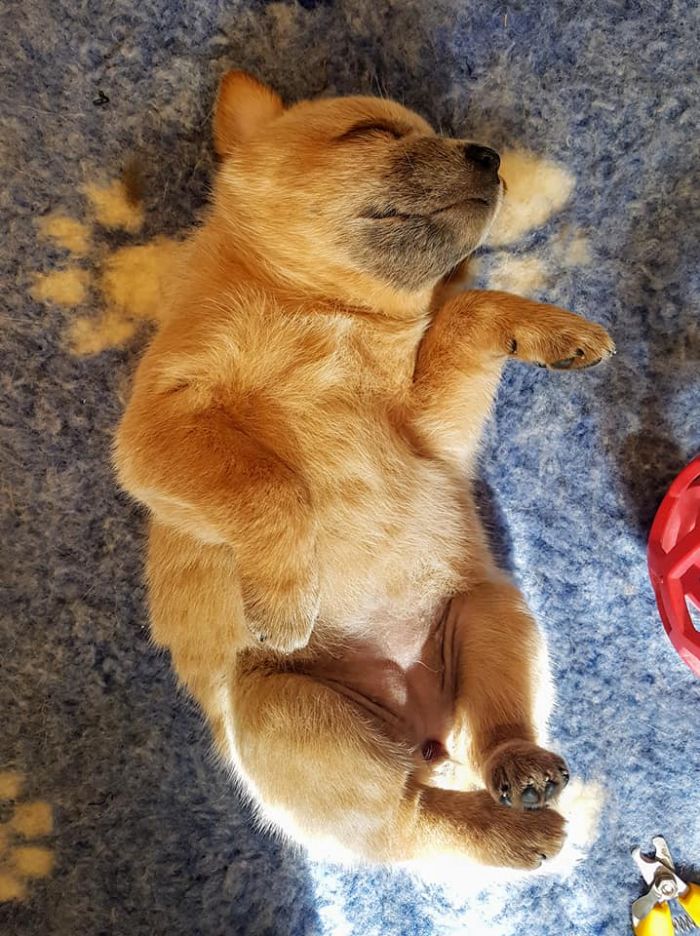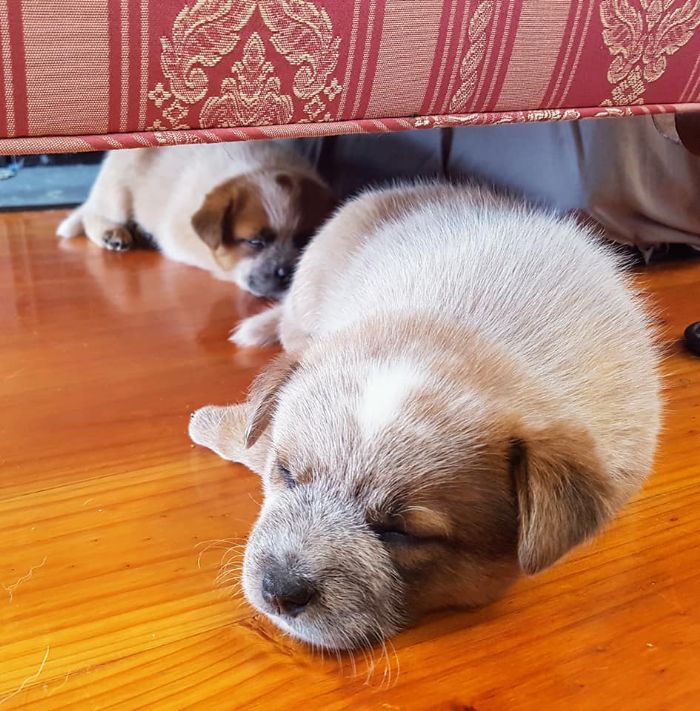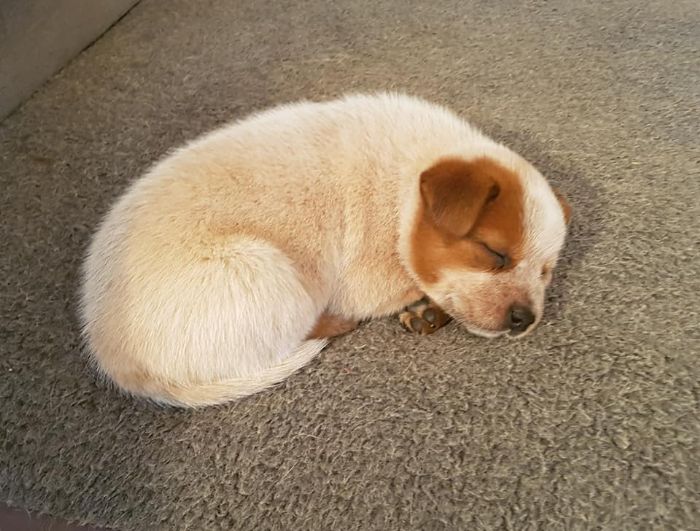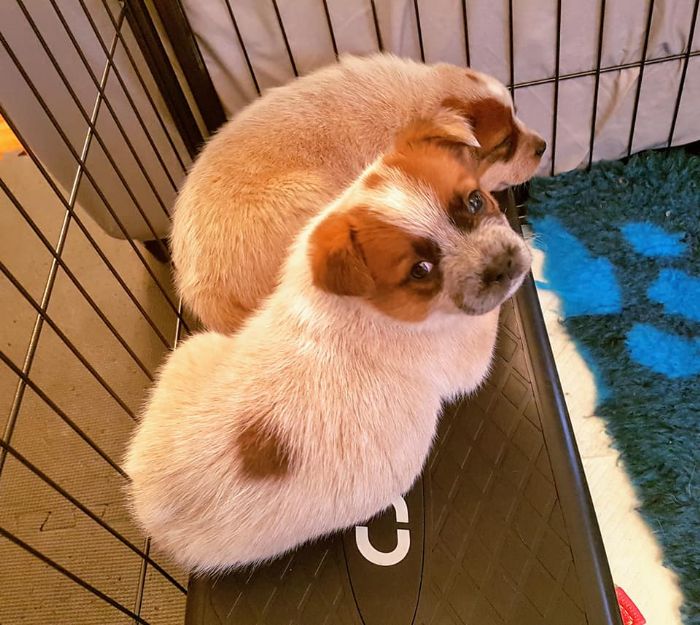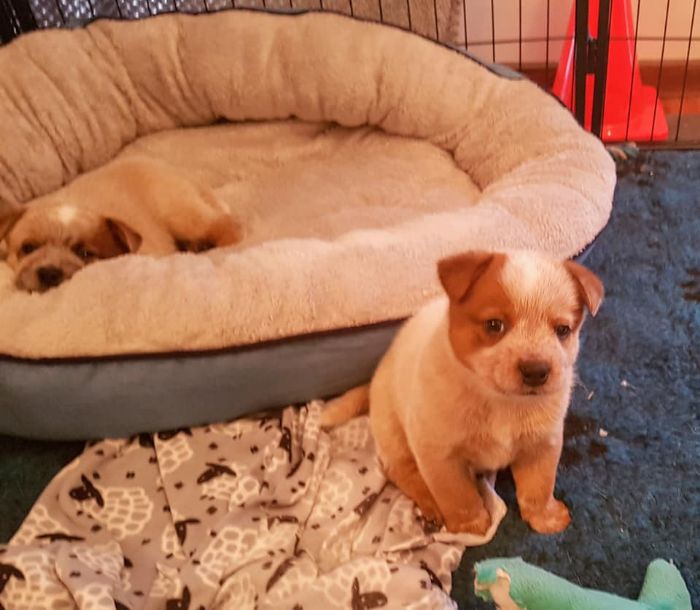 26th November 2018
Fingers crossed that Skye should have puppies on Australia Day. As I need another outcross to introduce into my plans I've been chasing dogs which come down from Leila Watson's dogs. Sadly the very old semen from Cherimoya Cattle Hobo doesnt appear to be viable (3 failed AIs from 3 attempts), so finding a dog quite line bred down from him was my next option. Introducing Breaker - Jabaluka Cattle Breaker. There is so much to like about this boy - his legs, his sublime movement, his cognitive brain. He is also amenable enough to run with other stud males with no issue. Breaker has never been shown, but things like that dont bother me in the least - a good dog is a good dog regardless of what he does on his weekends.
Skye was my choice to put to him - she really needs a blue male due to her tan markings, plus she is a strong girl who can do with more leg. She has a natural stalk on her when working, and naturally squarish flanks (for a cattle dog!). I'm hoping for a girl pup and hopefully a male pup to keep in the gene pool.
I am really excited about these possible puppies.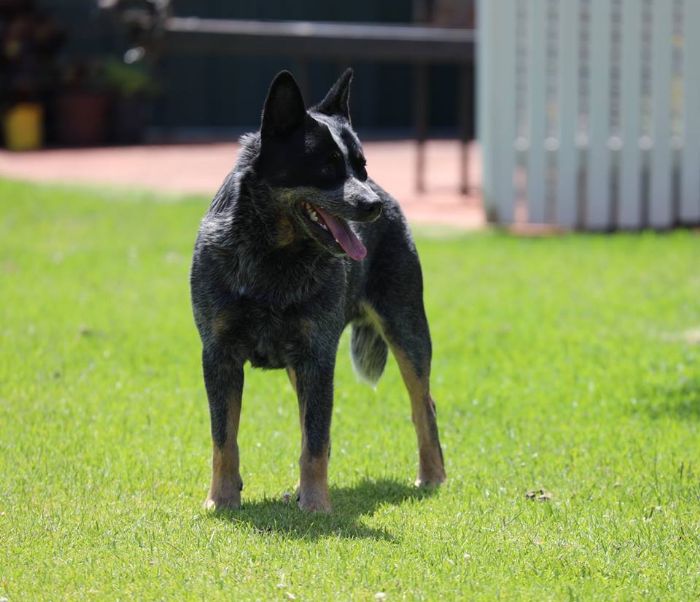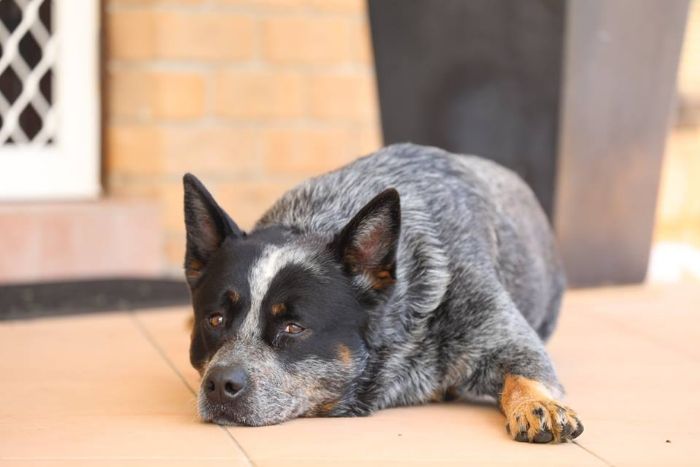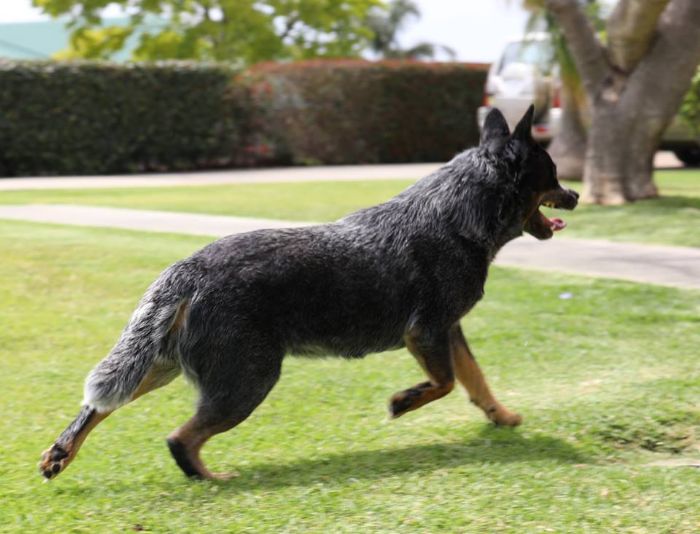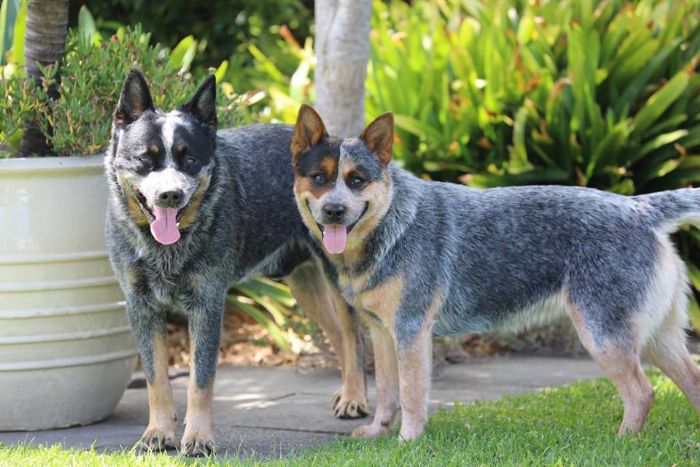 25th November 2018
The dogs enjoyed a few days at our favourite beach house. Tess carted her rapidly expanding belly through the waves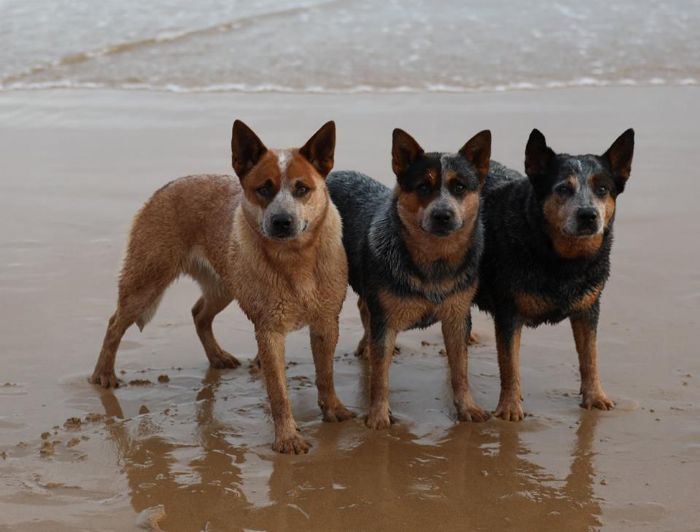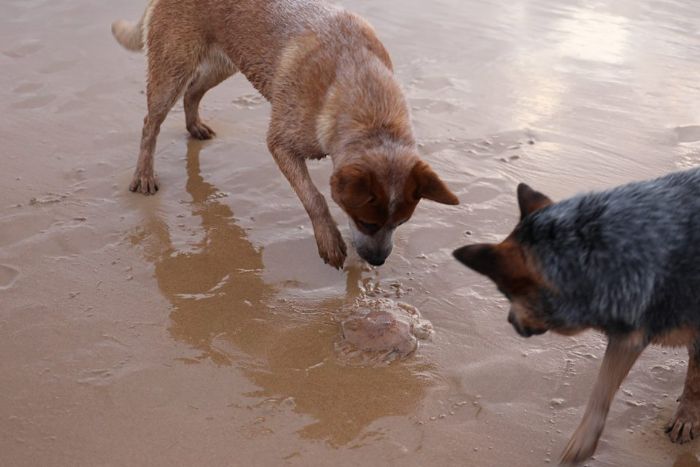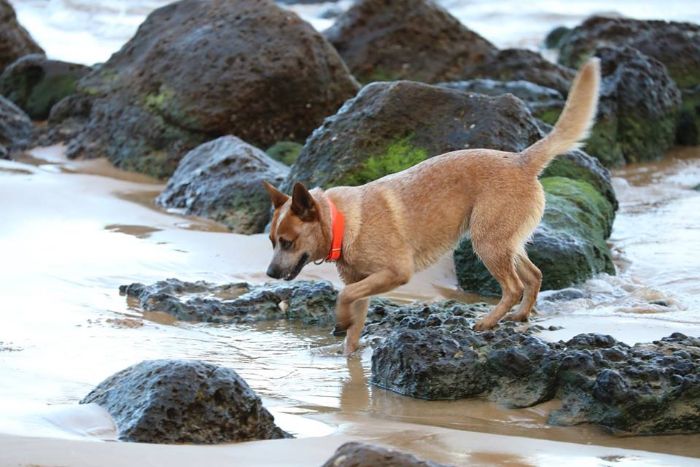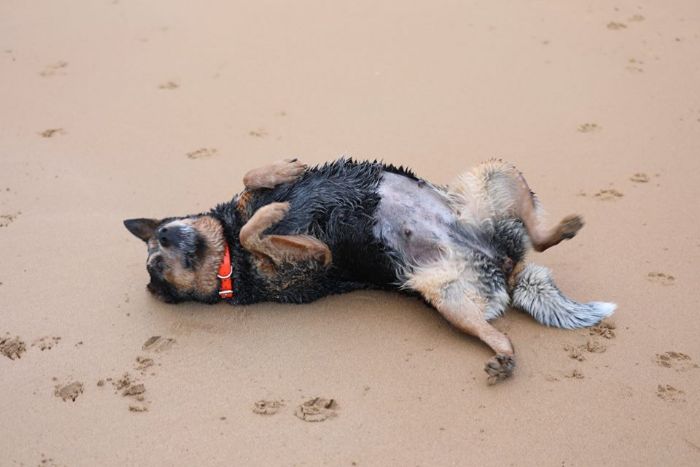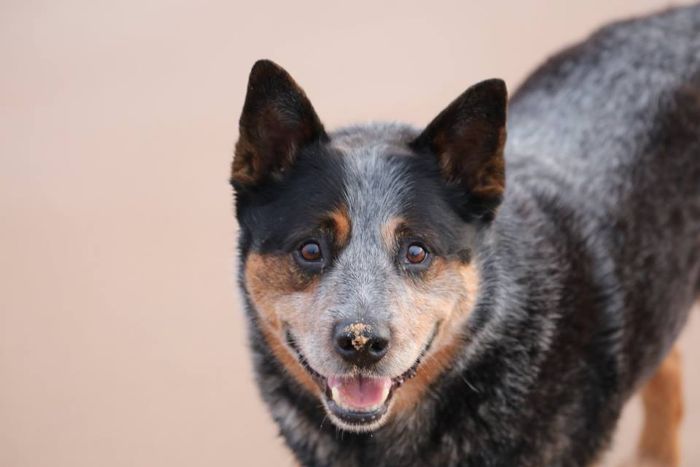 15th November 2018
​The Esme & Jake pups are super cute, 3.5 weeks old now.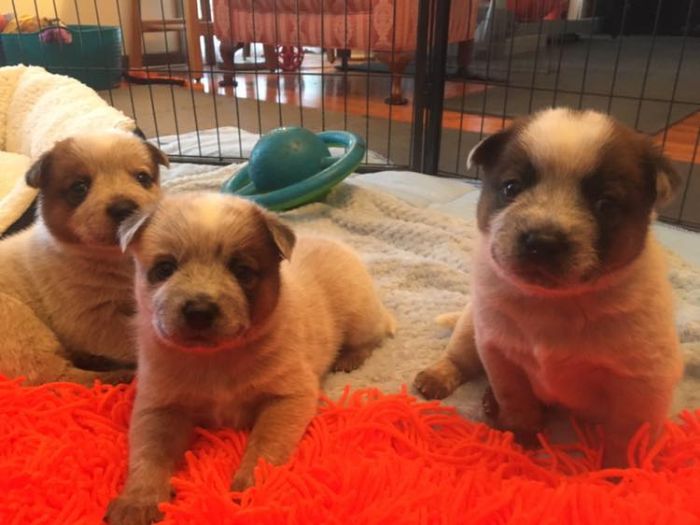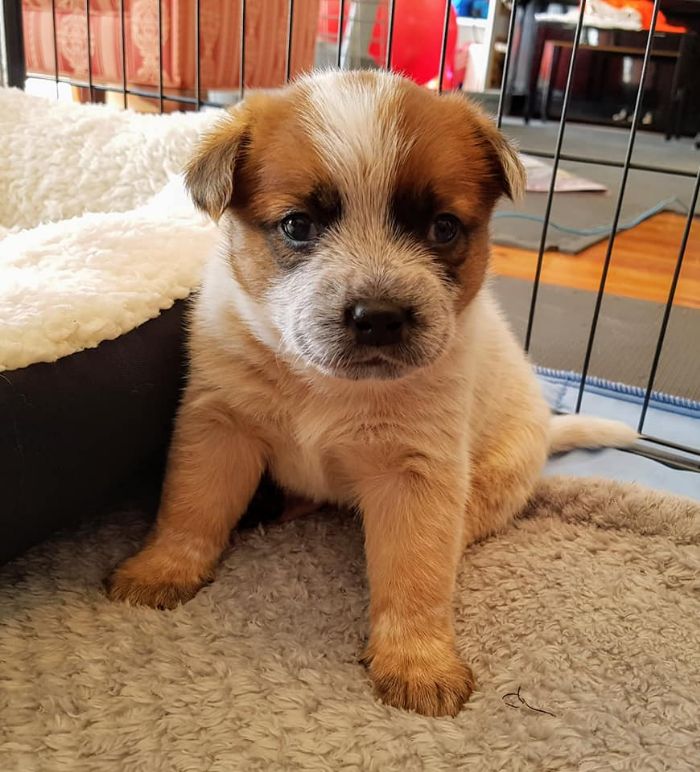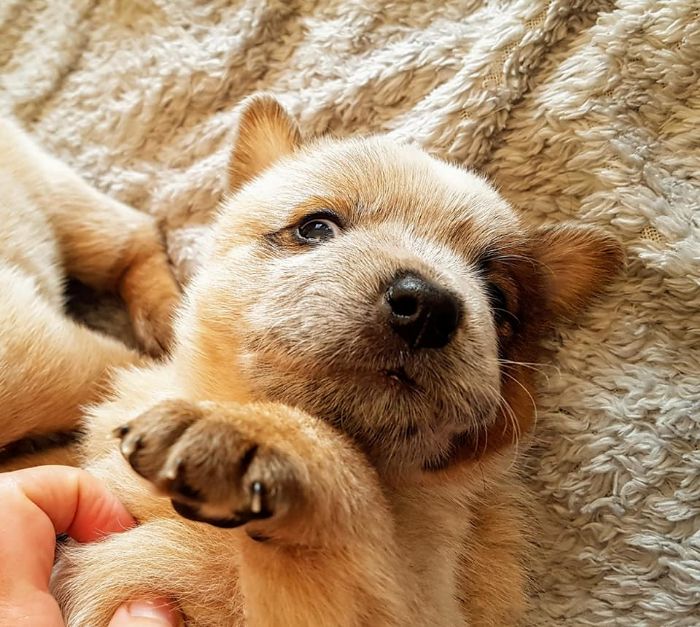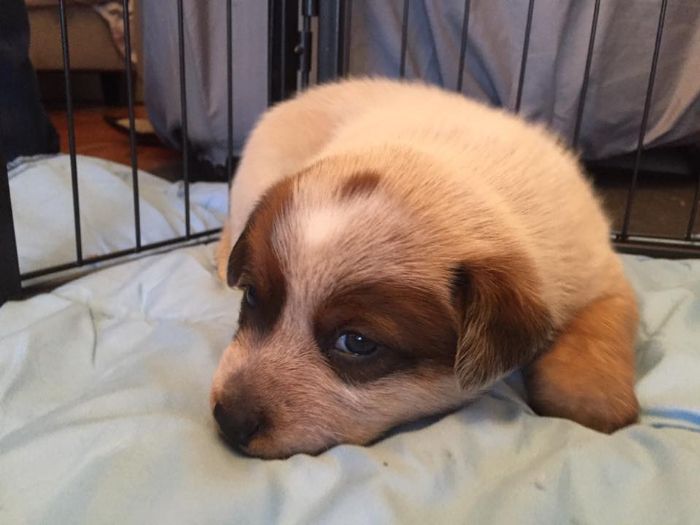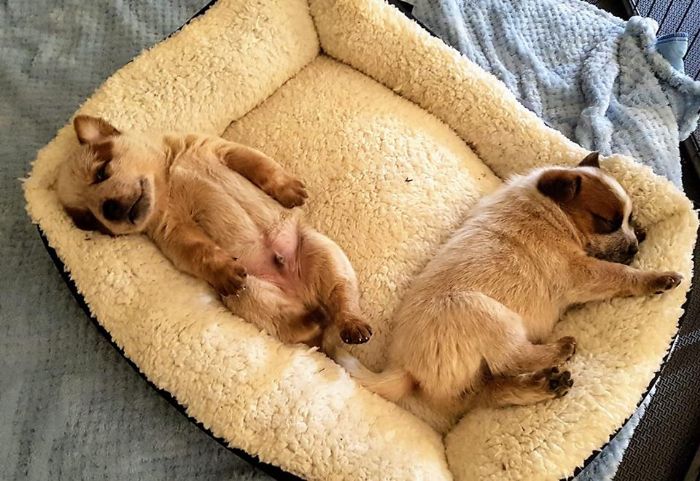 15th November 2018
Last week Jake headed up to sunny QLD. It was a tough decision to send him off to live with Jane & Mike, but they have had a huge soft spot for him since meeting him earlier this year. He will be in a co-ownership arrangement and I will still use him at stud. Jake is the biggest softy and I know he will just love being Mike's sidekick. Jane is a full time dog trainer and actually got the first BH title on a cattle dog in Australia. Jake has fallen head over heels for Jane's Malinois Kipande. He should really shine with Jane. I am missing his affectionate cuddles and handsome face though!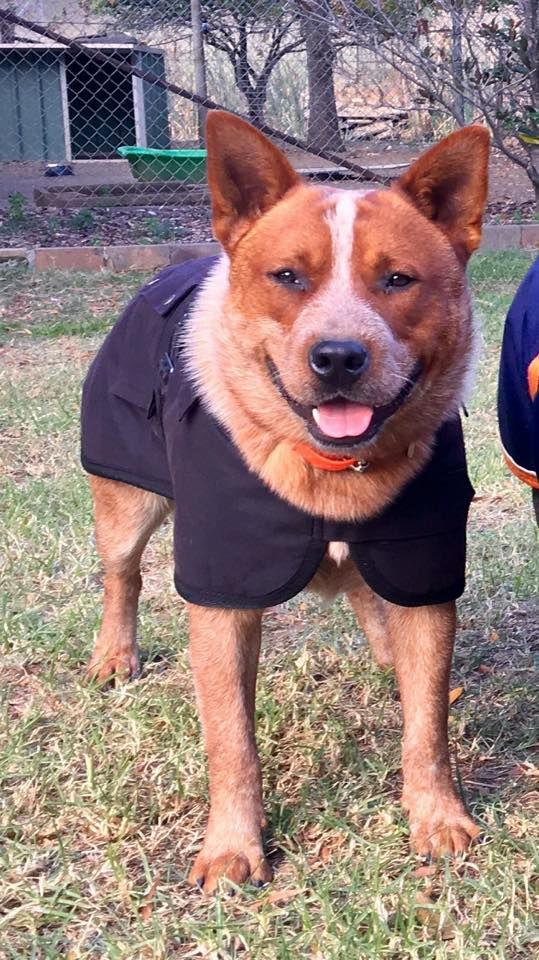 14th November 2018
Excited to say Tess is having pups! I had decided after her Skye litter no more for her, but she has been so fit and healthy running around the farm, and with Damian taking a shine to her we decided to try for a litter, hopefully to produce another worker for the farm. I chose Pyro for her, as I think these pups will be really, really biddable as well as Py being a super atheltic boy. The Kylie Good Onya Rowdy boys are all absolute sweethearts, so Py should cross well with Tess.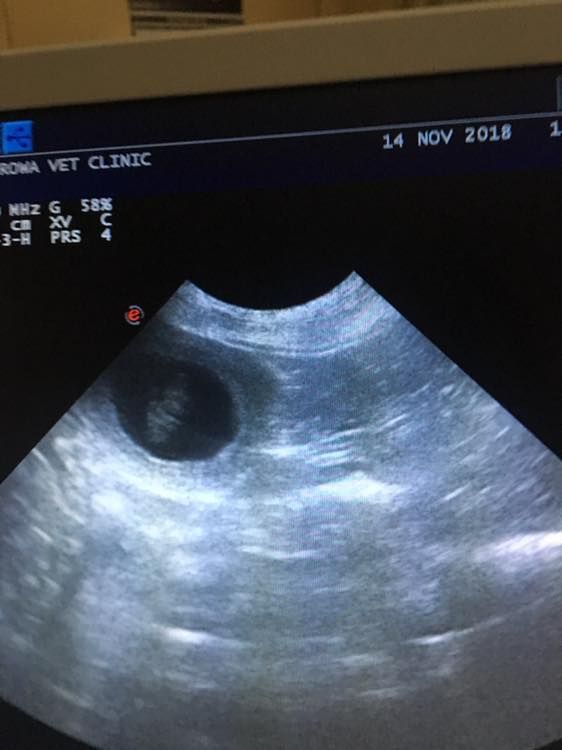 13th November 2018
Esme & Jake's pups are growing like weeds. 2.5 weeks old, all with homes waiting for them.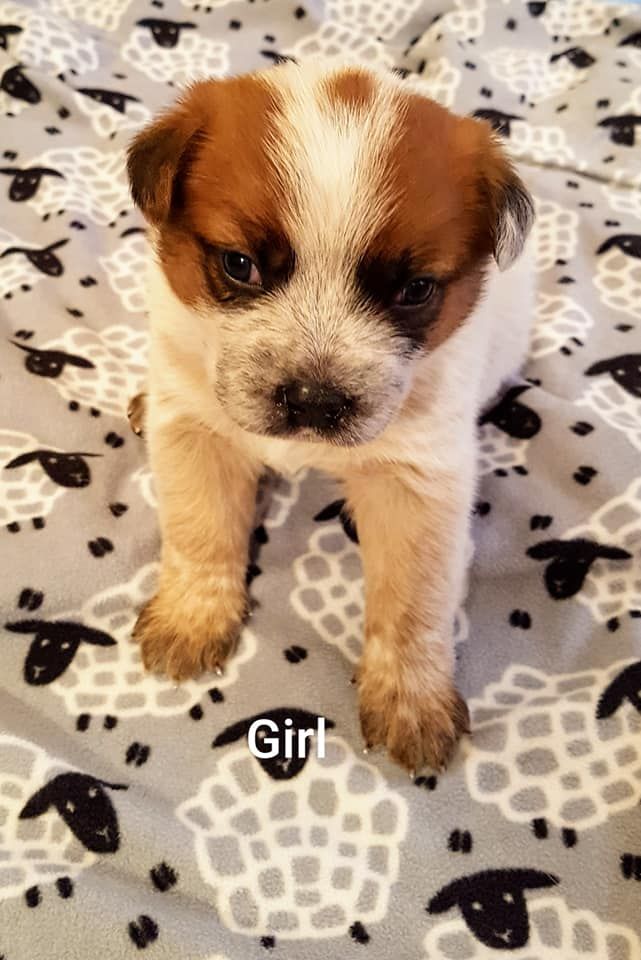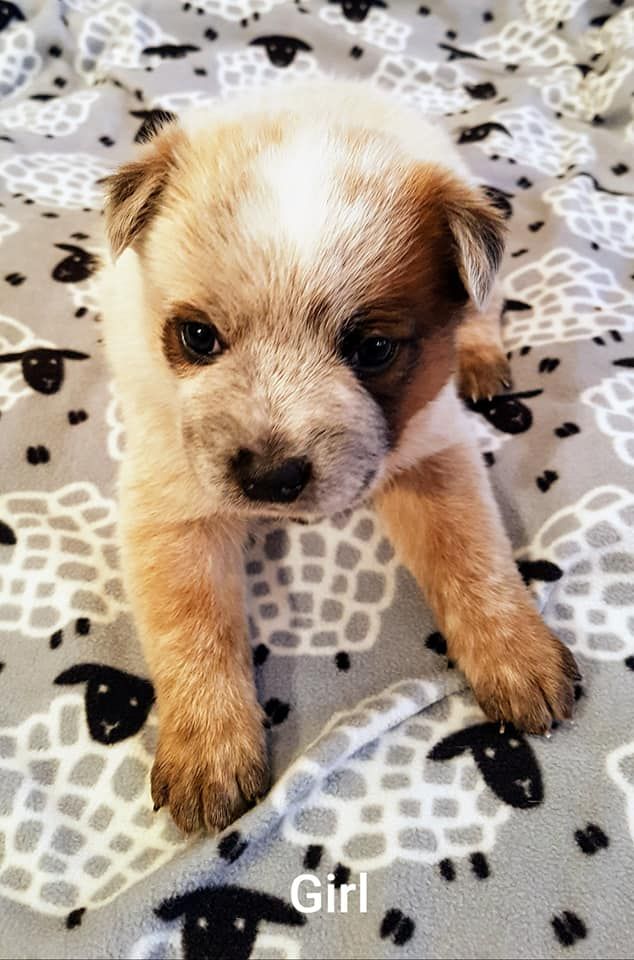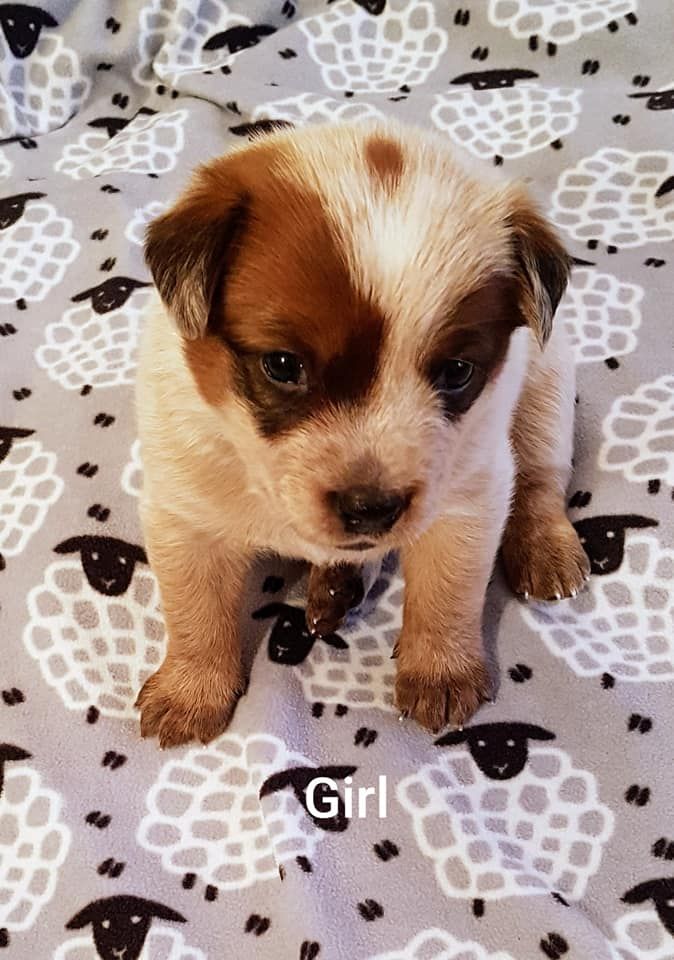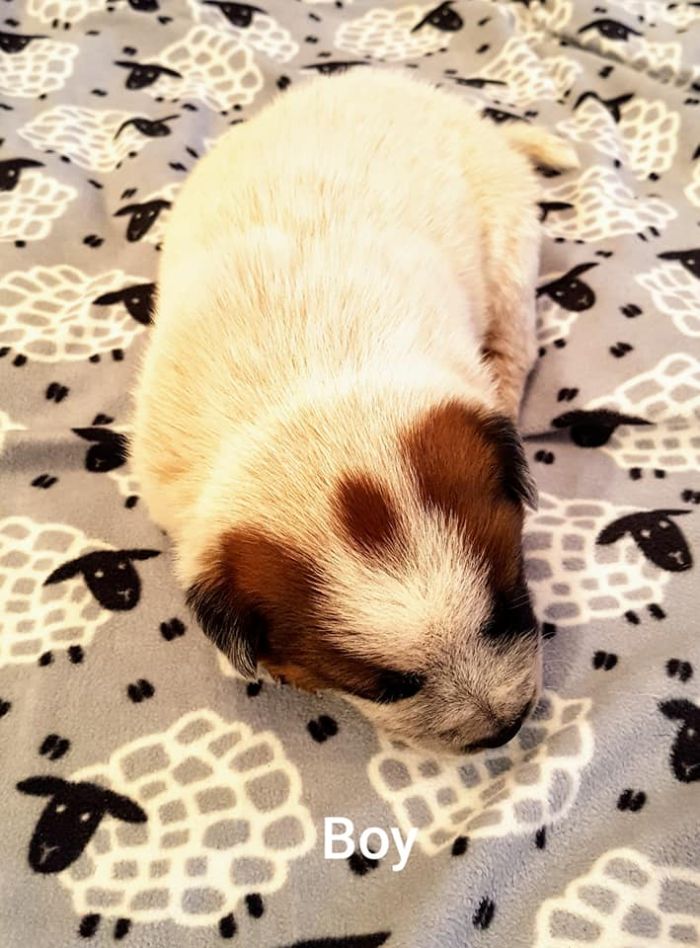 30th October 2018
Esme had her puppies to Jake last week. 3 girls and 2 boys, all red. Gorgeous little things.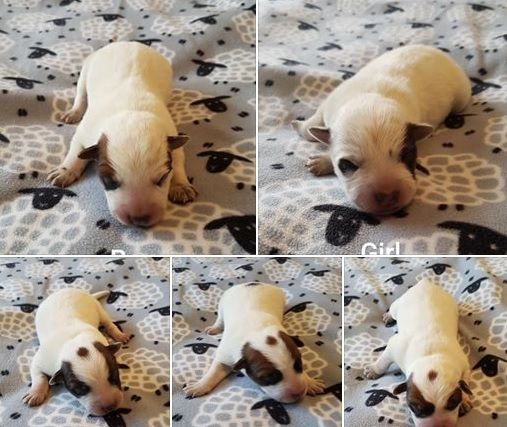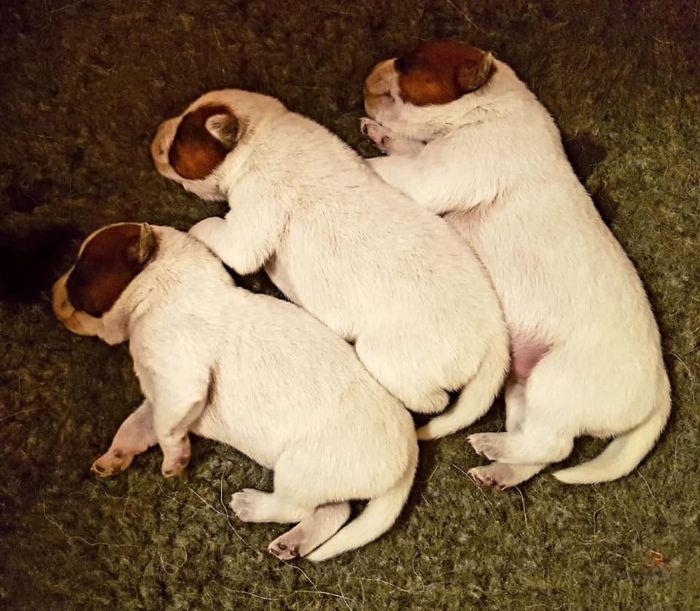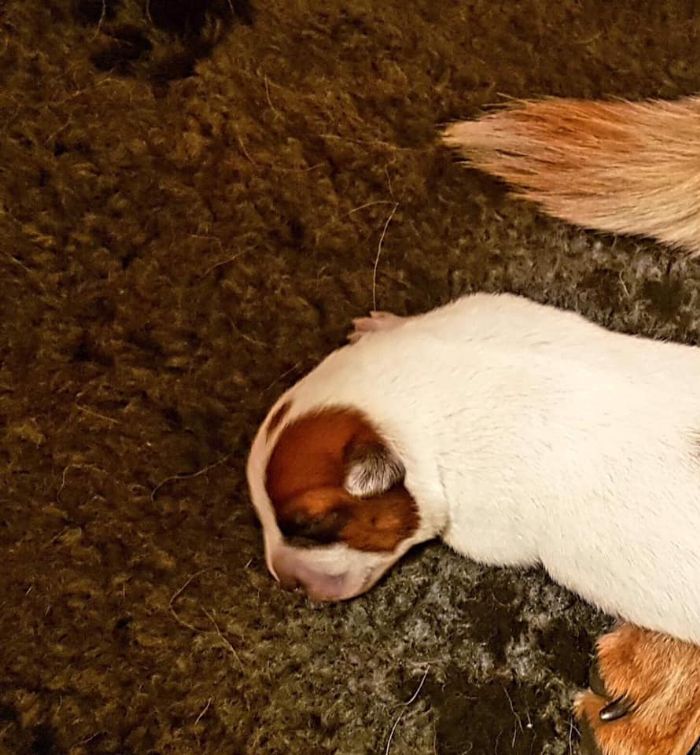 16th October 2018
Jenny, my co owned girl in the US, is 5 months old now. With the Vin x Pria girls being amazing, this Ace x Pria girl should be right up there with them. Really looking forward to bringing her to Australia in pup to Valor.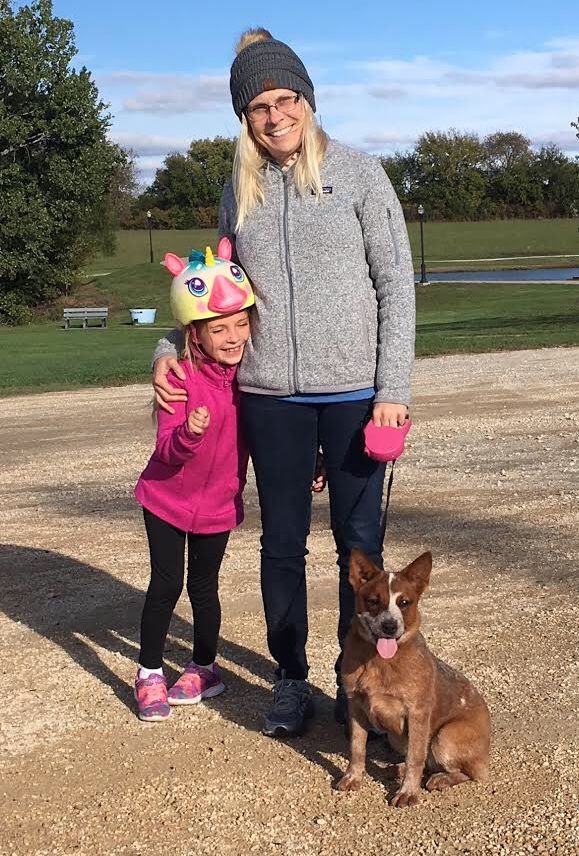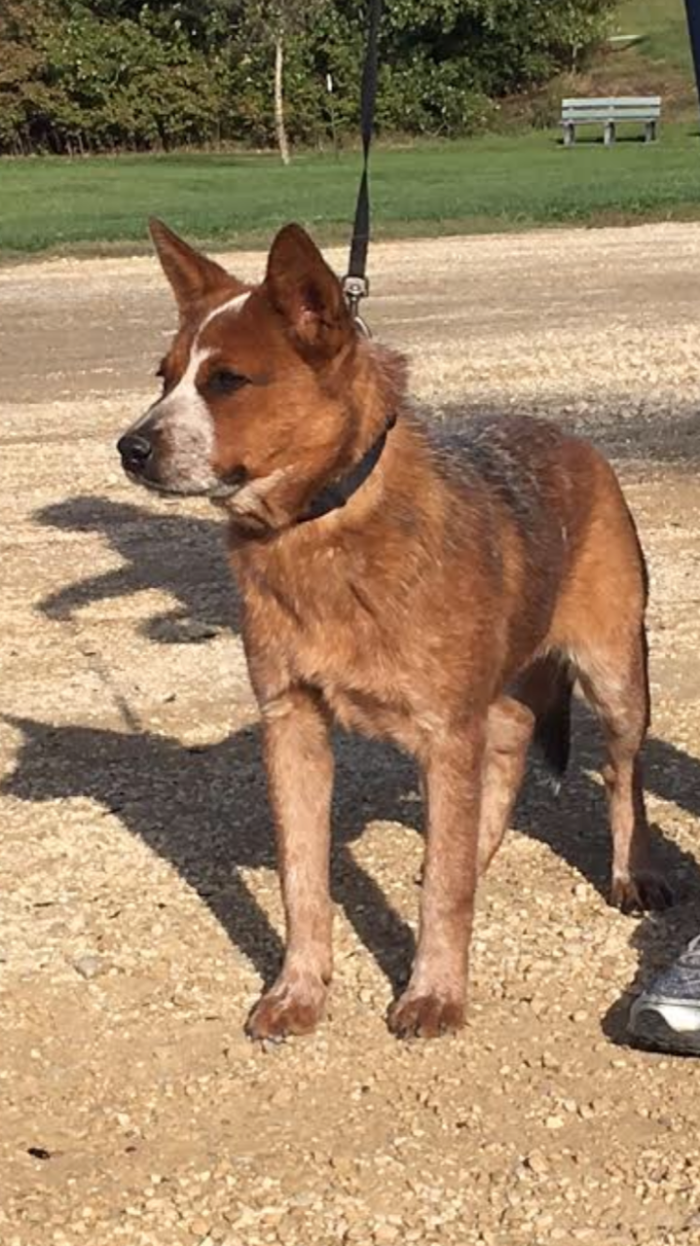 9th October 2018
Wine fridge guard dog - seems Barney is taking his job at Passell Estate Winery very seriously.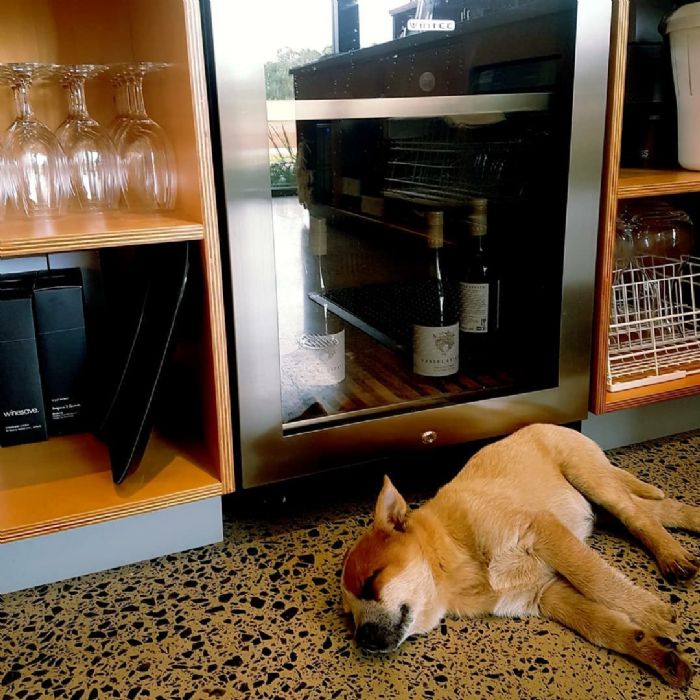 5th October 2018
Mako continuing to grow into the handsome dog he was always destined to be.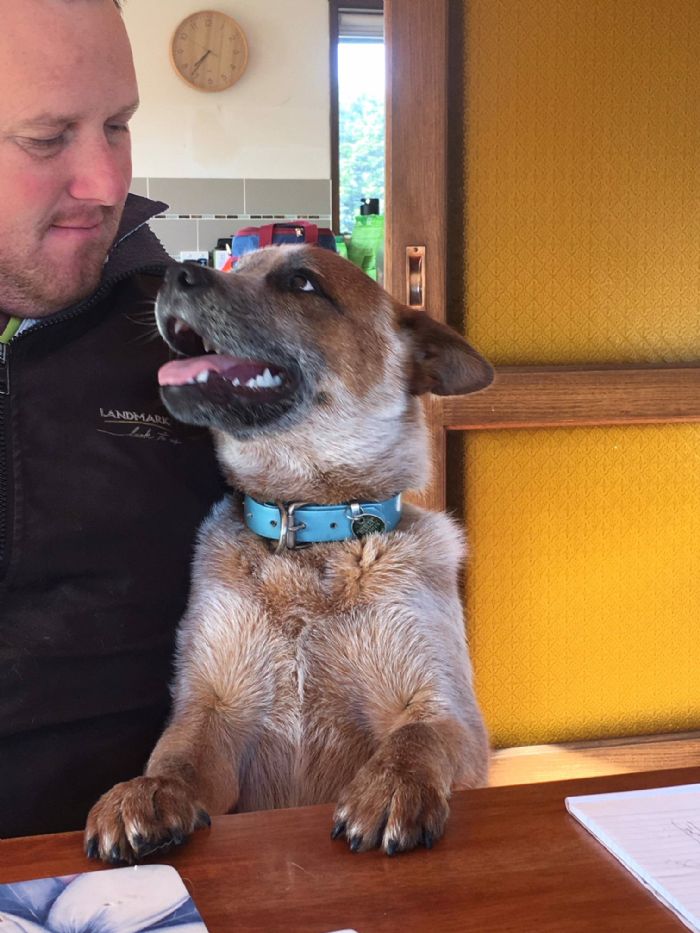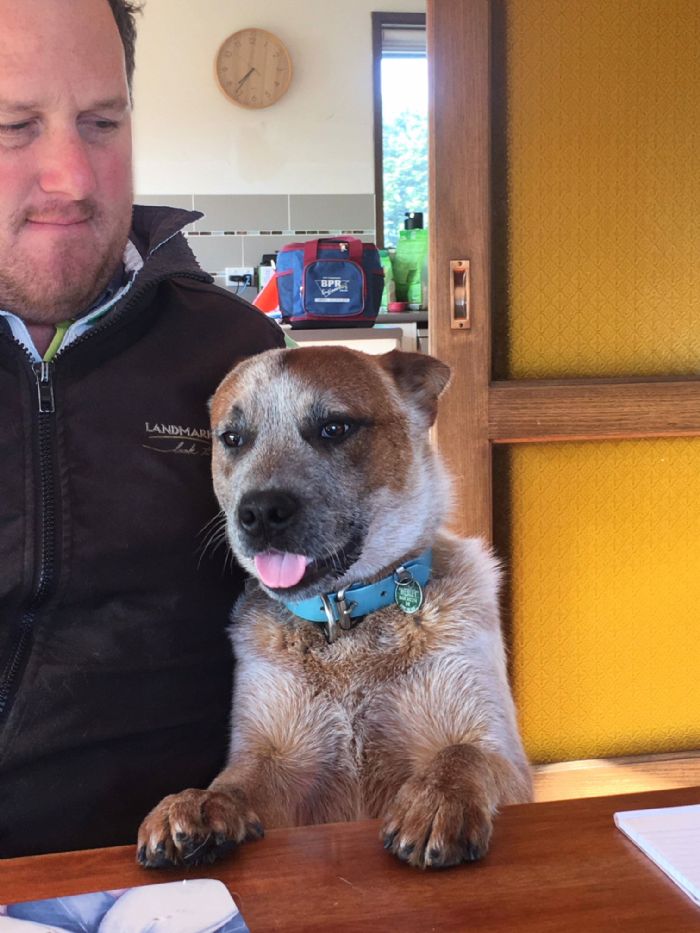 3rd October 2018
Finally importing the frozen semen from a blue, after 3 reds.
Albritts Viking Warrior was born in Denmark and imported to the US as a pup. His sire line contains both Vin & Rowdy, which is already proven for me, and Valor's dam line is Snjos Blue Deera HXAc. She has travelled from Europe to the US to compete in National Specialties and is the first and only Advanced Cattle titled ACD in Europe. She has the eye I am continuely looking for, and all the guts and power in the world.
Valor has fantastic health results.
Albritts Viking Warrior

Snjos Blue Deera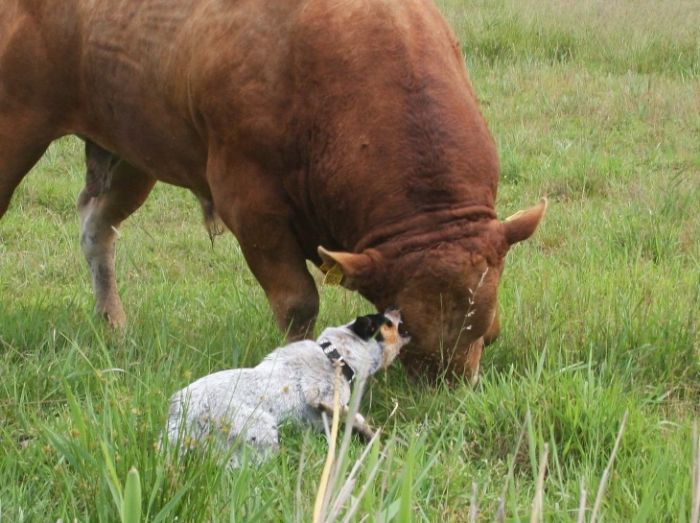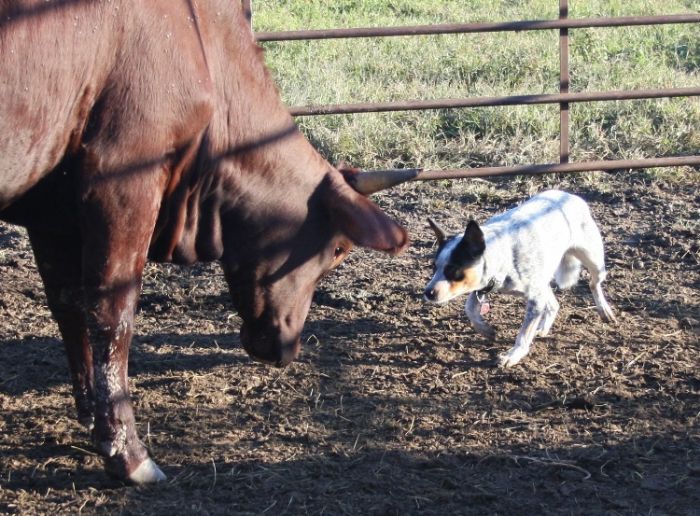 1st October 2018
Ted looking a treat at a show in South America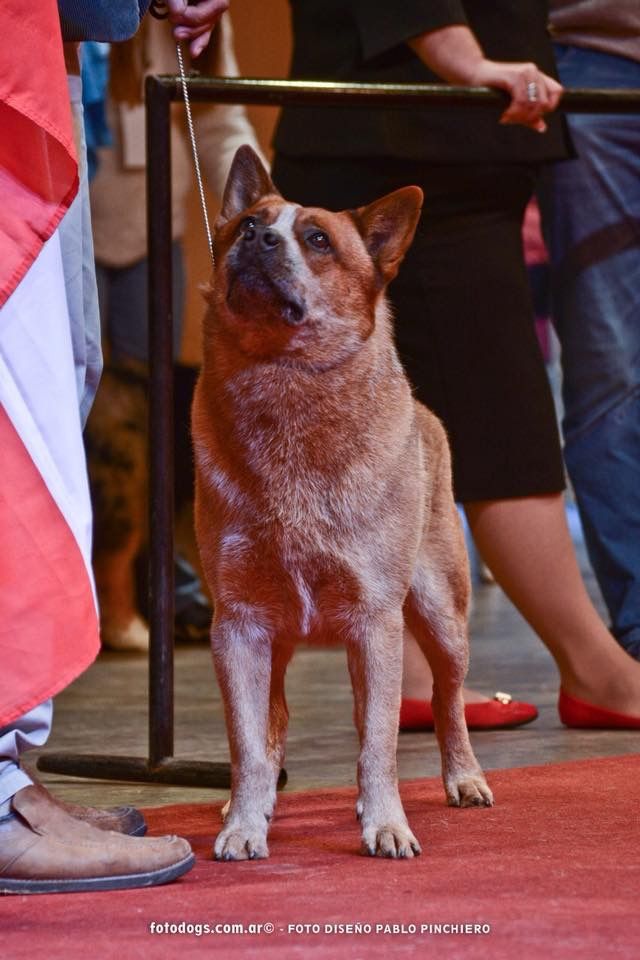 26th September 2018
Excited to say that Esme has been confirmed in pup to Jake! Really looking forward to this litter, should be lovely natured, good looking reds.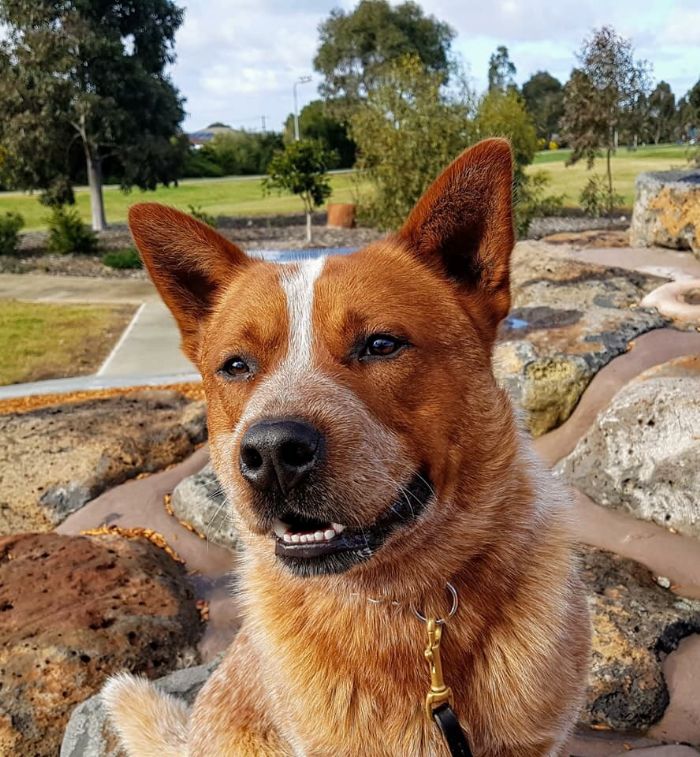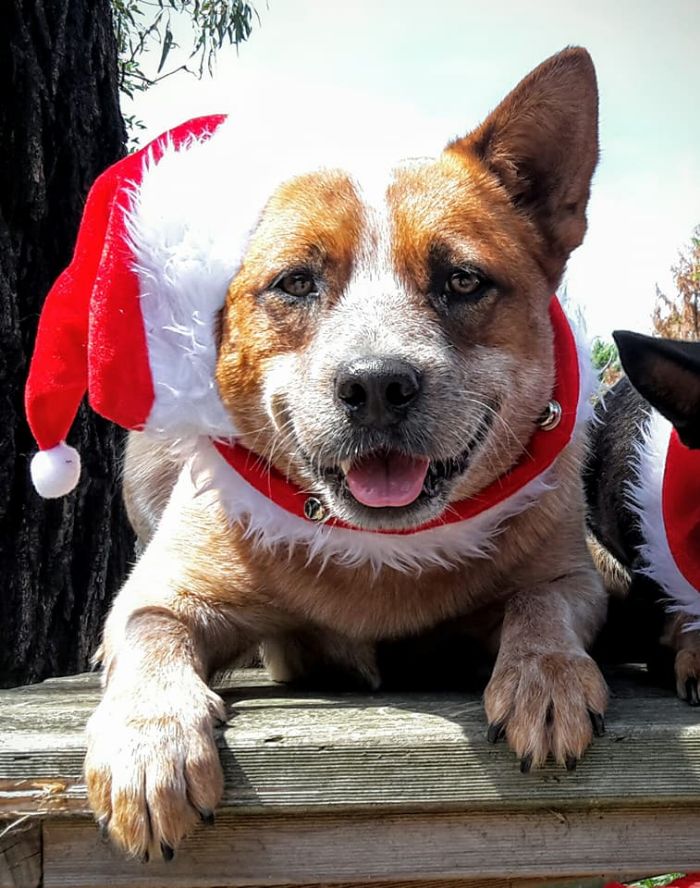 25th September 2018
I'm back from an amazing trip to South Africa - presenting at the ALFA show. It was great to start and work some pups prior to the demonstration.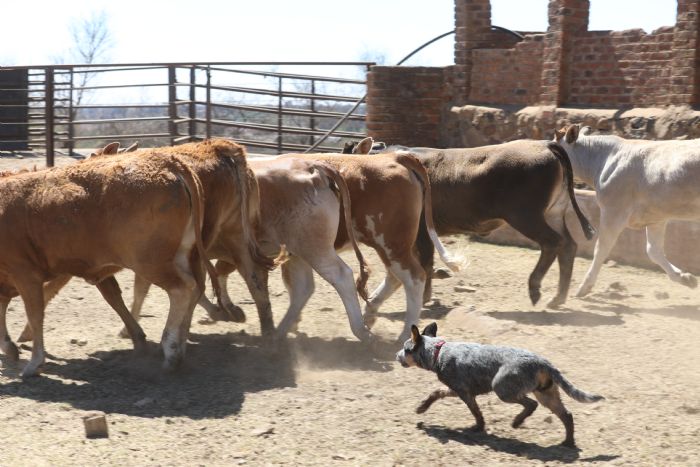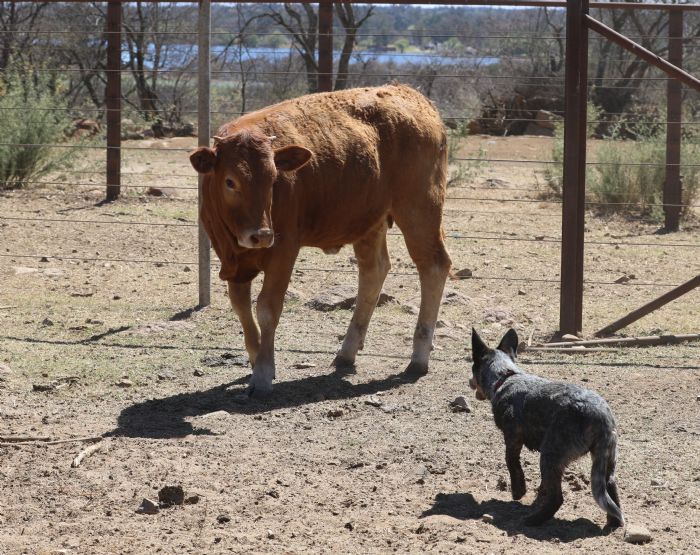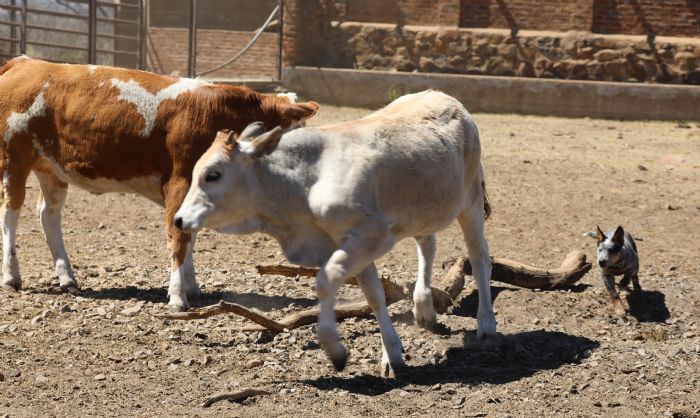 I also did many interviews, including TV, radio & this for the ALFA Facebook page
https://www.facebook.com/ExpoAlfa/videos/1767407873357147/?hc_ref=ARRGXI9E5s9RHsj8NCDet3IcgIpqqAHg6CYityoU-IYDWvAWWtgljBNuoOvxdenUuCQ&__xts__[0]=68.ARDvwDkHBzeCCORjgQHa0-2N7cGjXwf0hBl8OMJkTTL0hkGwyPDXgZH26wr8R1PXapAiidh-04CiE9Kw0leaJqP7B02jB4FANNLN1Cg1CJ99W_krPrGdulPqEzkAr2BXhNPk4fH1YNsFOoPmFLh1dd_hFyDg8J7Kdj9u50yUgQtiXLKAF8bASSM&__tn__=FC-R
11th September 2018
For any puppy enquiries over the next 2 weeks please send me an email to [email protected], as I am in South Africa presenting for the African Livestock Farmers Association about my favourite subject - Australian Cattle Dogs!
Esme is looking like she is pregnant, and we hold our breath that Holly is too.
9th September 2018
Another great ANKC trial in Sth Gippsland. Yet again an Erudite ACD wins High in Trial at an all breeds herding event. Esme winning with a score of 95/100. Esme also finished off her HNAs. CJ won the Intermediate sheep class, getting her 2nd HIAs pass. This is a big achievement for a 2yo. Kelly earned her Started duck and Novice sheep titles. Pyro did his HT title too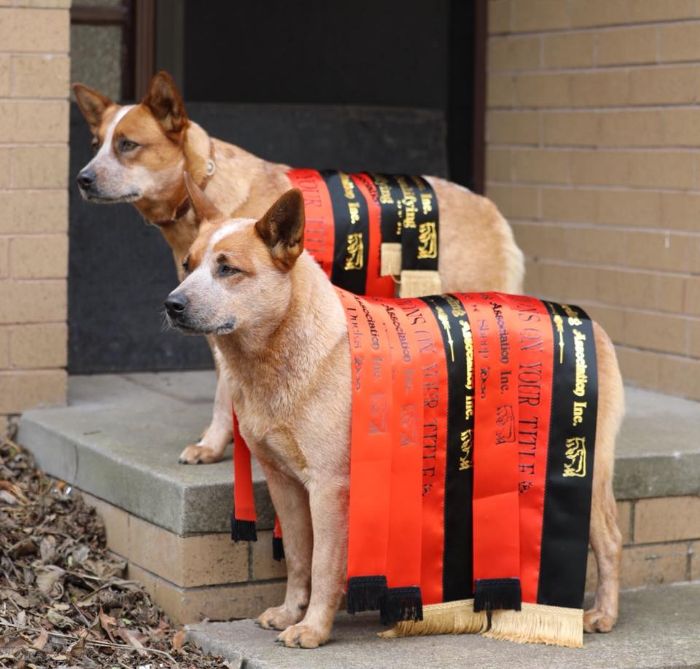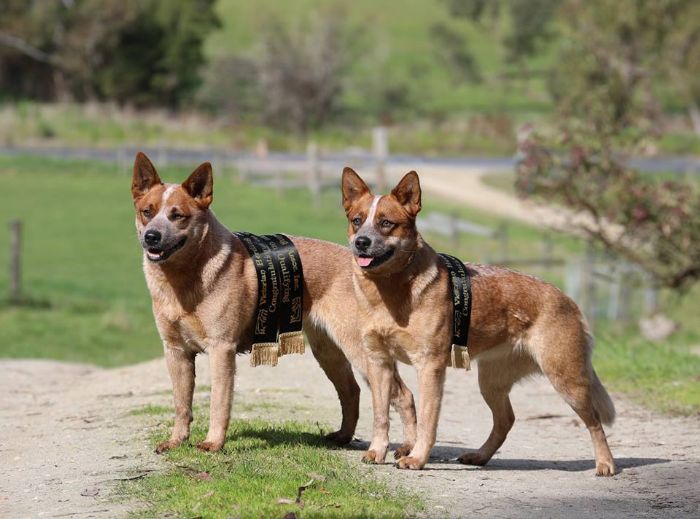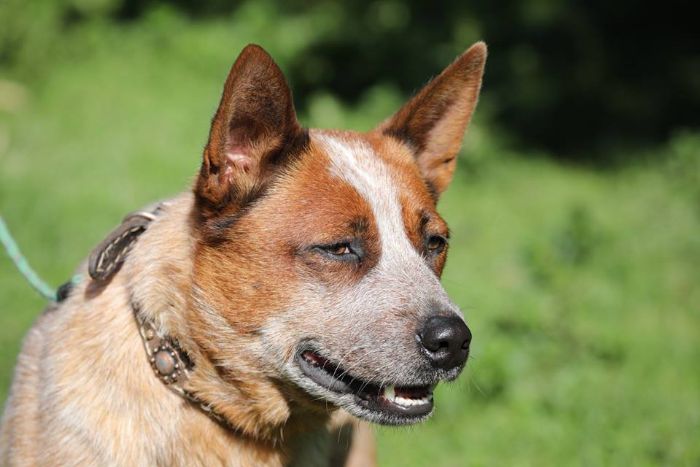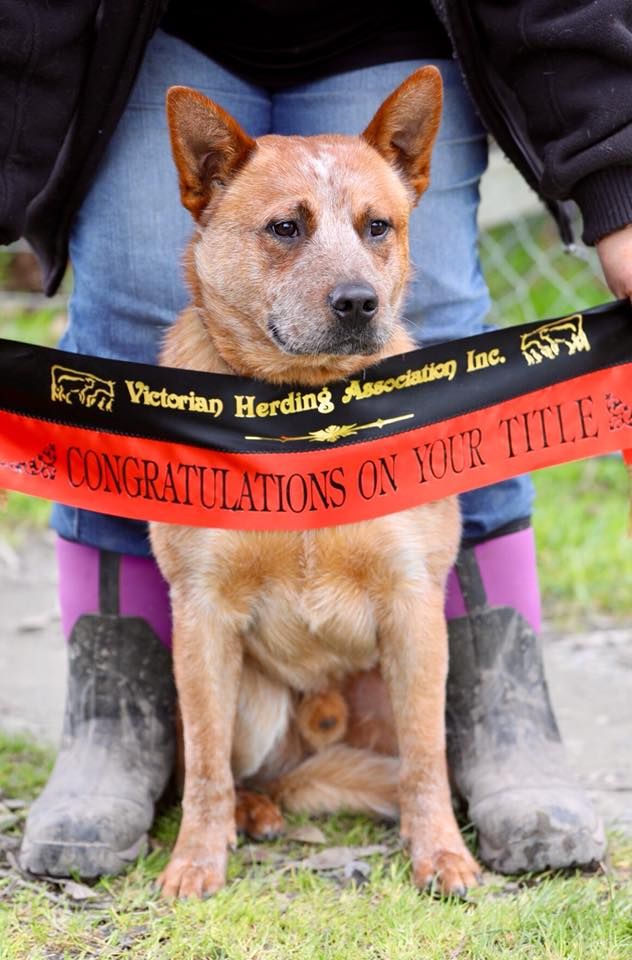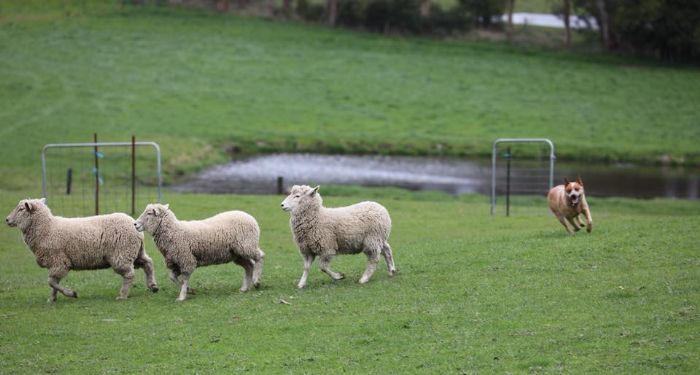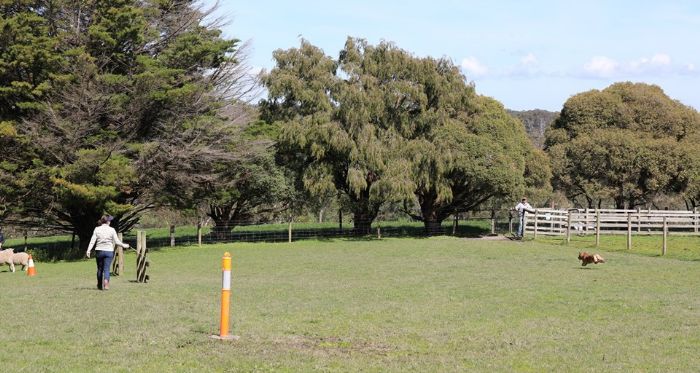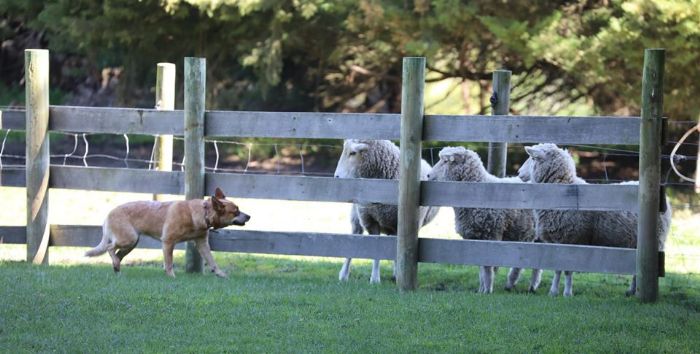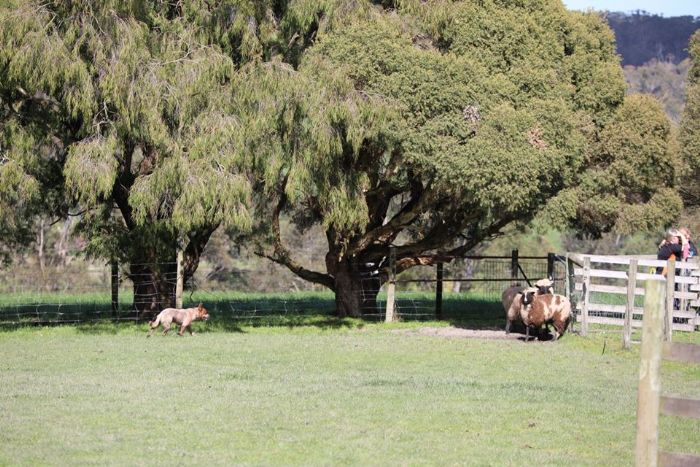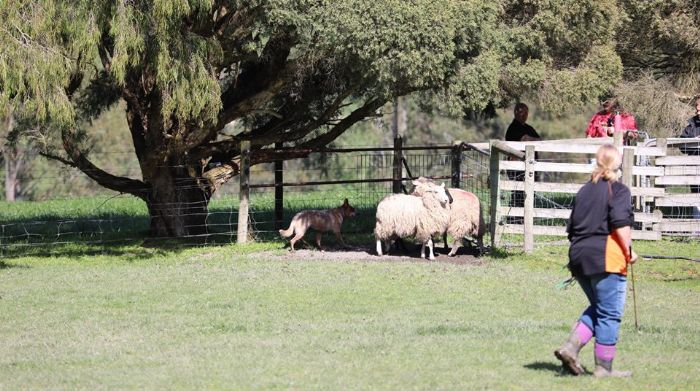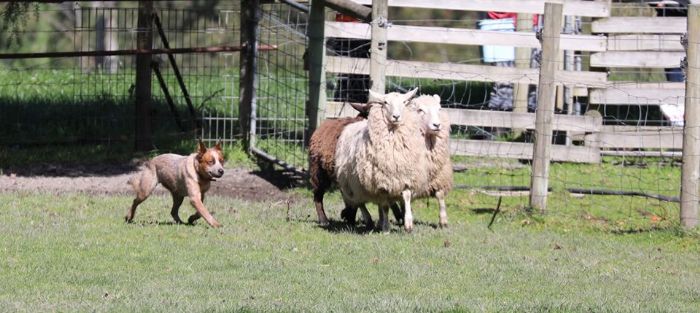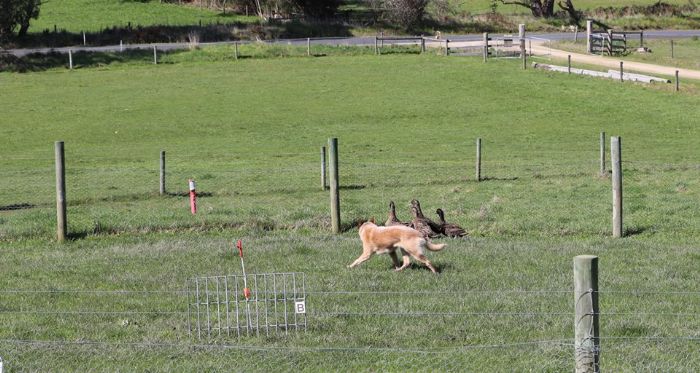 5th September 2018
The very pretty Meg, who is co owned with Nicky. Meg is quite valuable to me as a brood bitch, but she gets to be the loved pet of Nicky. Down the track Meg will come back to me for 1 litter.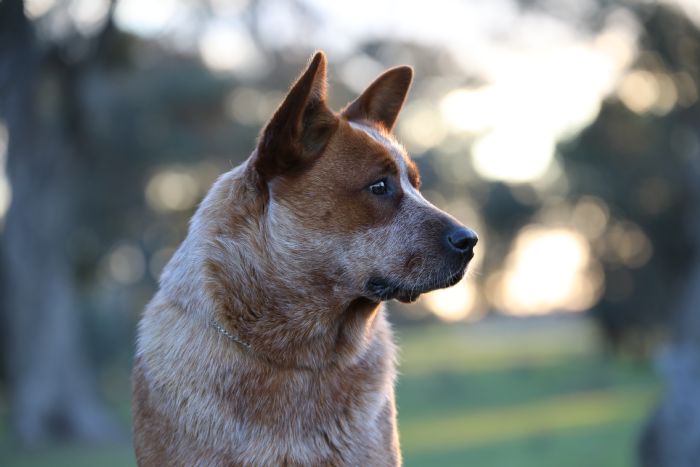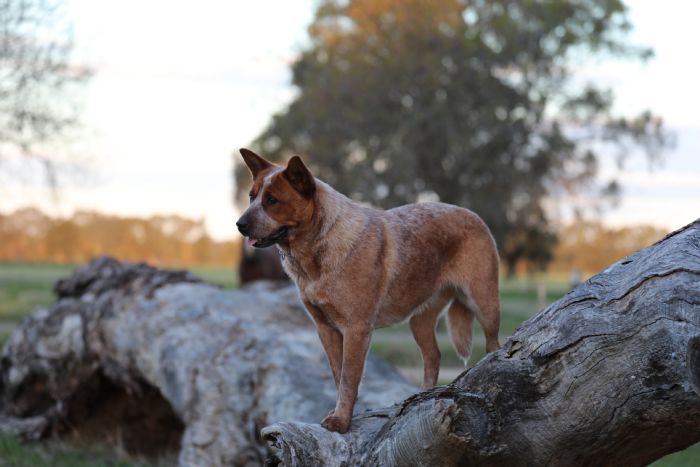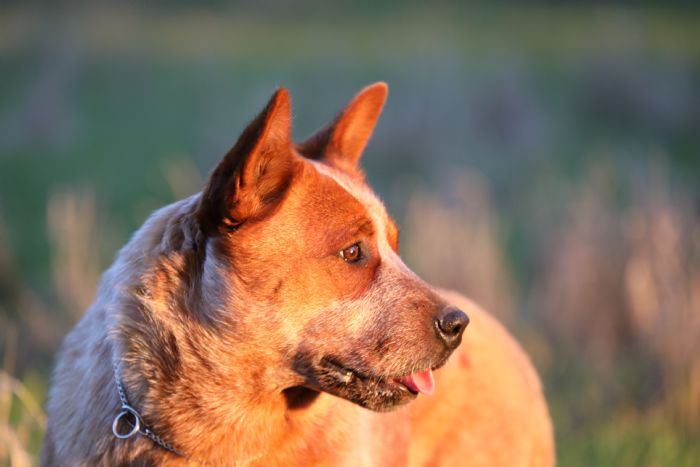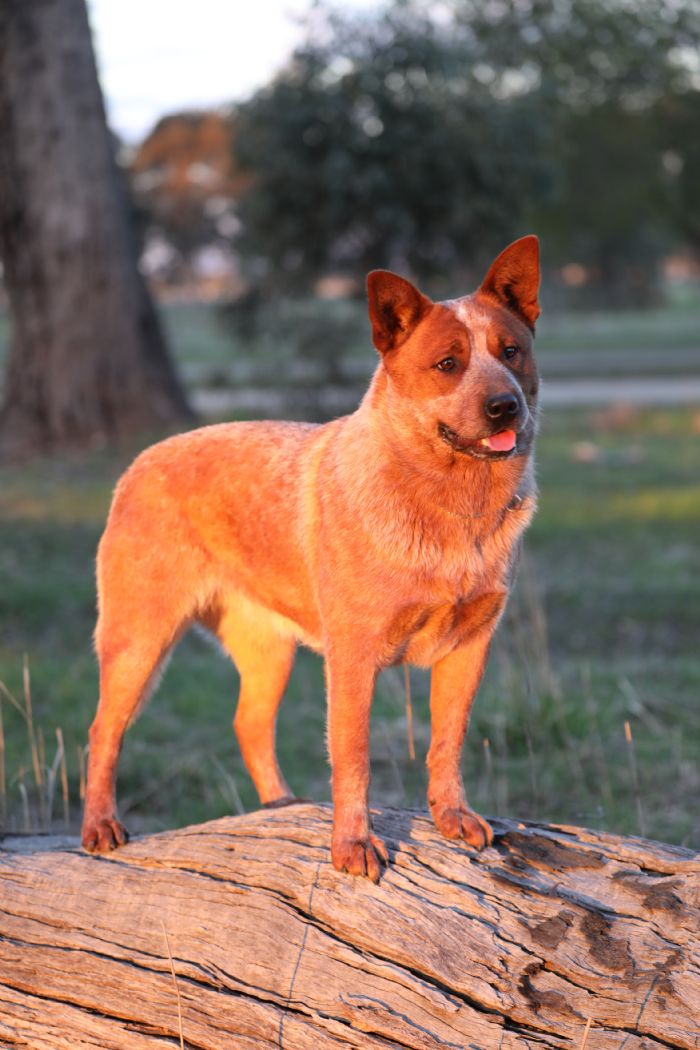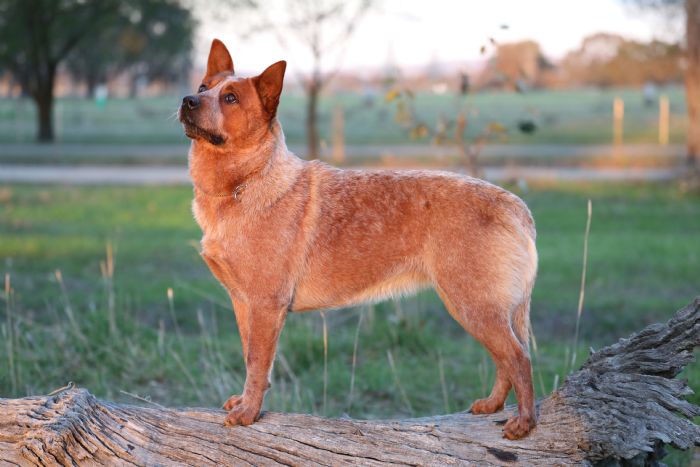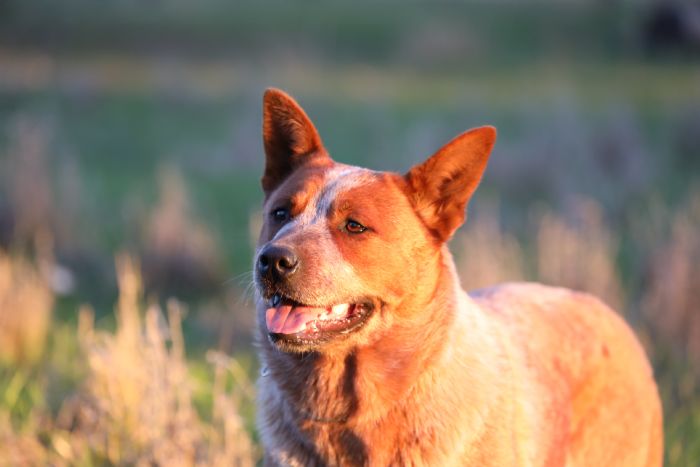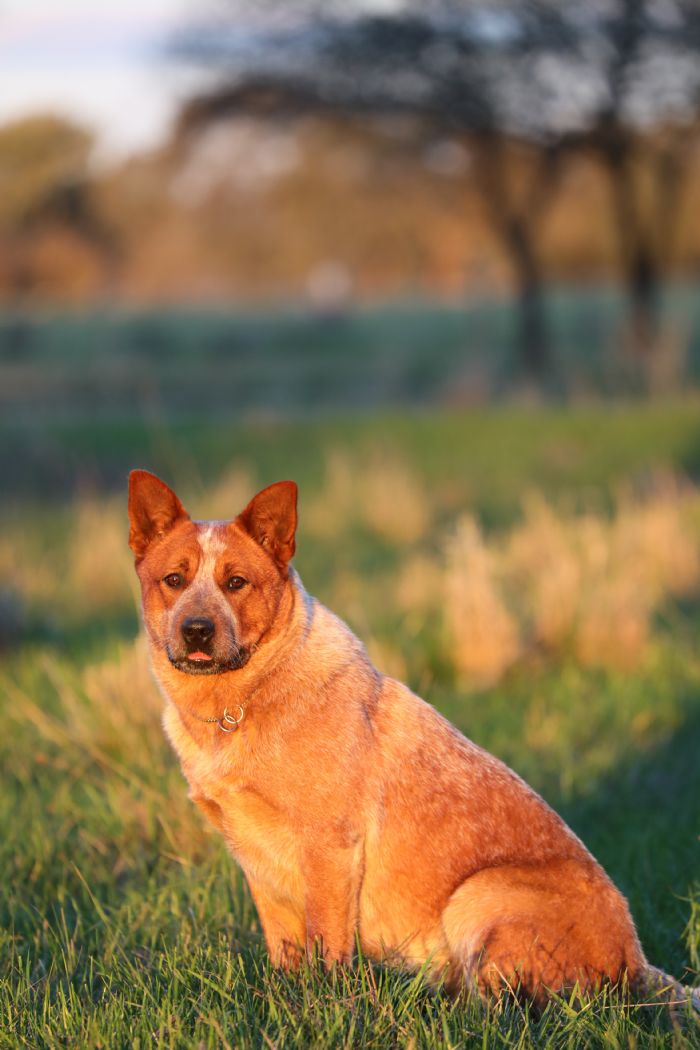 3rd September 2018
Jake is looking very pleased with himself after spending almost a whole week making puppies with Esme. Now to wait 9 weeks!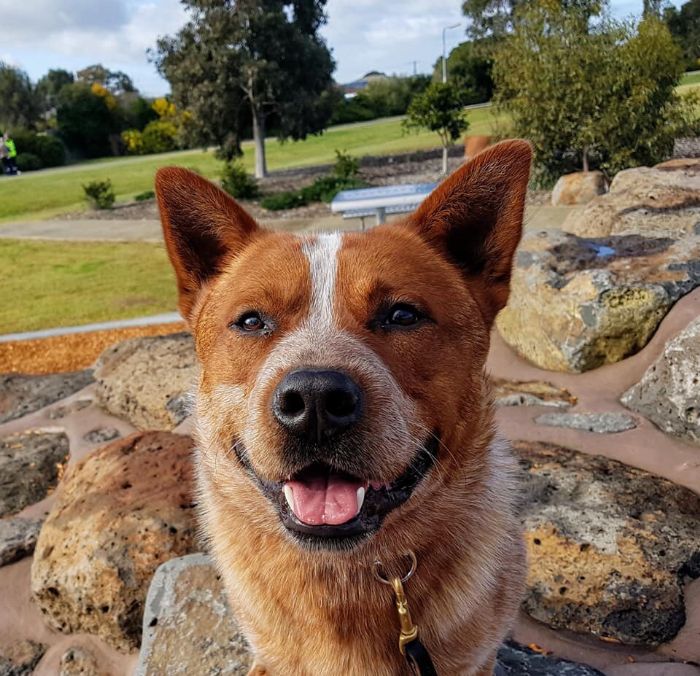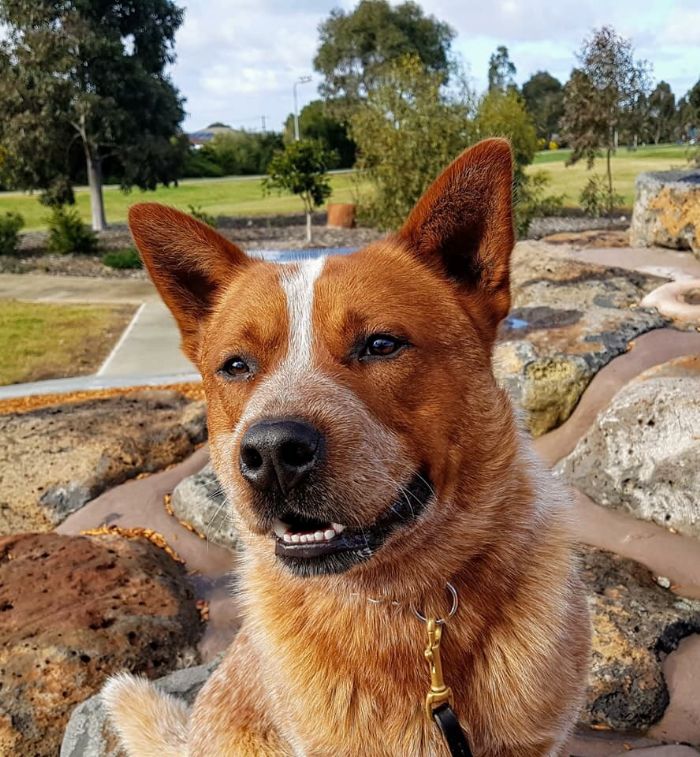 31st August 2018
After 18 months of paperwork translation issues for the import permit, I finally have the frozen semen for Fr Ch Woylie's Freddy IPO3. This is such a long awaited breeding with Holly. Freddy brings in some new bloodlines, superb trainability and all the attributes having 3 generations of IPO3 titled dogs in the pedigree brings. With multiple breedings I hope to have Freddy puppies on the ground soon!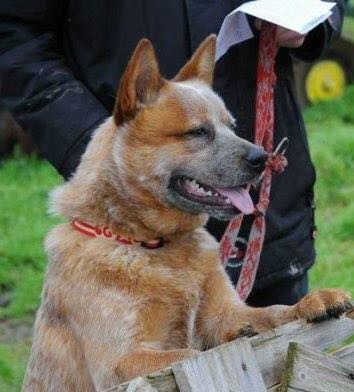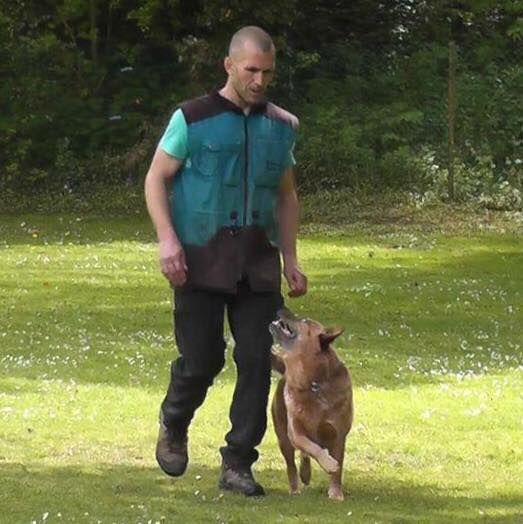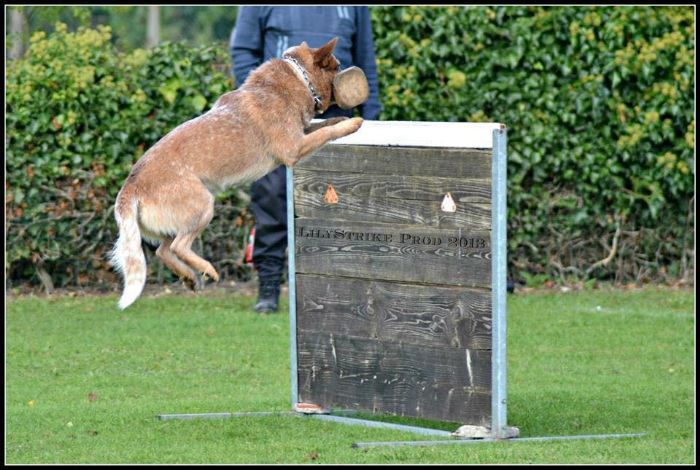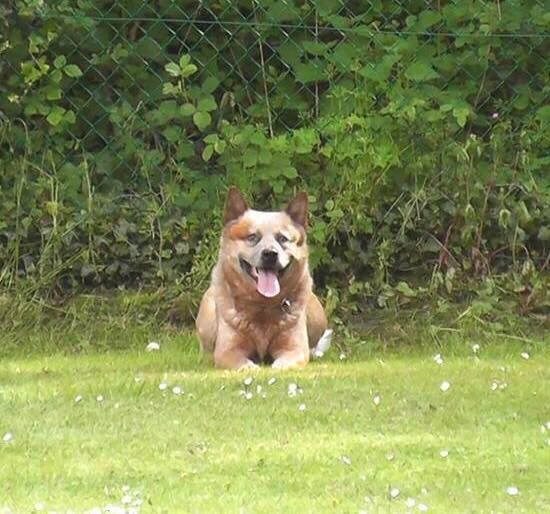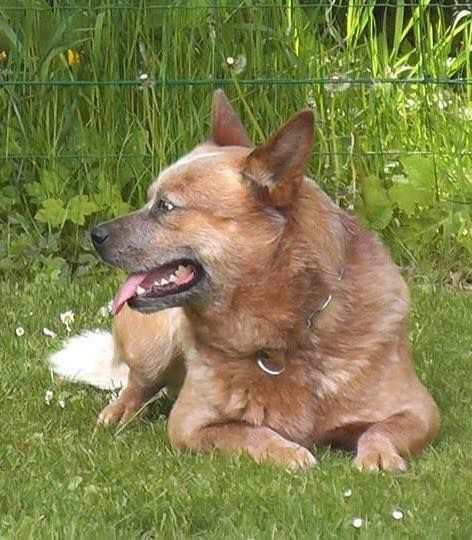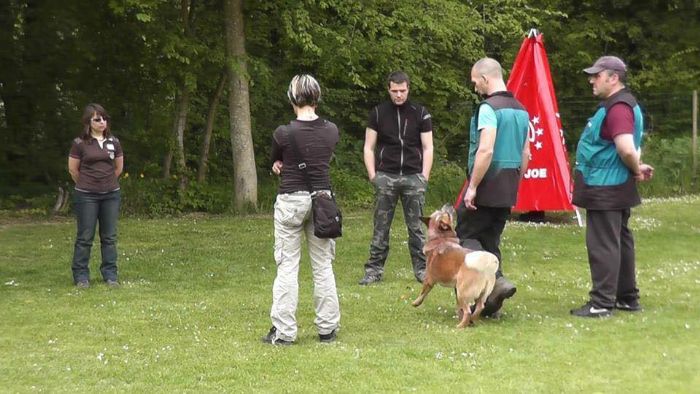 27th August 2018
Holly is continuing to show such promise in the sport of IPO. She is fearless and her intuition to read the 'decoy' is fantastic. Super athletic, she is just as nimble as the more traditional breeds in this sport. Here she is working on her hold and bark, which in a real life situation she could be sent into a building or forest to find 'the bad guy'. She would not touch the offender, however intimidate and bark - alerting her handler to her location. If the 'bad guy' tried to make a run for it, then she makes the decision to stop him.
https://www.facebook.com/BrooksvaleKennels/videos/548930905526650/
Josie is settling into her new home with Diane, going on her first camping trip.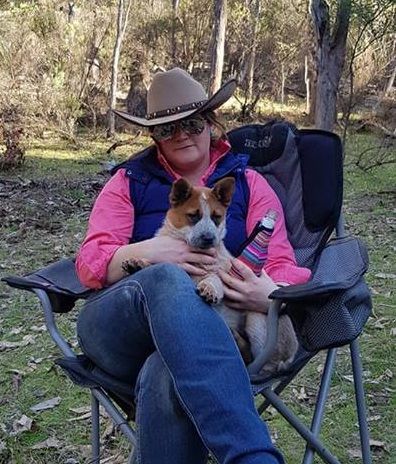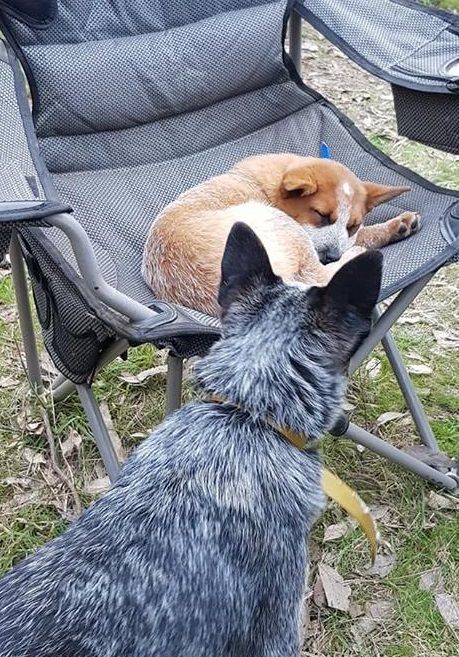 26th August 2018
A good weekend training a few dogs in South Gippsland, Victoria. Esme demonstrated her great eye, considering many believe all an ACD is good for is a heel bite, she sure demonstrates a bigger skill set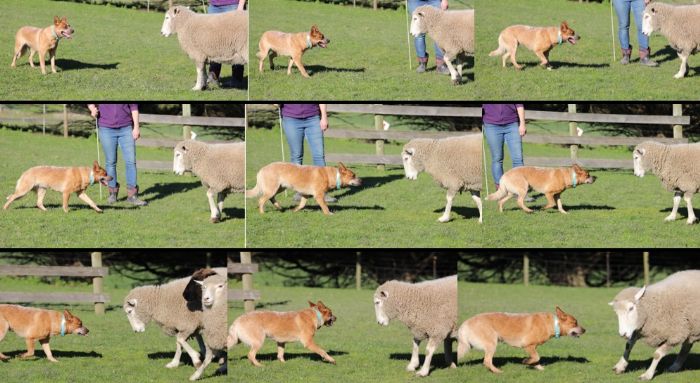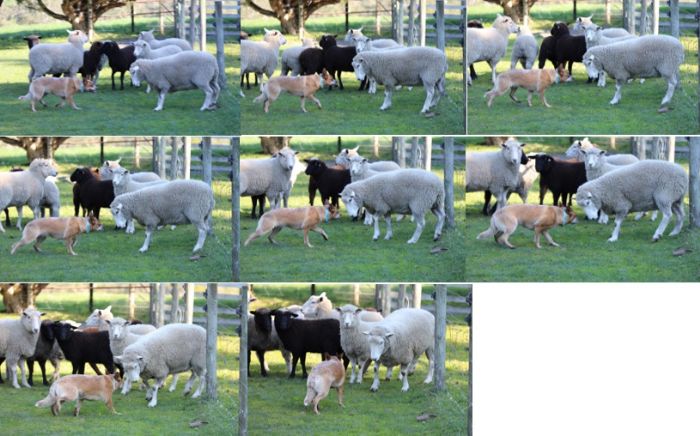 Bandit is also demonstrating a lovely sense of balanced and fetches quite readily. He is also quite the stunner now too. His rough start to life, being so premature, has not affected him.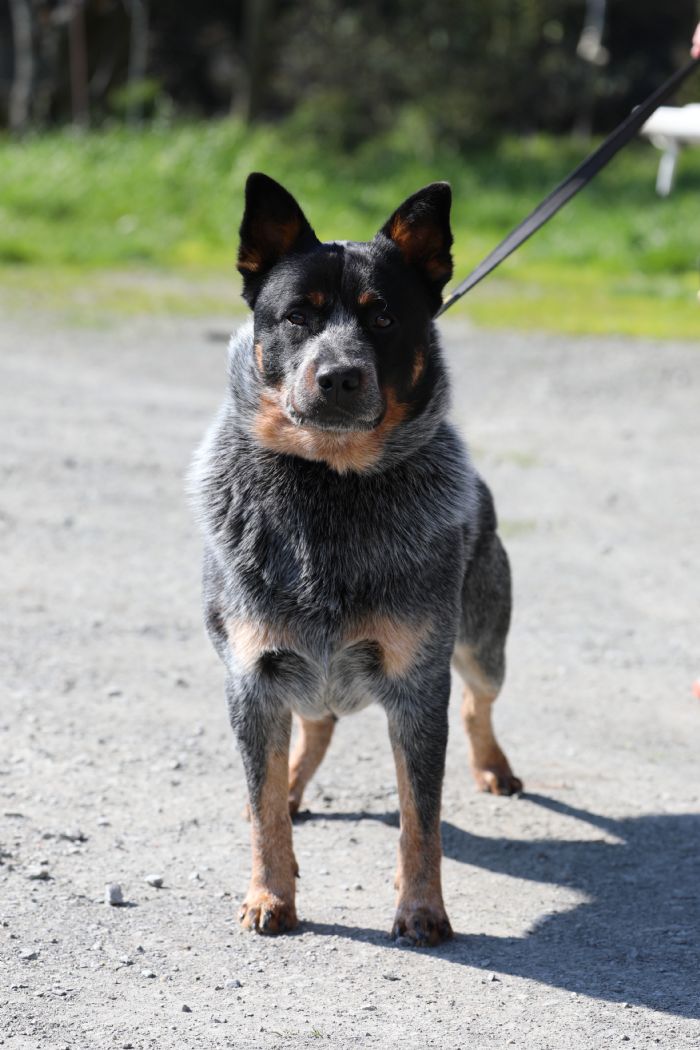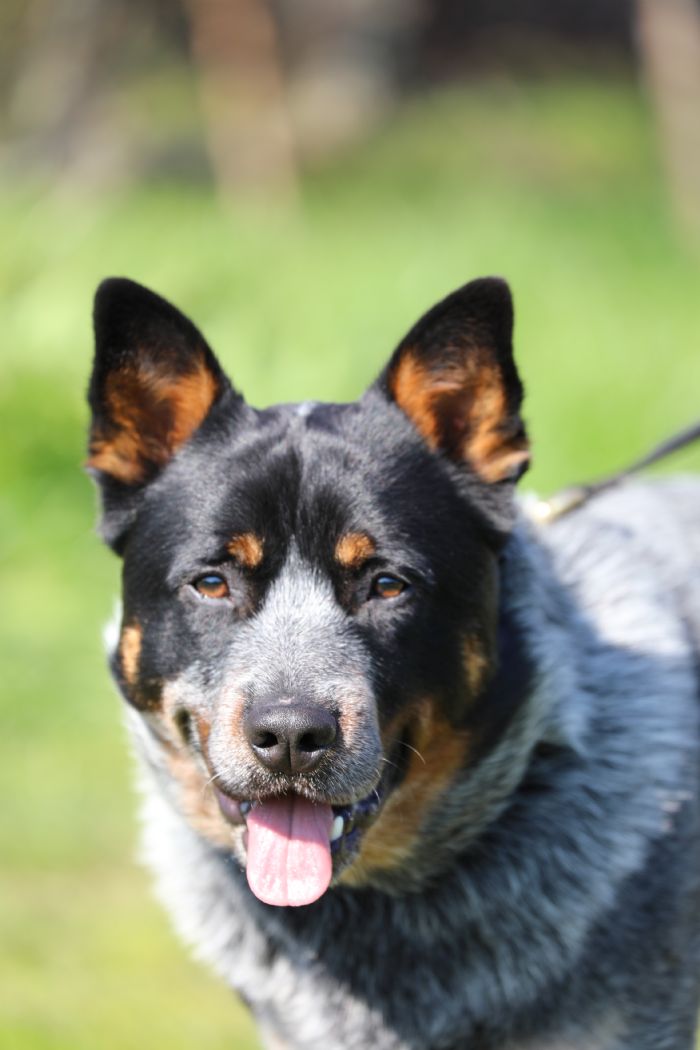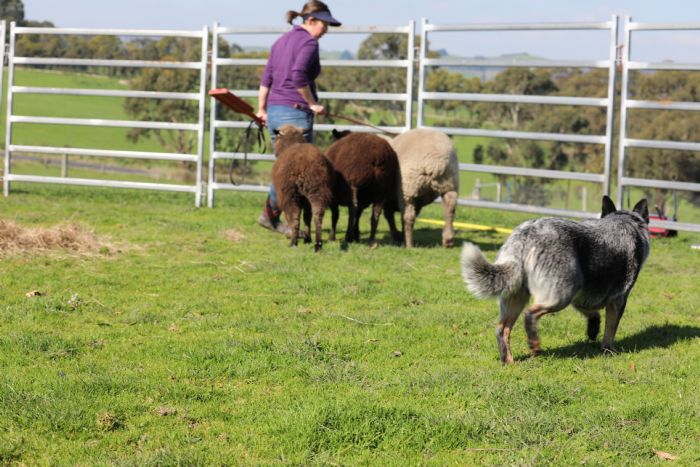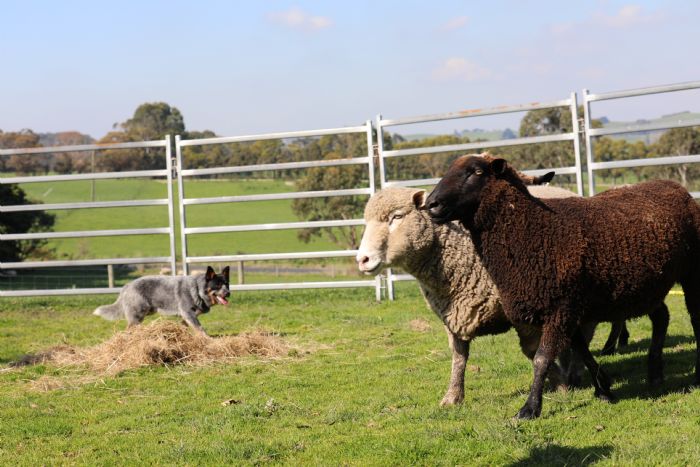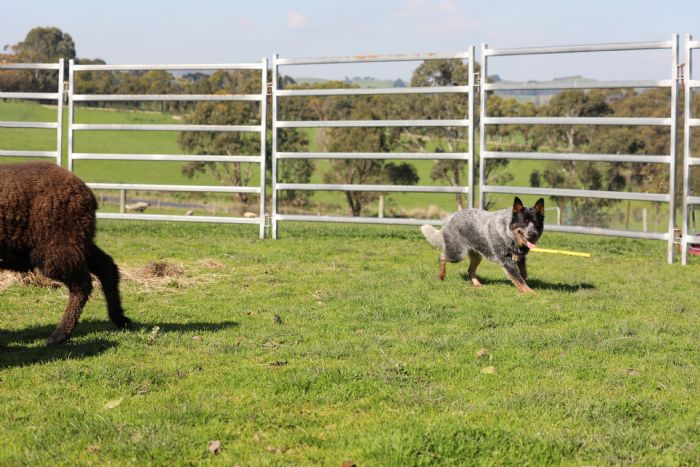 Pyro is also growing very handsome. He is a super sweet boy, even after siring a litter recently he still lives with one of his mates, an entire male Australian Shepherd, with zero conflict.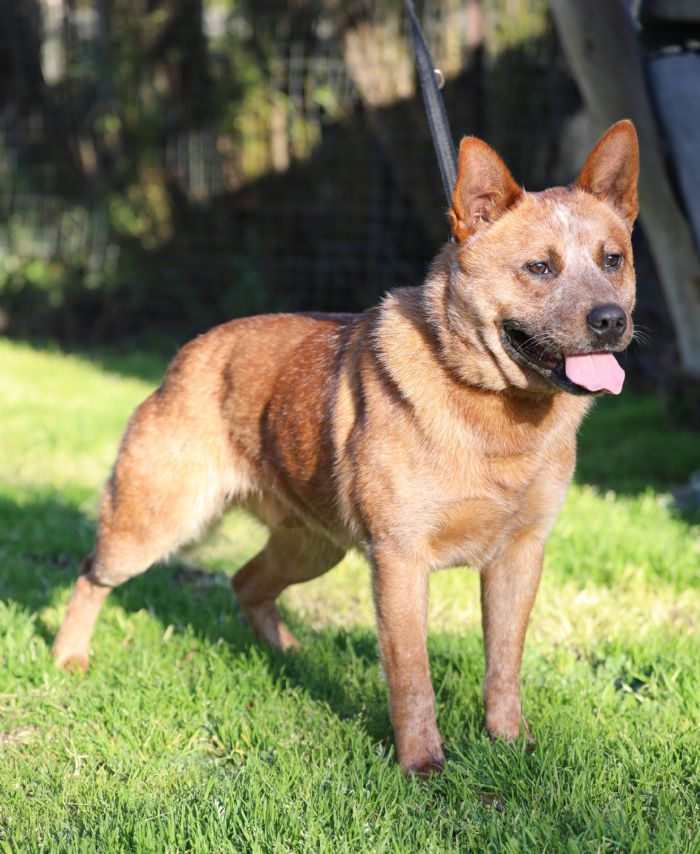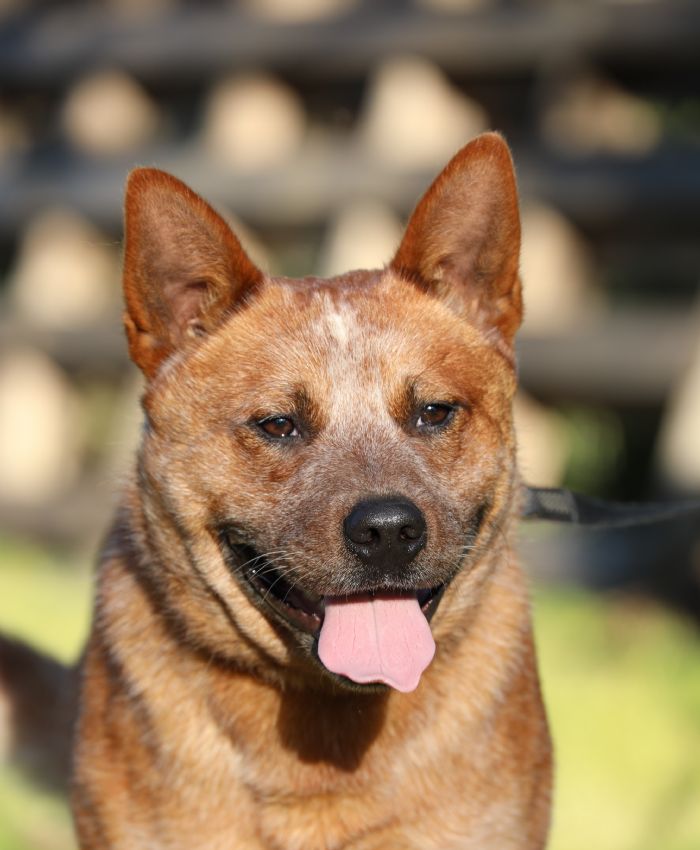 Jake, even with the girl he is currently being bred with was watching, did some nice work on the stubborn sheep. More of the temprements I like - work dogs first before losing their heads and being silly or aggressive around girls in season.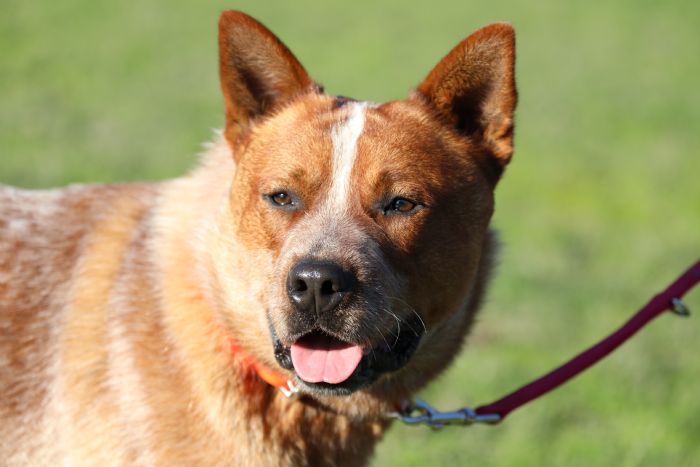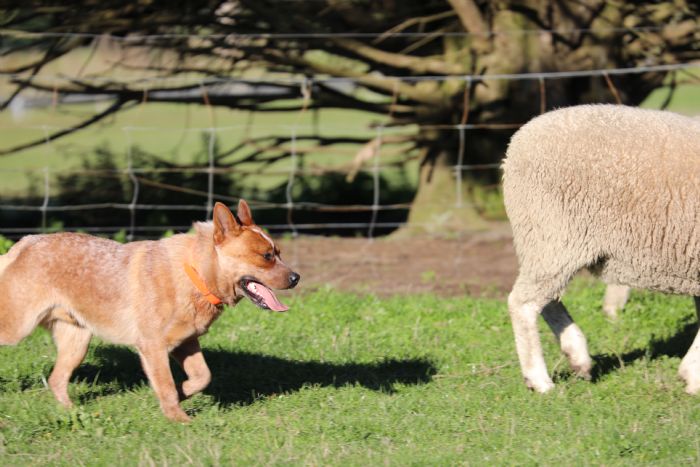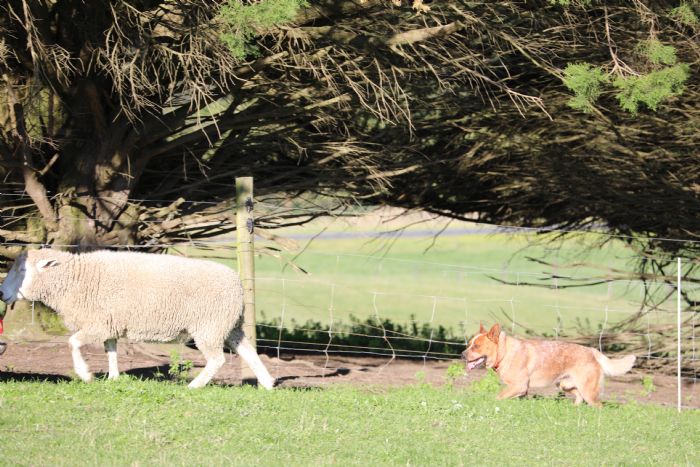 19th August 2018
Toohey, one of the Pyro x CJ pups, went to his new home today. Cant wait to follow this pups adventures with Ken. Ken won the Australian Supreme 3 Sheep Championships last year in Seymour, Victoria. Ken has previously run ACD's on farms and is keen to see just how far he can train an ACD for trialling. Very excited to see a pup of my breeding be given this chance!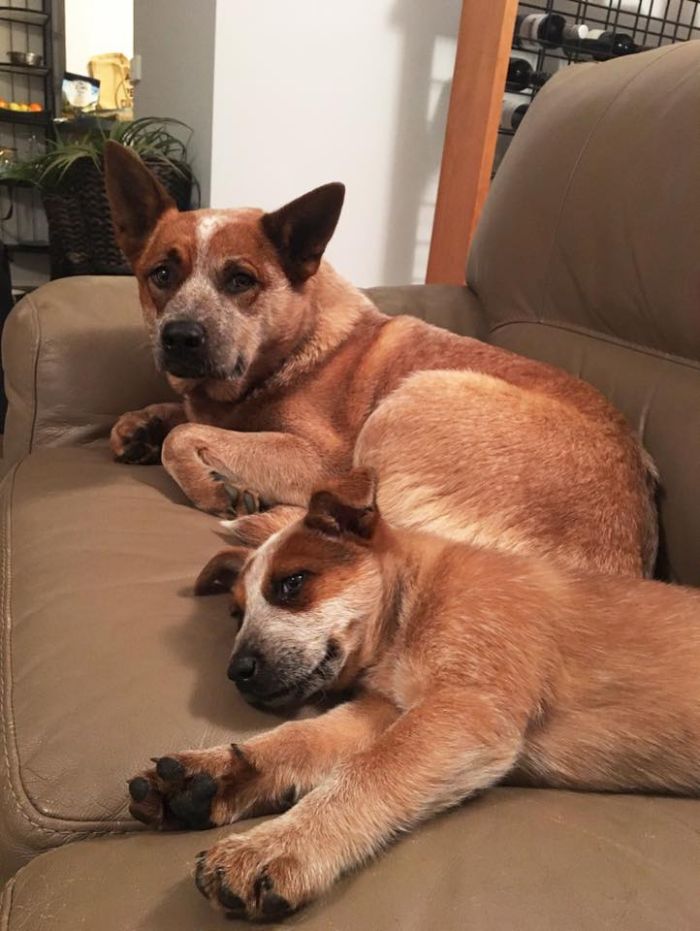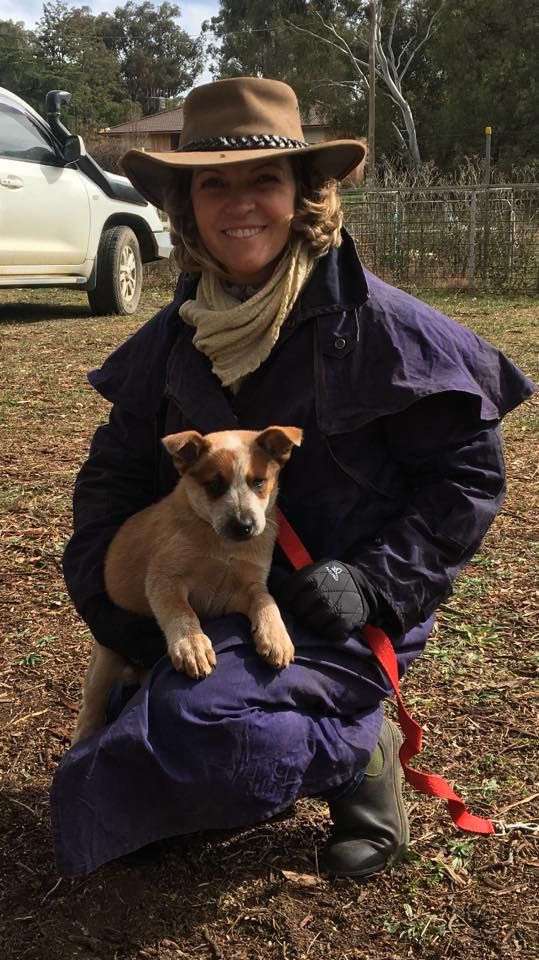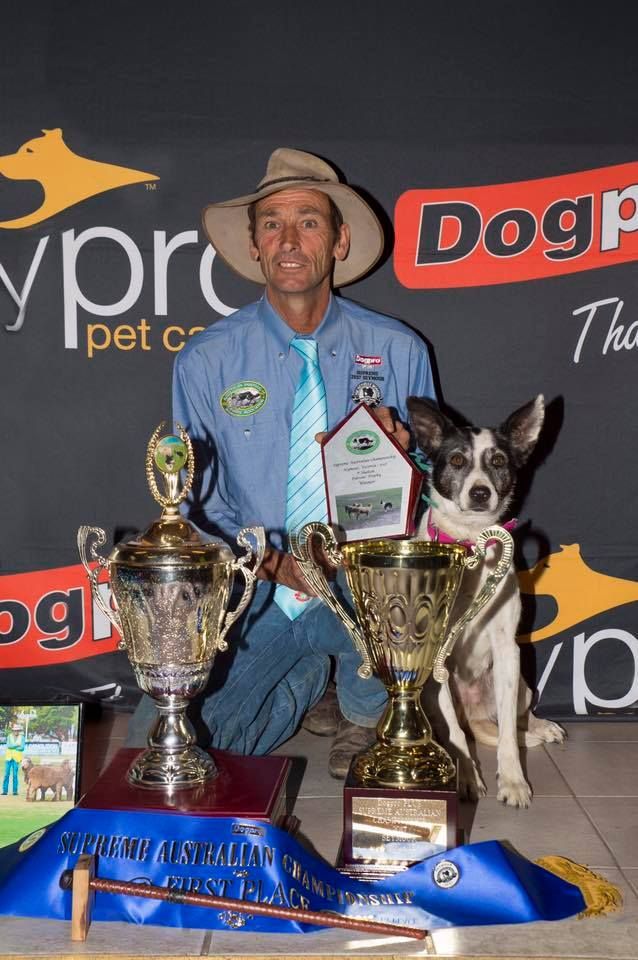 10th August 2018
Mako and Leonard are growing very handsome. They are almost 7 months old and are Ted x Kelly pups.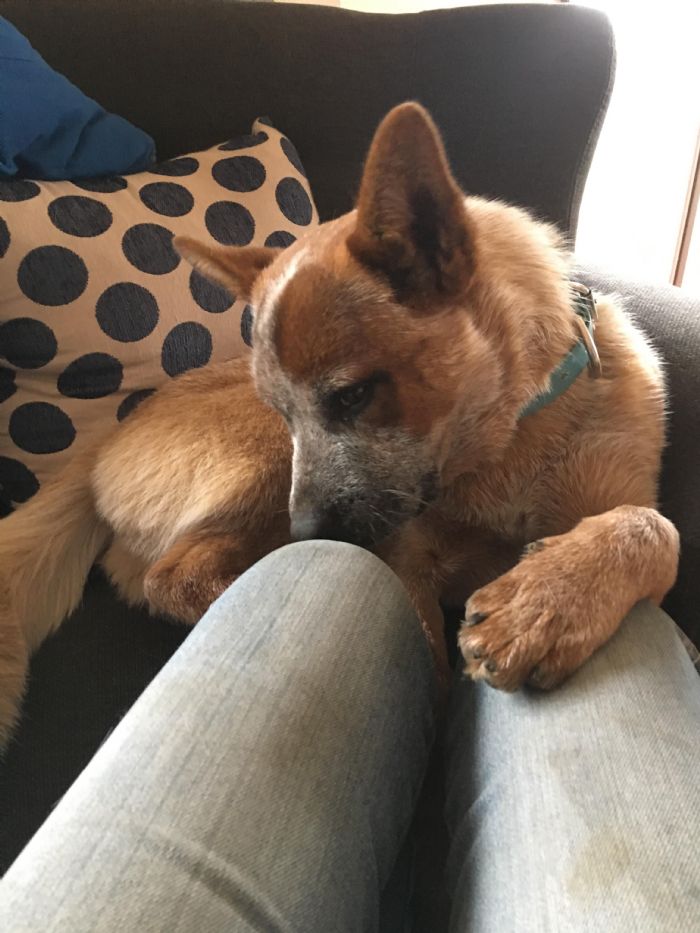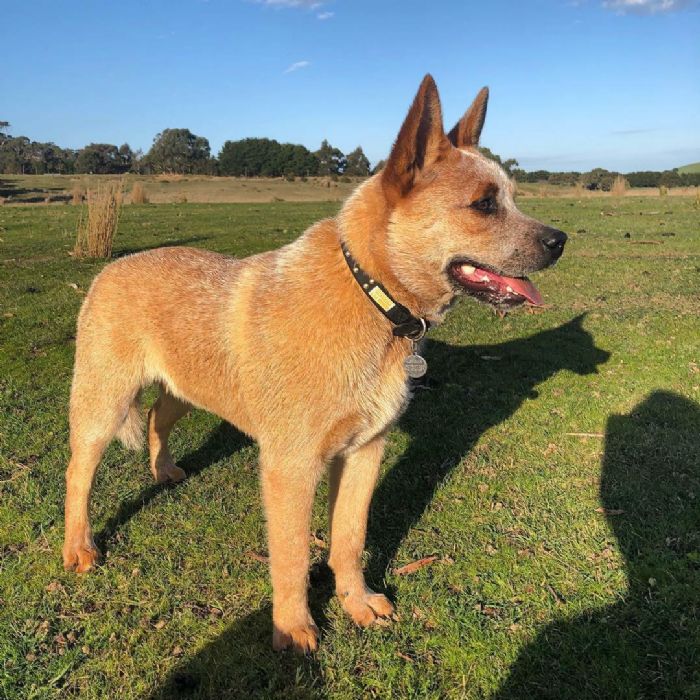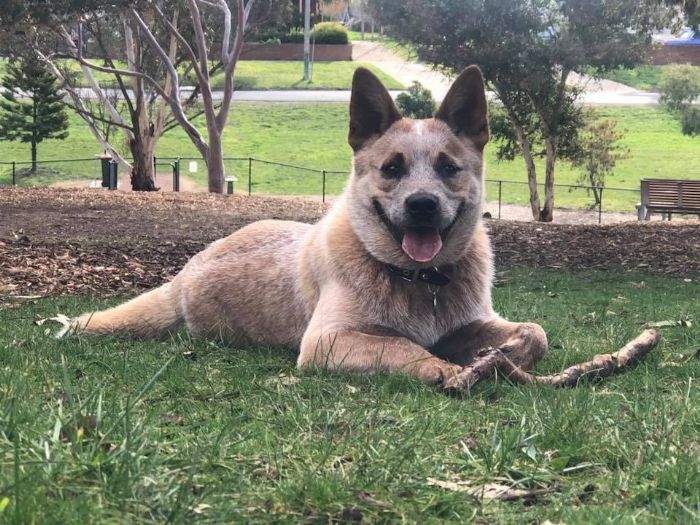 9th August 2018
Jake and Esme are having a great holiday together... and hopefully making some puppies soon!!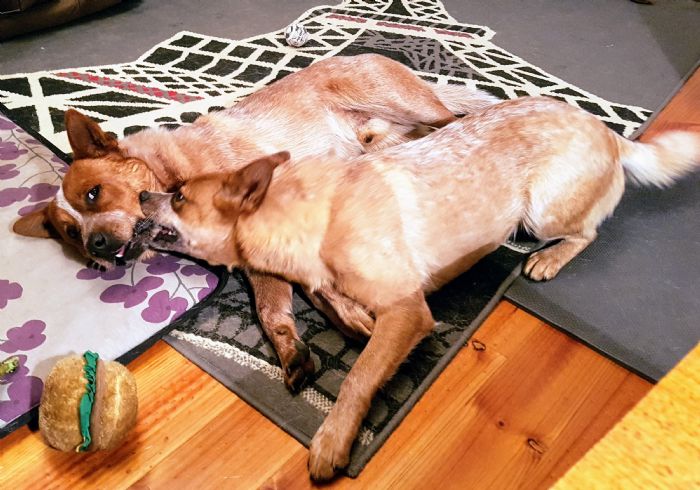 8th August 2018
Introducing Erudite Josie, one of the Pyro x CJ pups. She is now residing in Tallandoon with Troy and Diane, and hopefully grows up to be a nice trialling dog for Diane.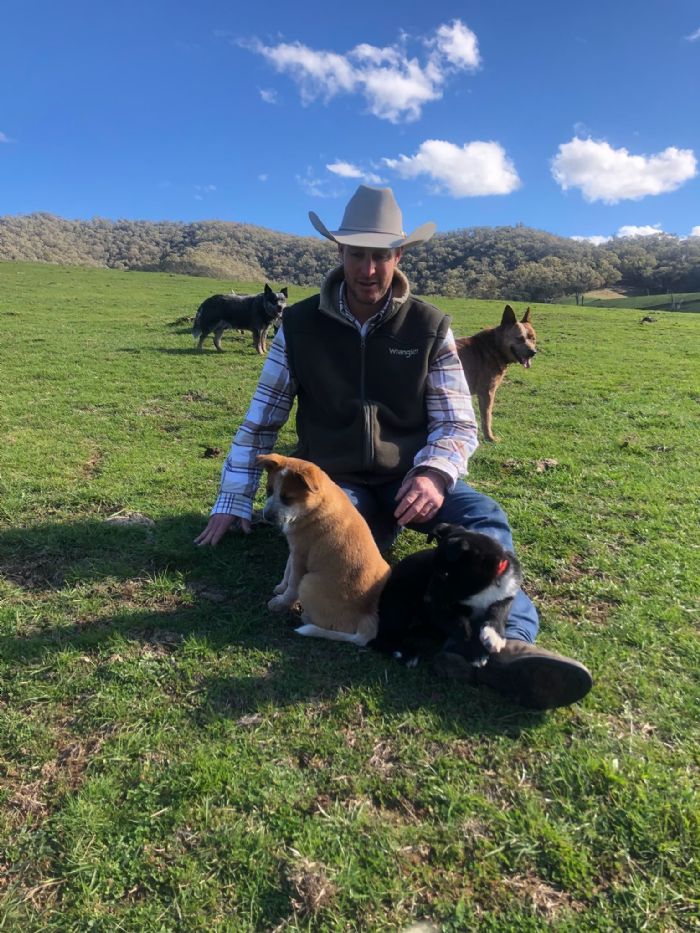 5th August 2018
Kelly and Zac worked really hard at the 2018 Sydney Dog Lovers Show, both working on the Balanced Life food stand. This was Kelly's first trade show and she did super.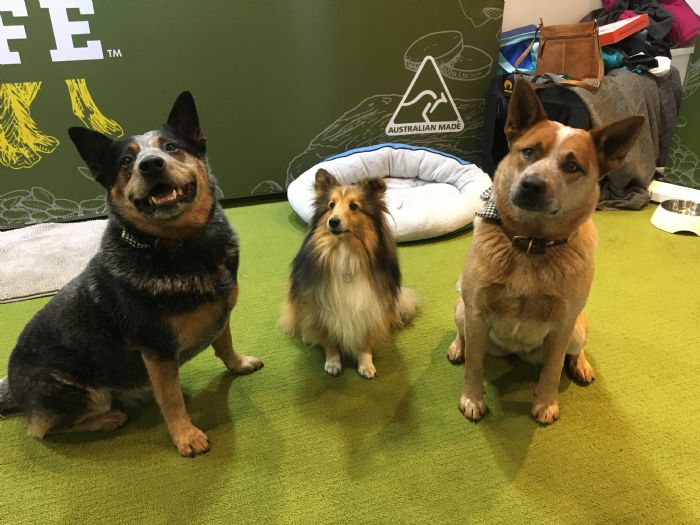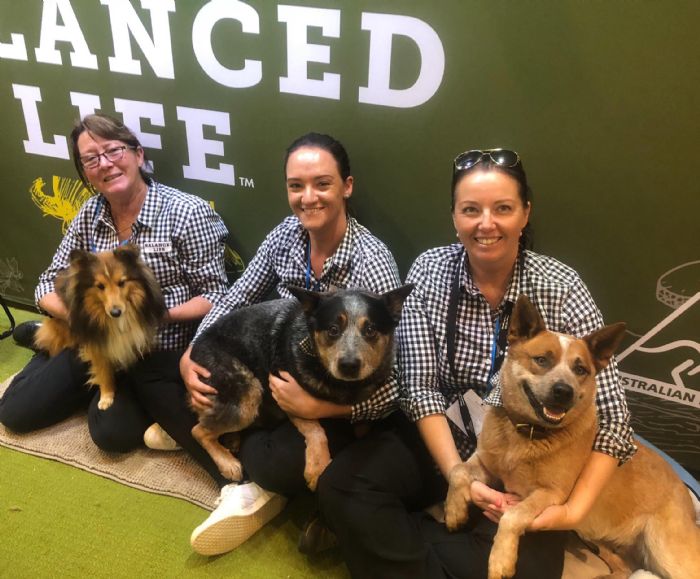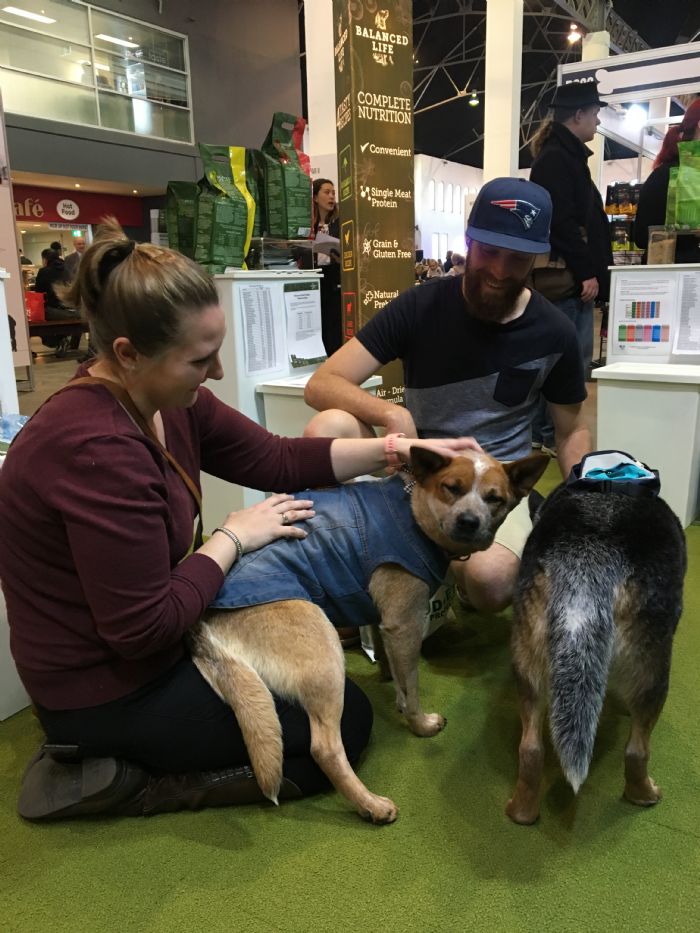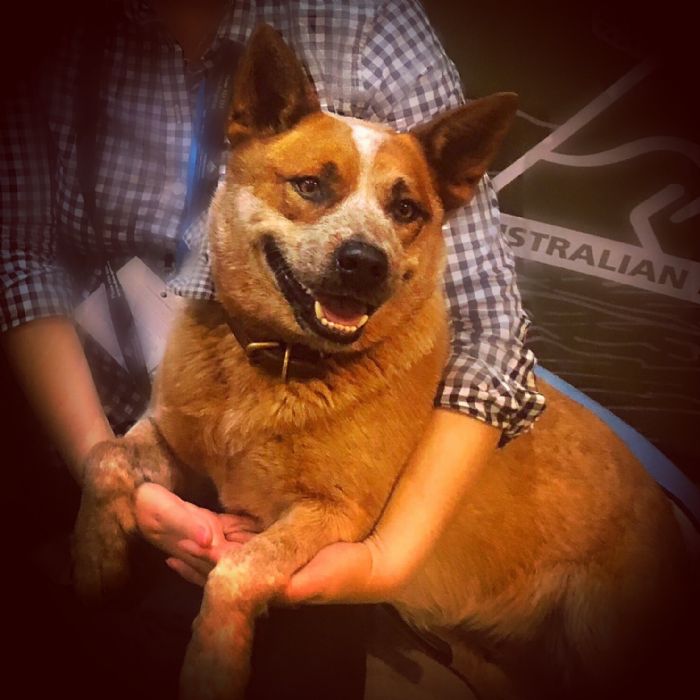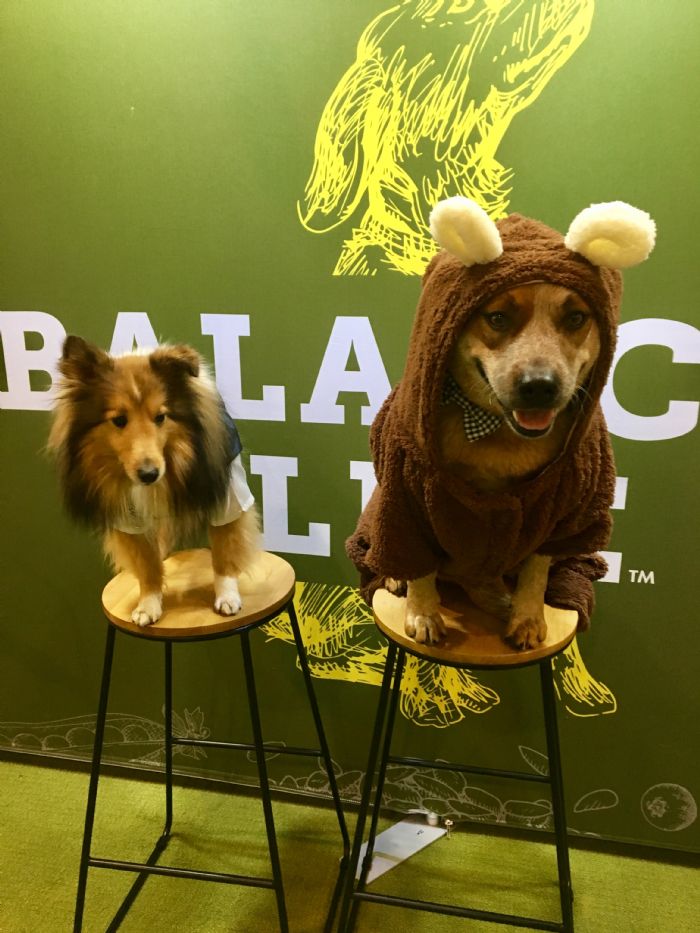 2nd August 2018
The CJ x Pyro pups have grown super well. 7 weeks old now.
This gorgeous girl is available, so full of spunk and life.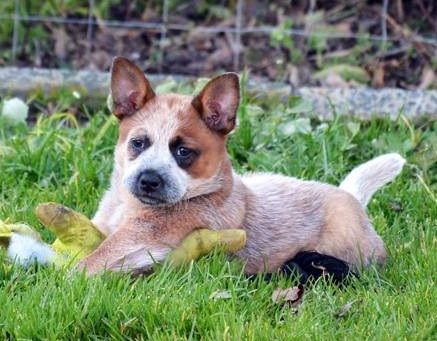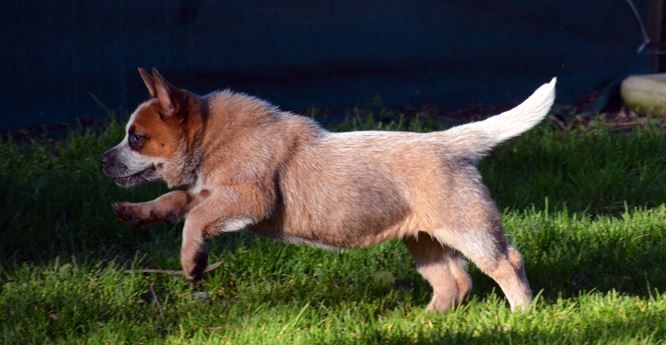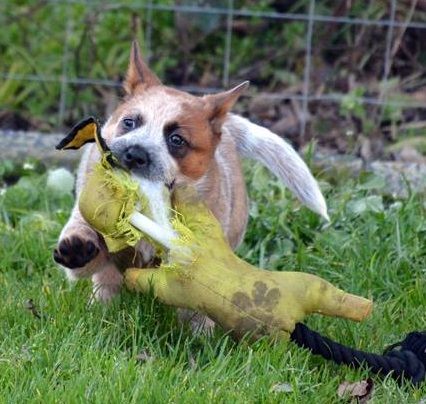 So proud of Kelly finishing off her HSAs title, and then going up a level and also getting a pass towards her HNAs title.
20th July, 2018
Jake is residing in Melbourne with Esme for the interim, these two getting up to all sorts of mischief together!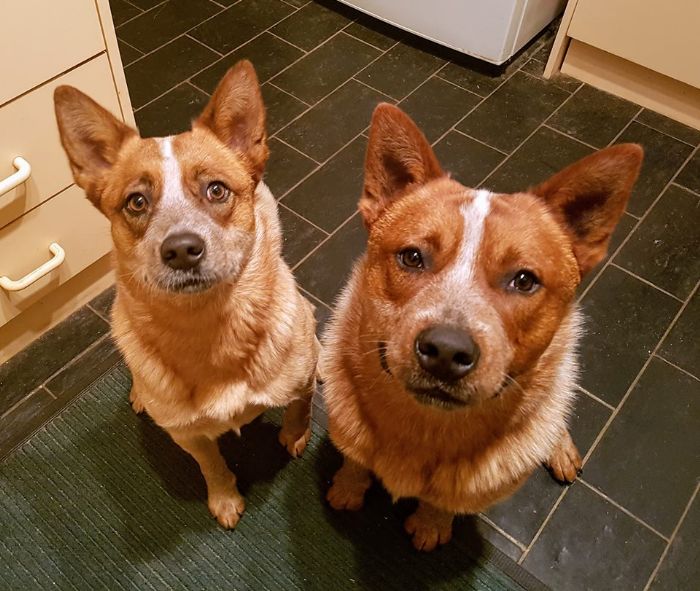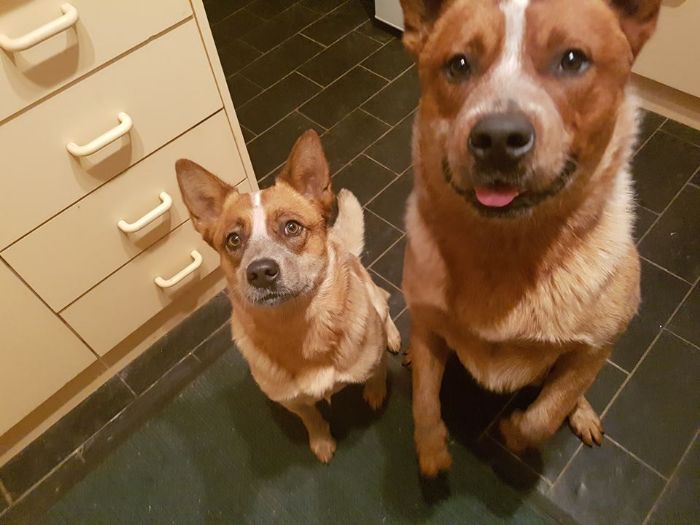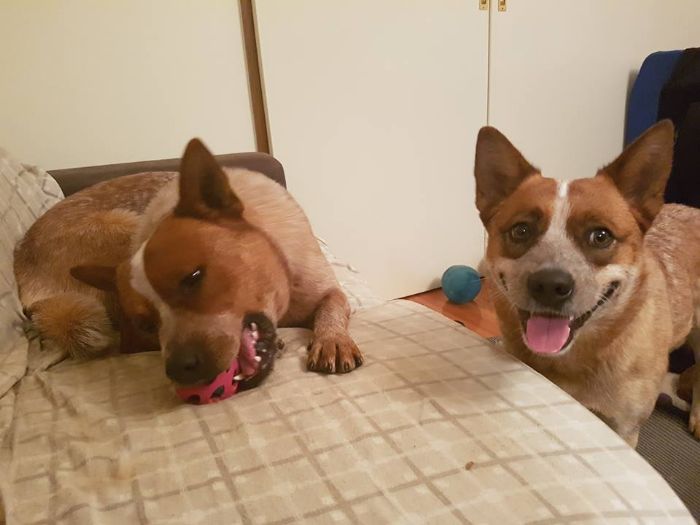 18th July, 2018
The pups are growing and becoming lots of fun. Indoors, outdoors, cats, birds, sheep, other dogs, they are experiencing lots of socialisation and life lessons. Just the one boy available now, a super fun loving, sweet boy.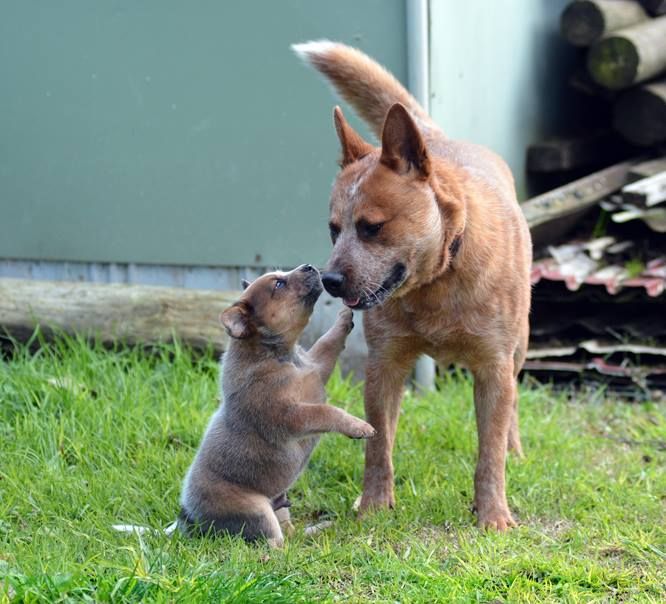 11th July, 2018
CJ's pups are almost 4 weeks old, and all are just so full of personality. Two boys are still available, and they would be suited to an owner/home looking for an active dog. Both parents are friendly to people and other dogs and the pups will be getting lots of socialisation. Please call me on 0448 087 477 or 0438 541 302 if your interested in a lovely male pup.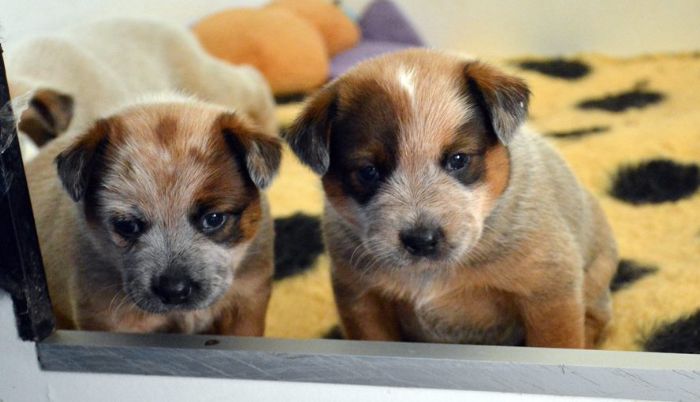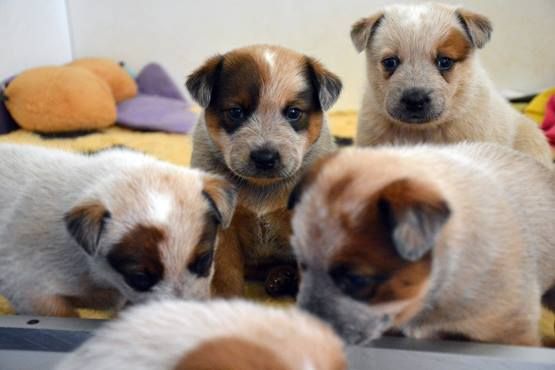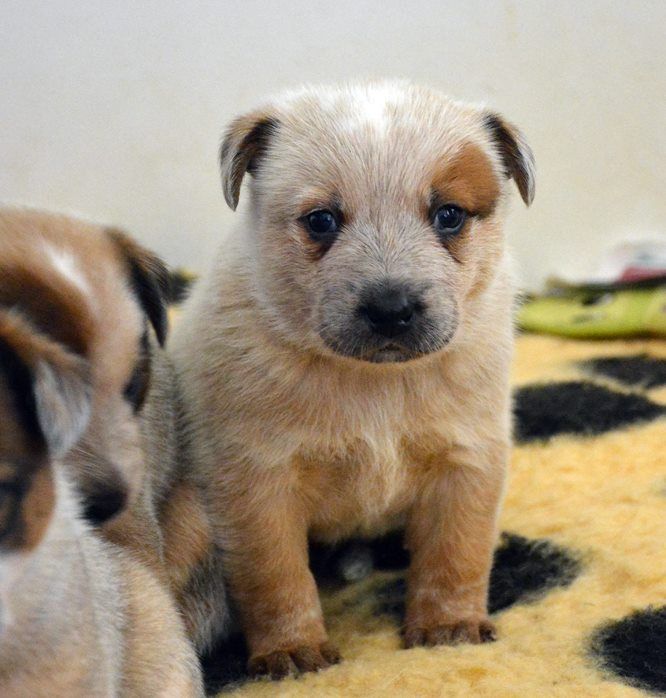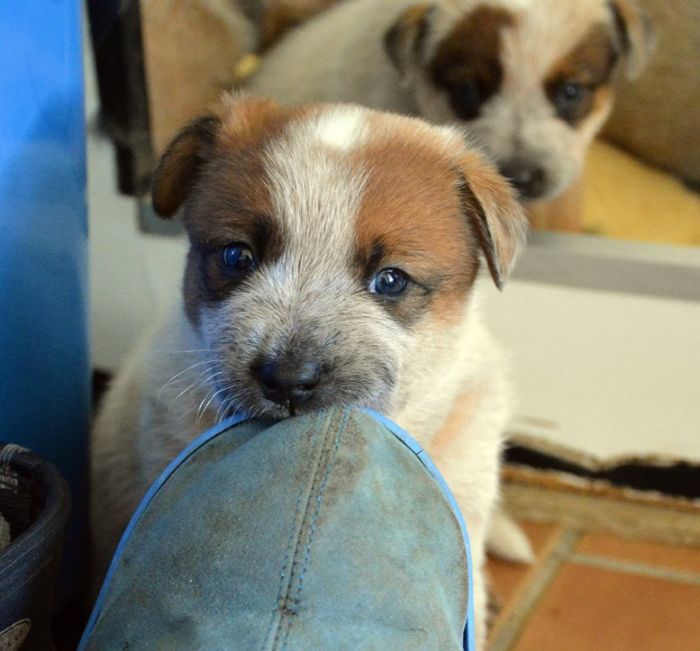 8th July, 2018
Jake and Skye finished off their ANKC PT herding titles. The PT is a test to show the dog can assist with moving sheep around a boundary in a controlled fashion. Now they have earned these titles they can now enter trial level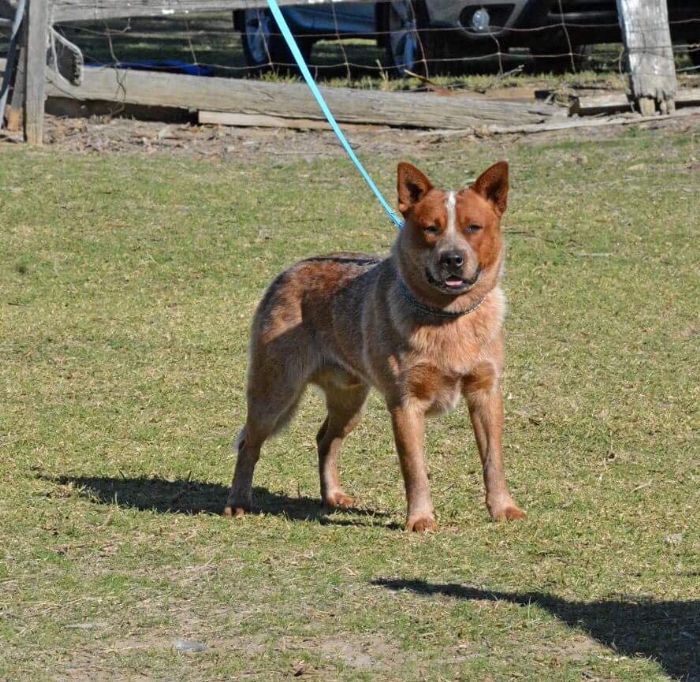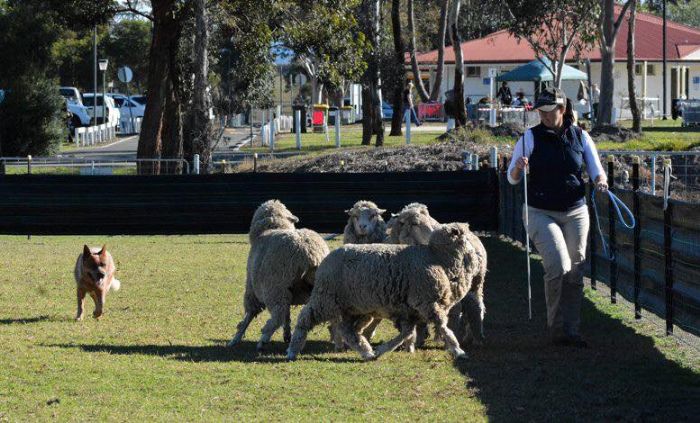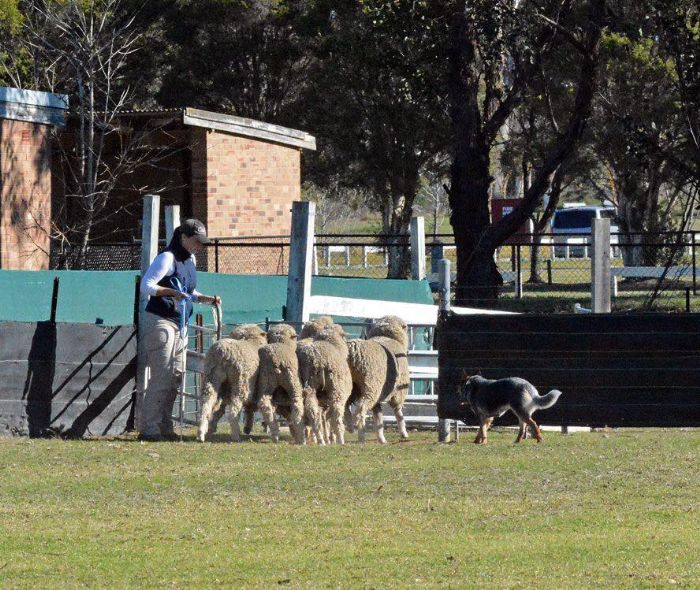 4th July, 2018
CJ's pups are growing great, just turned 3 weeks old. Karen and CJ are doing a wonderful job raising them, exposing them to indoor and outdoor enviroments, even at this young age.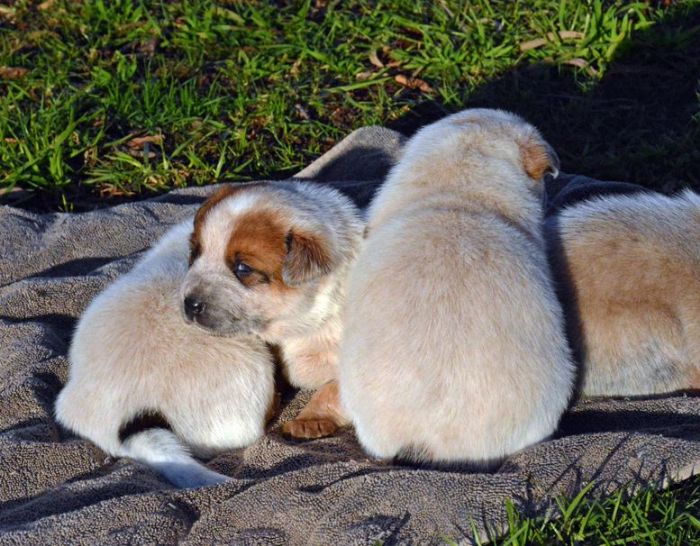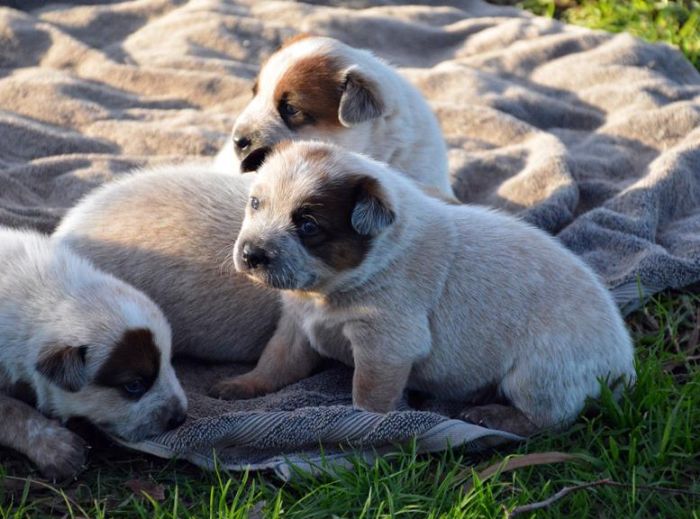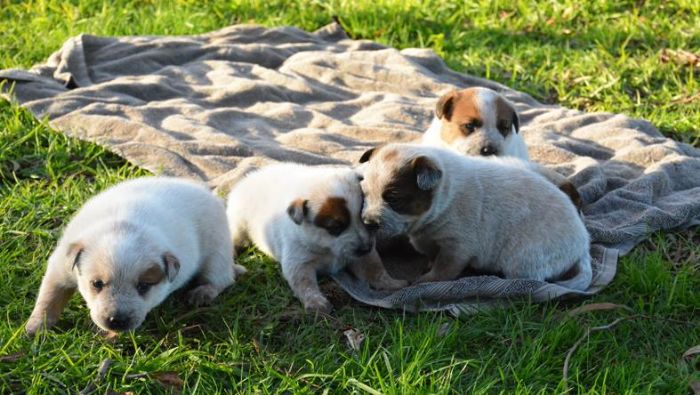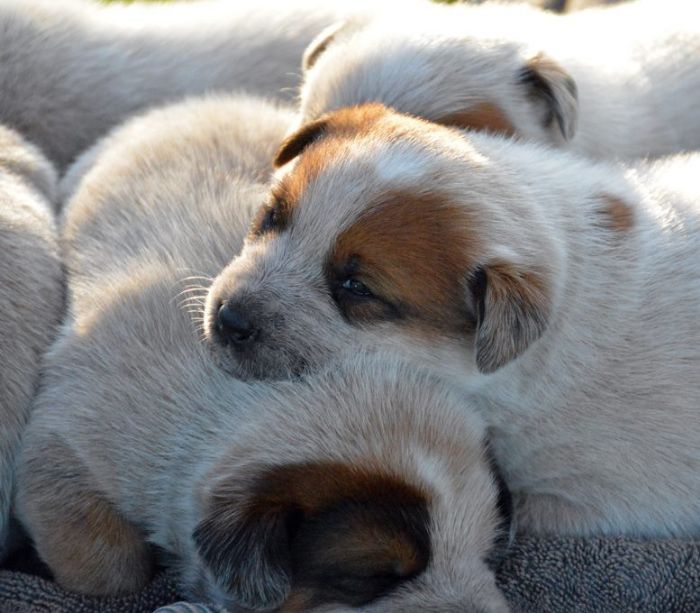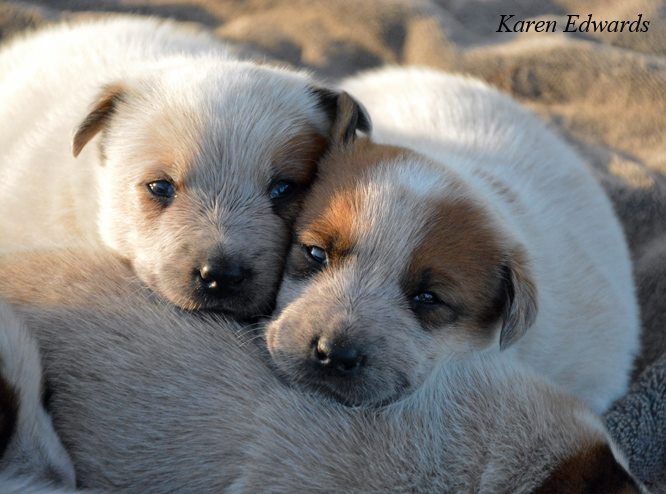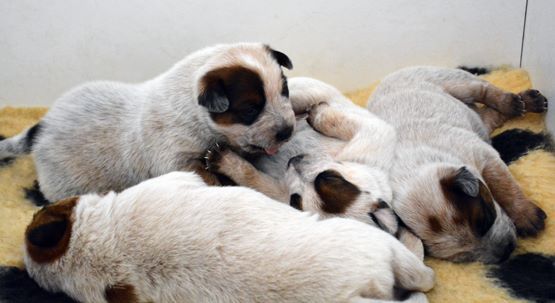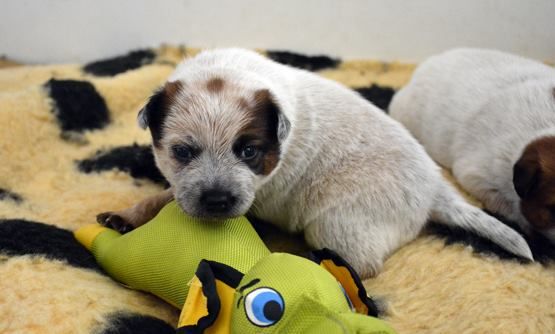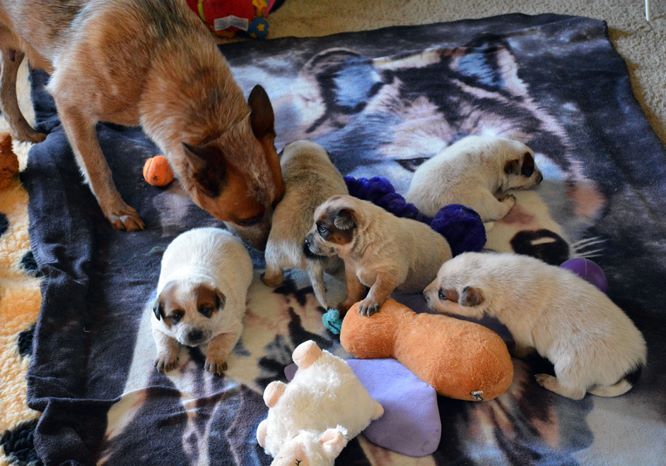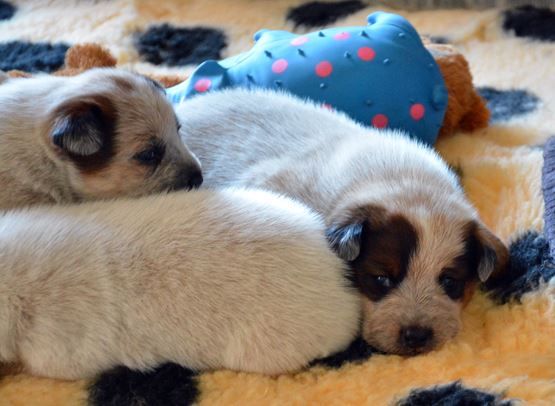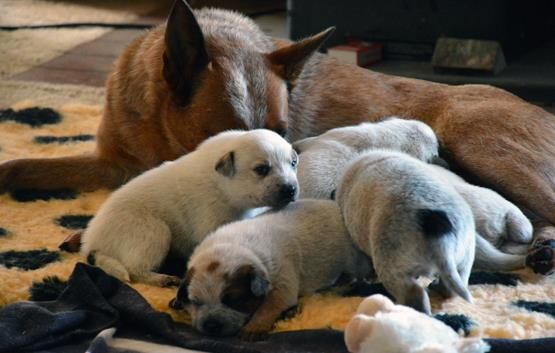 3rd July, 2018
I have been so lucky to spend time with Larry Painter in Missouri. Larry is arguably the best ACD trainer in the world, having bred, trained and trialled many dogs at top level for decades. He is an absolute wealth of knowledge about bloodlines, what pups to select, the finer points of inherited genetics, creating genuine farm dogs and also polishing a flash trial dog.
Working his young dogs under his guidance was amazing.
These are some photos of Kuawarri Ginny, who at 12 years old is still so sound, and Kuawarri Rudy, a son of Ginny. I also helped Larry create this footage of Rudy in the paddock.
Ginny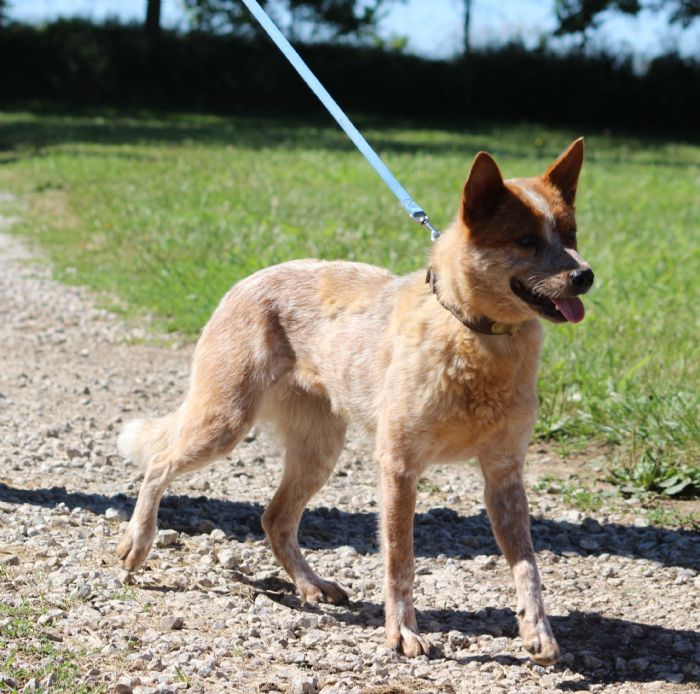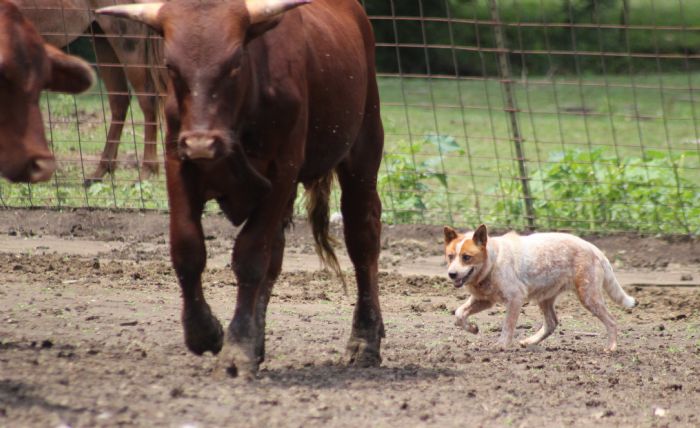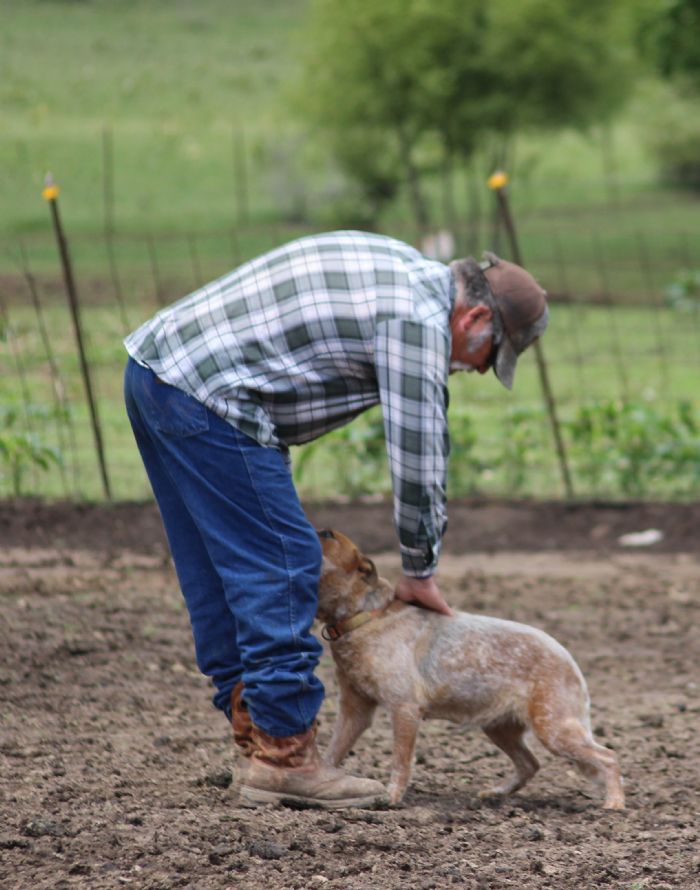 Rudy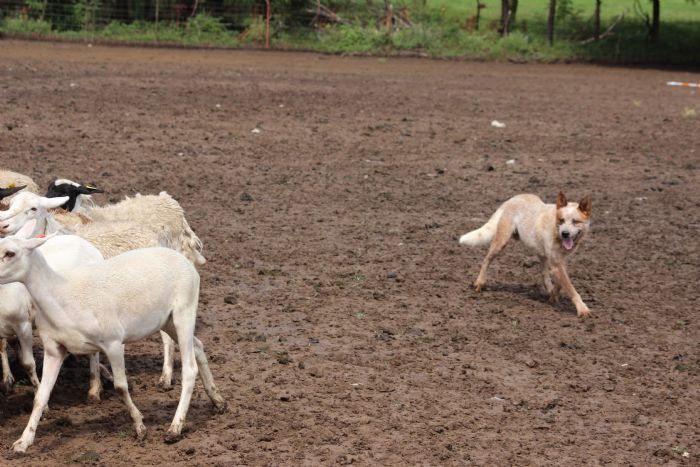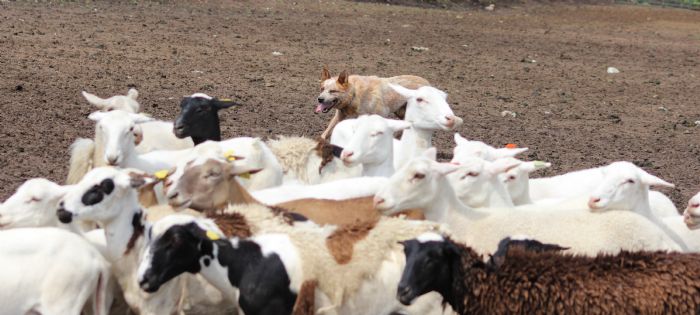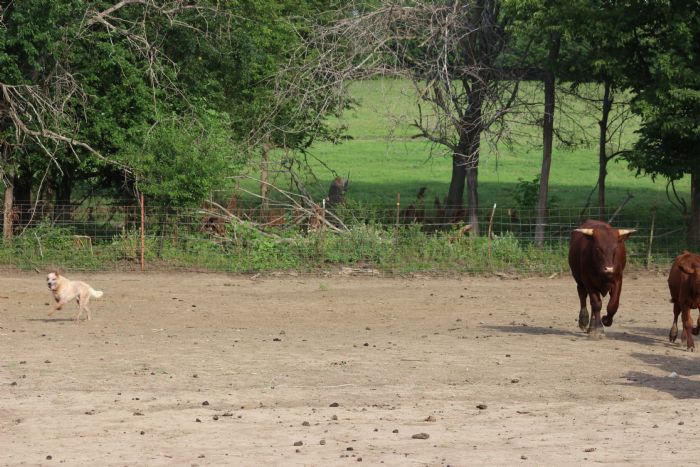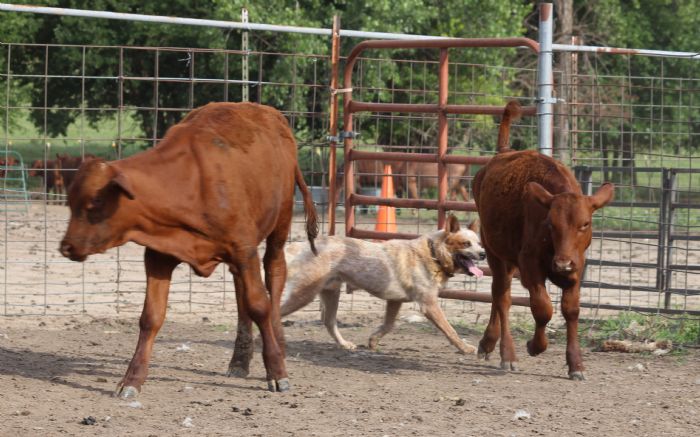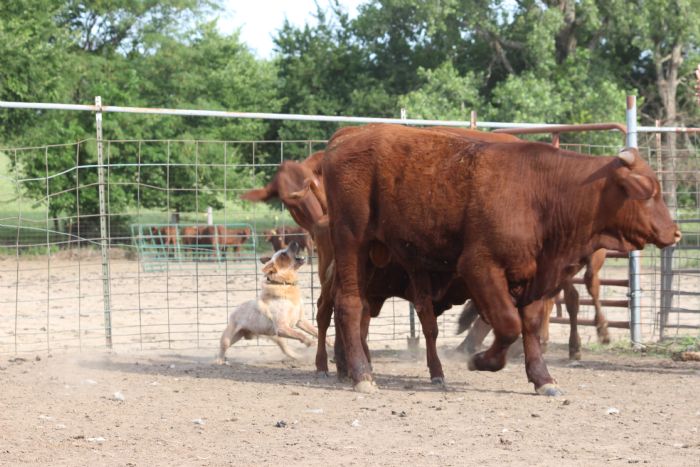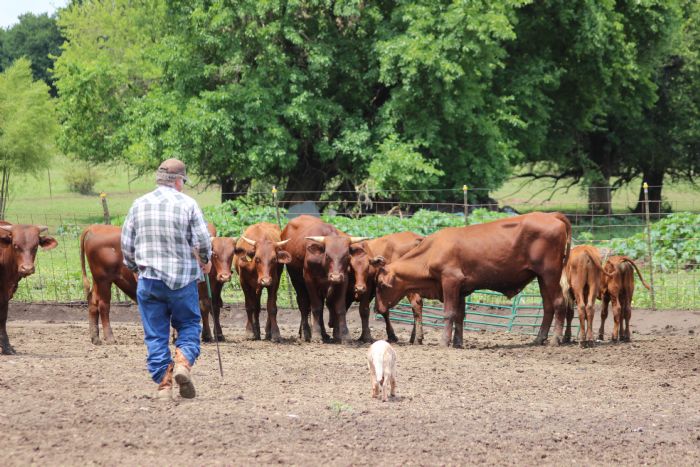 Kuawarri Rudy - bred, owned, trained and handled by Larry Painter. I think this is the best footage of a talented ACD I've ever seen. No chasing, no un necessary biting and controlling the direction of the cattle in an open paddock. This video shows what a good fetching ACD can do. Drone flying by me!
26th June, 2018
with Karen looking after the CJ pups back at home, I am over in Kansas visiting Pria. Its been almost a year since she left for America and it is so good to see her again. Her pups are very sensible and very cute. Because the sire has been deceased for almost a decade, and Australian quarantine requires a recent blood test, we had to do the frozen semen AI here in America.
Pria loves her new home, and who couldnt, living on a ranch. I'm looking forward to bringing the female pup, Jenny, to Australia in the future.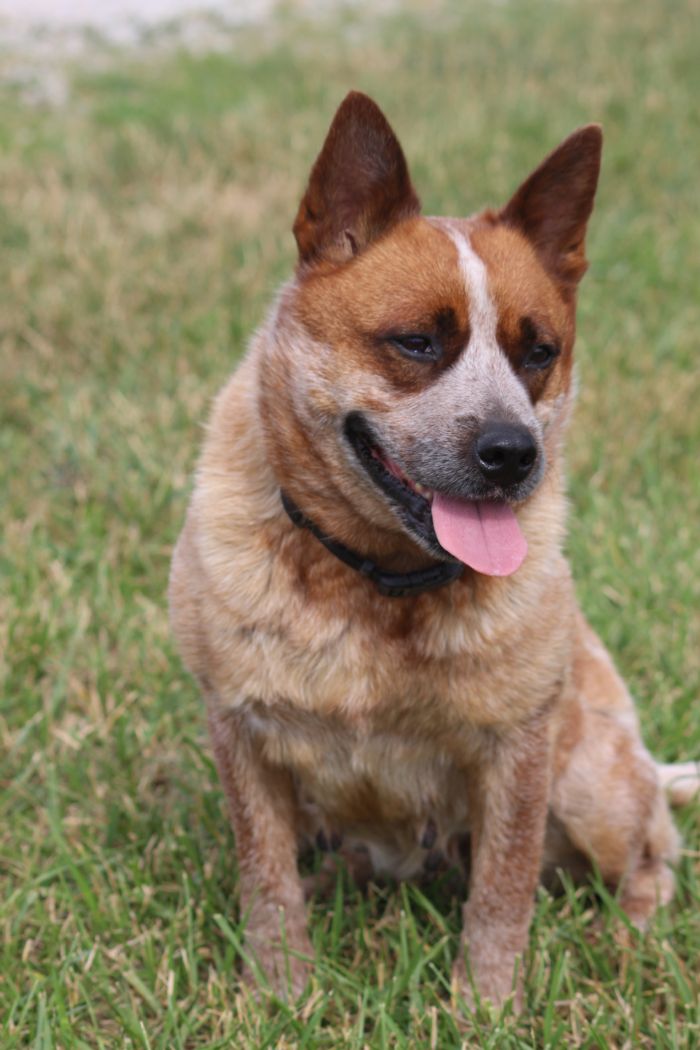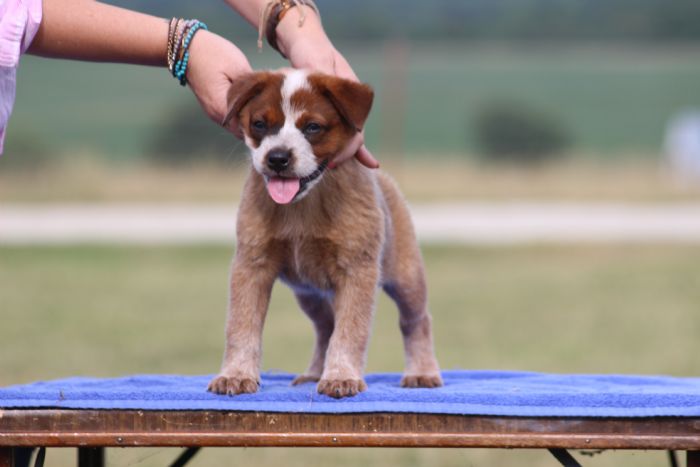 Its also been great to spend time with Vin - who is the sire, via frozen semen, to CJ, Kelly, Esme and Holly. He is still very sound for a dog over the age of 10.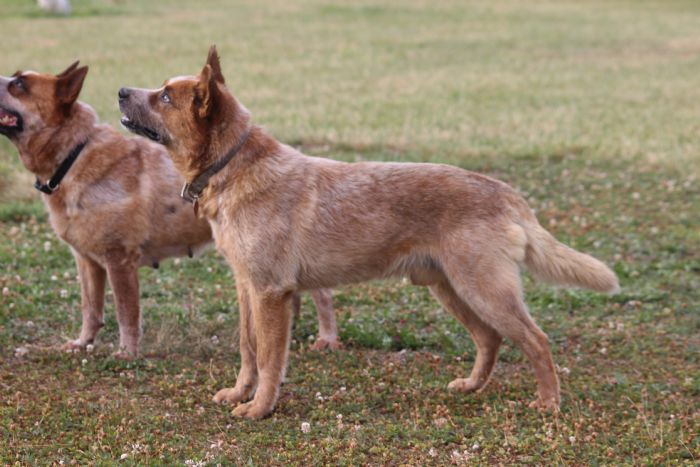 Rowdy is also a beautiful old soul, and I can see why he crosses so well on Vin daughters. Rowdy is the sire of Jake, Meg and Pyro.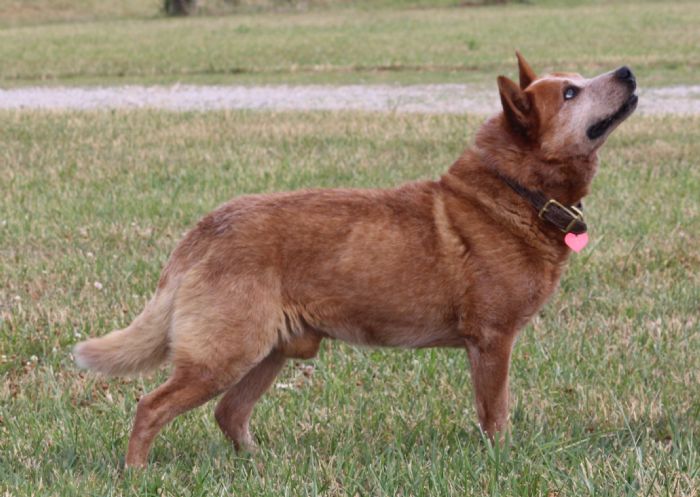 25th June, 2018
The CJ pups are growing so fast. Their eyes are almost open. As I am overseas at the moment, if you would like some more information on these pups please email me at [email protected].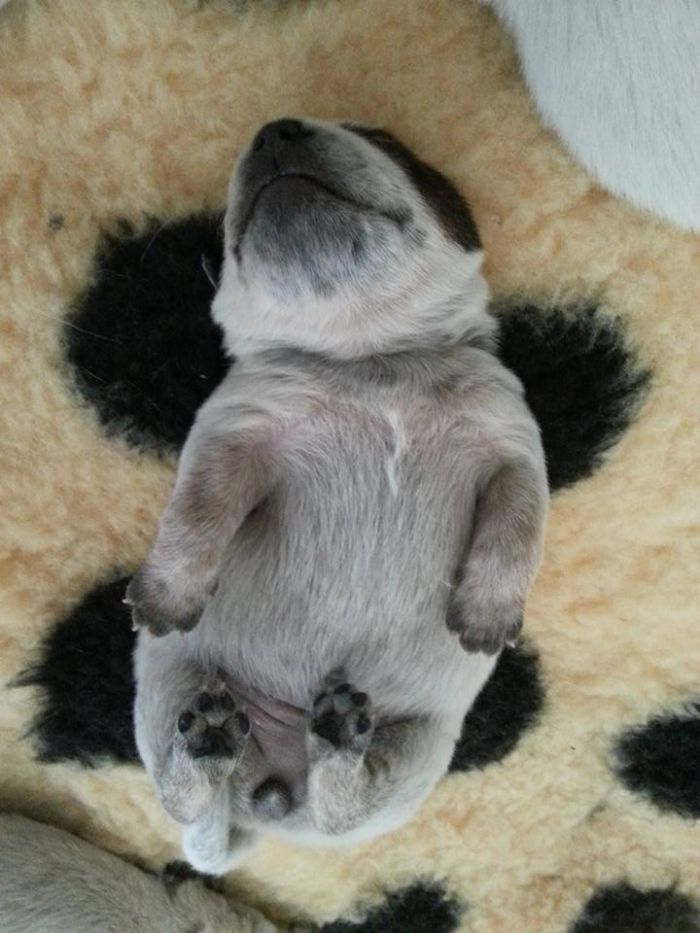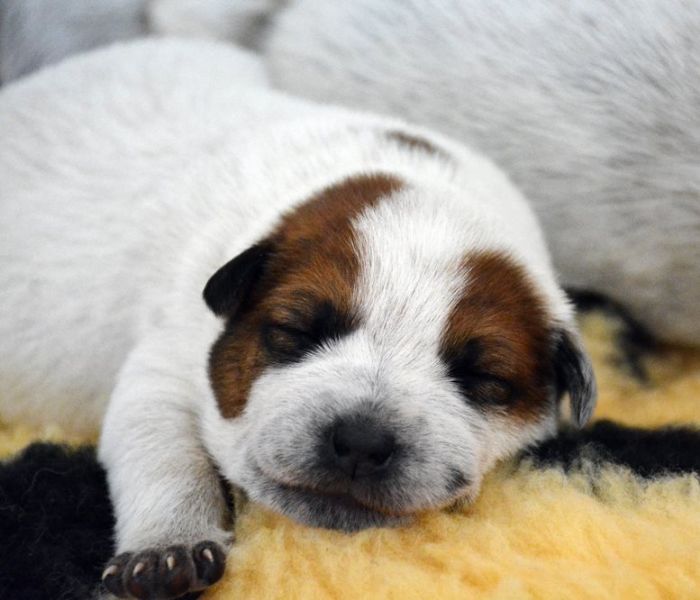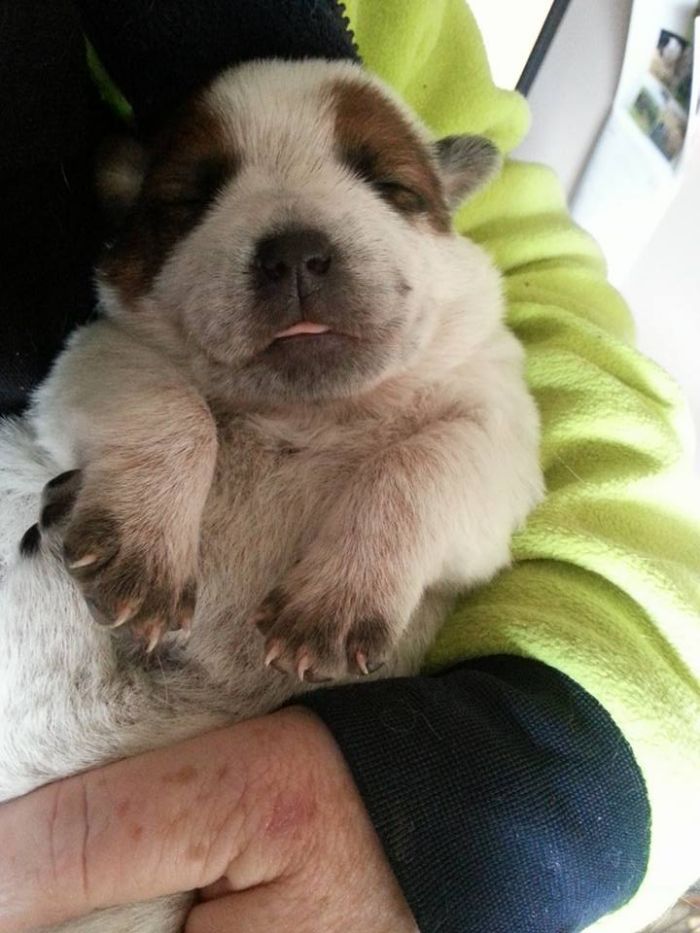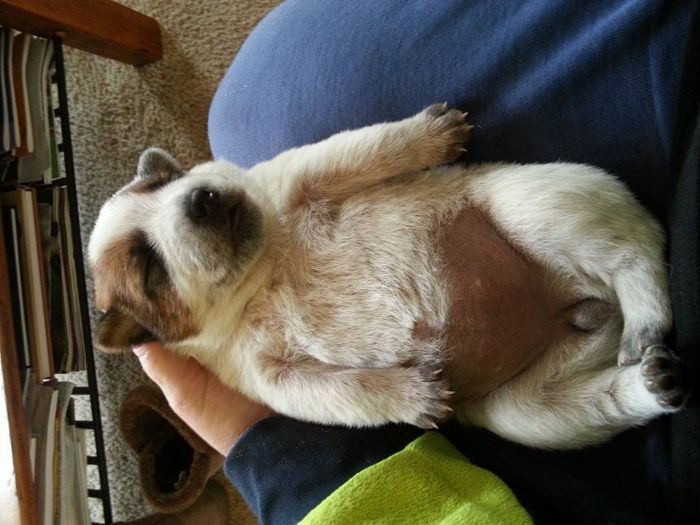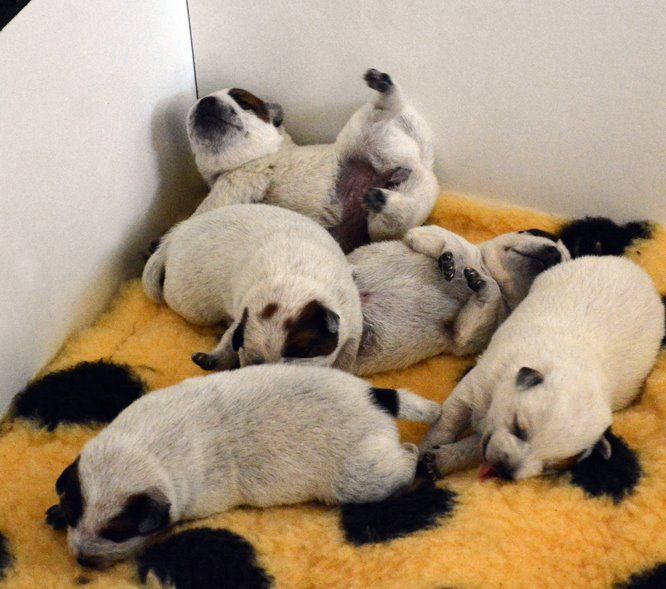 19th June, 2018
CJ and Pyro's pups are a week old now. Strong, vigourous pups.
Boy 1 Boy 2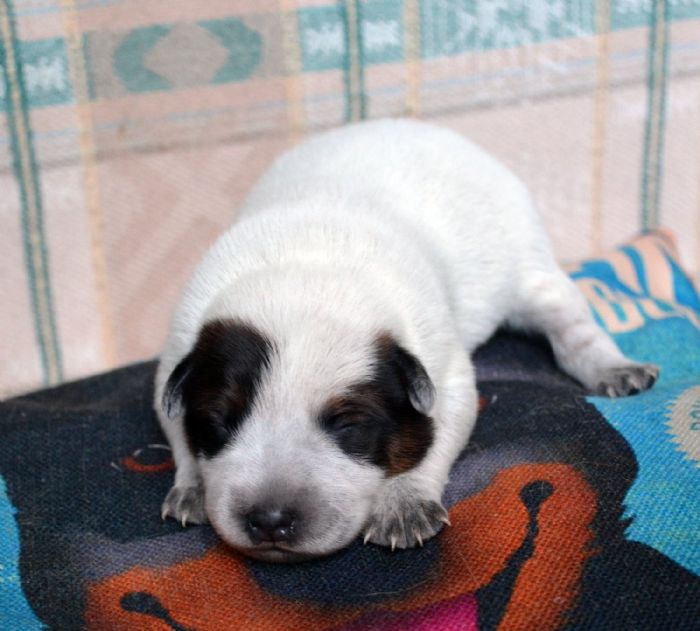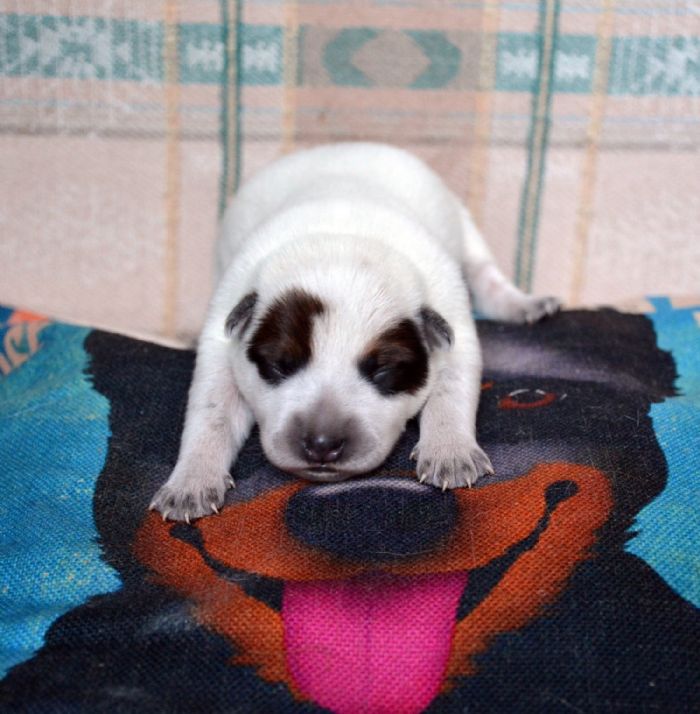 Boy 3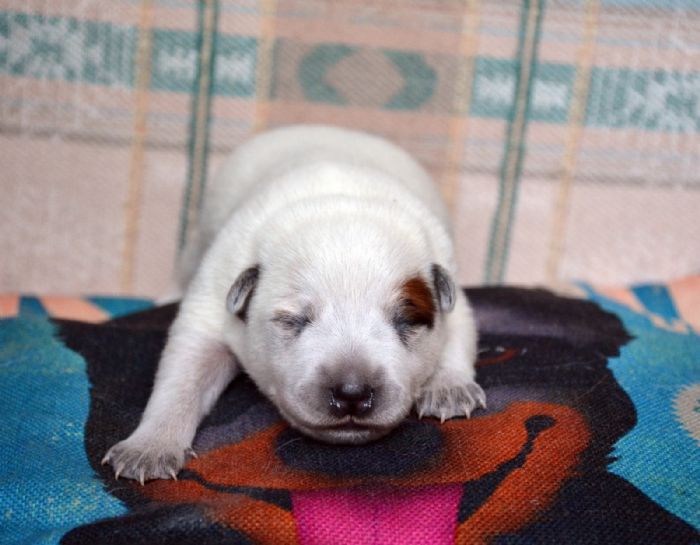 Girl 1 Girl 2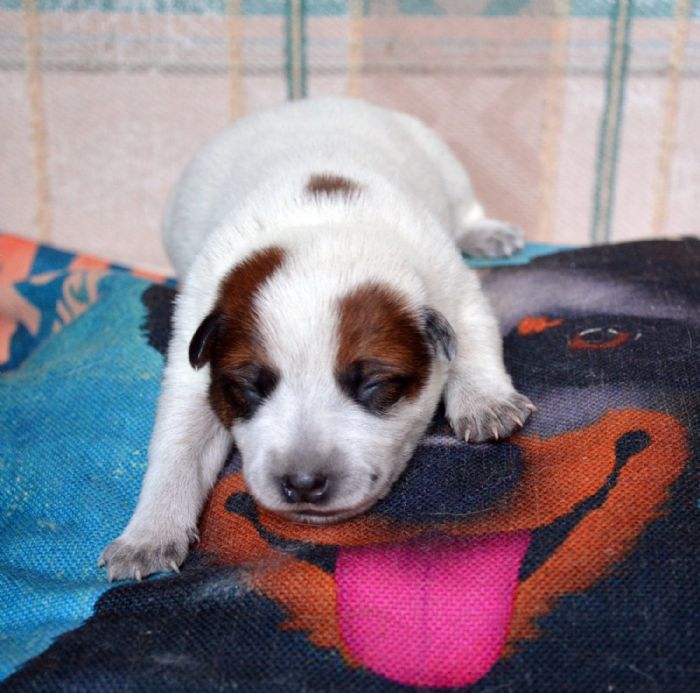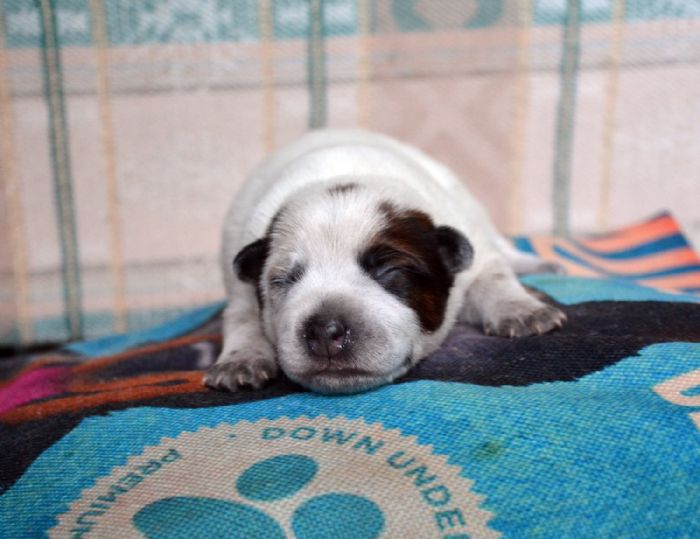 18th June, 2018
Super flattered to be asked to write an article for the Australian Working Stockdog Magazine, with Hannah giving me a hand to polish and edit. Whilst I may have not 'been breeding for 40 years', I am striving for genuine workdogs.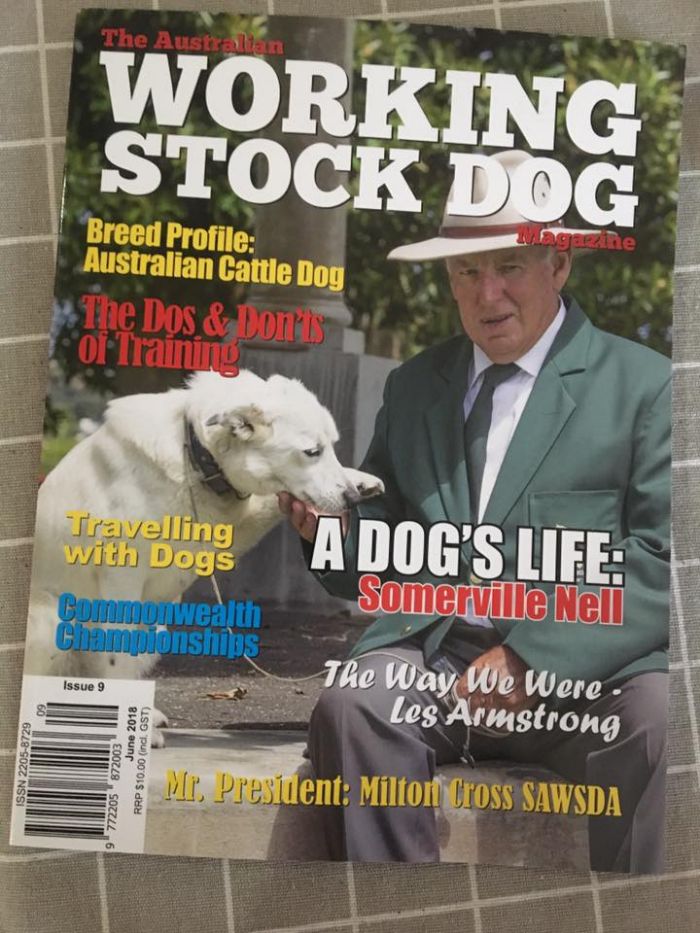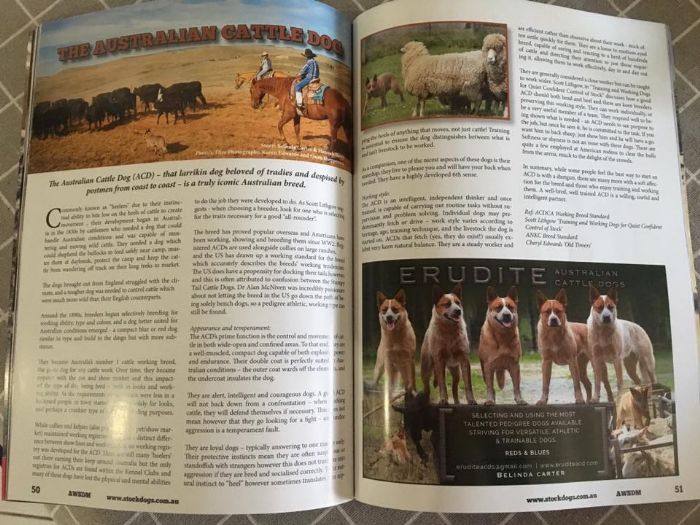 13th June, 2018
We've had some beautiful puppies born, CJ had 3 boys and 2 girls, all red, to Pyro. CJ is a real working talent. She was Victorian Herding Association Started Dog of the Year for 2017, and she already has a pass at Intermediate level at 2.5 years old, completing her Novice title already this year. Pyro is a very biddable son of Rowdy and Pria, and although young, he is showing much working talent. The pups will be unaffected by PRA and PLL eye diseases. This cross of Vin (CJ's sire) and Rowdy (Pyro's sire) is a proven cross of power and biddability, then add the double cross to Pria, they should be something special.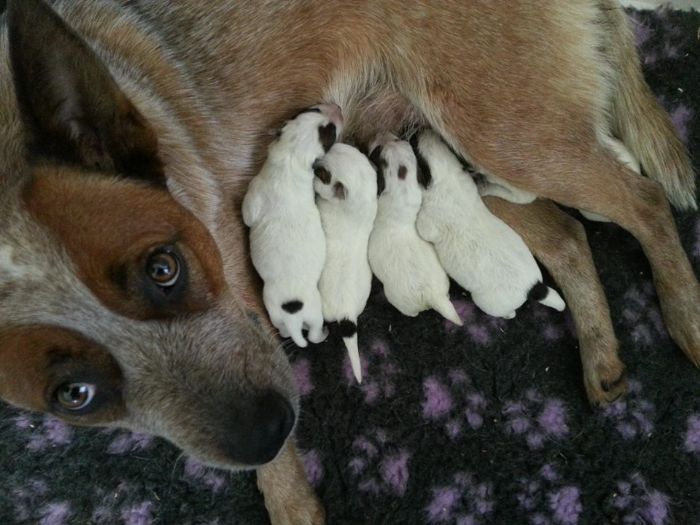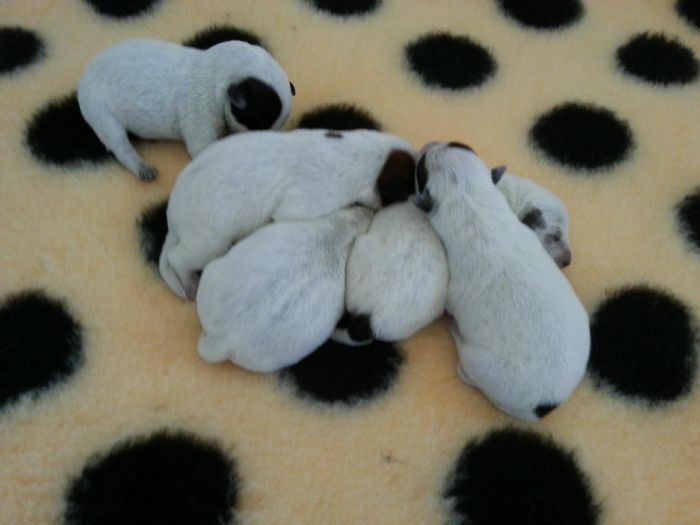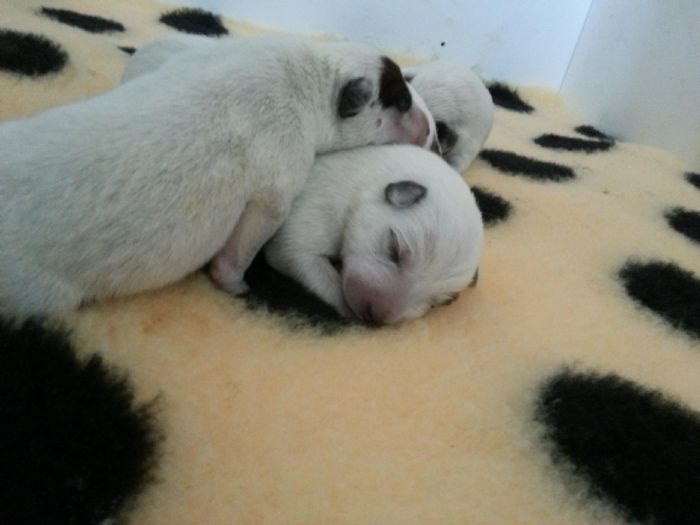 10th June, 2018
Jake becomes an Australian Champion! He just turned 1 so very happy that we have finished his show title, and now to focus on his performance title. He has proven the beauty part, now to prove the brains part!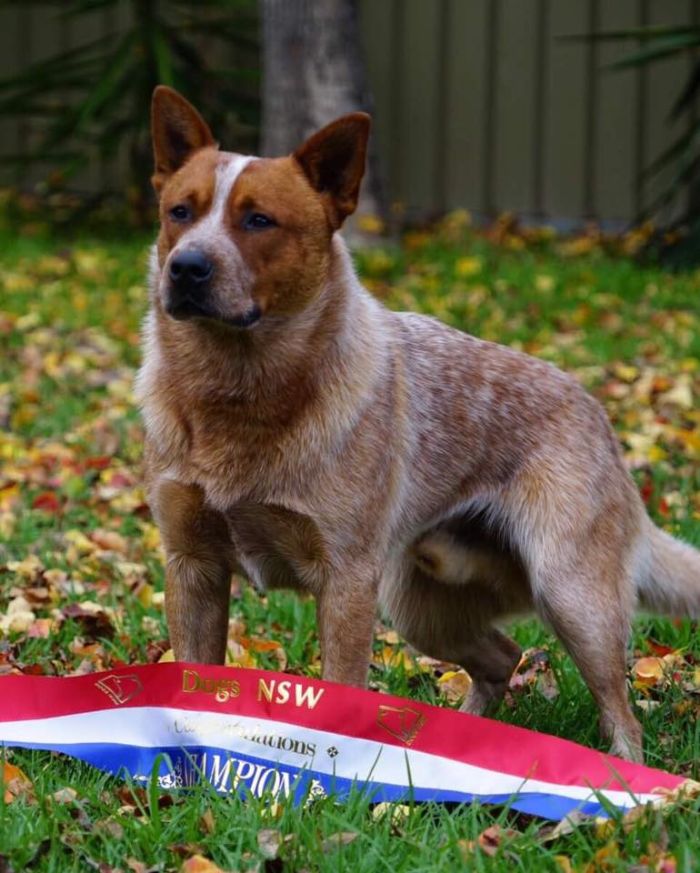 8th June, 2018
Kelly on the bag of Leaps and Bounds Active dog food, and the day it was shot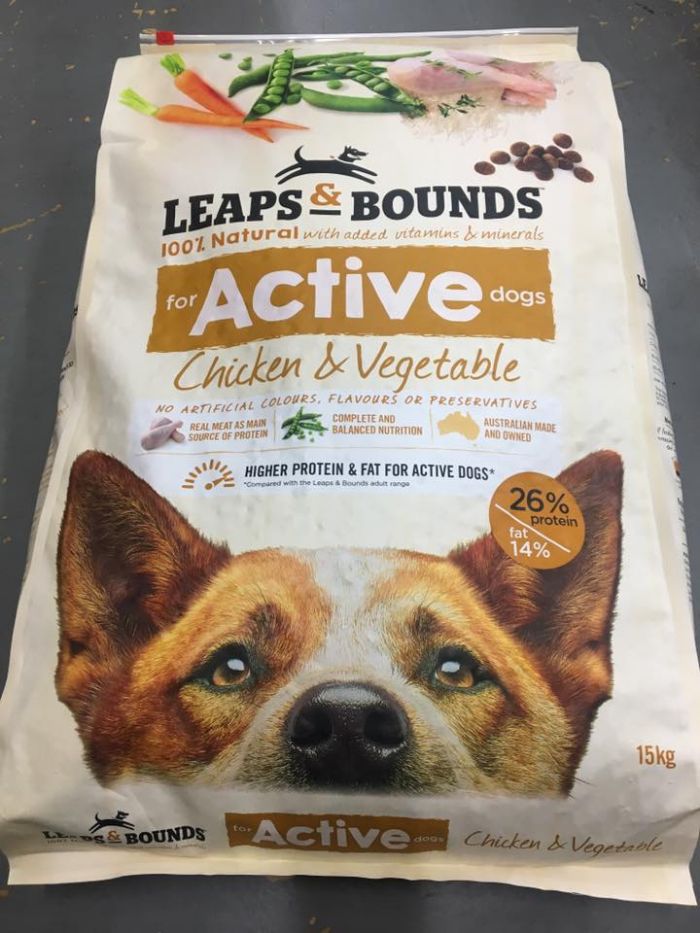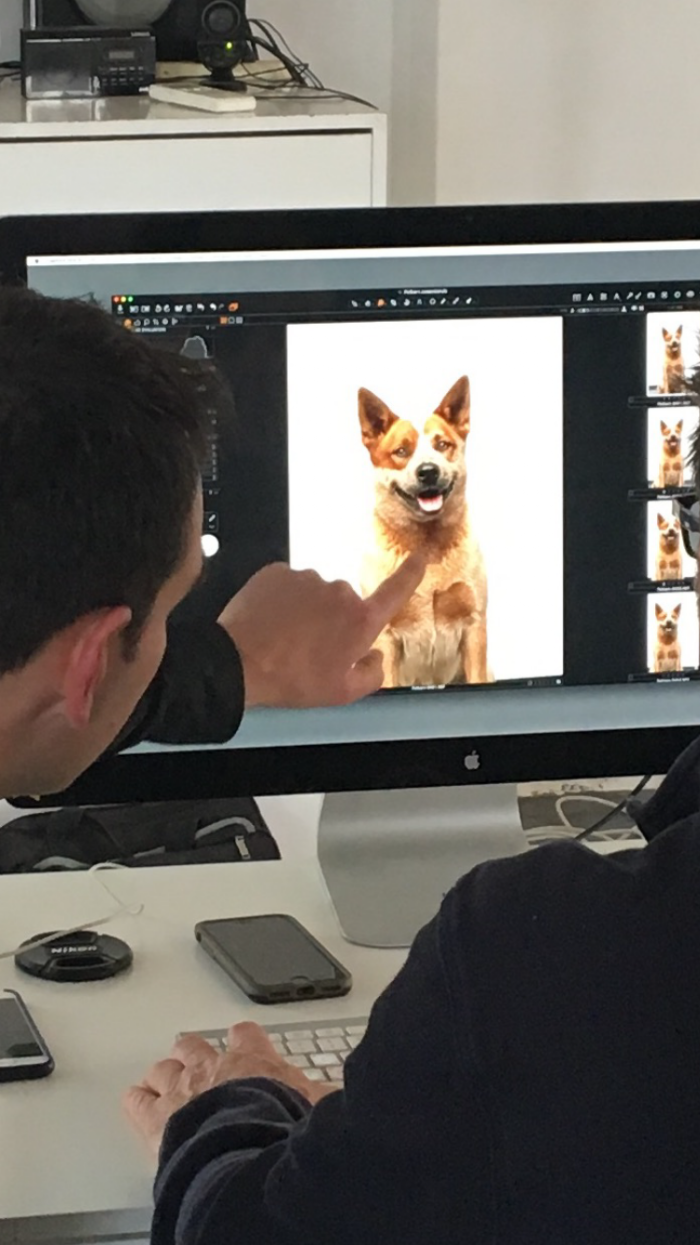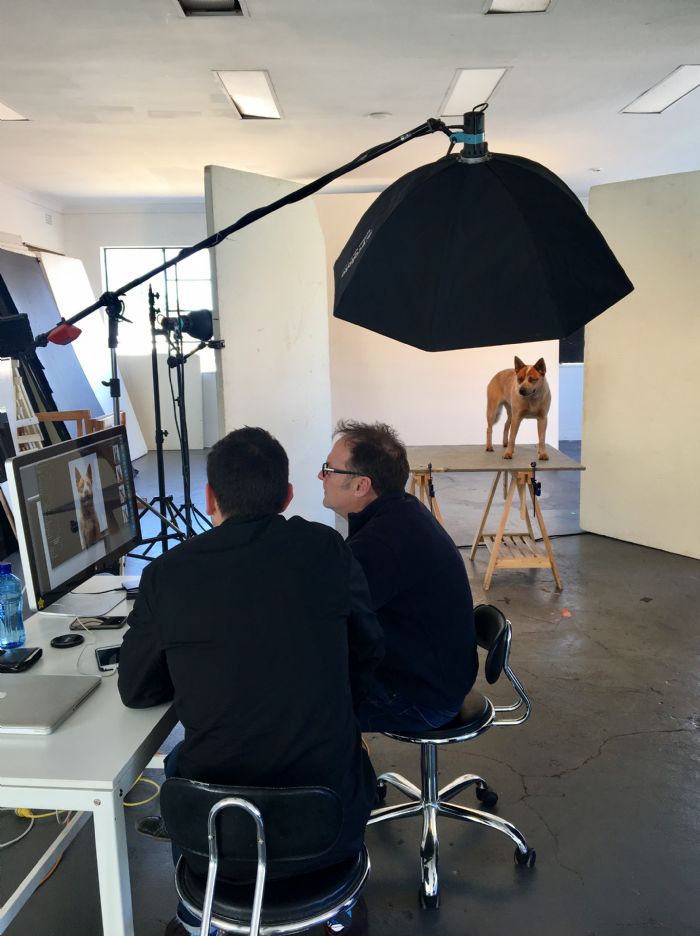 4th June, 2018
Skye is coming along in leaps and bounds with her training. She is such a sweet girl who tries so hard.
3rd June, 2018
Coco has been staying here while her family went on holidays. She is such a typical Tess daughter - so easy to have around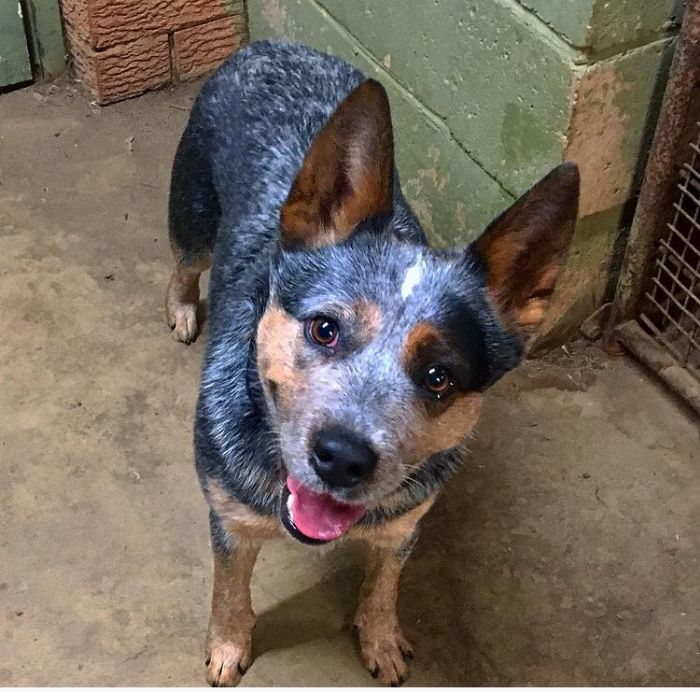 2nd June, 2018
Two of the super cute Ted x Kelly pups. Both live in Victoria.
Fergie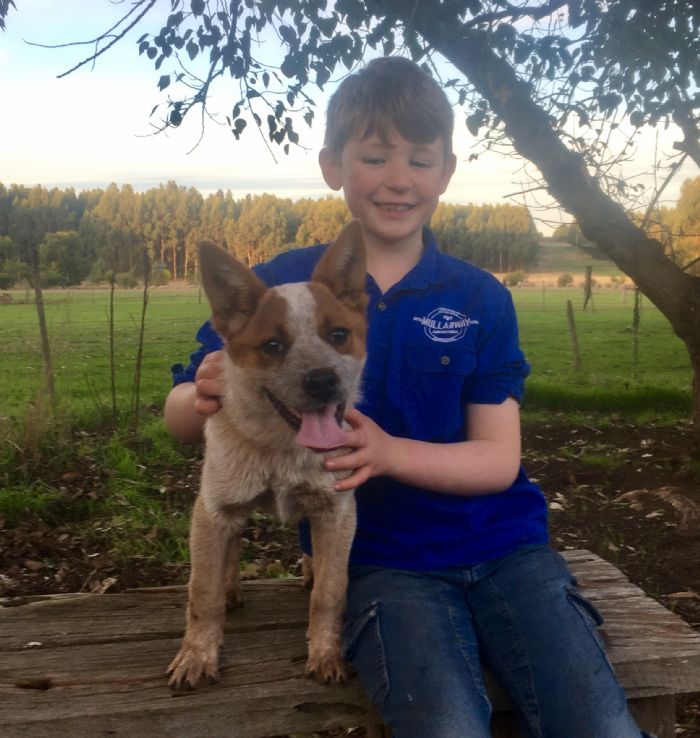 Leonard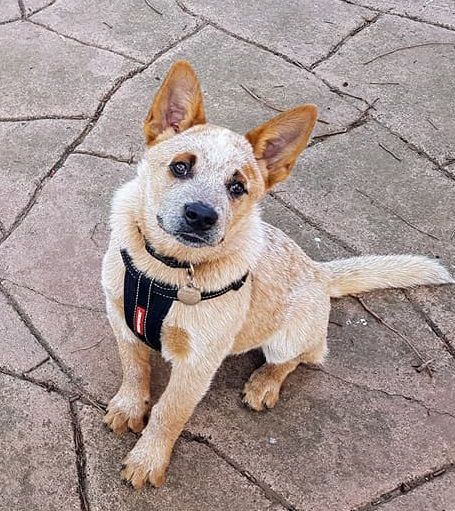 1st June, 2018
CJ's trophy for being the best Started level dog in Victoria for last year.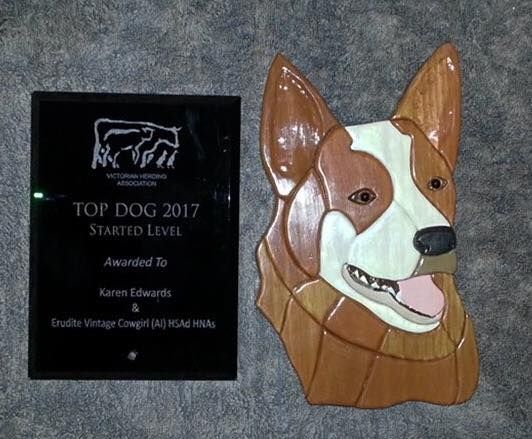 27th May, 2018
3 new titles for Erudite dogs across 2 states, all in Rally Obedience. Esme earned her RN title at the Mornington, Victoria trial and Kelly & Skye earned their RN titles in Bathurst, NSW. Skye was the star winning both her classes with a 99/100 and a 92/100.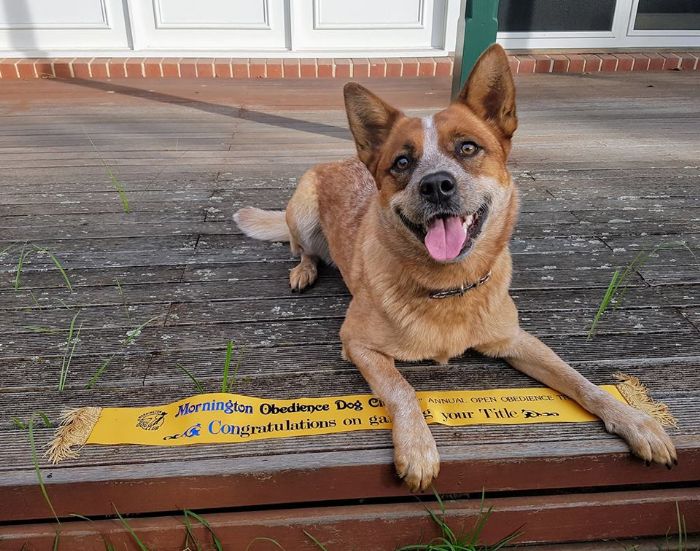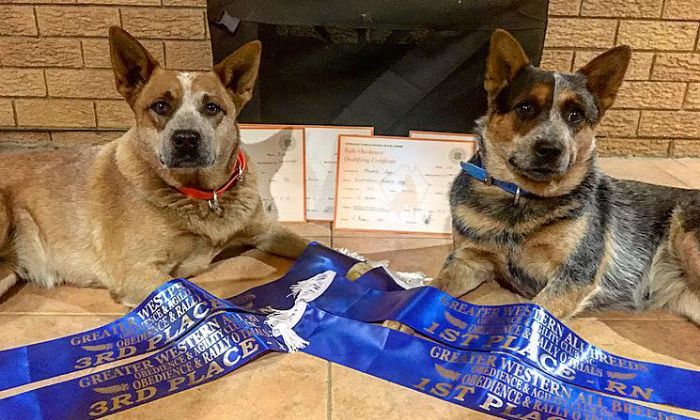 20th May, 2018
At the herding trial on the weekend Kelly, Jake and Skye all did very well. Kelly finished 2nd from a large class at the Border Collie Club trial, and earned her second pass for her HSAs title. Jake and Skye both qualified in their HT and PT tests.
Kelly in the first part of her trial, these are quite light sheep which dont automatically run to people, we are enjoying this challenge of working non dogged down sheep.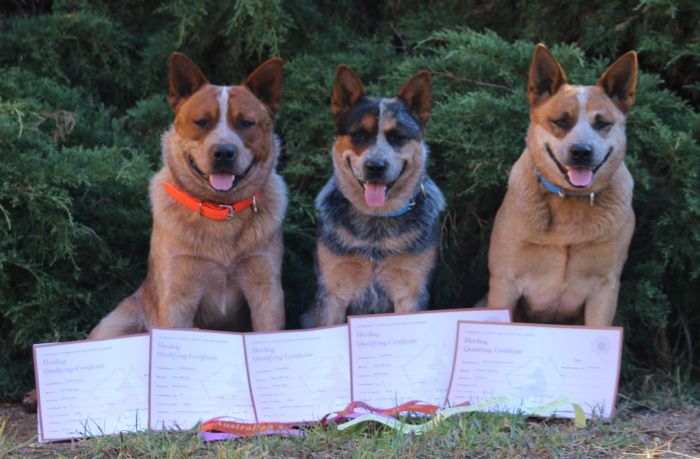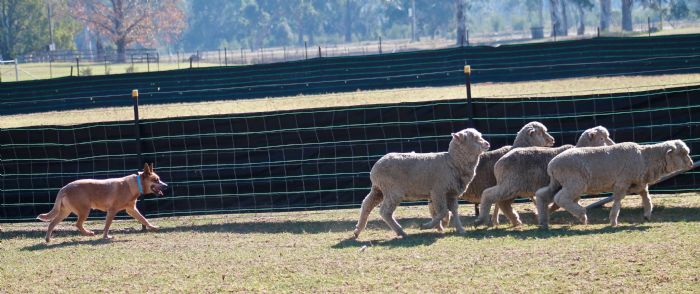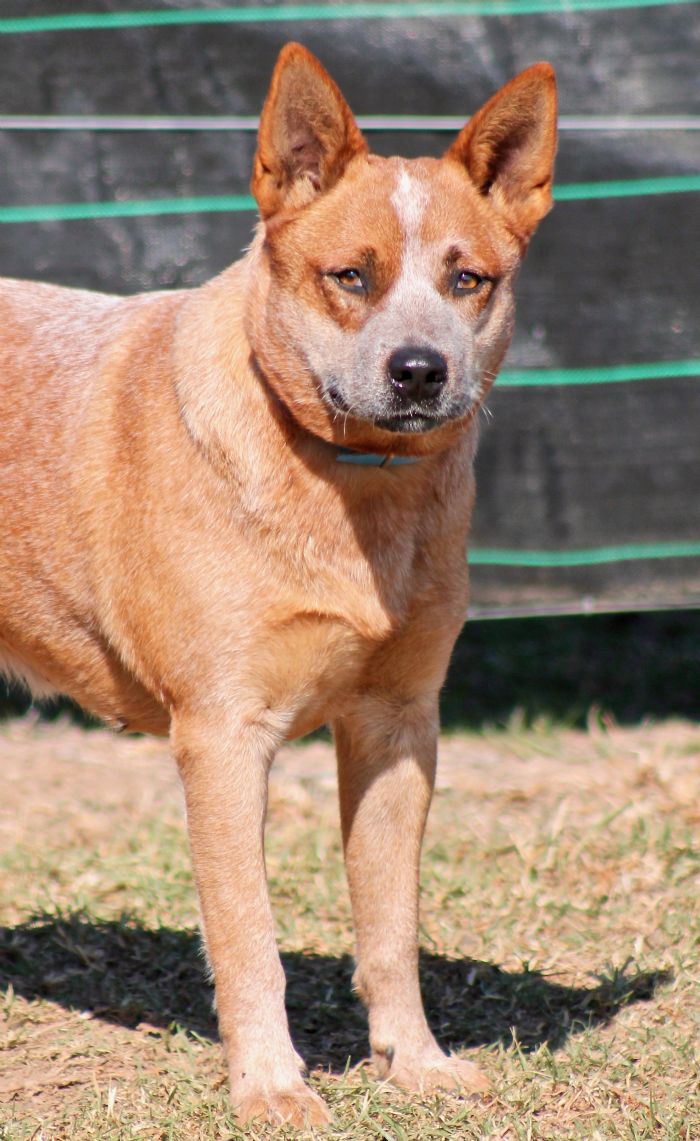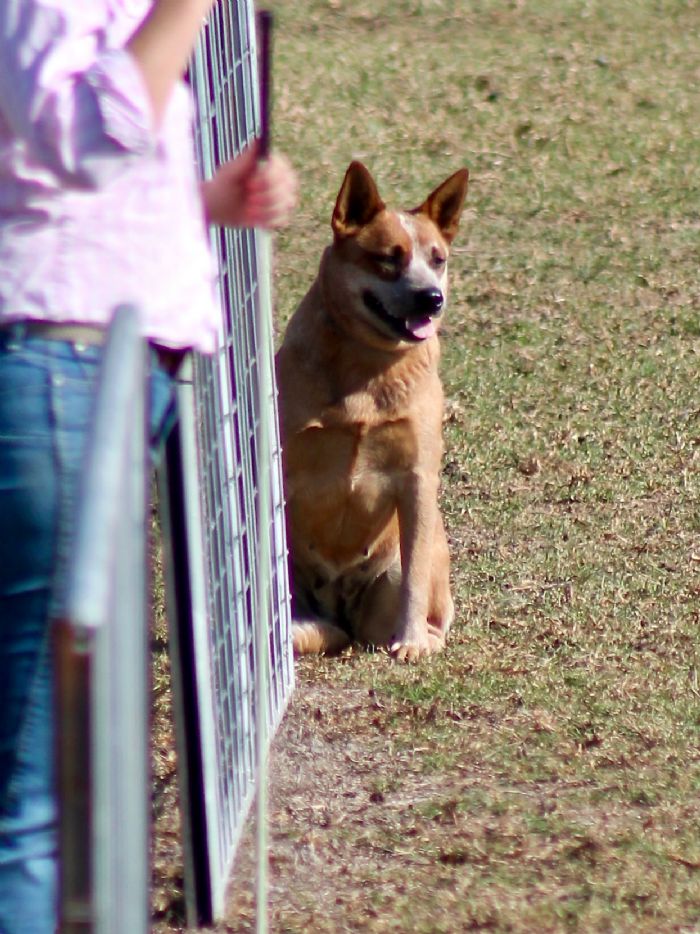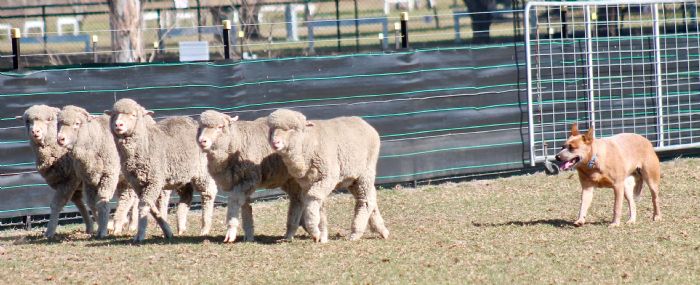 18th May, 2018
Pria's pups in America have just turned 14 days old. They are doing really well! This is the female pup.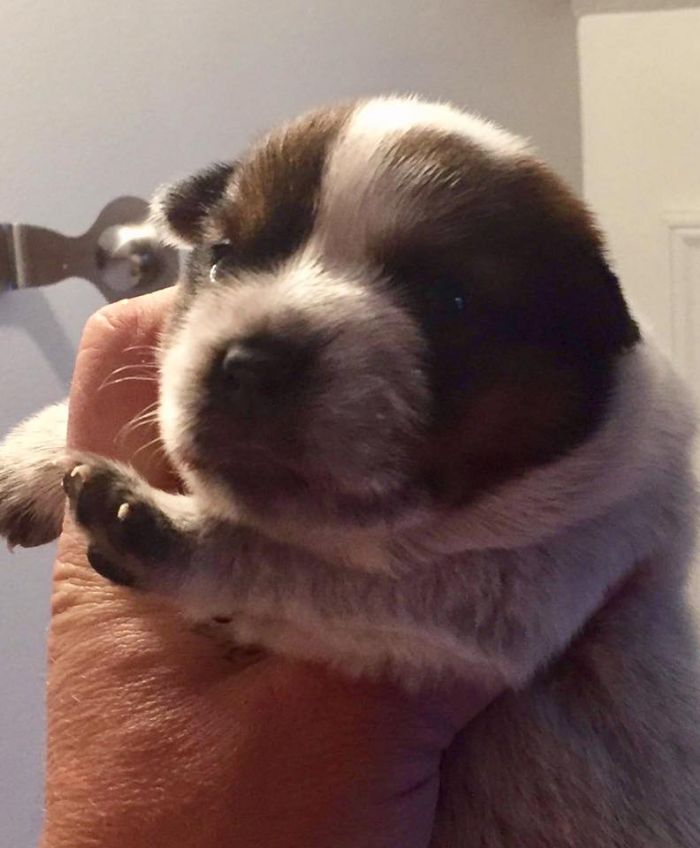 16th May, 2018
Jake is growing into such a handsome dog. 11 months old, and sitting on 99 points for his Australian Champion show title, 1 more to go!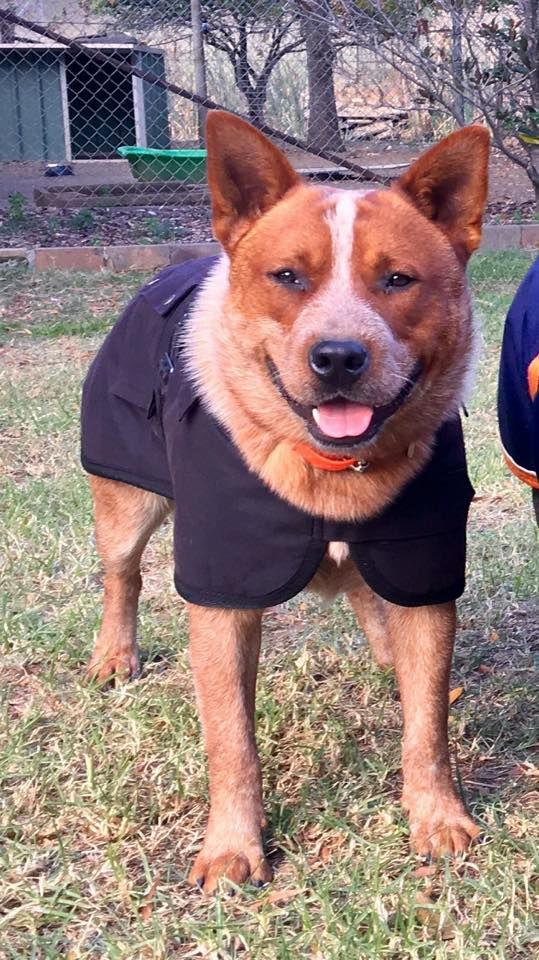 15th May, 2018
Lexie, who is a Kelly daughter, learning all her puppy tricks.
2nd May, 2018
Some of Jake's photos from Gunnedah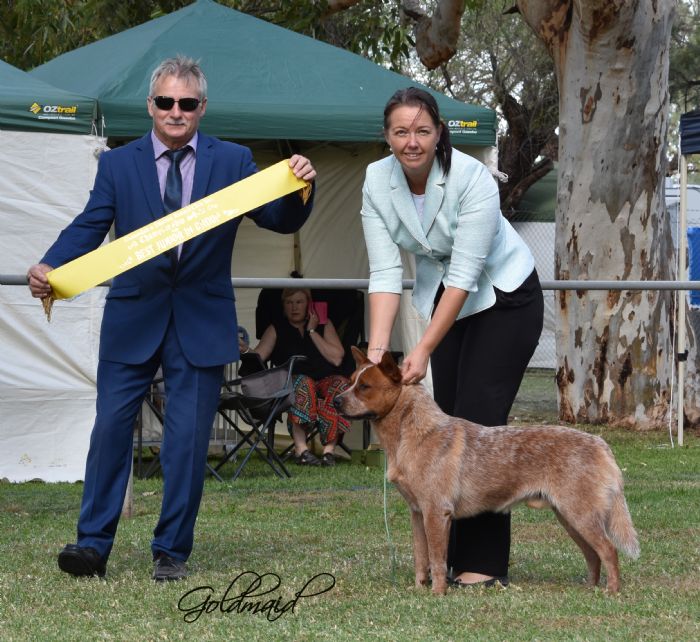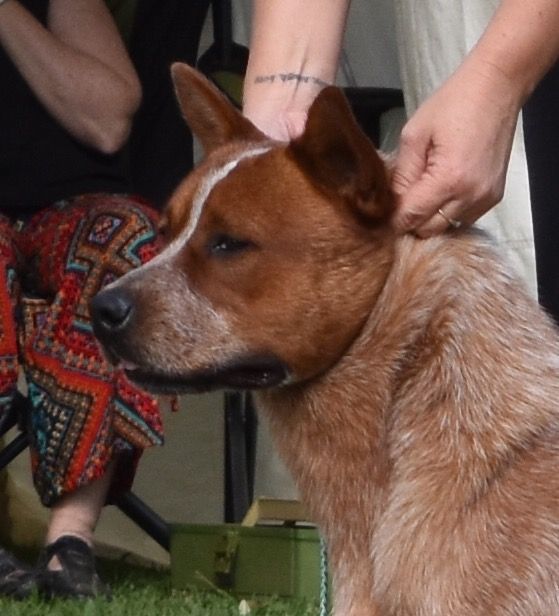 30th April, 2018
Lexie in her new home, and in her job as assistant Greenkeeper
29th April, 2018
Jake and Jacquo caught up with each other at the Gunnedah shows. Jake won himself two Junior in Groups and two Best of Breeds. Jacquo won a Best of Breed as well.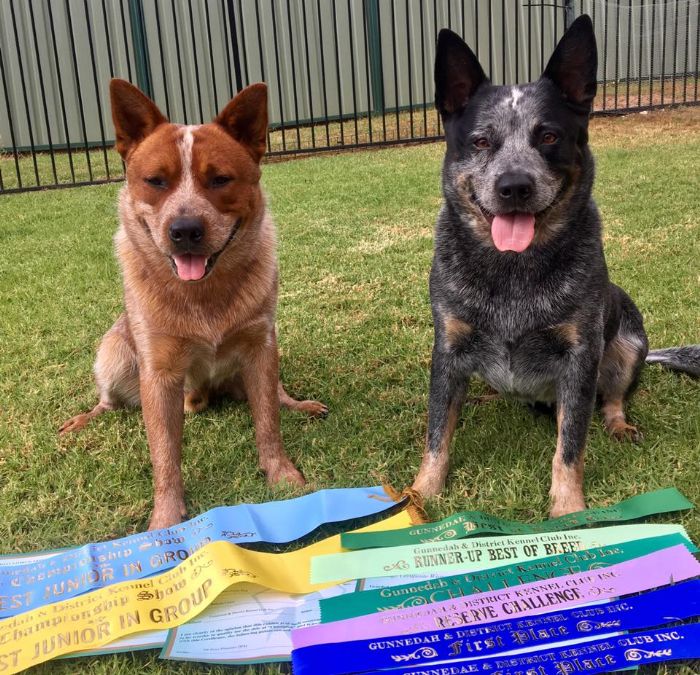 22nd April, 2018
More herding trial success. CJ, at the ASCV herding trial competed 4 times for 4 first places. She finished off her Started A duck title, got a Novice Duck pass, finished off her Novice A sheep title and got an Inter A sheep pass. Amazing for such a young dog to do so well at Intermediate level. CJ also won Combined 2 stock High in Trial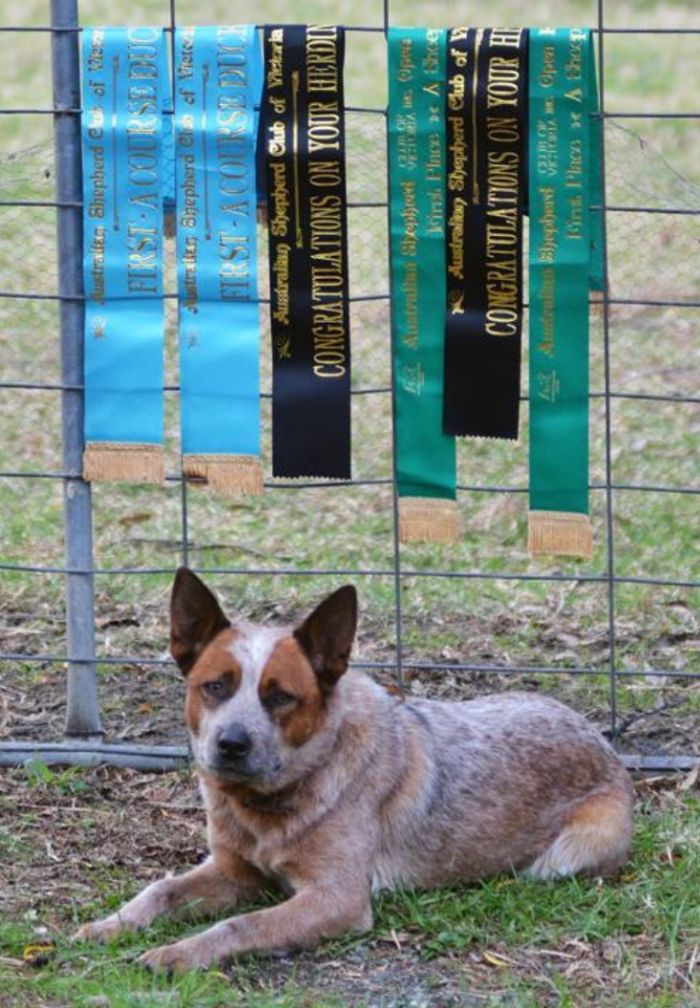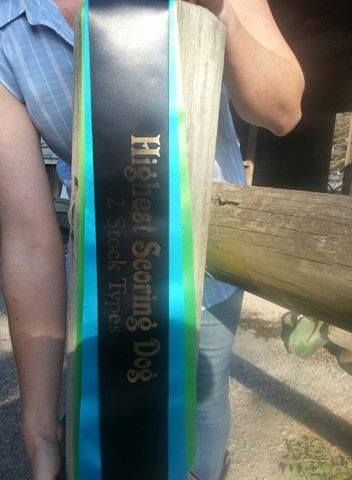 18th April, 2018
These three - Jake, Skye and Kelly have all been so clever with certficates in the past 5 days for showing, herding and rally obedience. At her first ever obedience trial Skye got herself a 3rd place!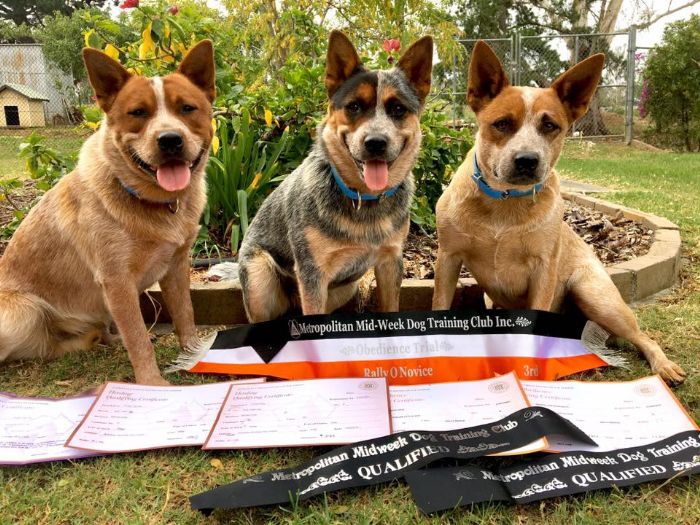 9th April, 2018
The very talented Kelly had the chance to work some brand new sheep which have barely seen dogs before. This was a great opportunity to see just how much talent she has, and to see her independently work. Her pups are 10 weeks old and she has bounced back and is raring to get back to work.
3rd April, 2018
Bandit is maturing into a very handsome dog. He just turned 1 year old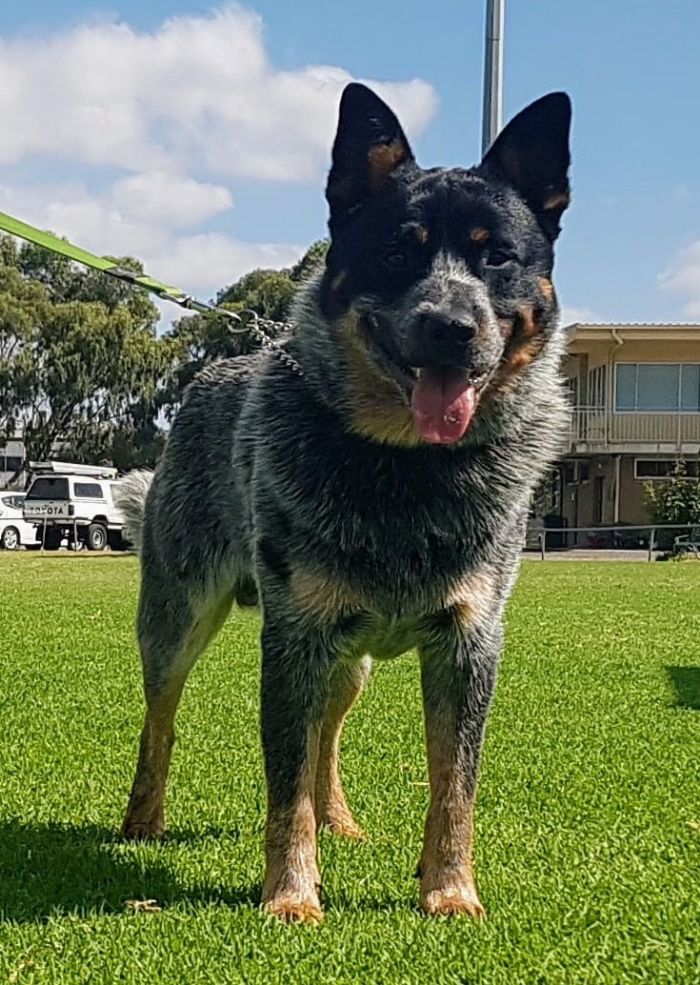 2nd April, 2018
Jake went back for General Specials day at Sydney Royal, he performed so well in the heat. We didnt make the top 4 but I'm confident this wont be his last appearance at a Royal General Specials day. This is his official photo from his Puppy of Breed win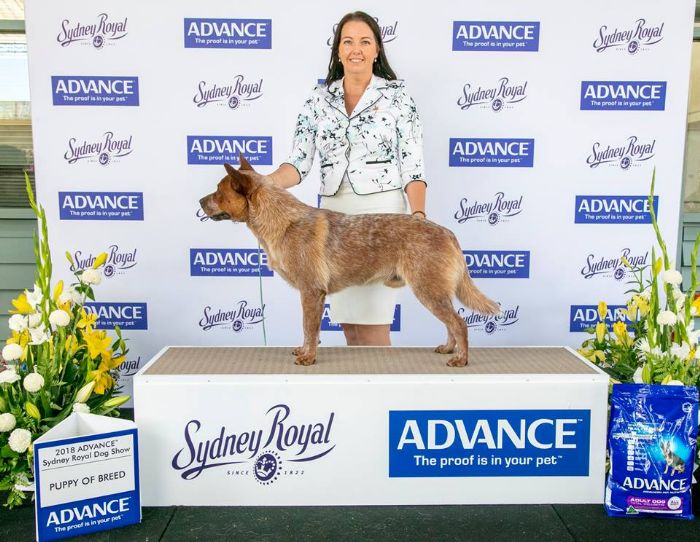 Plus some more photos and videos of Jake being one very confident, cool headed pup. Pretty much nothing rattles him, and considering his is such a young male.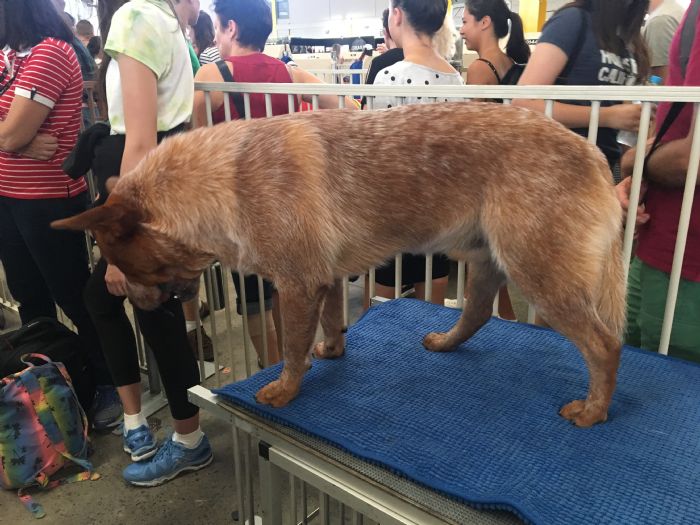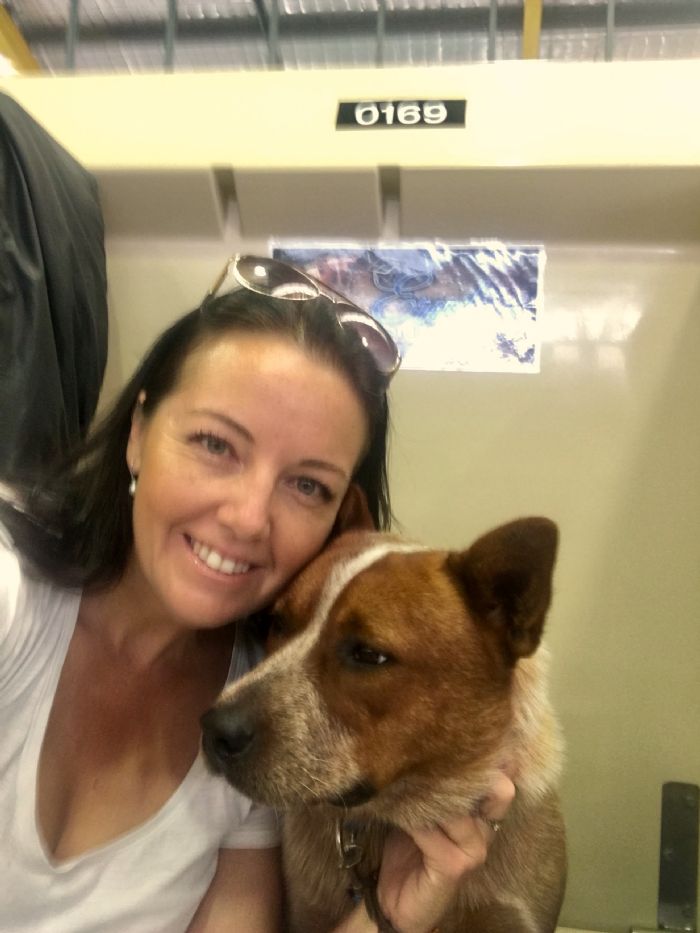 1st April, 2018
Sid has settled into his new home in the Margaret River, Western Australia. He has already started in his role as Vineyard Dog with his older friend.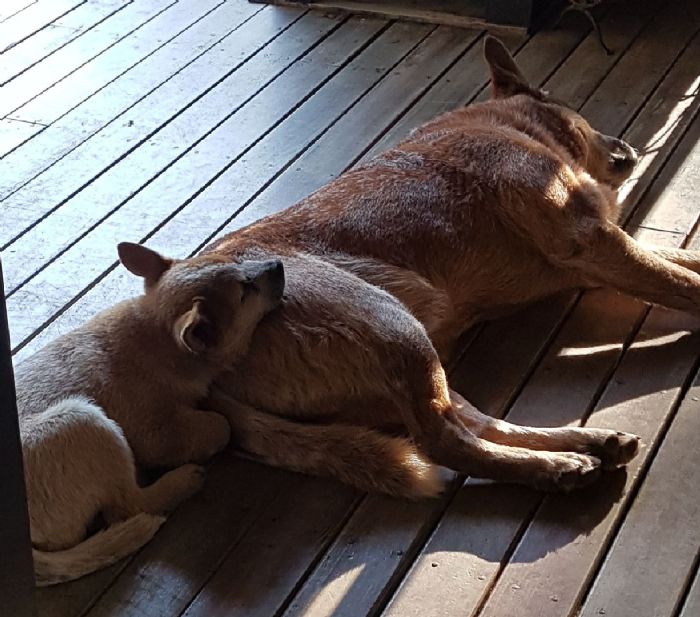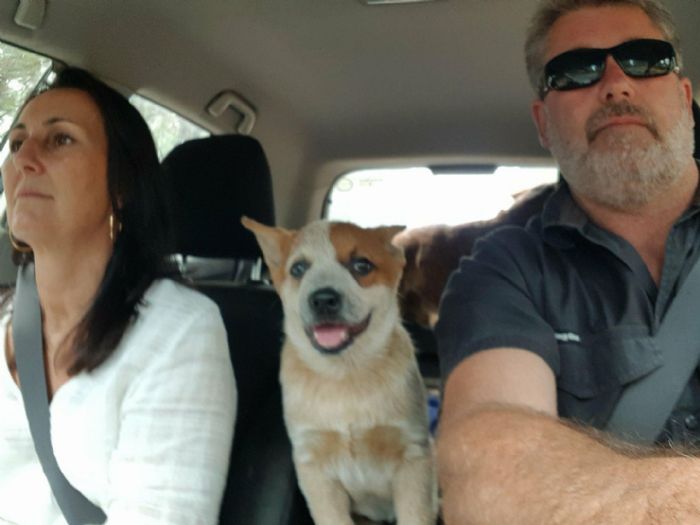 31st March, 2018
Esme had her first Rally O trial, a double and she earned two passes, both 93/100. One more for her title!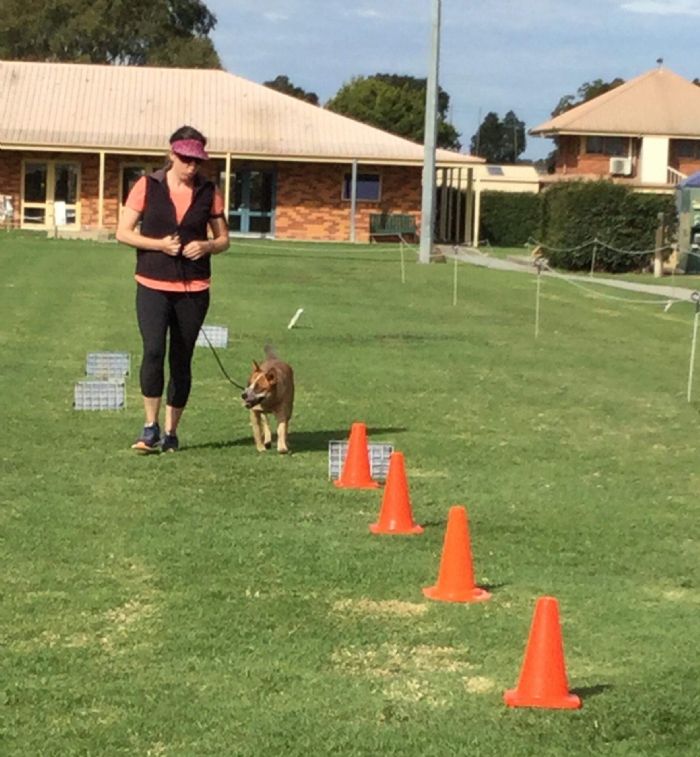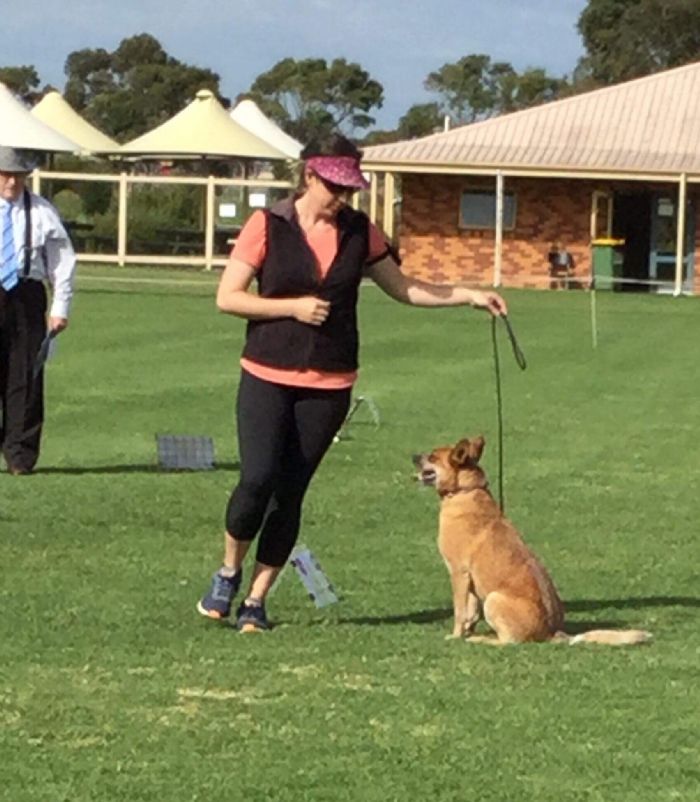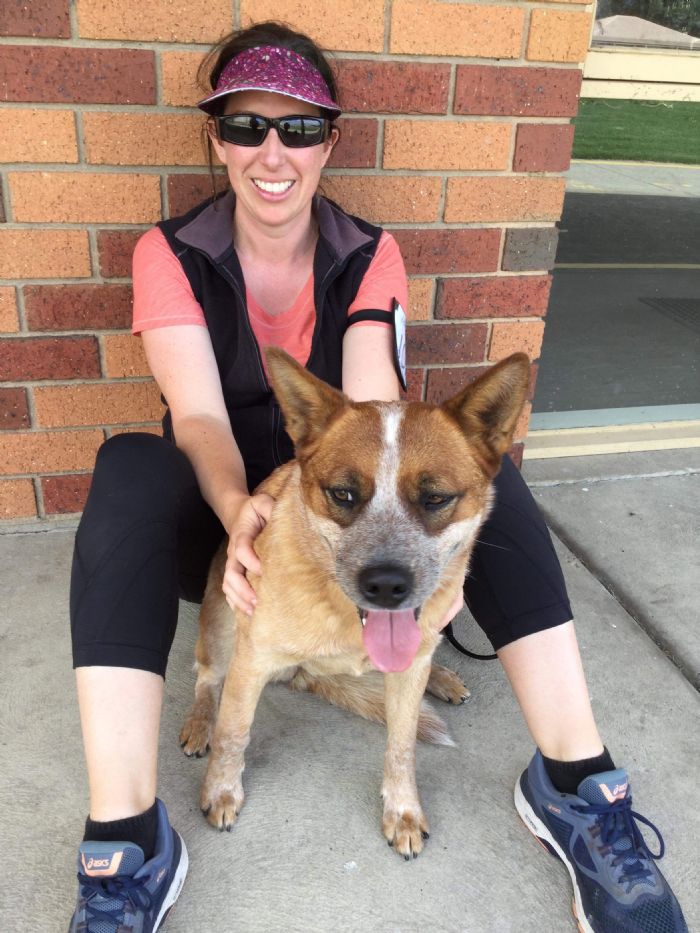 29th March, 2018
The full interview with the RAS Vet on Sunrise. Jake features at the 1:50 and 2:30 mark.
27th March, 2018
Sydney Royal time and all 3 Erudite dogs were so well behaved! Jake - Puppy of Breed, Meg - 1st Puppy Bitch, Jacquo - 2nd Aus Bred dog.
Jake also 'assisted' with Eddie from Channel 7 interviewing the RAS Chief Vet
Jake and Jacquo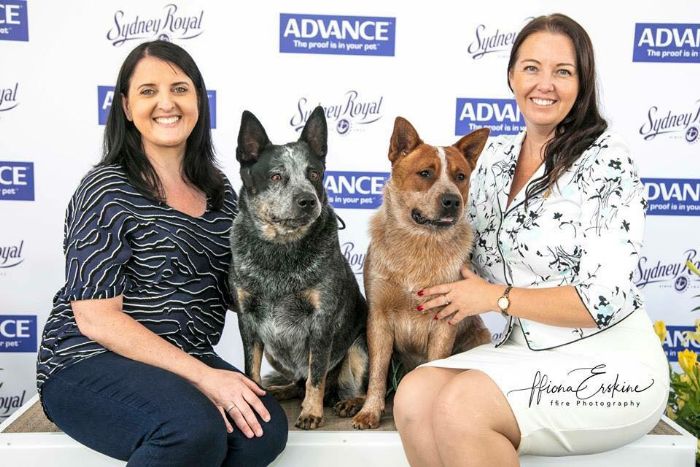 25th March, 2018
Continuing on the success of CJ and Esme in Victoria, CJ won High in Trial Sheep, High in Trial Ducks and High Combined Two Stock at the Victorian Herding Association All Breeds trial. 97.5 on sheep and 95 on ducks. What a superstar with 4 runs in 1 day.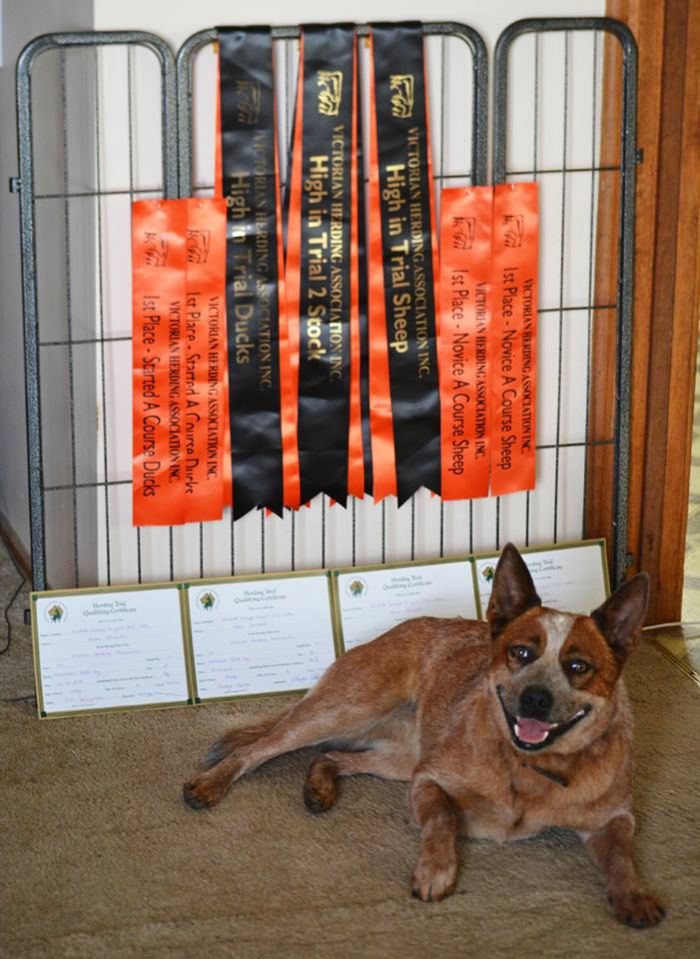 Meg attended the ACD Club of NSW Specialty Show and performed so well. Nicky is doing a great job training her for obedience and the show ring.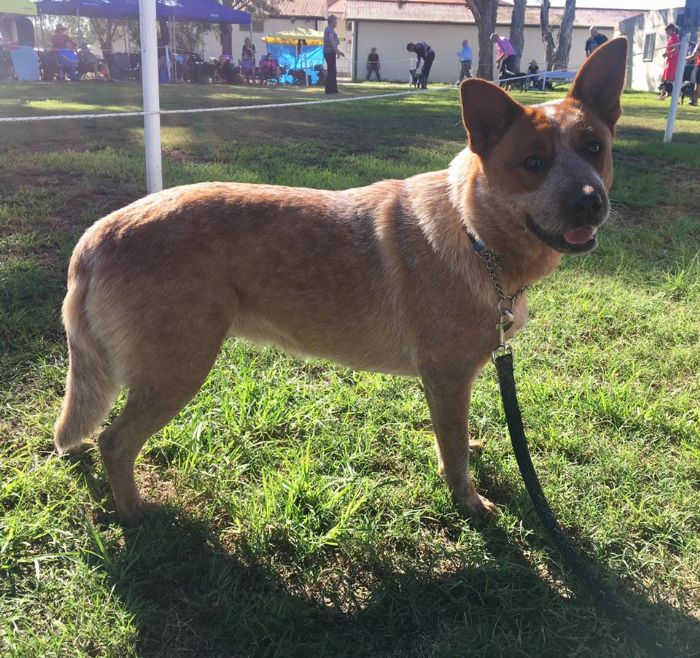 21st March, 2018
Zac on set for his latest TV commercial, set in the 1960's.
19th March, 2018
How cool, Jake is leading the Dogzonline pointscore! Not bad for a dog that was bred more for performance, not solely for the show ring. We have been trying to fit as many shows in as possible before the herding and obedience starts.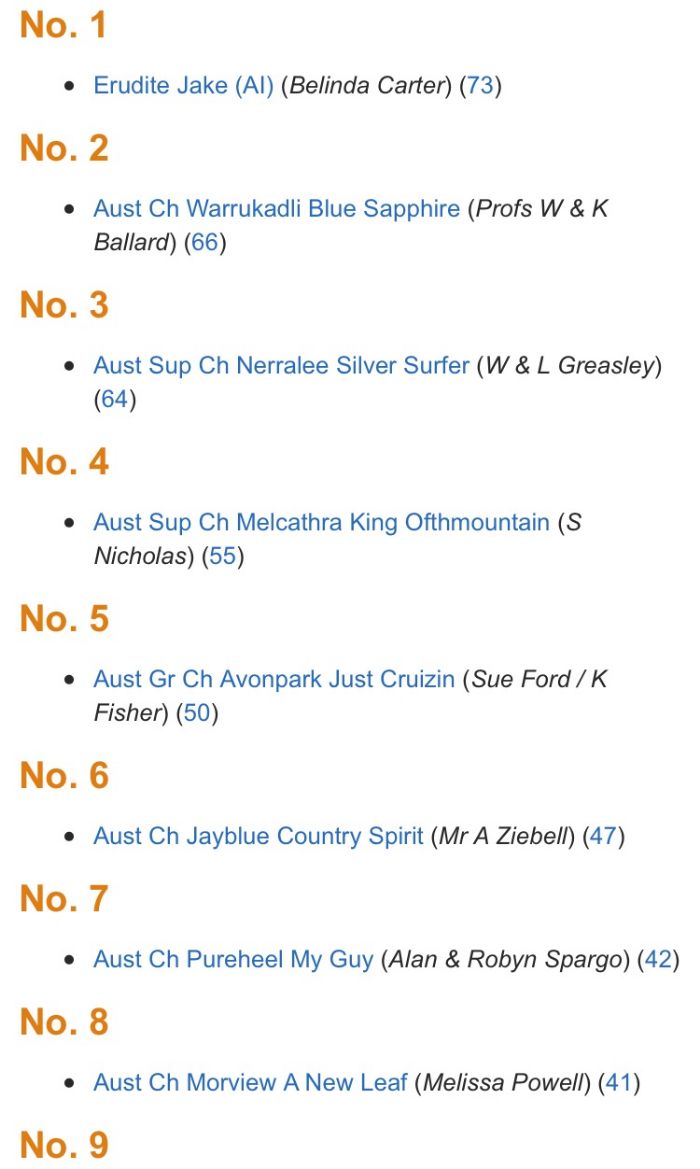 18th March, 2018
Some of the pups are loving their new homes. Angus found the coolest place in the house on his first day, and Lexie is already nailing some of her training!
16th March, 2018
Lexie's new home has free range ducks and chickens, so in preparation for her new family she has been spending lots of time around my ducks. While she is interested, she also has developed an attitude that poultry should just co exist. Hopefully all this early exposure sets her up for success in her new life.
15th March, 2018
More fun for the pups!
12th March, 2018
The pups are having a great time at home
11th March, 2018
A lovely weekend at Gunnedah for Jake and Jacquo. Jacquo hasnt been shown for 3 years but he is coming to Sydney Royal with us so this was a great practice weekend at his local show. Jacquo lives in Quirindi, NSW so the Royal sure will be an adventure.
Jake ended up with 2 Junior In Groups and Jacquo beat him at the final show for Best of Breed, he learnt his show ring skills very quickly! Both of these boys are just beautiful to have around other dogs and each other.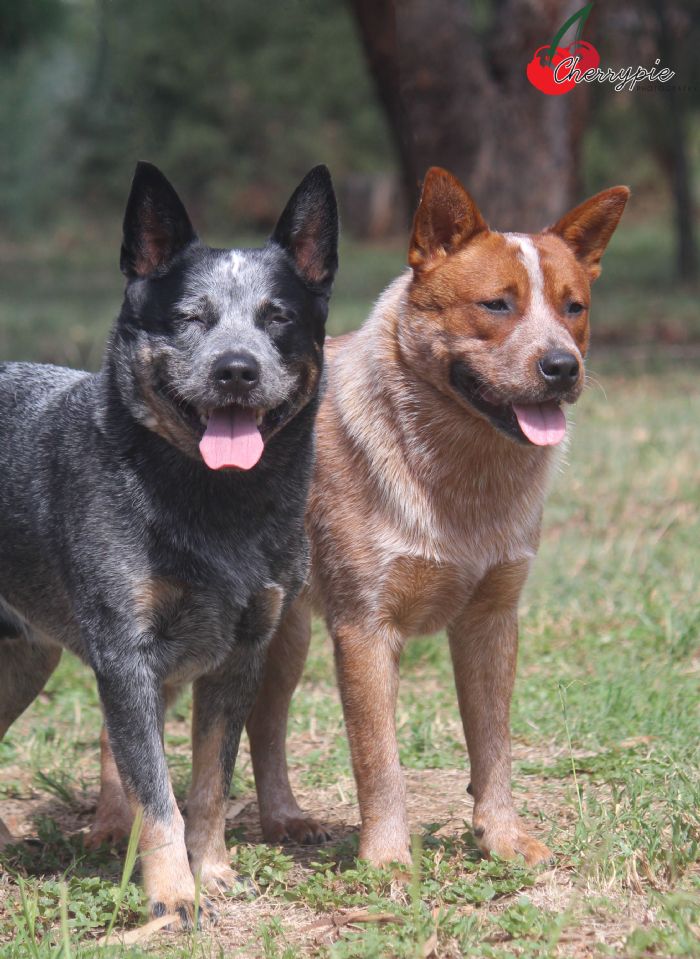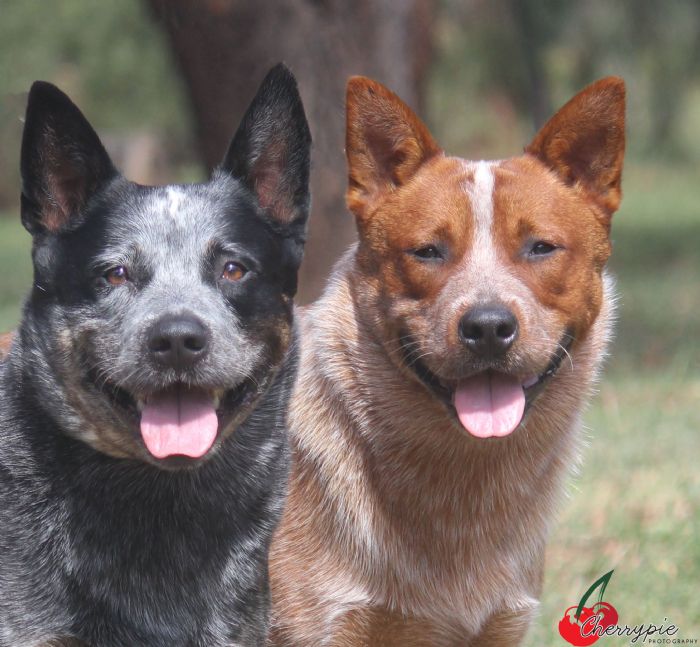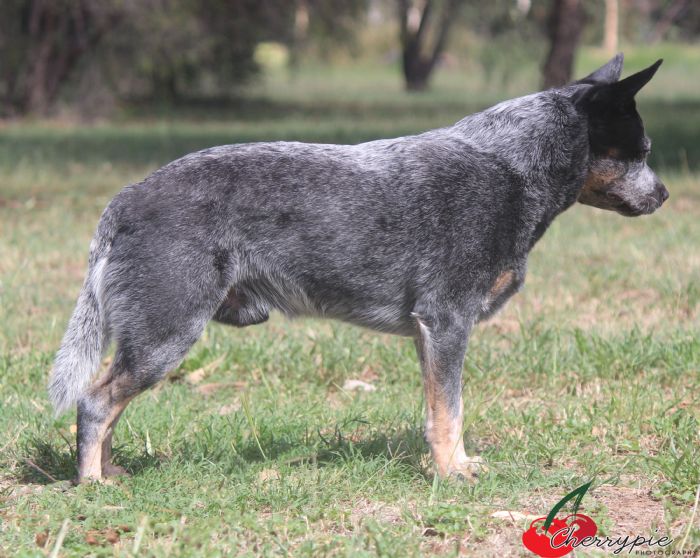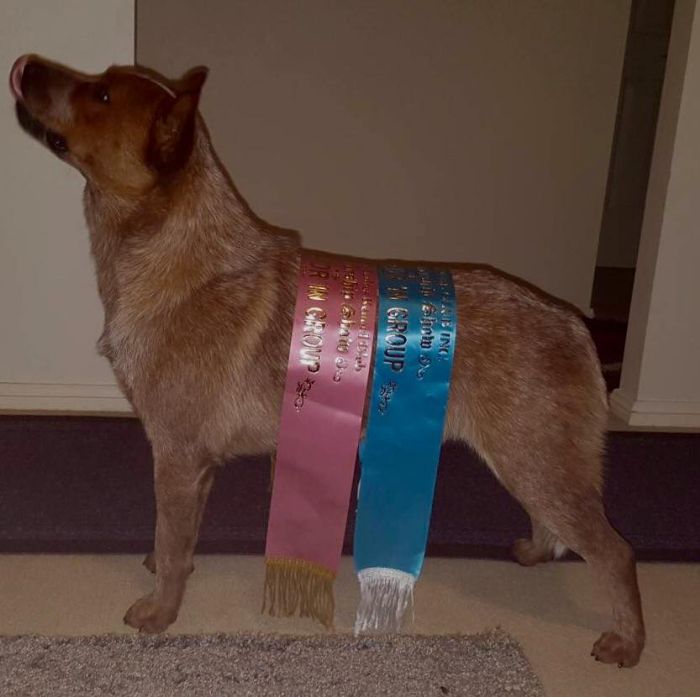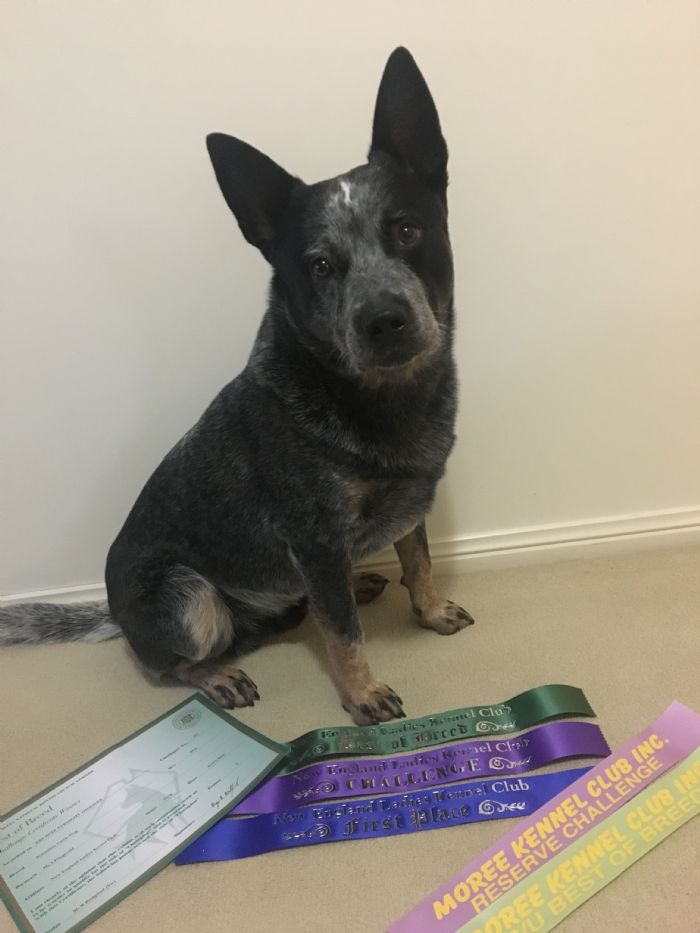 7th March, 2018
My good friend Ffiona took these great photos of Kelly's pups. They just turned 6 weeks old and are so much fun.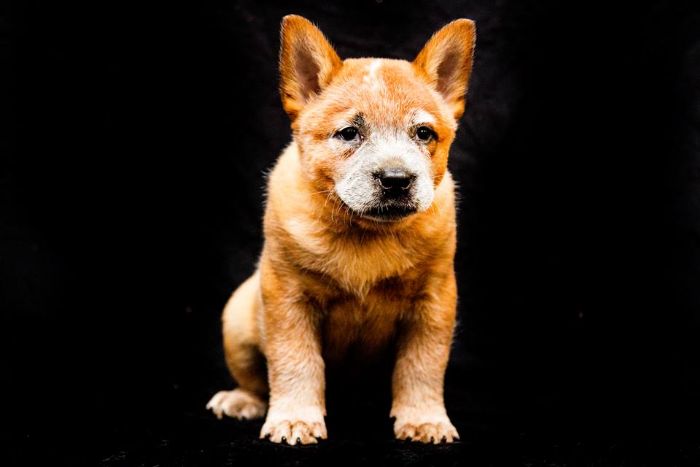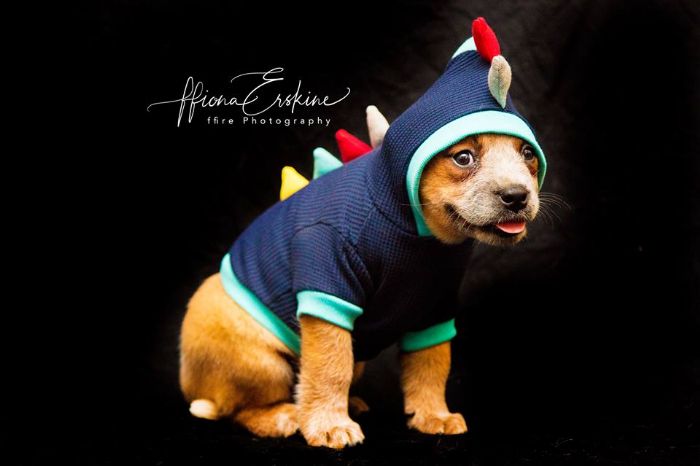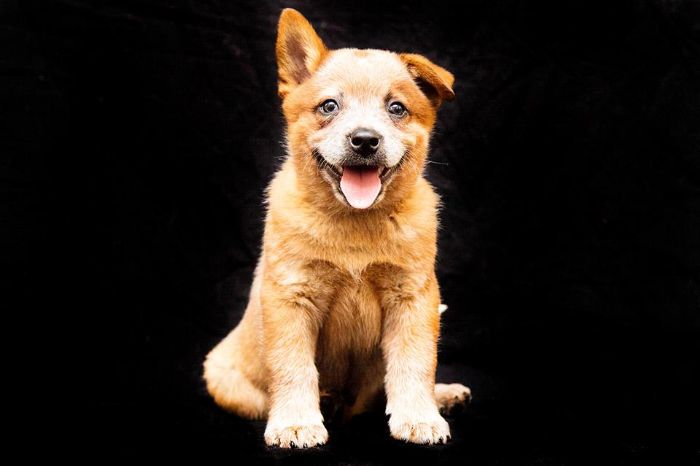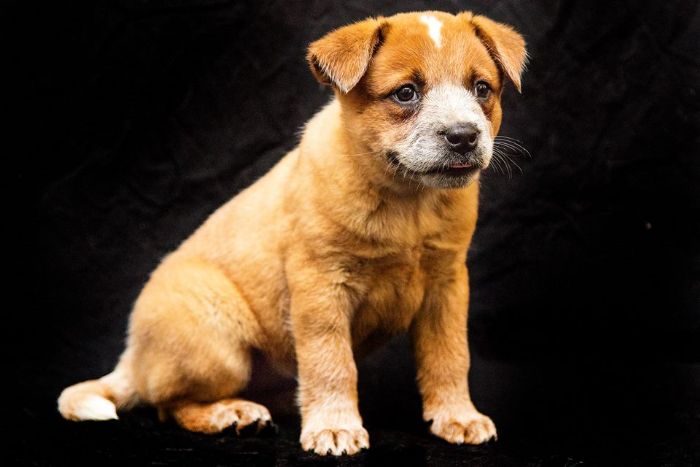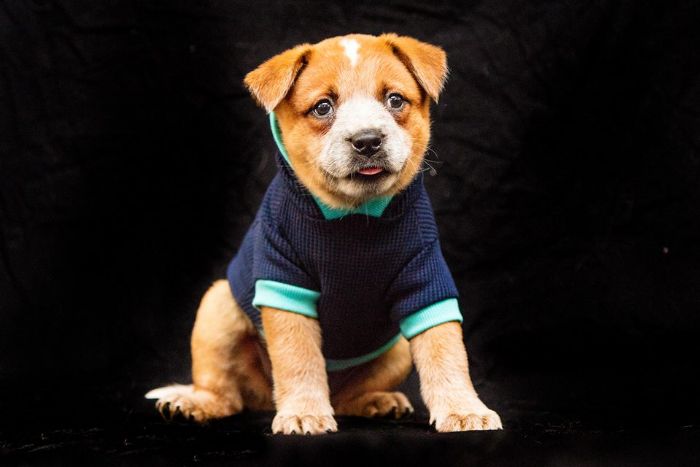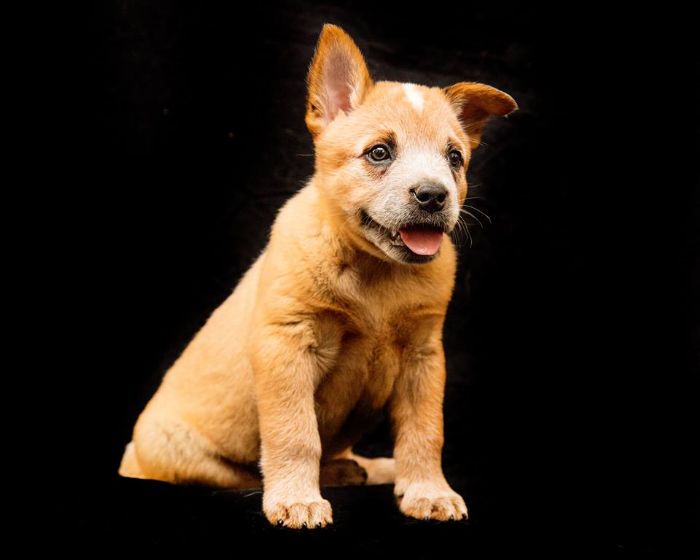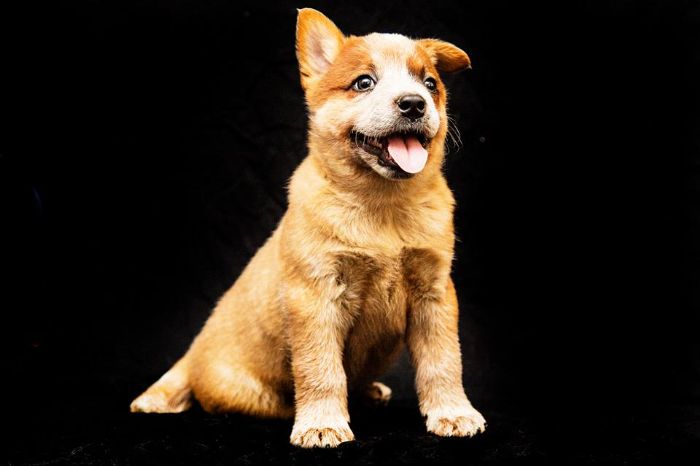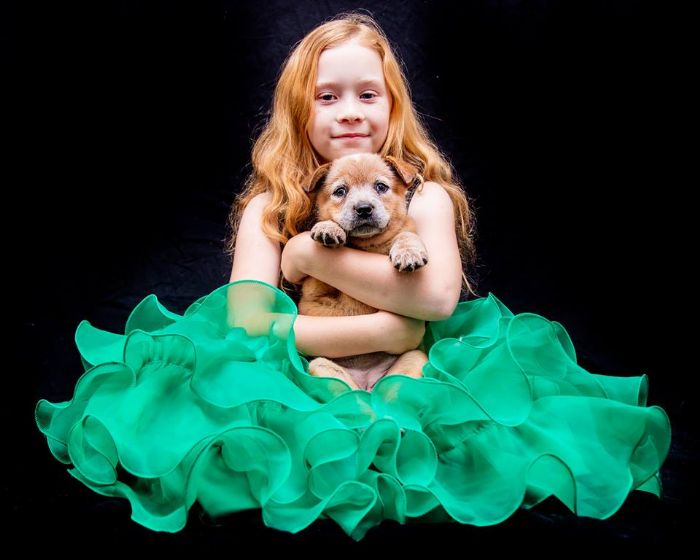 27th February, 2018
Kelly's pups are 5 weeks old today and they are having a great time experiencing different things. Jake is still only 8 months old but he is such a character and just loves the pups.
25th February, 2018
CJ & Pyro's owner Karen came for a visit to NSW and took some really nice photos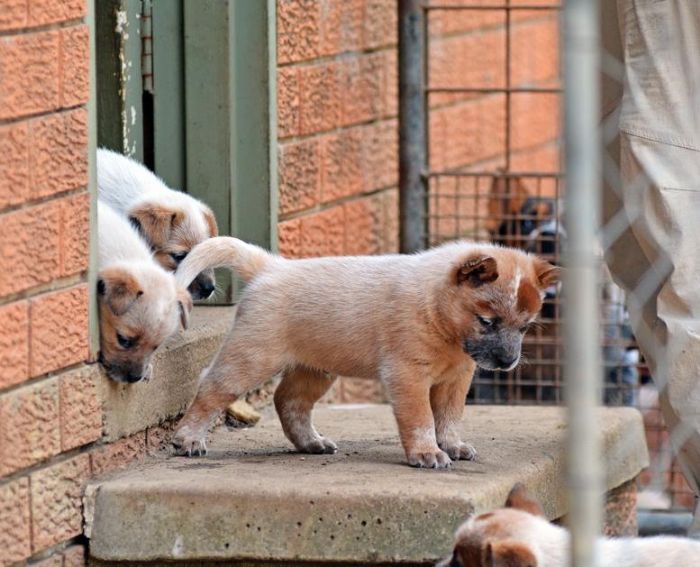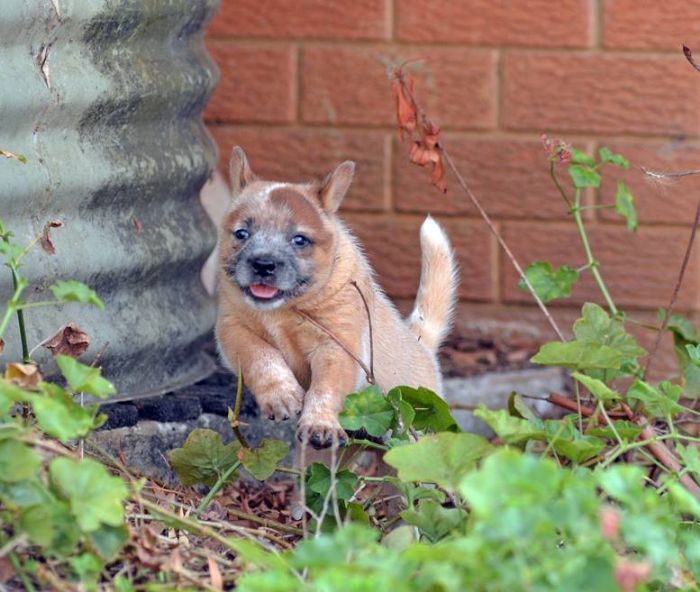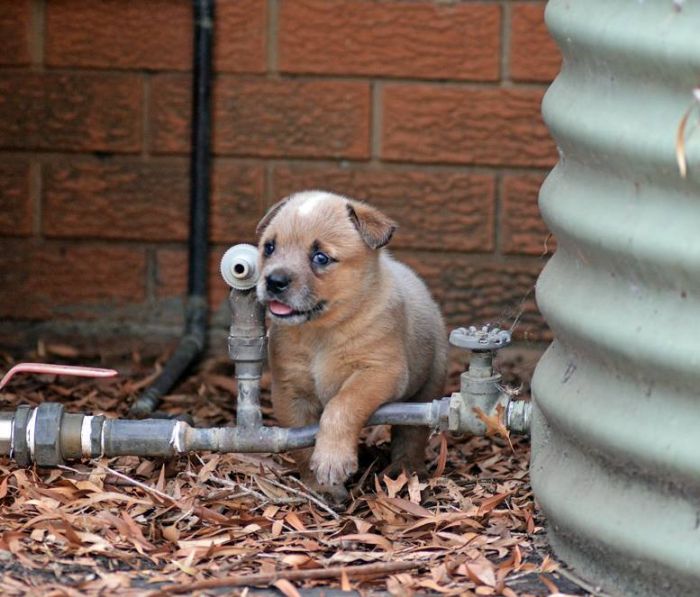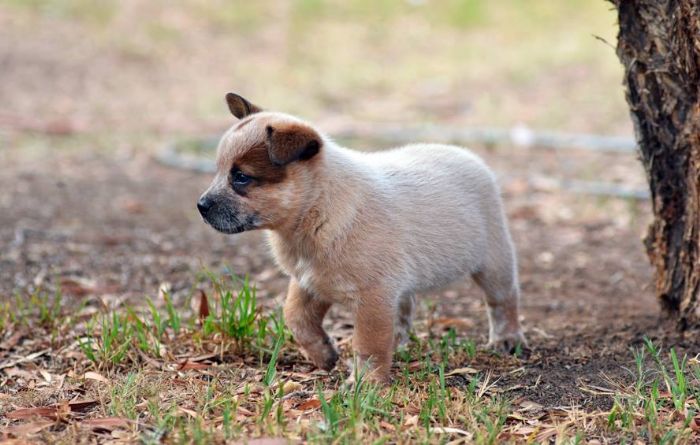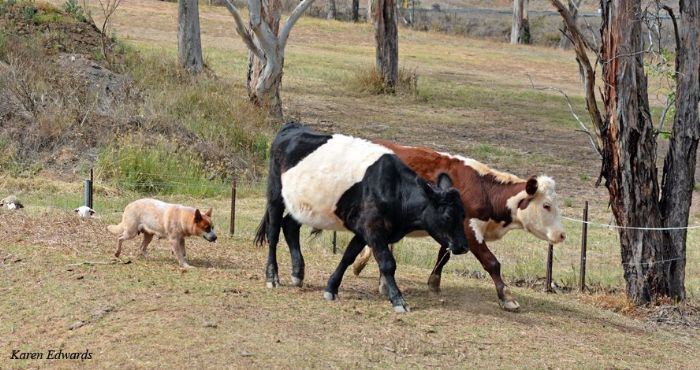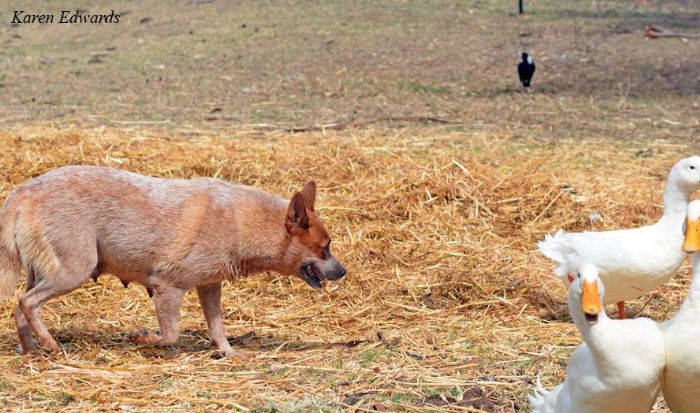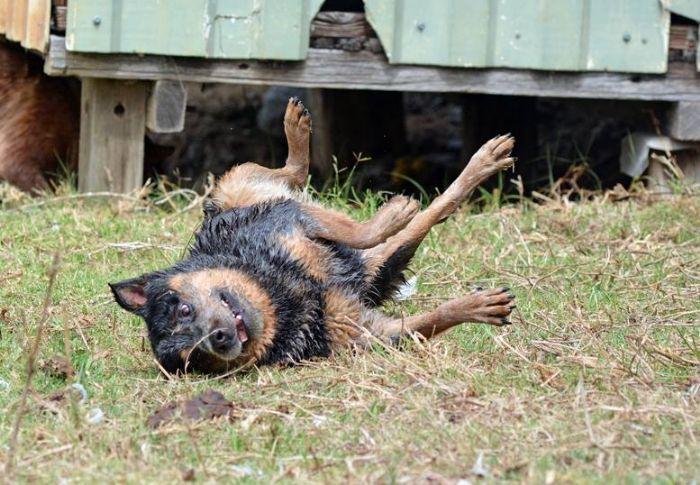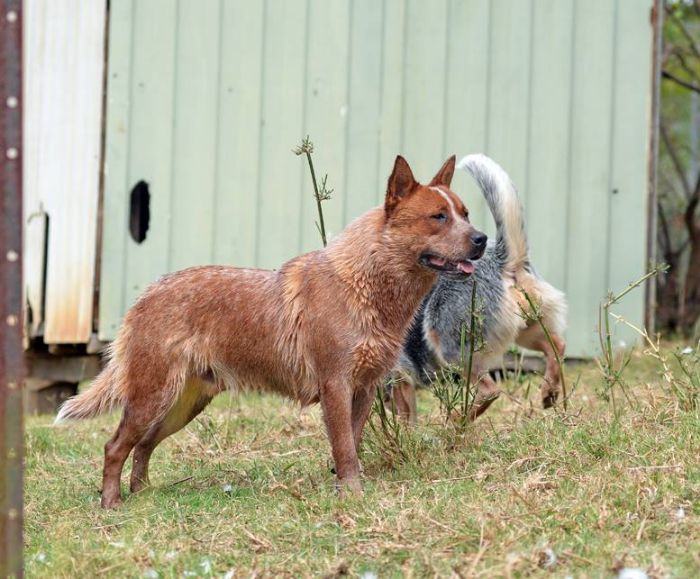 24th February, 2018
The first ANKC herding trial for the year and Esme gets her HSAs title and Runner Up High in Trial! There were 44 sheep runs and Esme was only 0.5 of a point behind the High in Trial winner! Such consistency and high scores from both CJ and Esme in Victoria. Hannah then moved her up to the next class and she achieved a pass as well.
21st February, 2018
Jake is 8 months old and this is his 2nd time rounding up sheep. He is such a happy pup and big things are planned for his future.
20th February, 2018
Exciting news from Victoria with CJ winning the Victorian Herding Association TOP DOG award, she finished up Started Dog of the Year for 2017! Started level was the most competitive class and amoungst all the other breeds CJ won with scores of 100, 98 & 97 out of 100.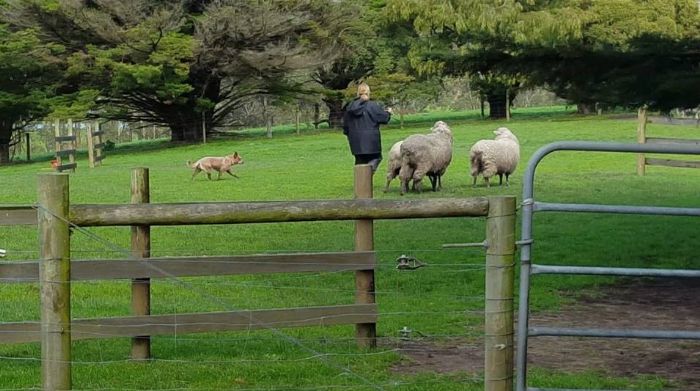 19th February, 2018
IPO training is progressing really well for Holly in South Australia. She is such a natural and has the same tenacity she displayed on cattle at 8 months old.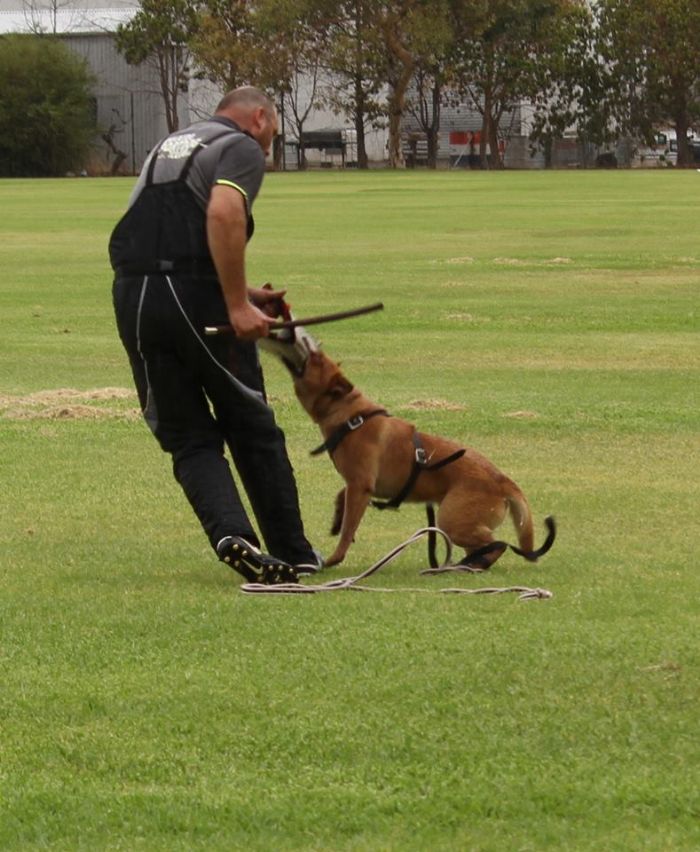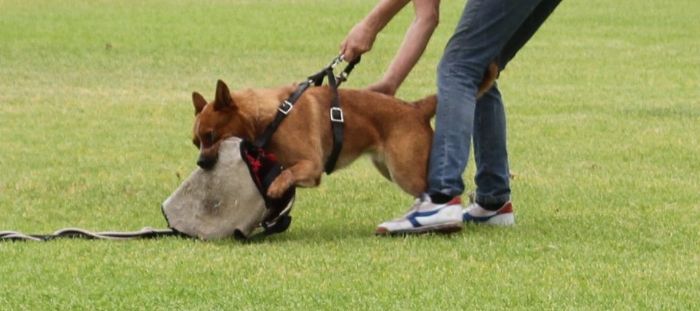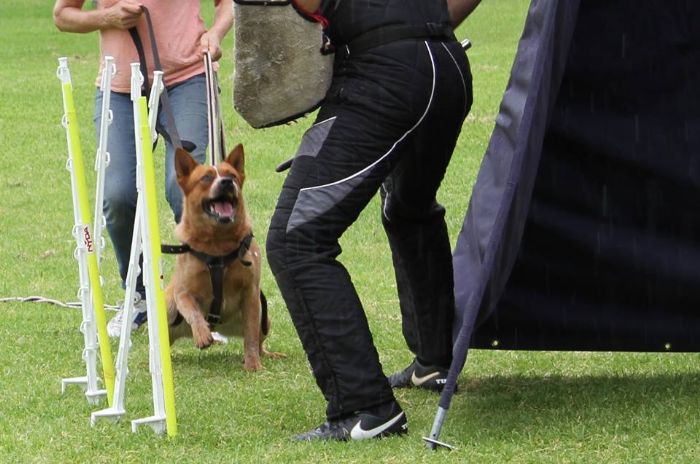 18th February, 2018
Esme spent the weekend yard trialling again. She has yard trialled once before - getting a score of 30. This weekend she competed twice - getting scores of 67 and 46, and against 12 kelpies she finished 5th! We are all so proud of Esme's versatility.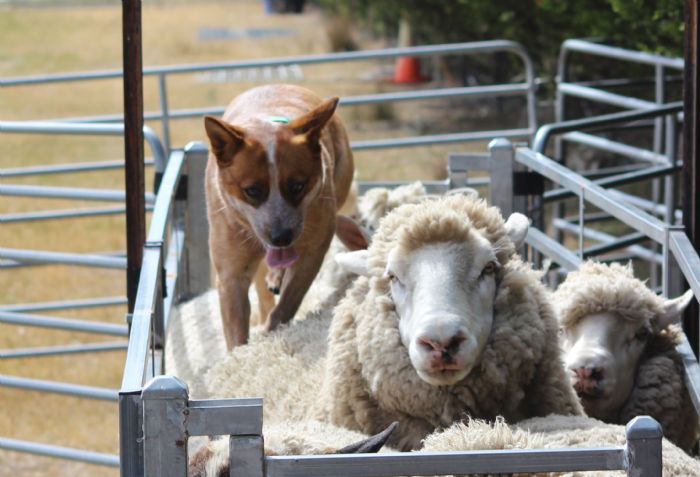 14th February, 2018
Esme made her debut in a music film clip for the group Mighty Duke and the Lords new song Pool Party.
https://www.facebook.com/mightydukeandthelords/videos/962672980549895/?hc_ref=ARQ4eWa81fAlLW240IYeWq0eA8yZA6cXBQsAP2eBlzOIHCVBjmCVWgryHwsnTSJDEks&pnref=story
13th February, 2018
Kelly's pups are now 3 weeks old and growing so well.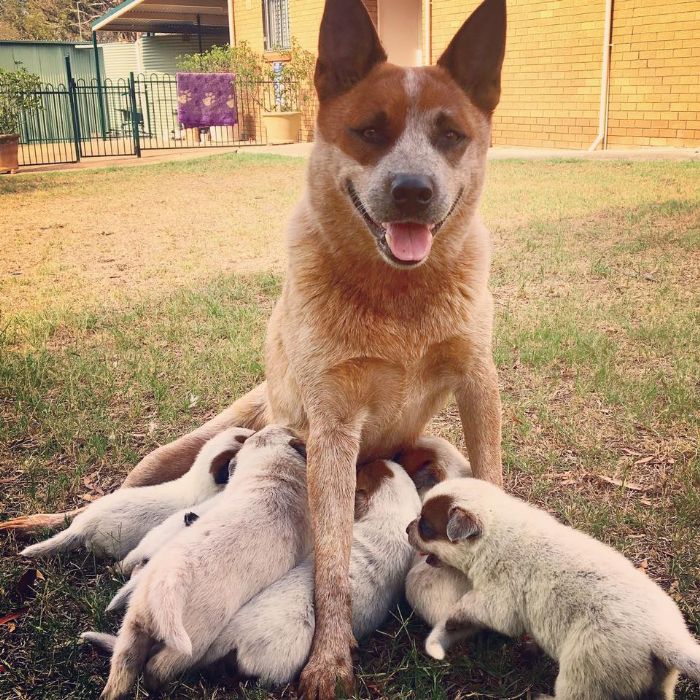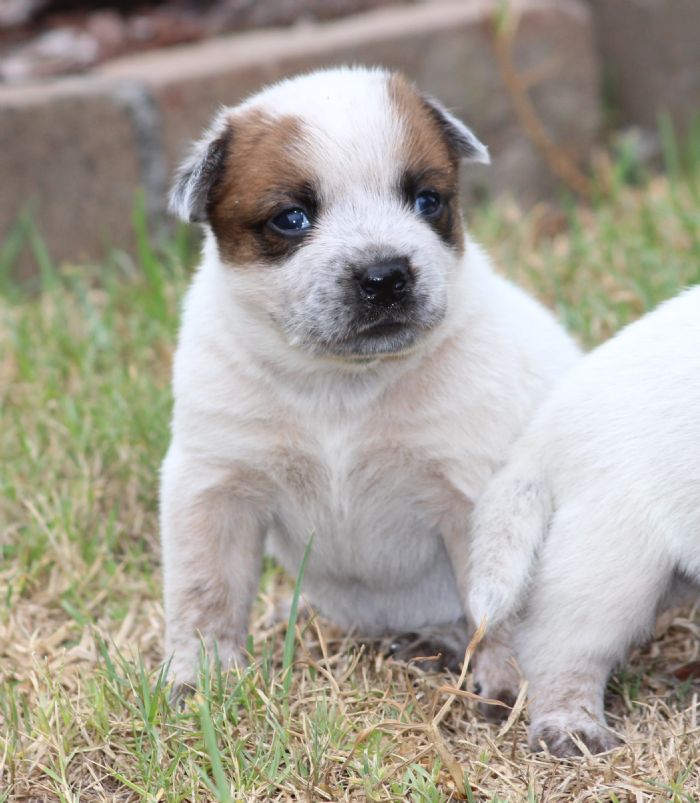 9th February, 2018
Esme is getting close to her first agility and jumping trial. She is so quick and fit.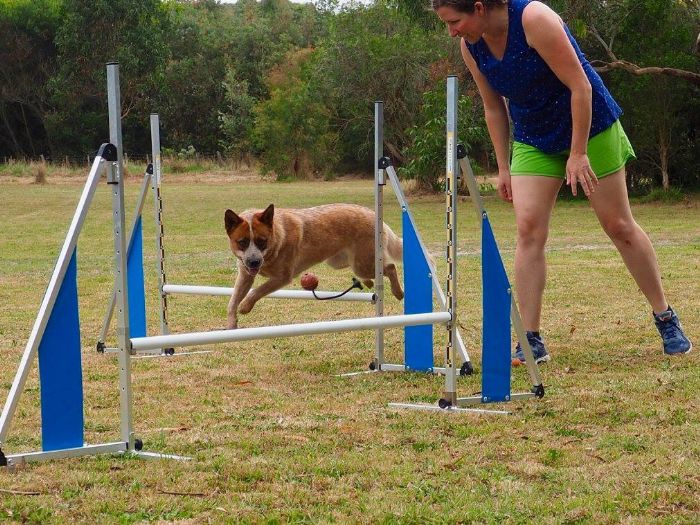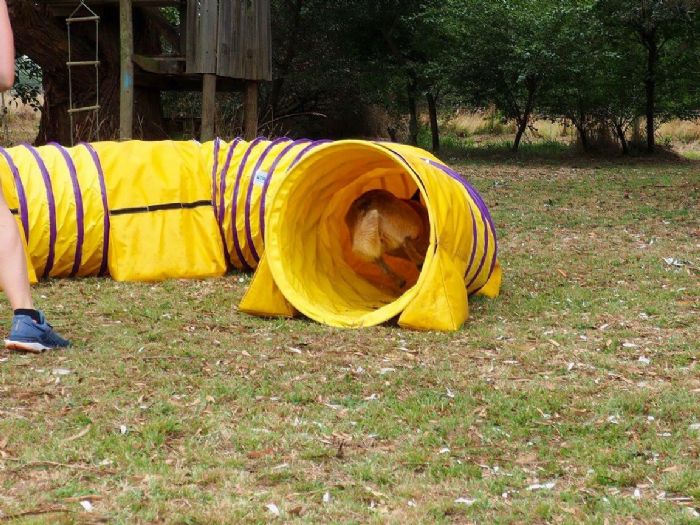 8th February, 2018
Its getting closer until Holly returns to Sydney to be mated to french dog Freddy. Holly is an obedience superstar, with her owner Sharon saying she really is the whole package. Her training will be put on hold but we are all so excited to see these puppies.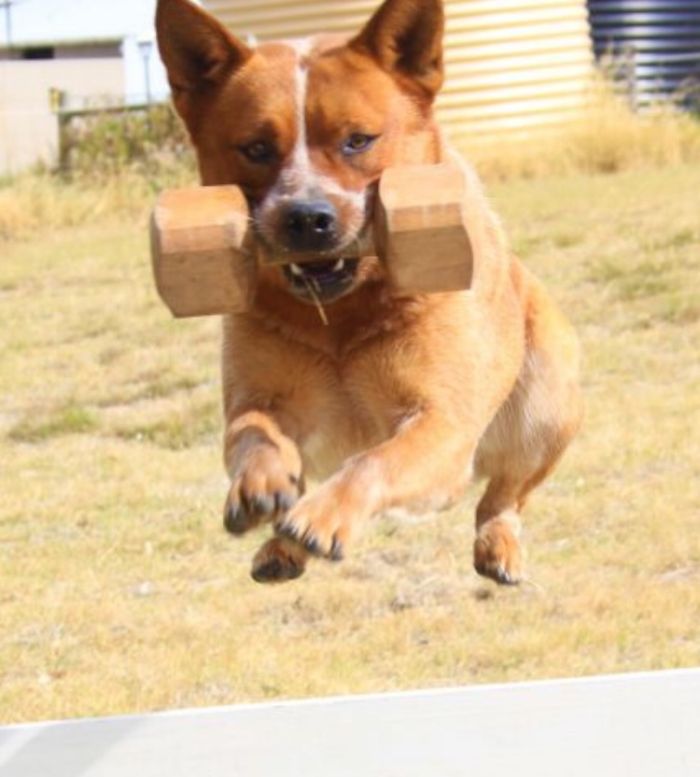 4th February, 2018
Some of the gorgeous Kelly and Ted pups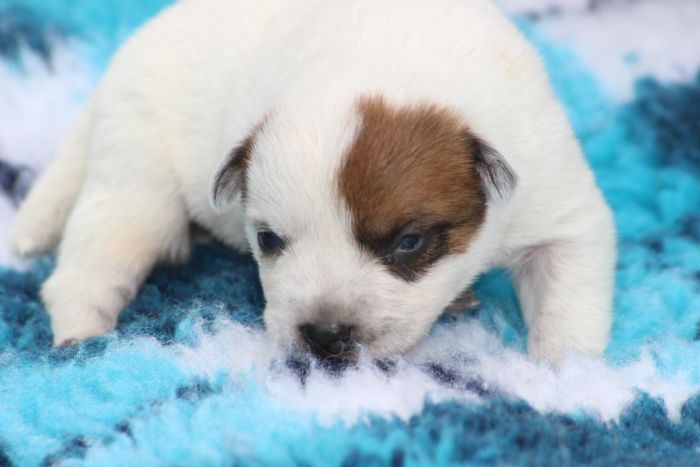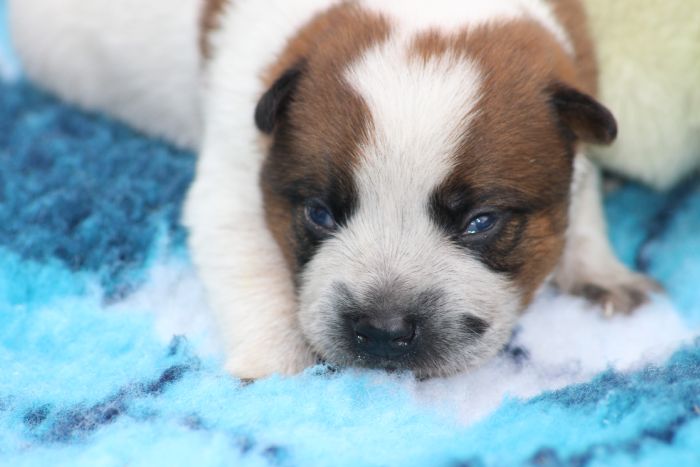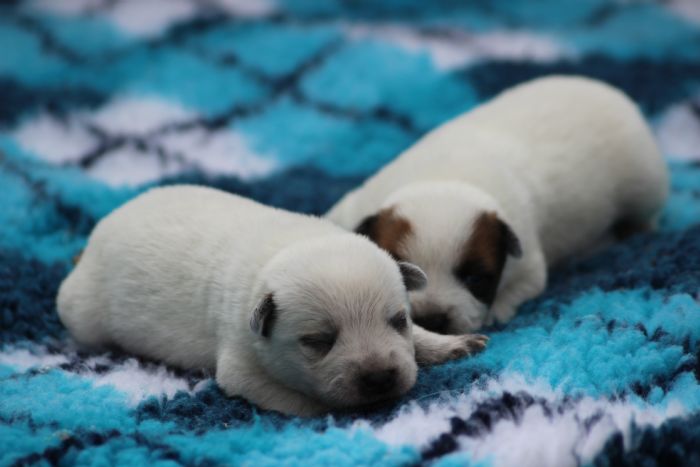 2nd February, 2018
Red made his way to Dalby in QLD where his new family just love him! He made himself right at home on the lounge. Jim and Lee have said 'He truely is a beautiful natured dog, we just love him', 'We truely think he is awesome'
30th January, 2018
Red is such a nice boy to have around the other animals. He has been coming out to feed the ducks, sheep and cattle. He is a naturally soft, obedient dog. He is such a sweet boy and will make a great companion. Please call and have a chat if you think you could be his best mate.
26th January, 2018
Another Best of Breed win for Jake, this time at the Australia Day show in Sydney. He was the youngest dog eligible for BOB, and beat much older dogs. The potential in this young dog is so exciting.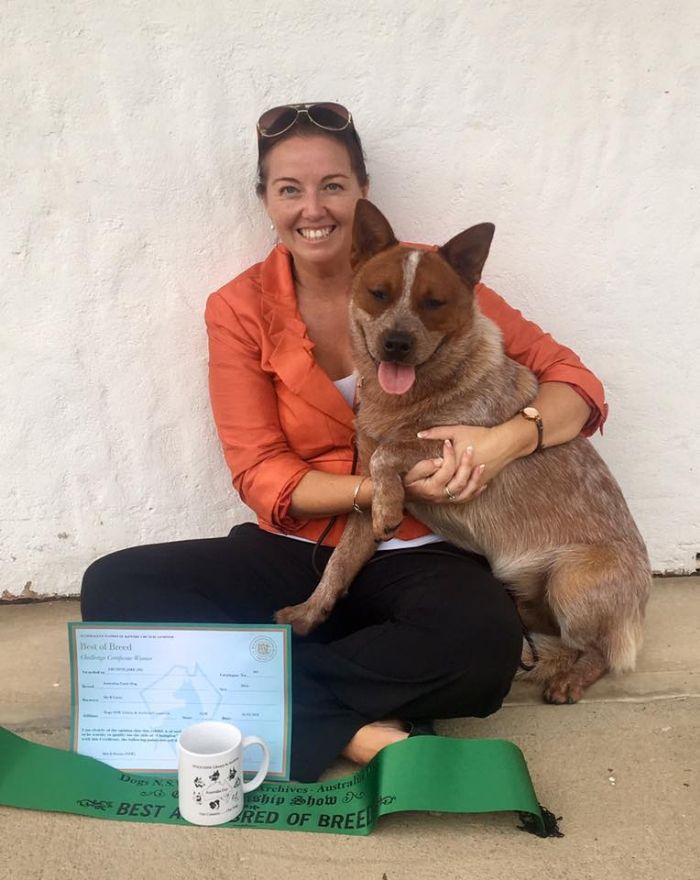 24th January, 2018
Face photos of the 8 beautiful Kelly and Ted pups. I look forward to seeing them grow.
Boy 1 Boy 2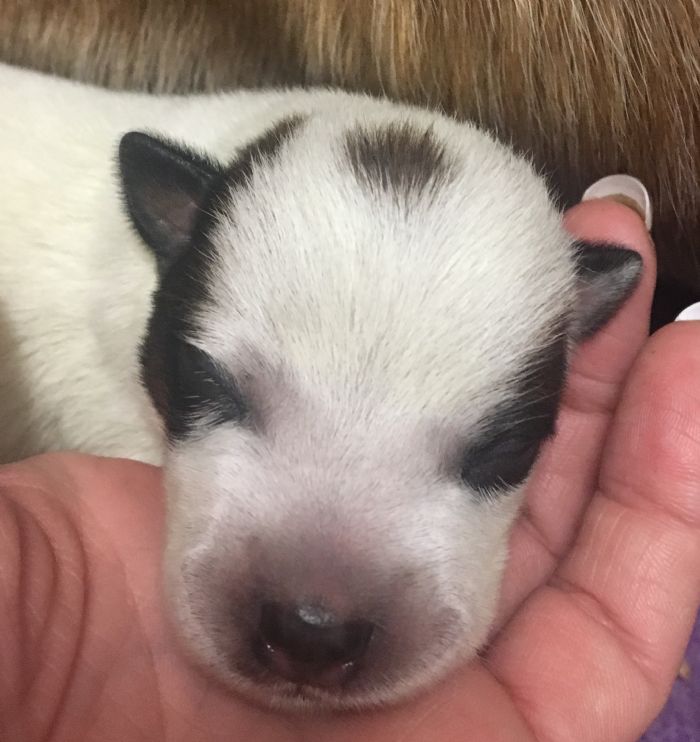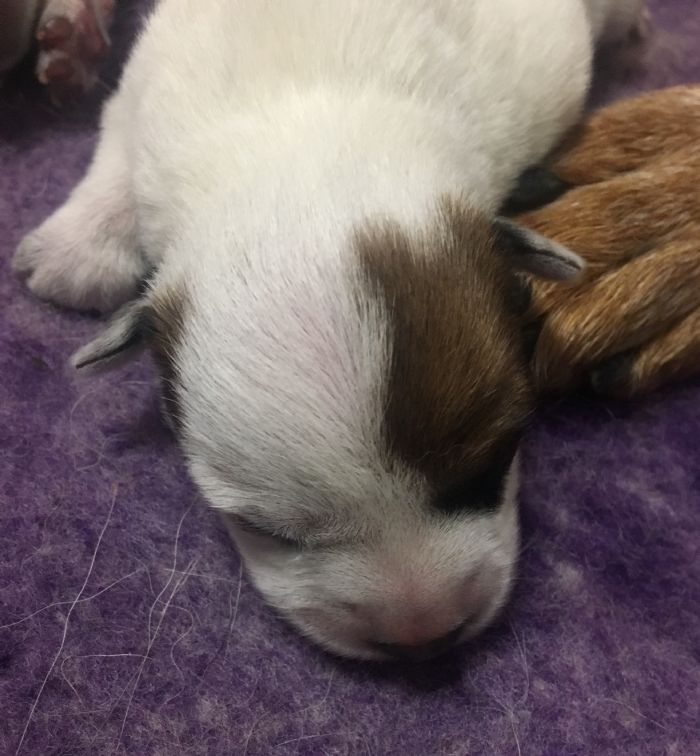 Boy 3 Boy 4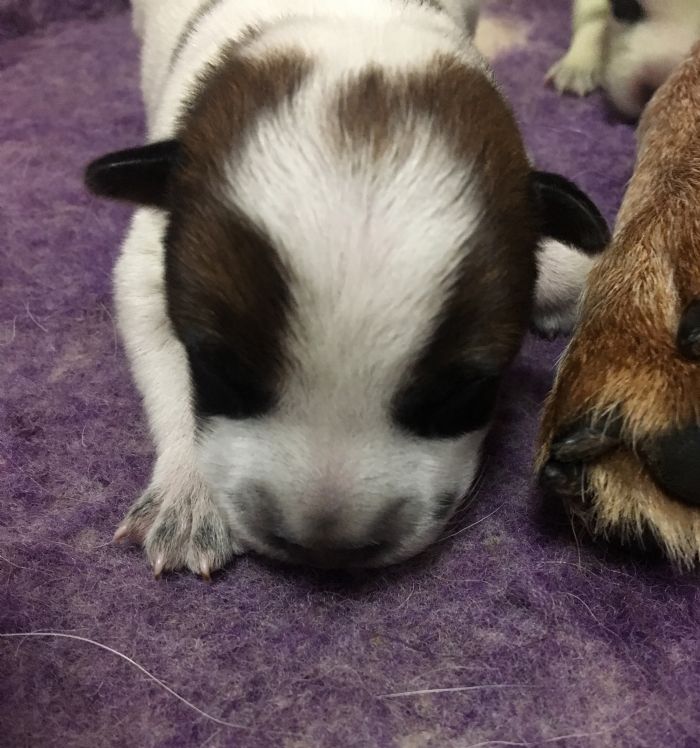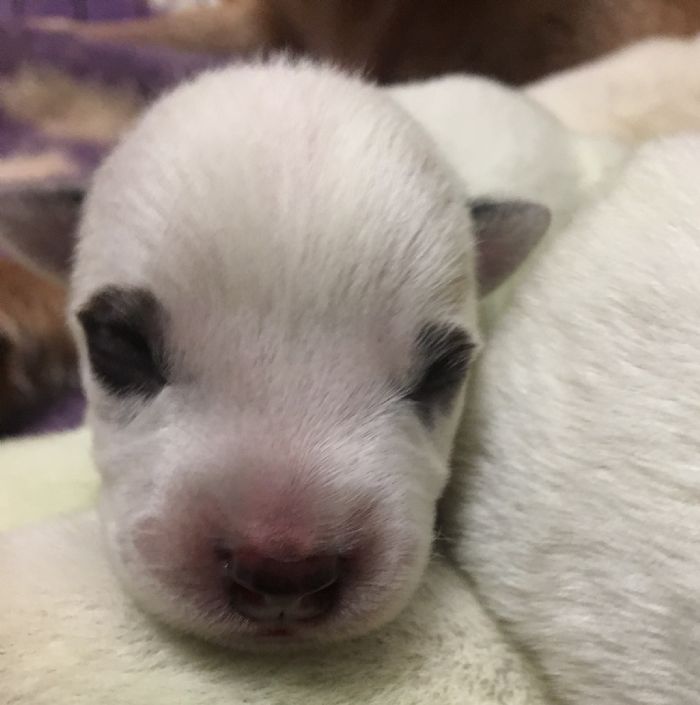 Boy 5 Girl 1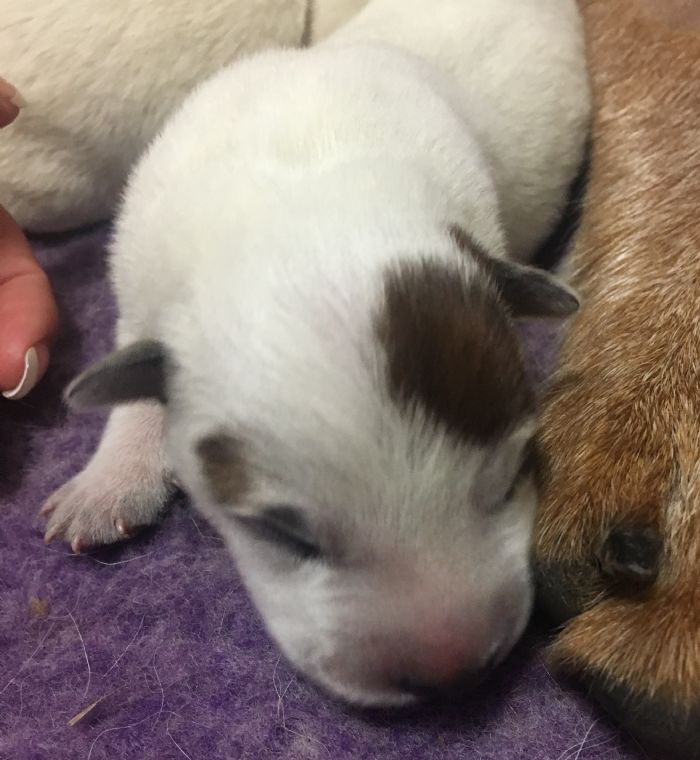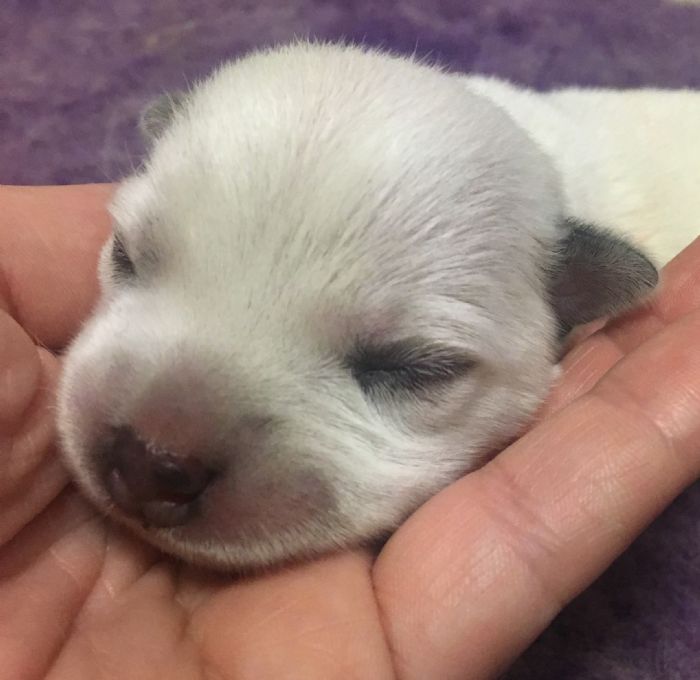 Girl 2 Girl 3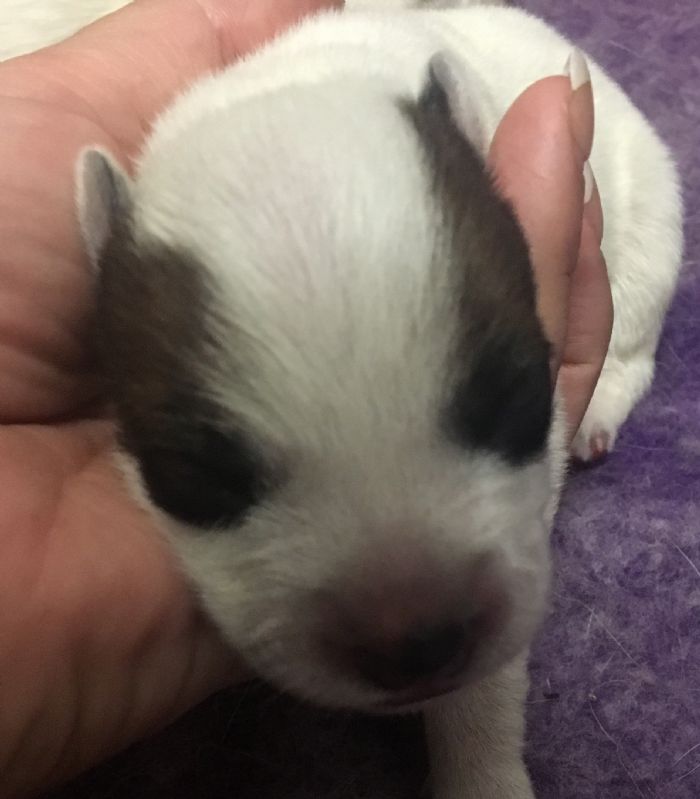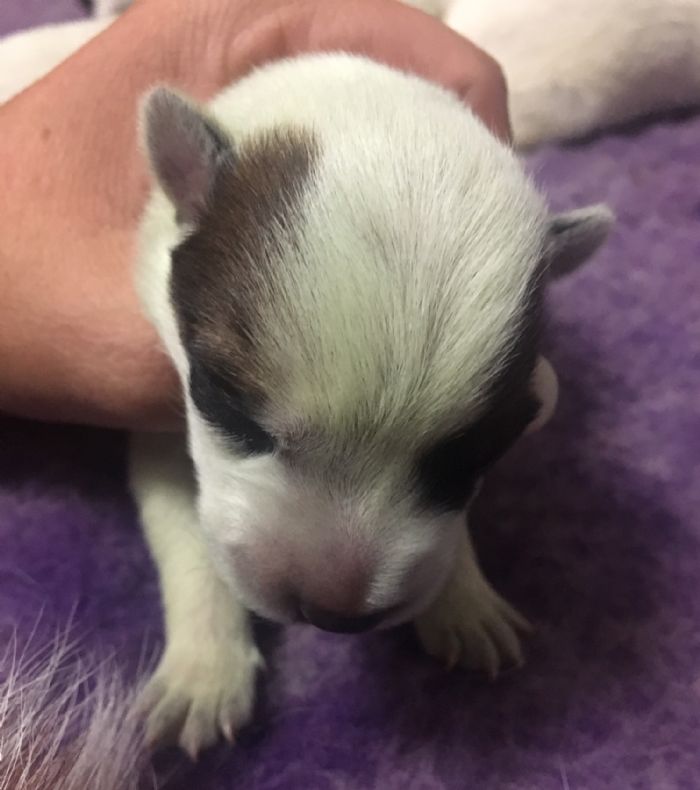 l have this beautiful boy Red available to a great pet home. He is an absolute sweetheart, is out playing with other males and is a lover not a fighter. He tries really hard to please. Red is 7 months old and knows his basic training. He is really good around ducks and chickens. His mum is Pria and his father is Rowdy so he will mature into a stunning dog.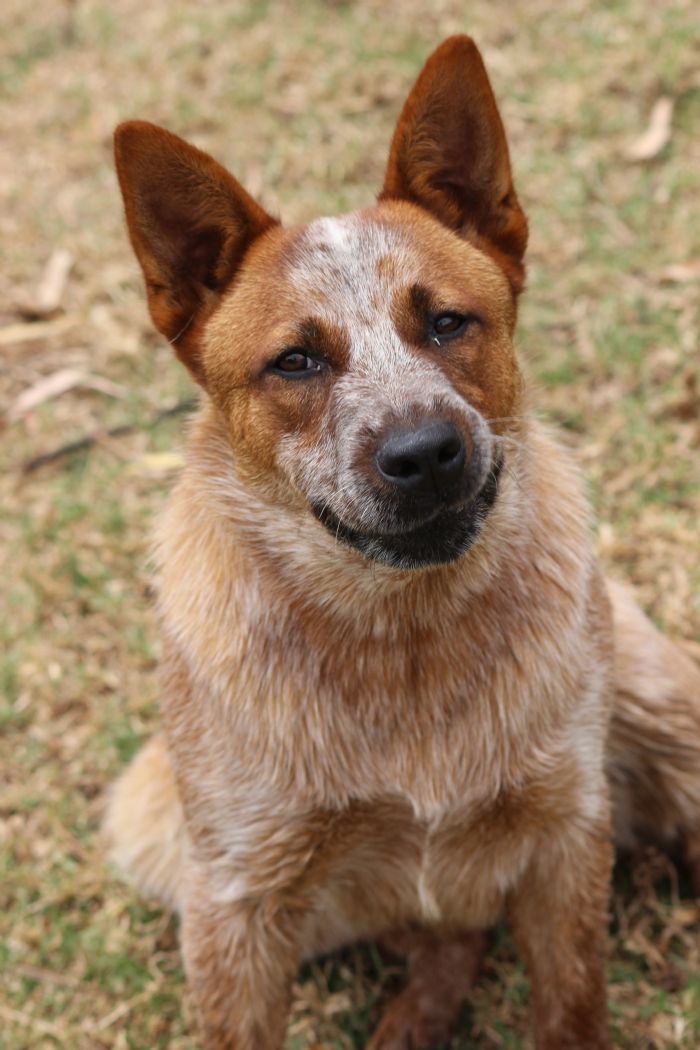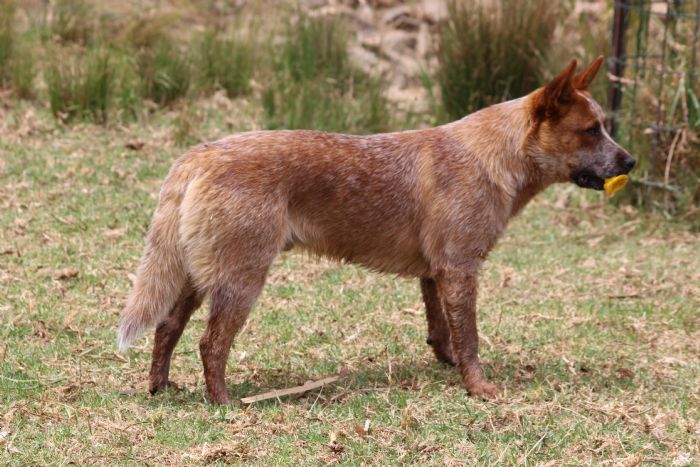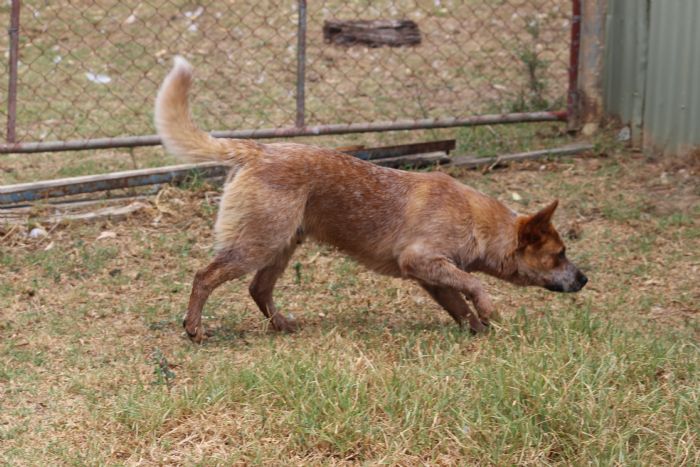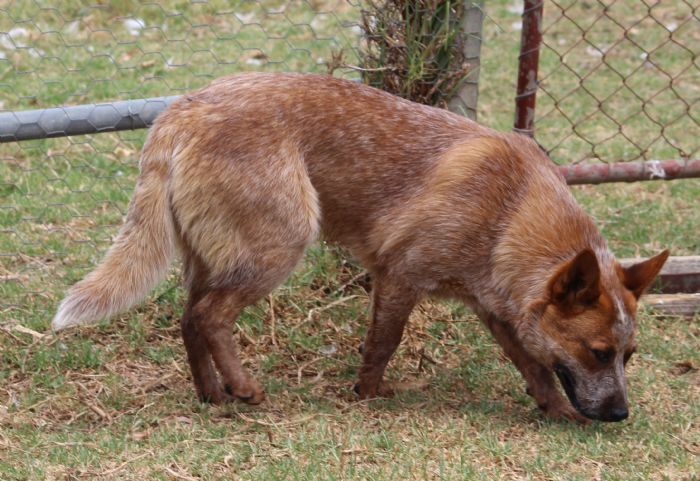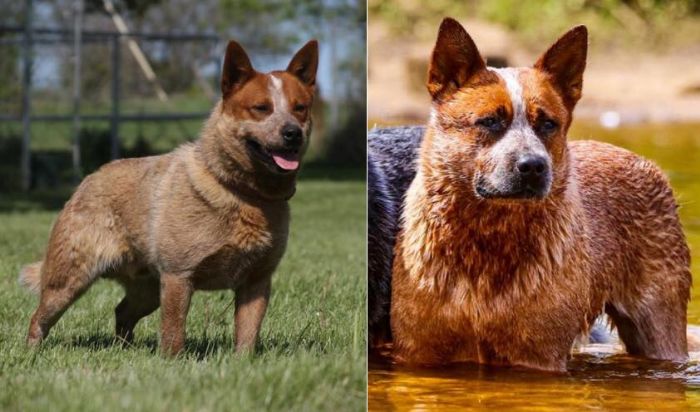 23rd January, 2018
Kelly had 8 lovely pups this morning, 3 girls and 5 boys. I look forward to seeing them grow and I'm very flattered at the interest in these pups with several export equiries. Mostly I'm keen to see a few go to competitive trialling homes.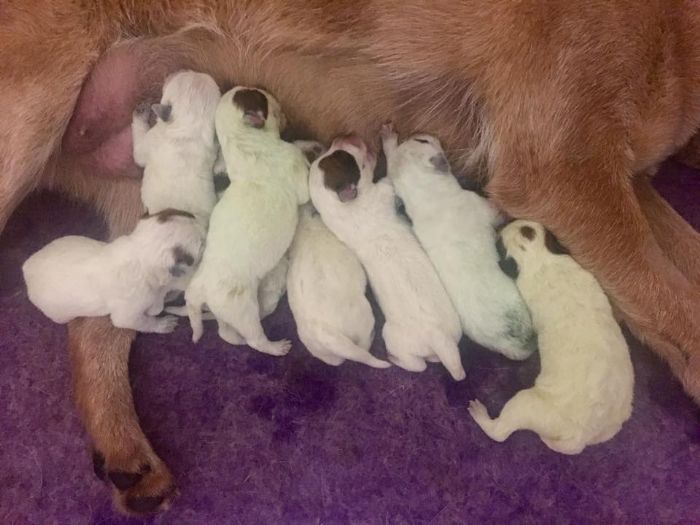 20th January, 2018
Erudite's first Australia Champion - Esme earned the final points for her title today at Lang Lang Show in Victoria. She celebrated in style!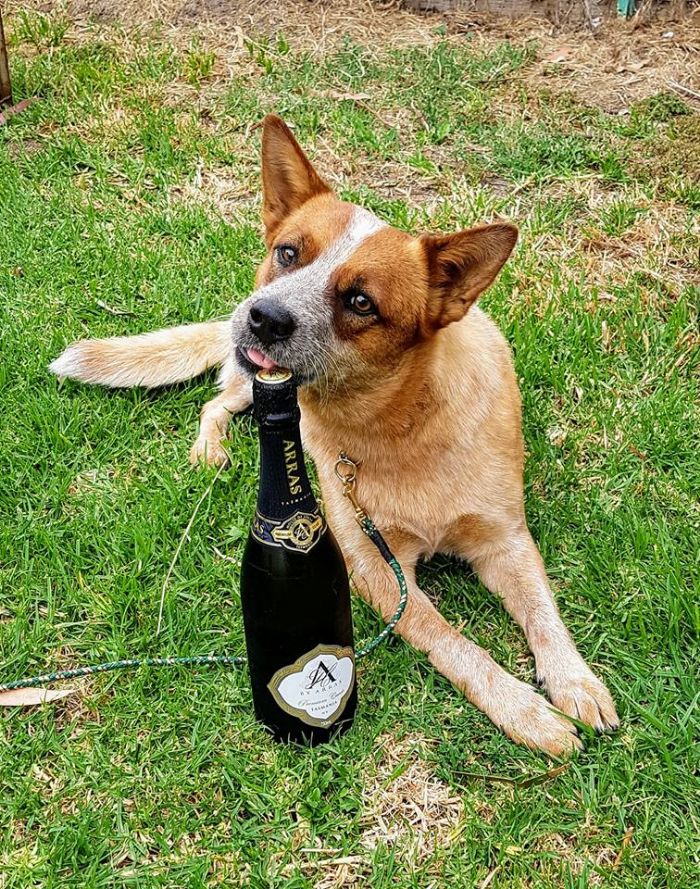 19th January, 2018
Lots of puppies on board for Kelly! Sadly Esme reabsorbed her pups so we will breed her again next season.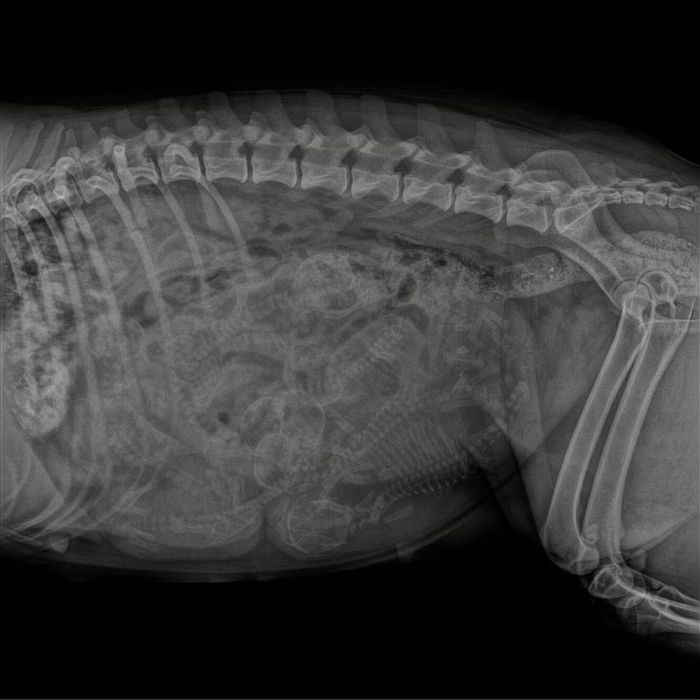 18th January, 2018
Ffiona from FFire Photography took these stunning photos of Zac and Jake with the cute model Amber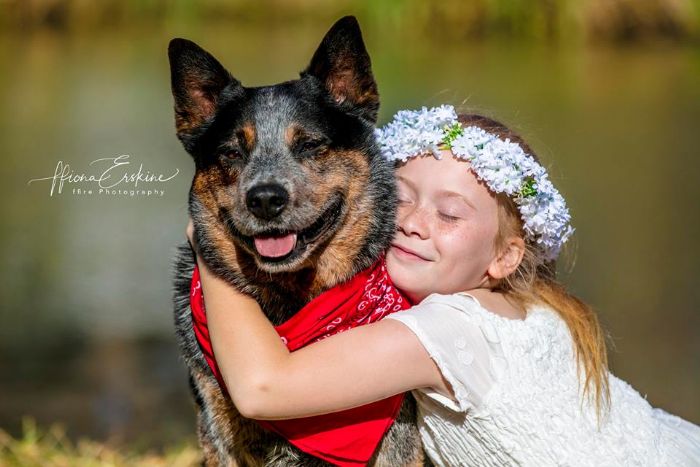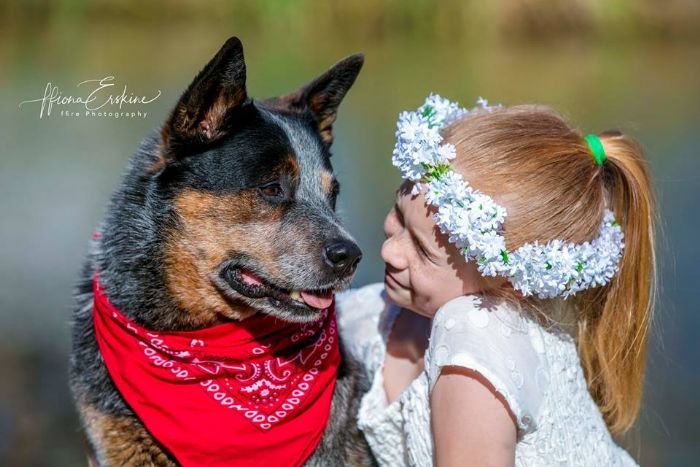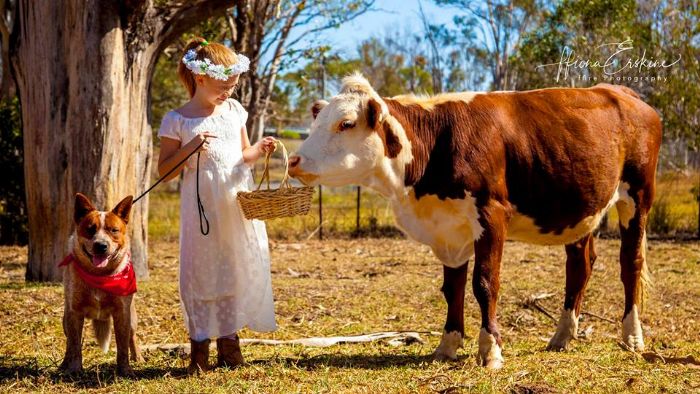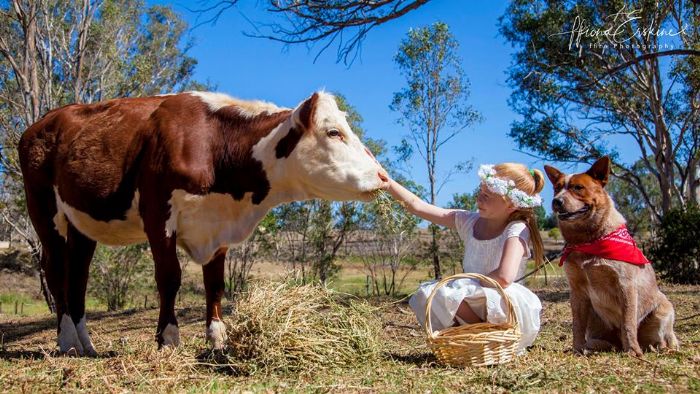 13th January, 2018
Jake is having some fun in the ring, earning more points towards his Champion title. In Newcastle today he beat older competiton for Dog Challenge and Runner Up Best of Breed. He is such a happy boy and receiving compliments from many people.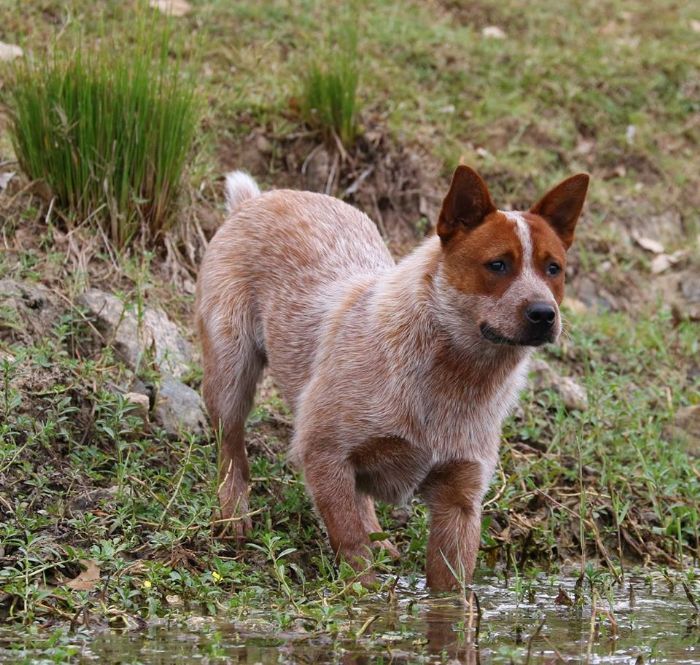 8th January, 2018
Jill tells me Pria is just loving the snow in Kansas, rolling around and jumping into the freezing ponds. Seems her love affair of water is still strong. Here are some photos of her while she was still in Australia. I cant wait to bring back a daughter to Australia when she is bred to a dog with very old Rewuri lines.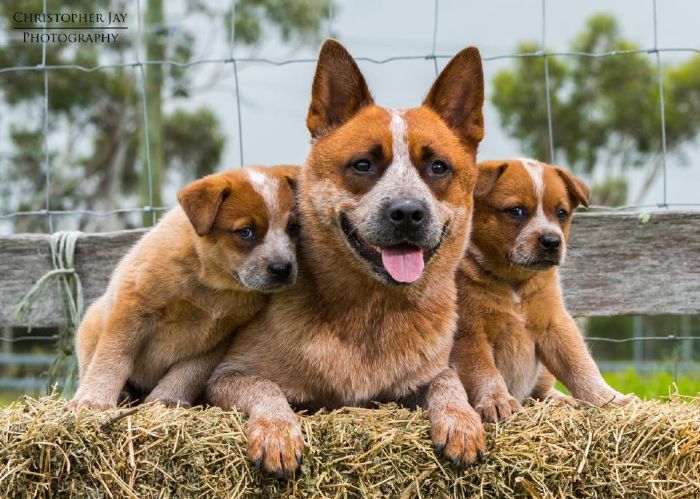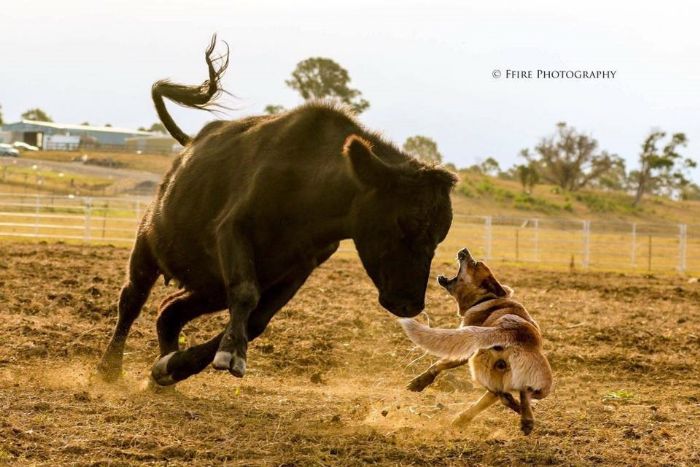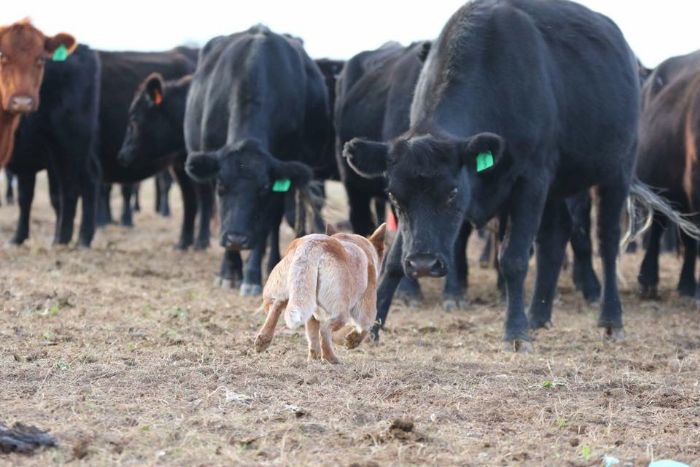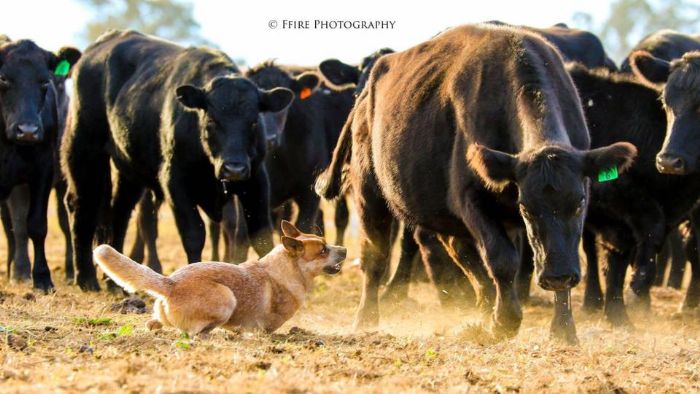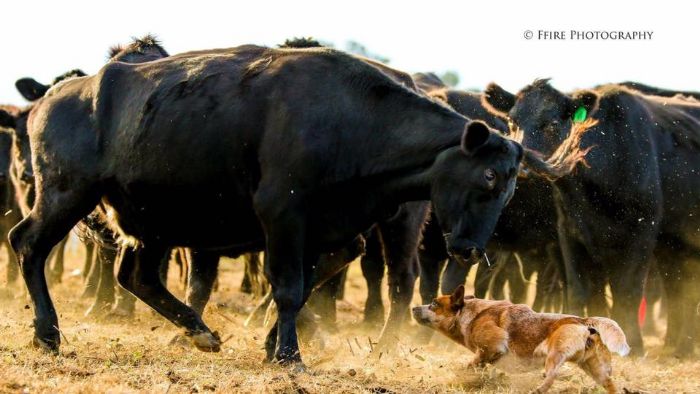 6th January, 2018
More beach fun for Zac, Tess, Skye and Jake. So proud to be able to take my dogs everywhere and anywhere and they are always so well behaved. A high energy place, with about 40 different dogs coming and going throughout the morning.
In the evening Jake went to the Wollondilly All Breeds show and did himself proud! He is only 7 months old and beat older dogs for Best of Breed!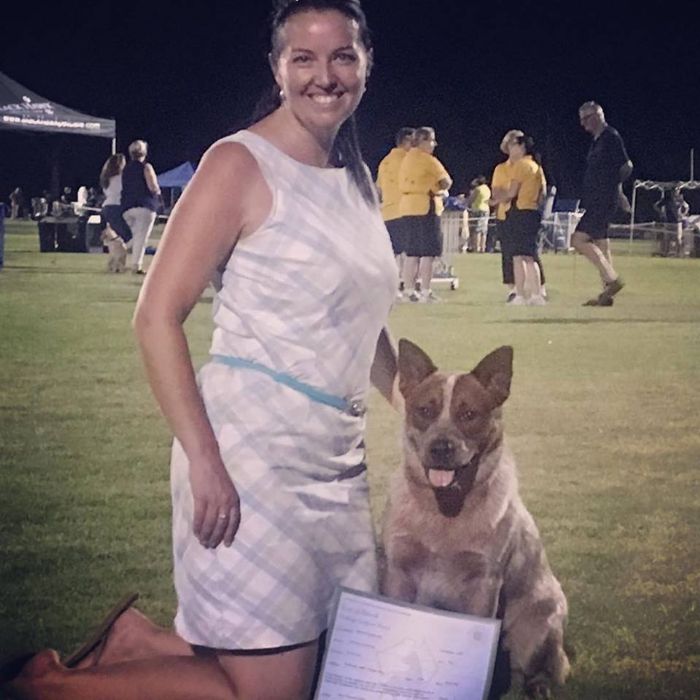 5th January, 2018
Kelly likes to picnic with the farm animals. You can see her pregnant belly, as she munches on some of the cattle's grain. She is a very sensible dog to have around other animals. She will only round up the animals when she is asked to.
3rd January, 2018
We caught up with the gorgeous Jacquo (Erudite Straight Shooter) today. Planning on future breedings he may just be a good match for Skye once she is old enough. Jacquo is almost 4 years old and just a happy, beautiful temperament. He happily welcomed Jake, another entire boy into his yard and they played for hours. Jacquo has already been successfully shown and will be gracing the show ring again soon.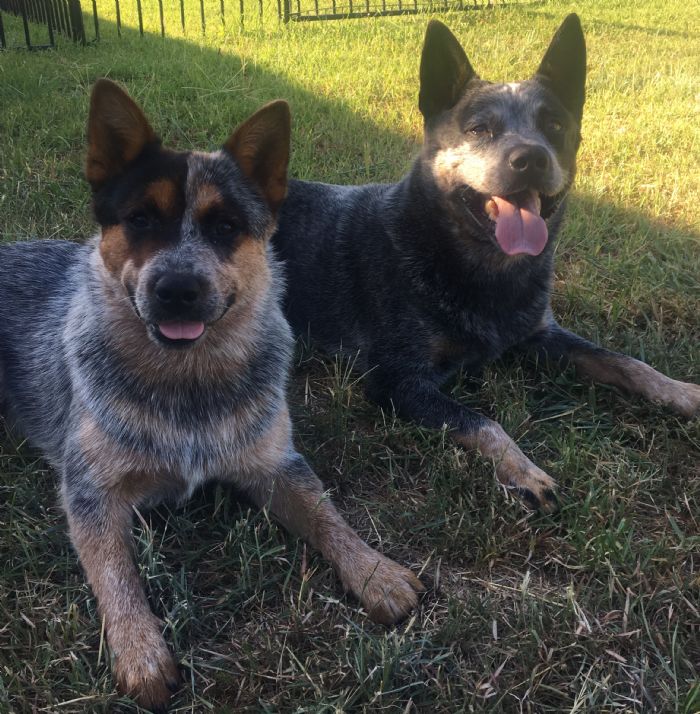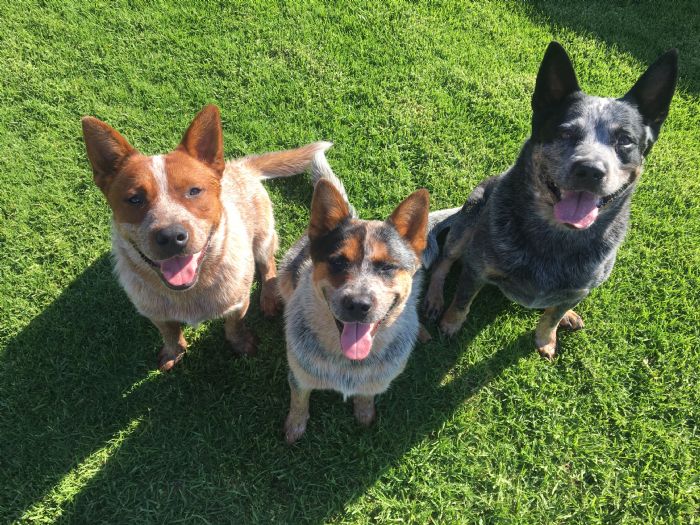 These are Jacquo's parents - Bentley & Tess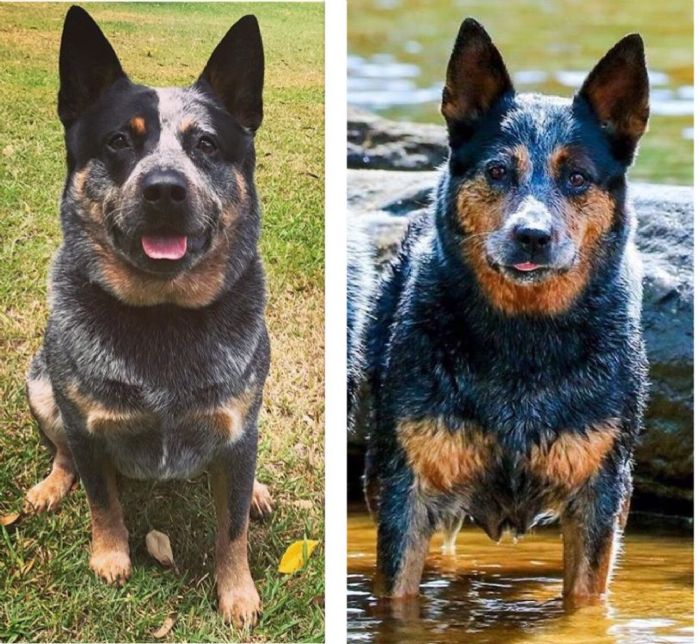 2nd January, 2018
The dogs celebrated the new year with some of their friends at Kurnell, Sydney. All of my dogs live like pets and get to do all sorts of activities. They are all so easy to take places, as I do not believe that an Australian Cattle Dog should ever be 'that dog' who is aggressive or a bully. All of my dogs could easily fit into a team of working dogs without dramas, which is exactly what the breed standard says - 'Any feature of temperament or structure foreign to a working dog must be regarded as a serious fault'.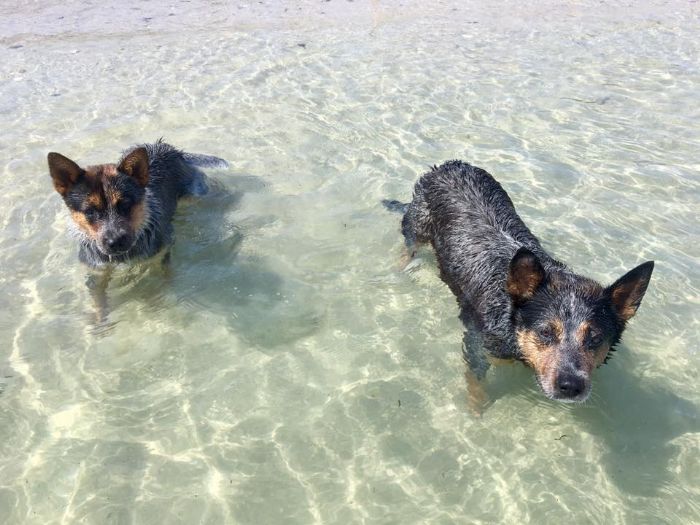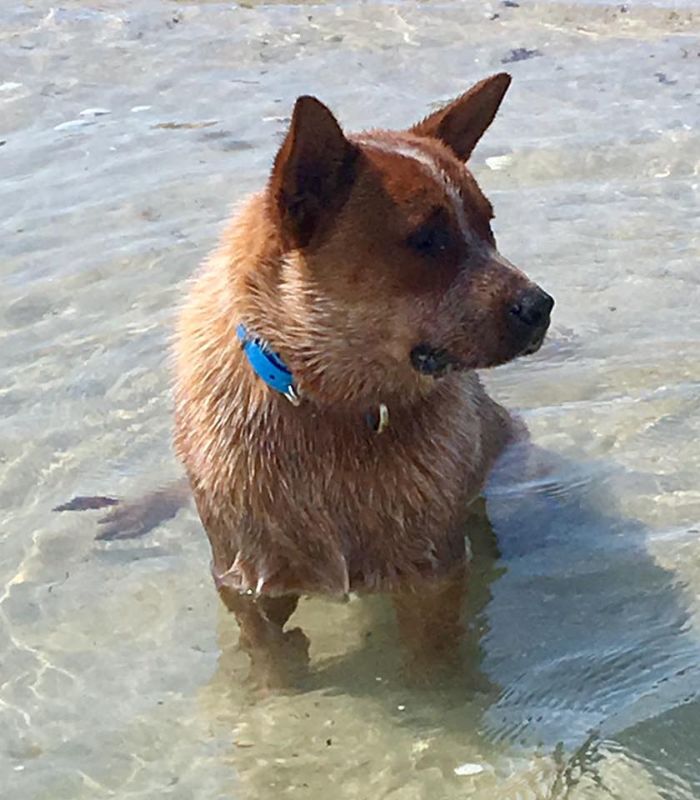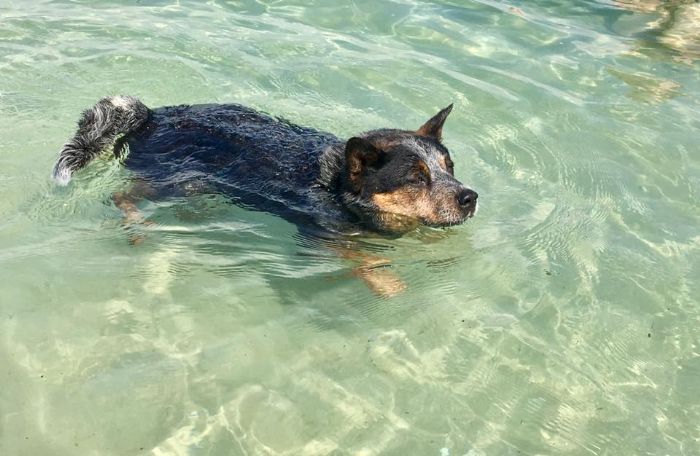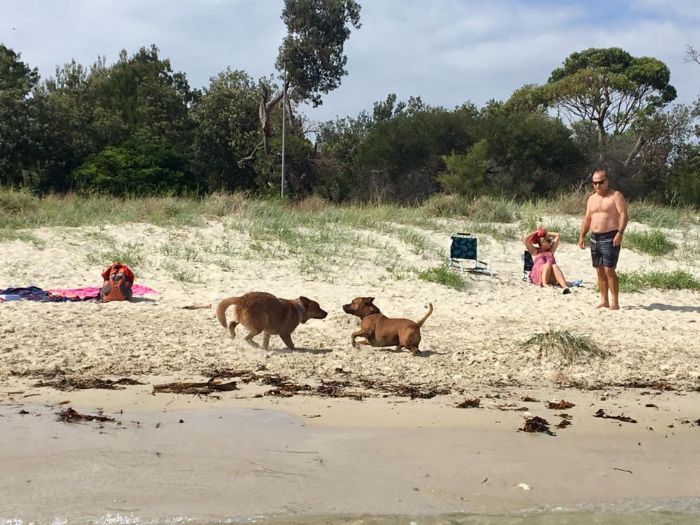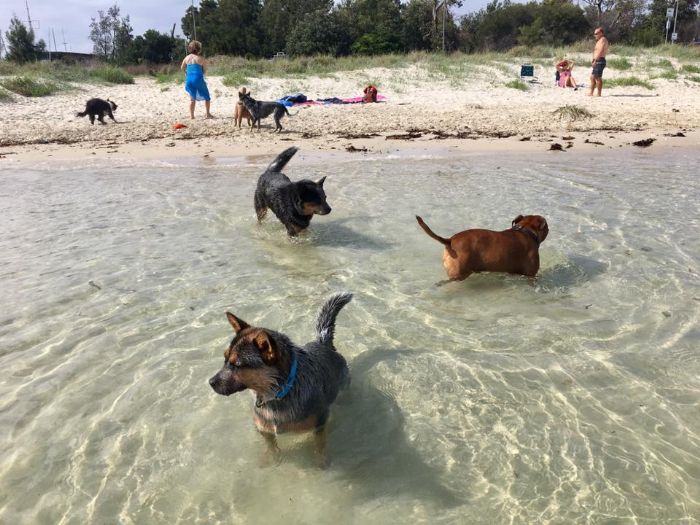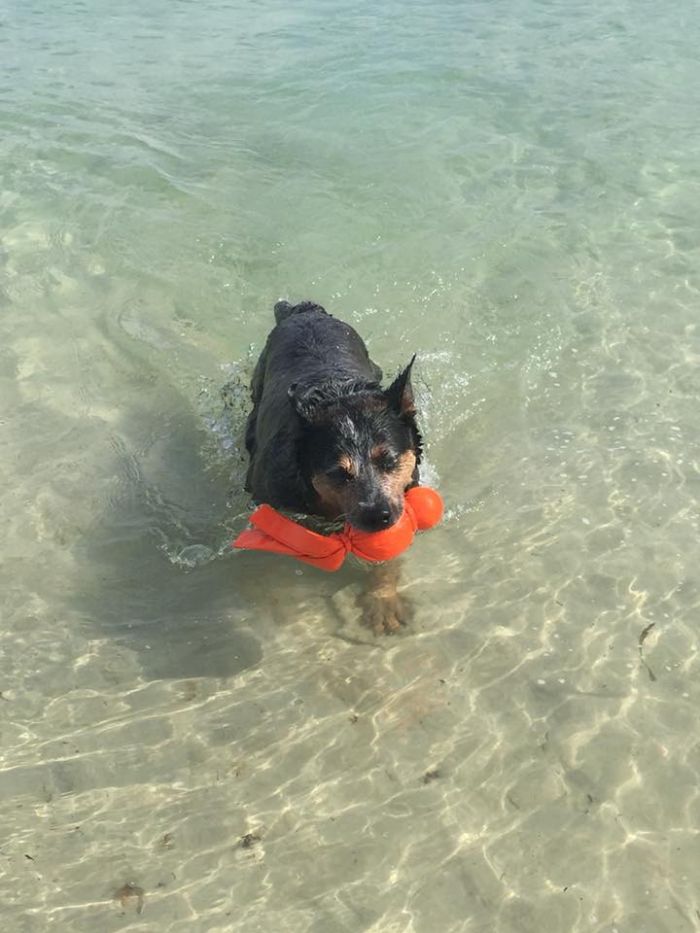 I have also updated the Sires of Influence page as the frozen semen should be arriving from France soon! I will be very relieved when it finally arrives, as this time it has certainly been challenging importing from Europe.
Lastly, check out Bandit! He was the tiny premature pup born at under 90grams who I bottle fed, and being a little survivor he has thrived. His owner Sharon is going to teach him to ride around in his batmobile. Bandit is brother to Skye, they are 8 months old.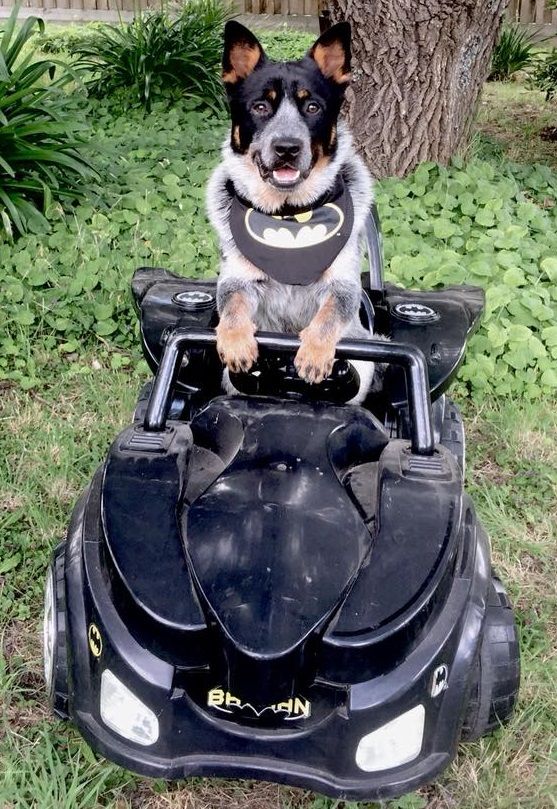 Contact Details
Belinda Carter
Deniliquin, NSW, Australia
Phone : 0438 541302
Email :
[email protected]