2019
24 December, 2019
CJ & Pyro's pups have turned 7 weeks old. Super confident, bold pups. They come out to feed the horses, have shown no fear of sheep, and love swimming in the creek.
I have these girls still available, as I held off deciding which 2 pups would be heading to Europe.
This girl - she gets called Pink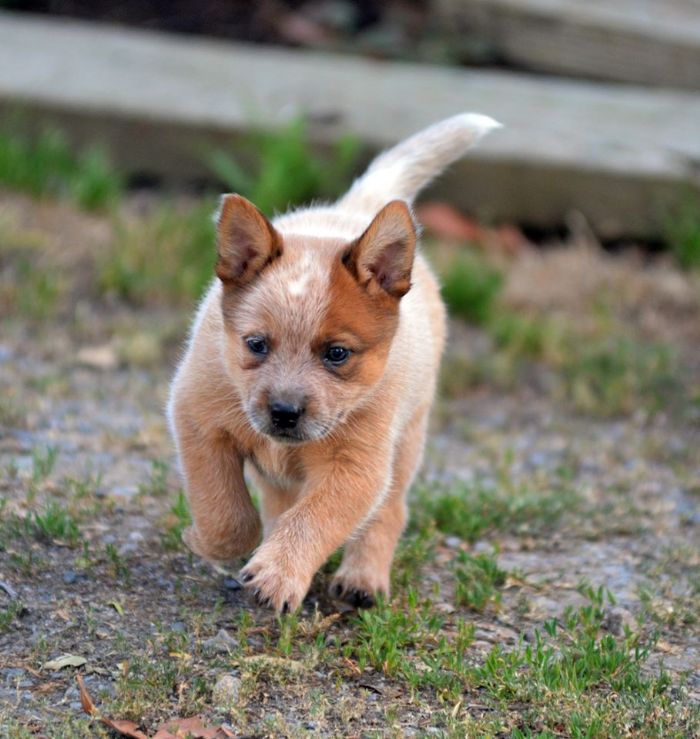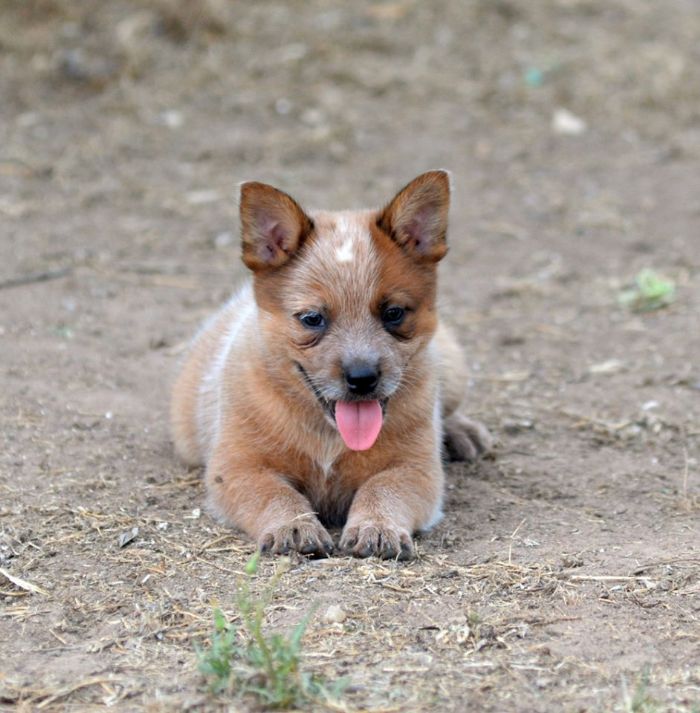 This girl, she is called Sally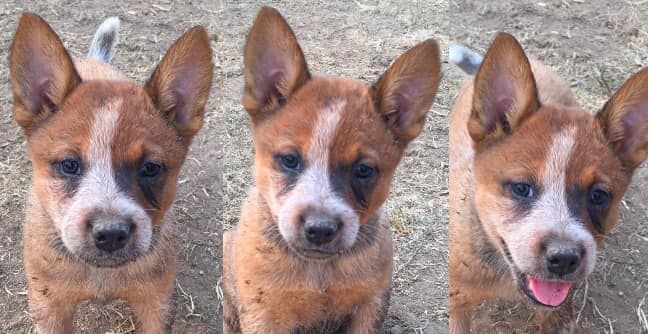 and this girl Rose who is the sweetest and quietest out of them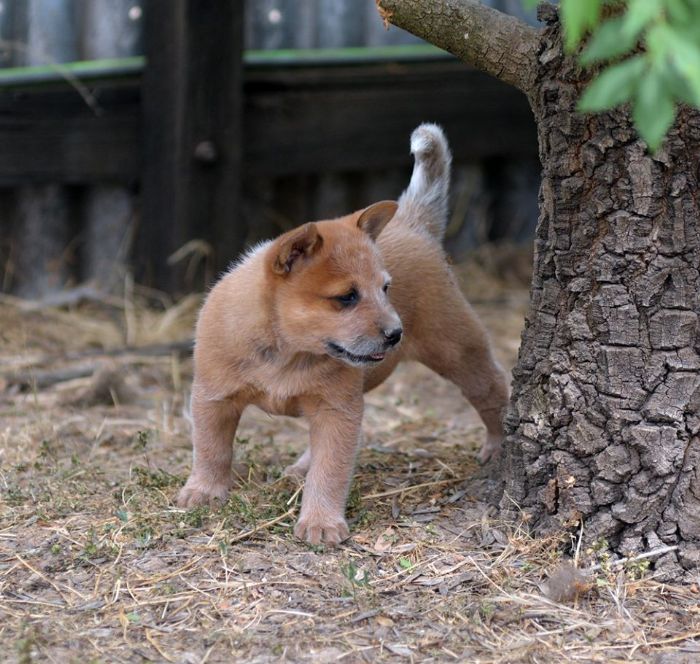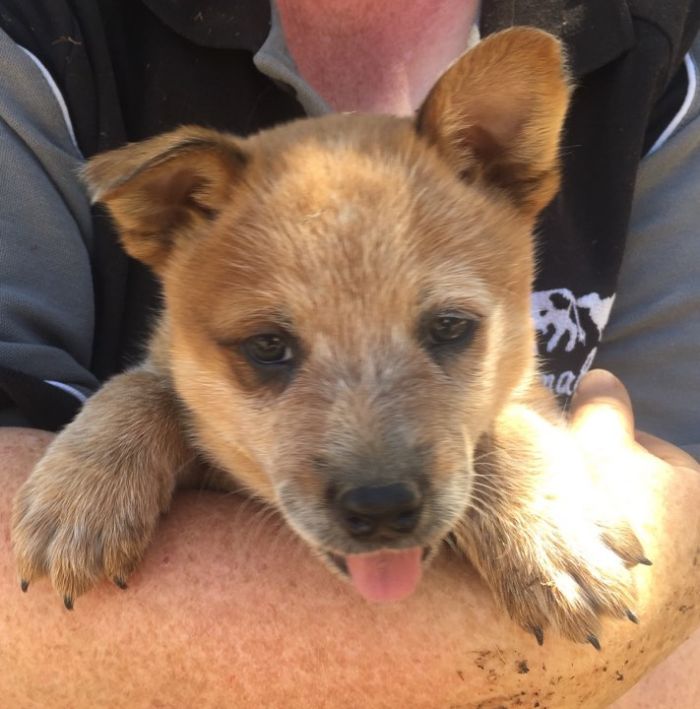 5 December, 2019
Website update on its way as the dogs have been up to lots of interesting adventures.
CJ has some delightful pups to Pyro. A repeat mating which produce some really nice pups last time. We decided to do this litter as European friends really wanted a male and female pup from CJ - her abilties as a work dog just keep blowing us away. Very flattered that people around the world are recognising her calm strength and beautiful personality. Here are some of her 9 pups. We have 2 available.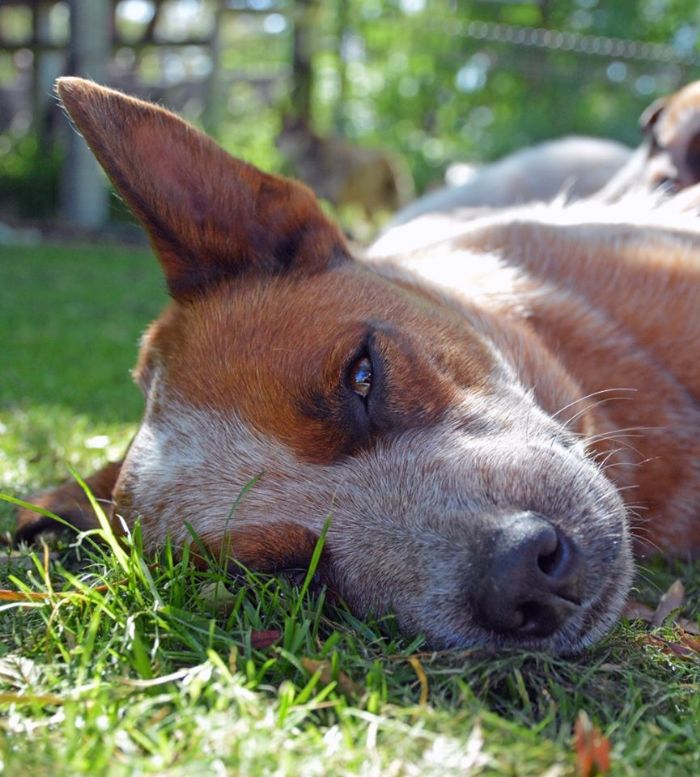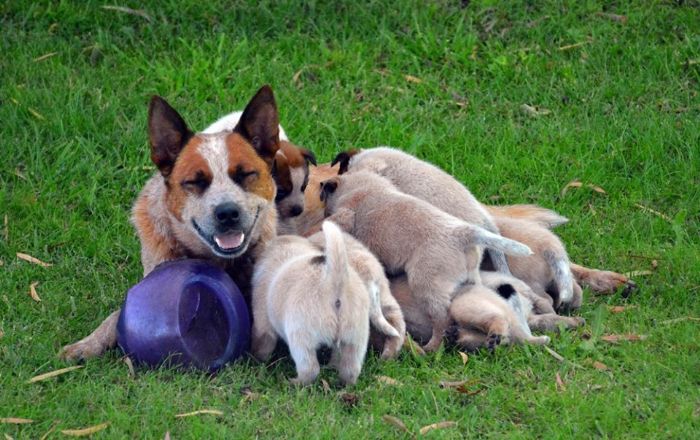 31 July, 2019
Kelly and Pyro's pups are 4 weeks old today. They had their first time outside today and exploring the dirt, grass, rocks, twigs and everything else they could find.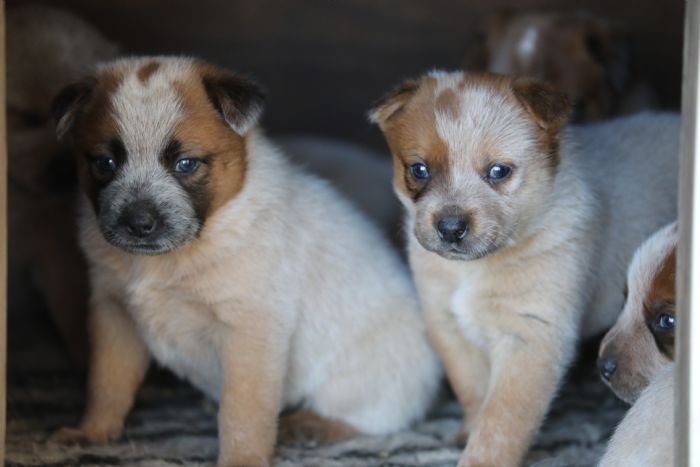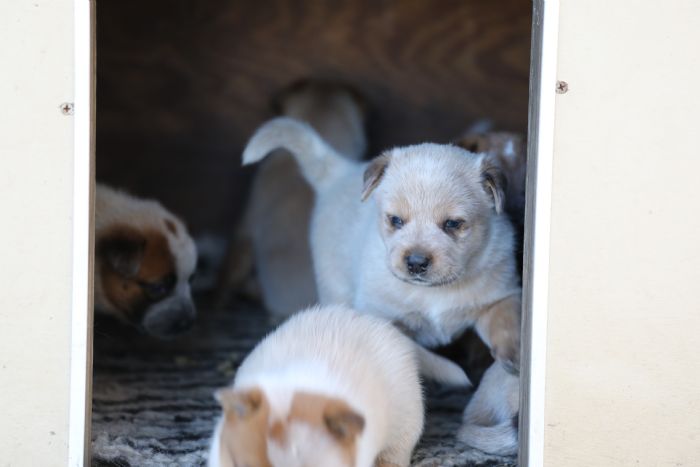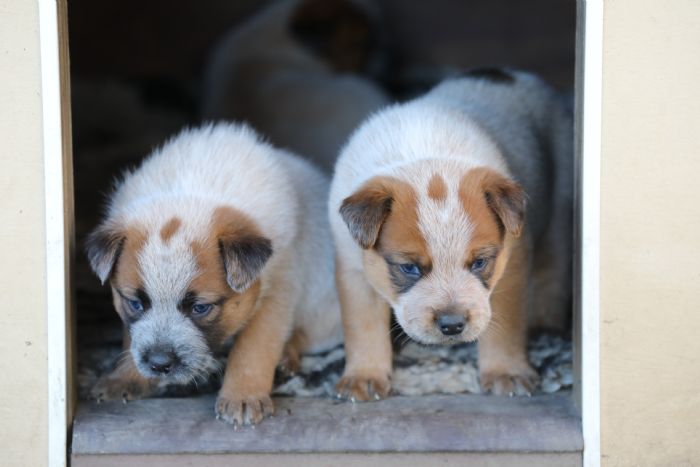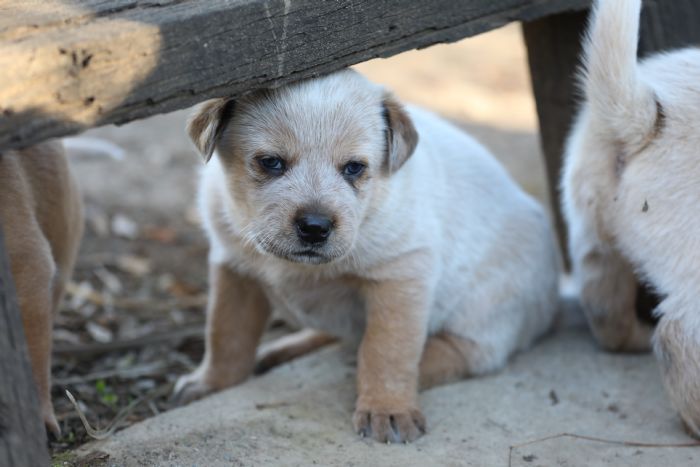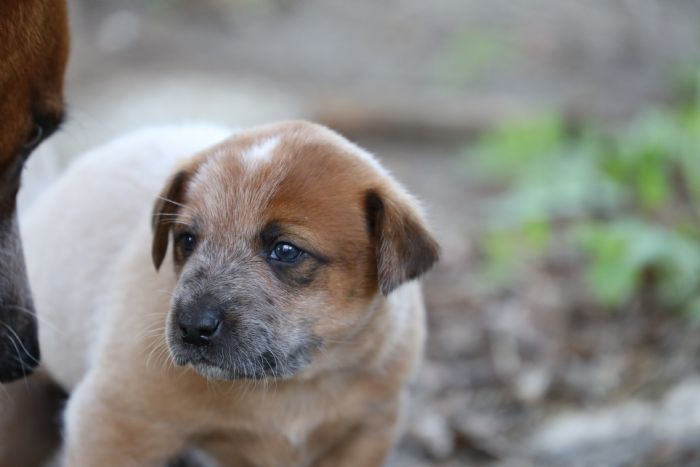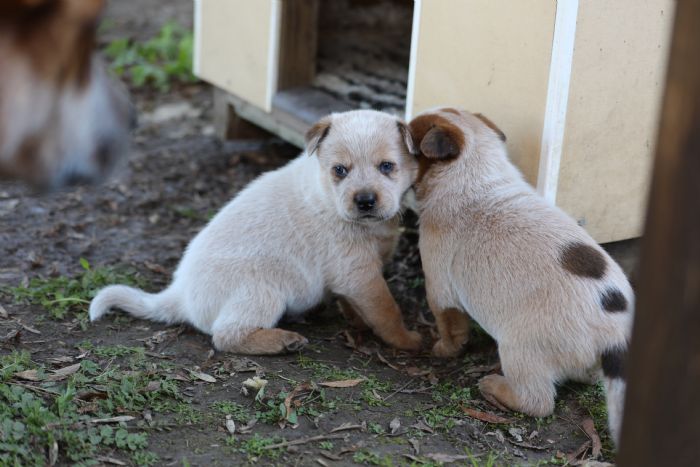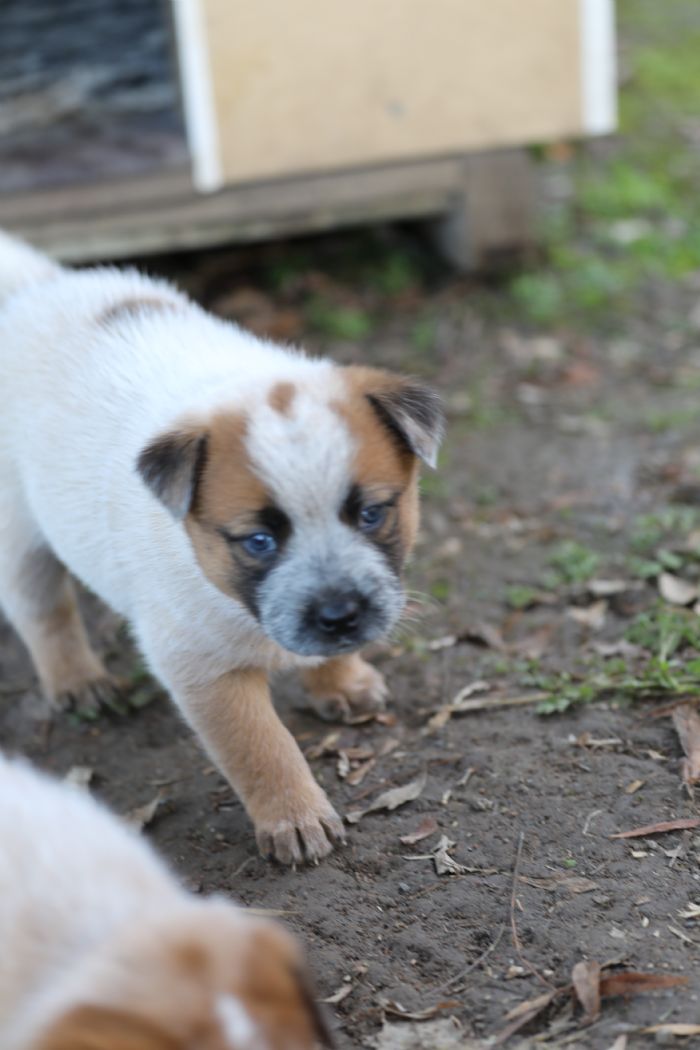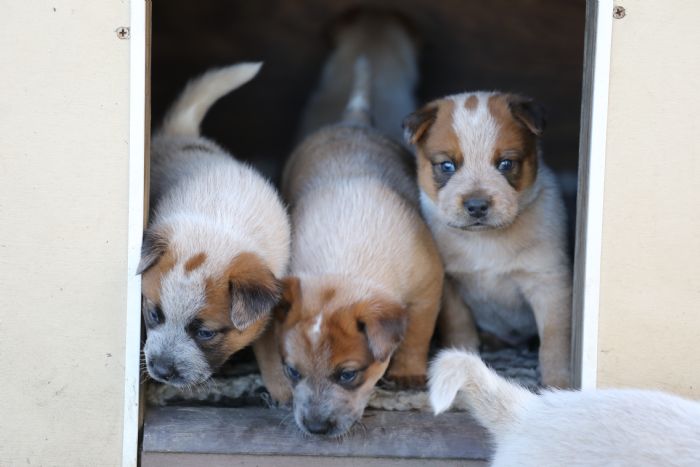 24 July, 2019
Ella had her first real time helping in the shearing shed. Really happy with how quickjly she picked it up, and her resilience.
21 July, 2019
First competition for the dogs in over a year. Ella and Skye competed at the local rally obedience trial. Skye won 2 second places in the Advanced class, and Ella. on the first day she is eligible for competition scored an 88 and a 95 (which earned her a 3rd place).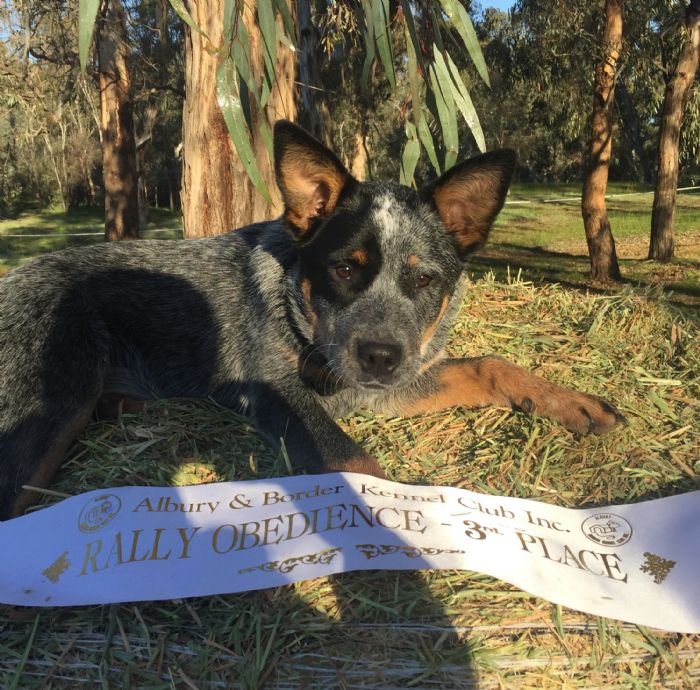 14 July, 2019
The puppies are now 11 days old and growing like weeds. Already some of their personalities are show though.
Boy
Boy
Boy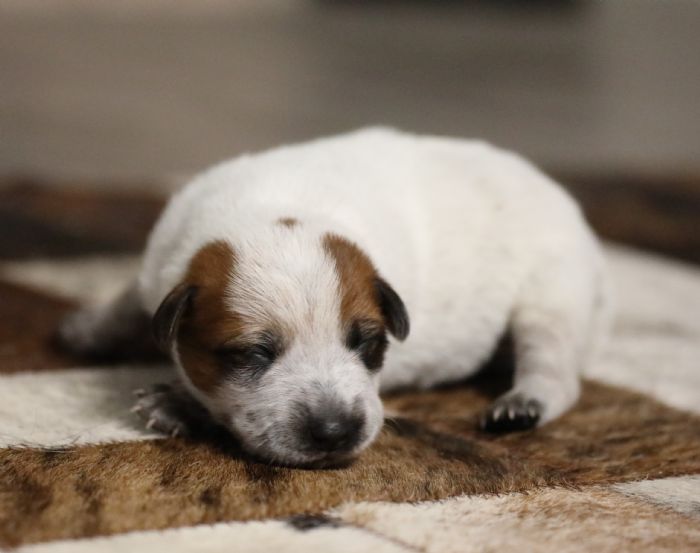 Girl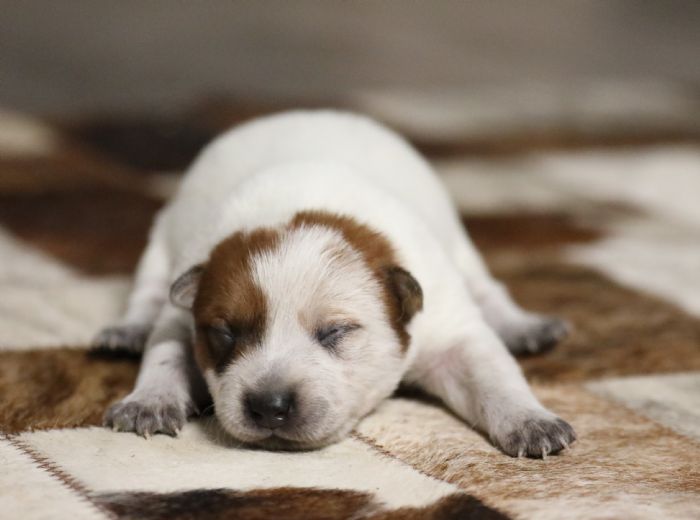 Girl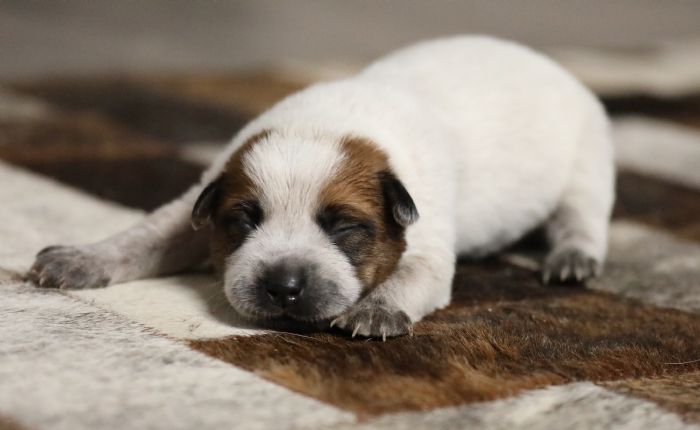 Girl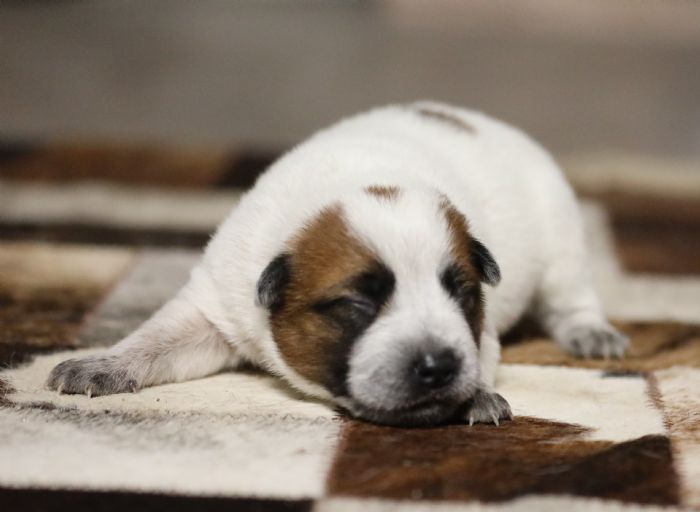 A big thankyou to Nicky Hale who is helping me with the dogs and doing this website for me. I have had some big life distractions which have consumed my time, but the dogs are great therapy! Apologies if I am hard to get hold of currently. Email is the best mode of contact at the moment.
9 July, 2019
Super happy with the whole Skye & Breaker litter. The 2 Ella's are doing really well around livestock, Neo is killing his foundation obedience work and this is Ace (Archie). They are 5 months old.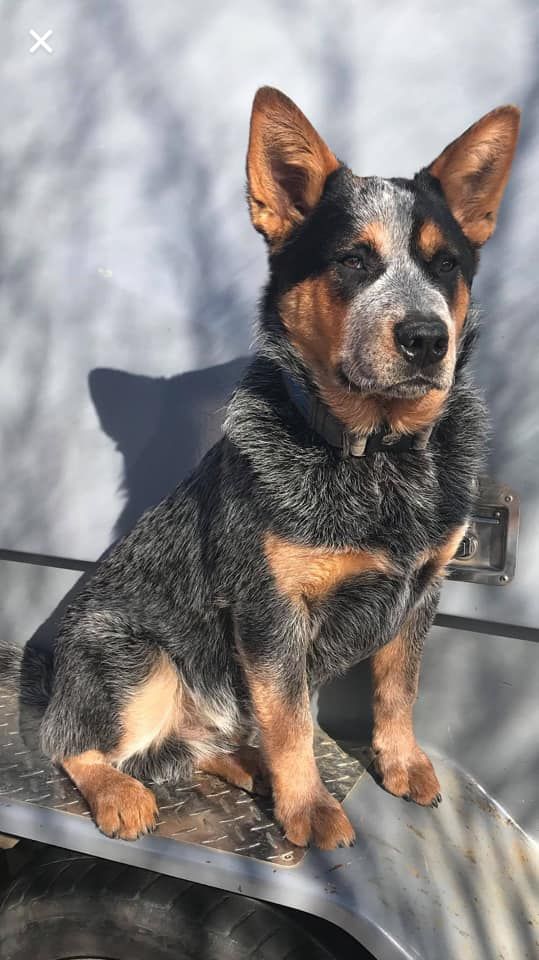 5 July, 2019
This is the very beautiful Tully. She is 18 months old and a daughter of Kelly & Ted. I think she is just divine.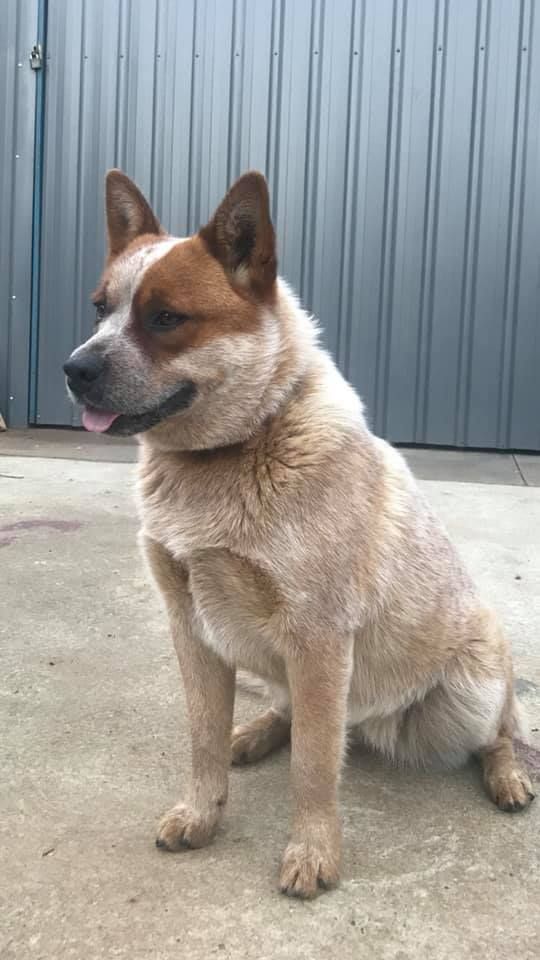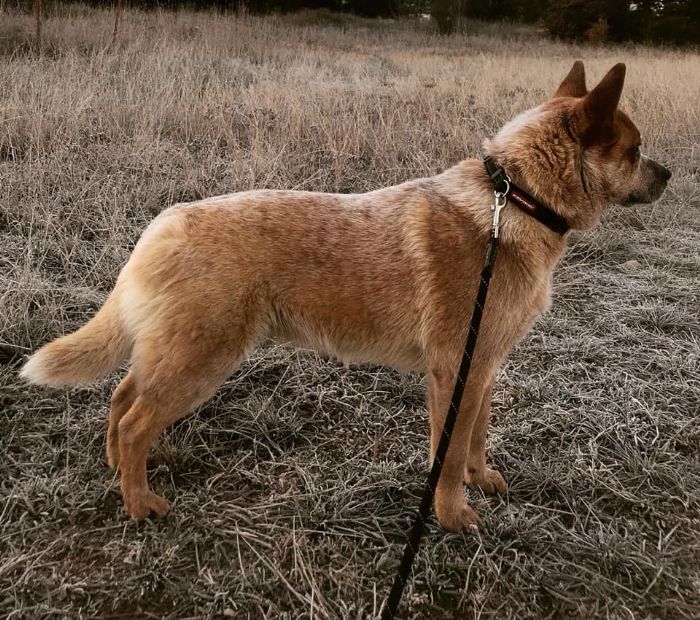 3 July, 2019
Kelly had 6 beautiful pups, and she is so happy as she doesnt have to try and steal someone else's pups!
14 June, 2019
Kelly is certainly in pup to Py. She is due in 3.5 weeks time and already has a belly on her. These should be drivey pups with a nice biddable softness about them. I'm excited to see this half brother/sister cross on Pria again as the previous 2 crosses like this produced some lovely pups.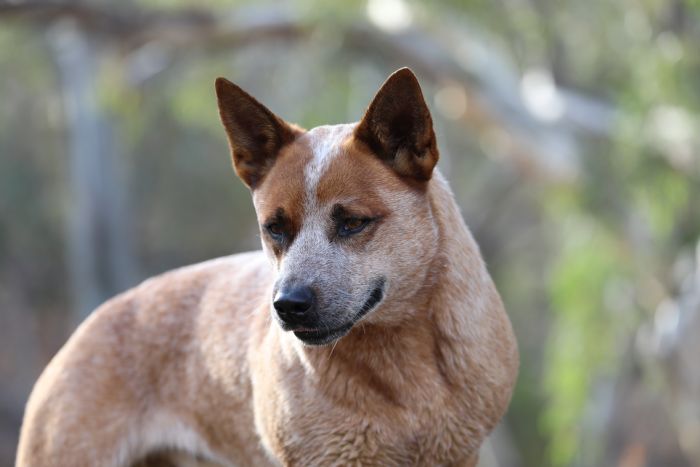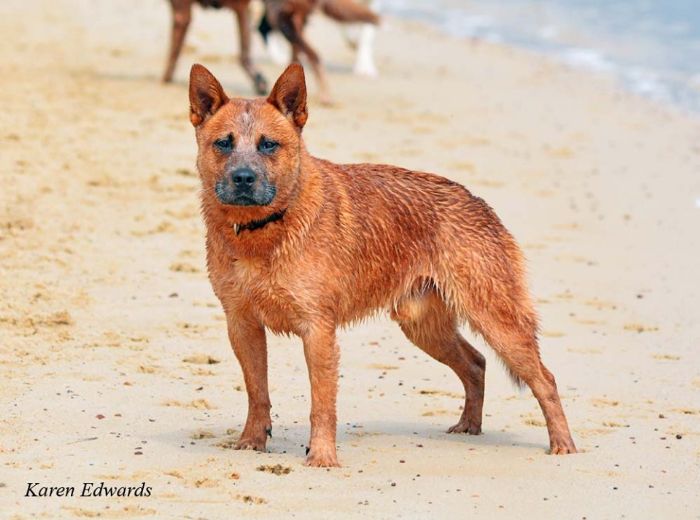 9 June, 2019
Several of the dogs spent the weekend at Freshwater Creek, near Torquay, in Victoria training on a working sheep property. We were lucky enough to be given the facilities and the dry ewes to work on polishing our dogs. Also I was able to catch up with the very handsome Mako who is now 16 months old. He is from Ted & Kelly. Ella handled the trip really well, and was such a well behaved puppy for the whole weekend. Kelly loved working again, even with her pups on board. CJ did some great work in the yards and Py looks like he is ready to get into some serious training now.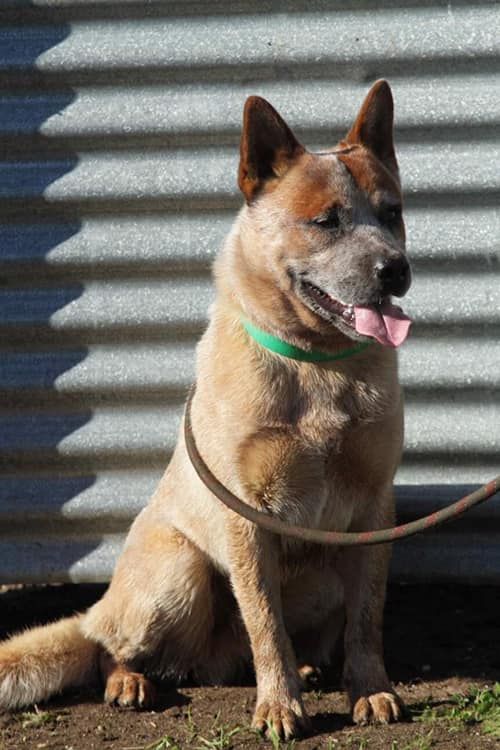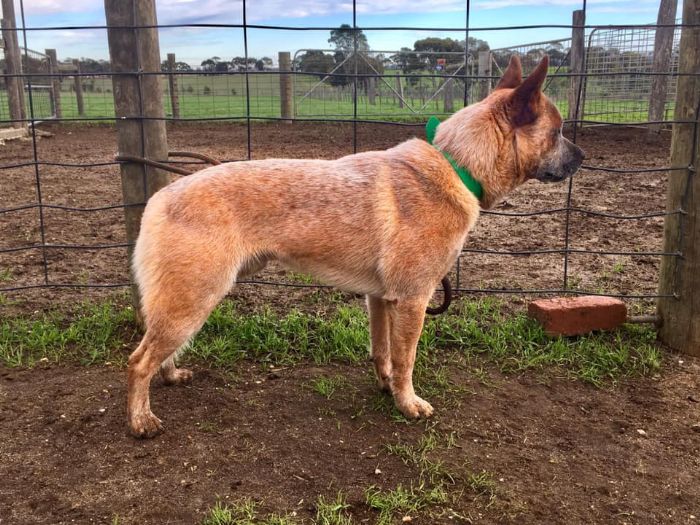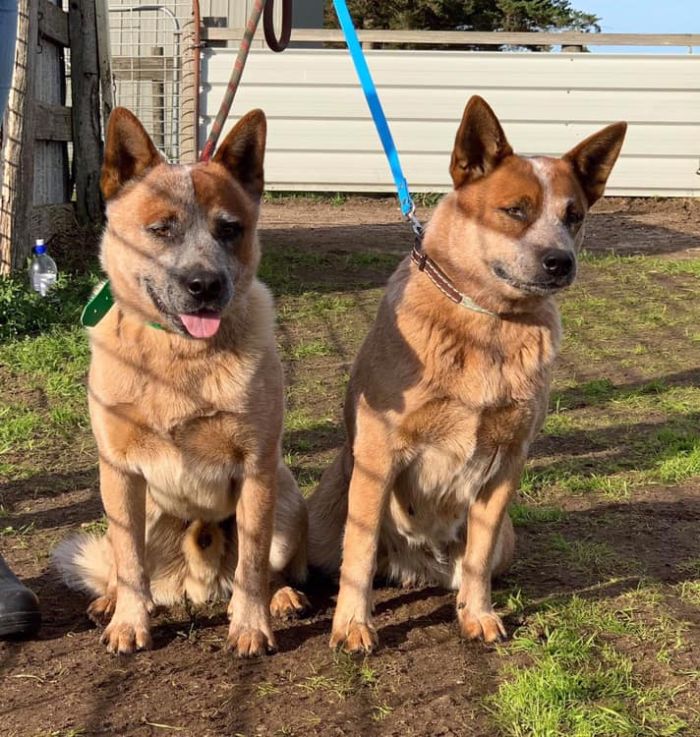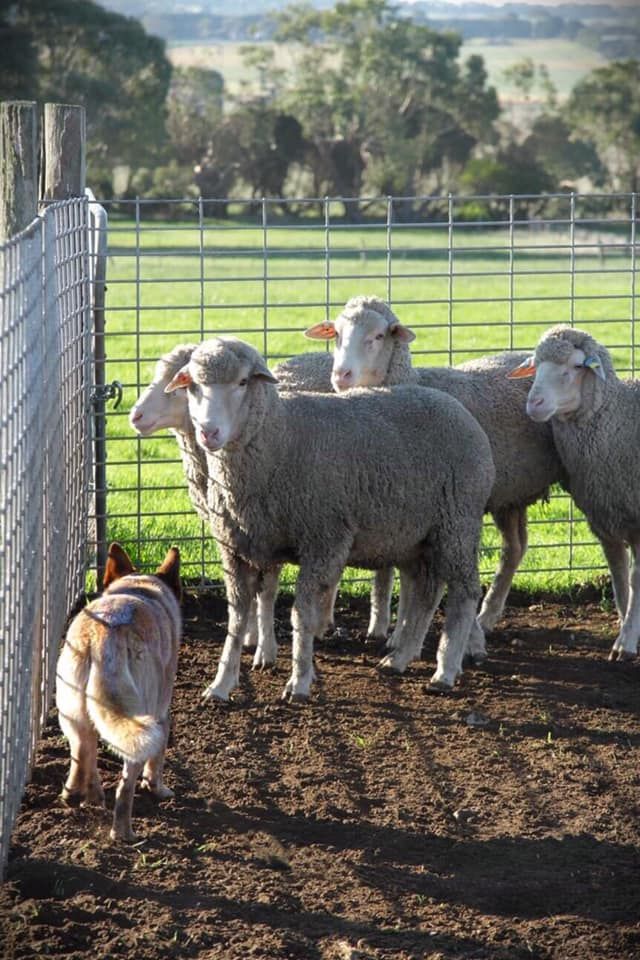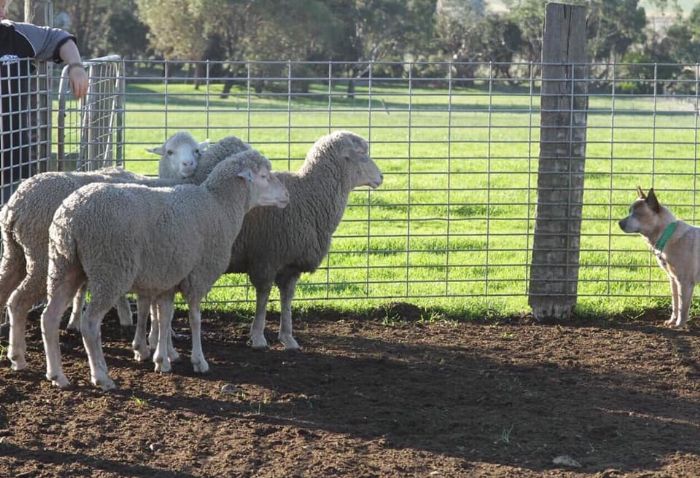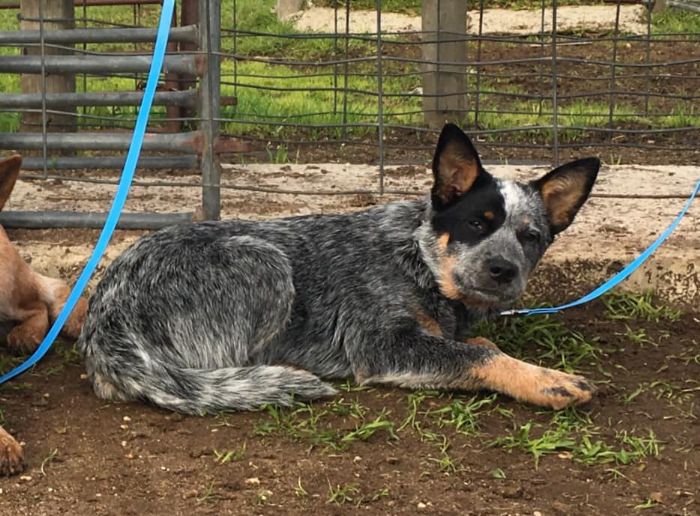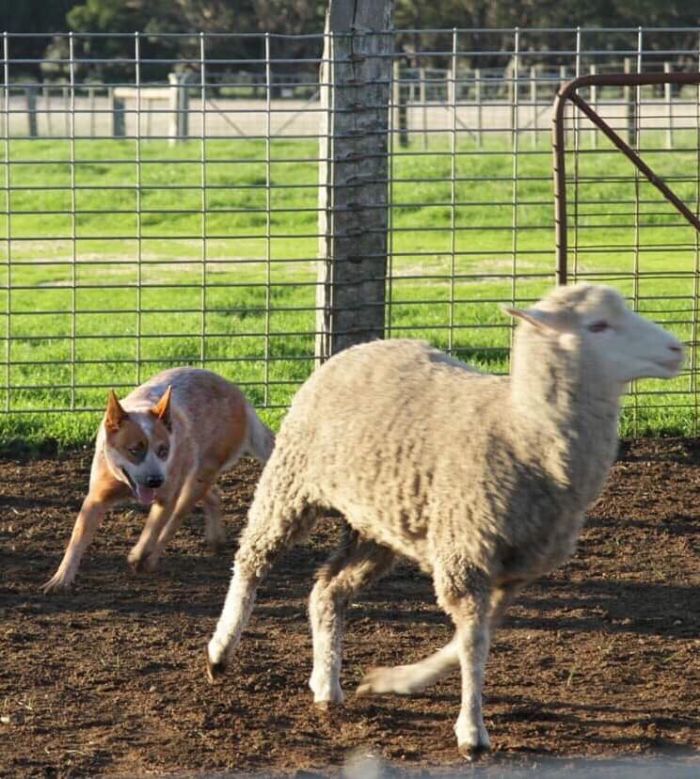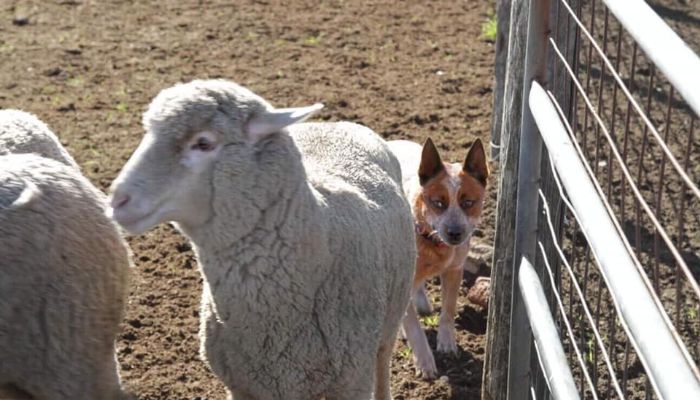 8 June, 2019
The special Bandit (premmie boy born under 100gms) has just turned out so handsome and such a character.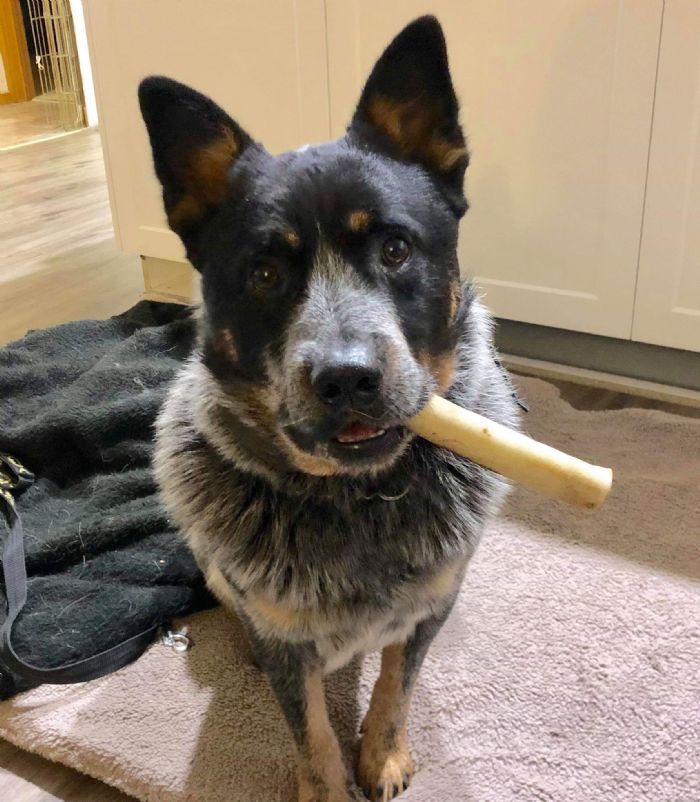 7 June, 2019
Neo is loving life with Catherine with all the adventures she takes him on. Catherine describes him as an old soul.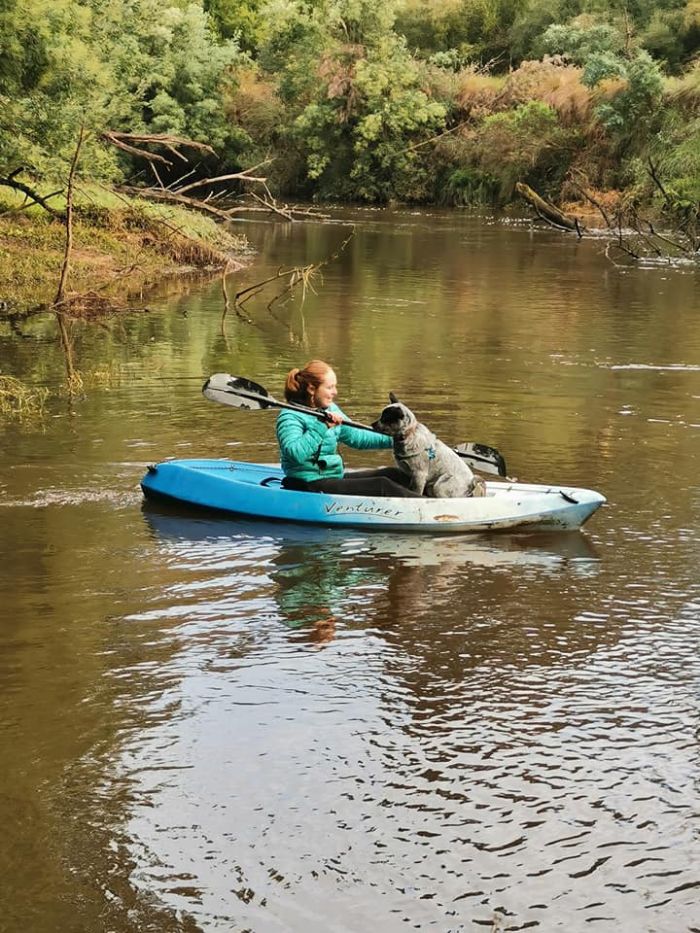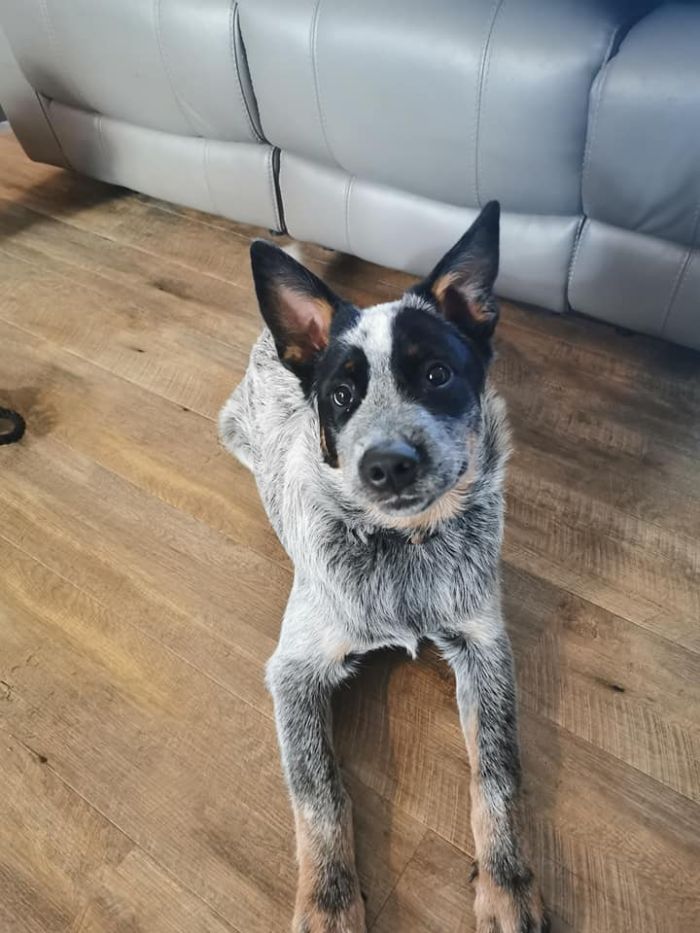 6 June, 2019
Karen Copeland, of the Baleburra prefix, shared this photo of Baleburra Bush Devil as a pup. He is in the pedigree of Jabaluka Cattle Breaker so also behind Ella.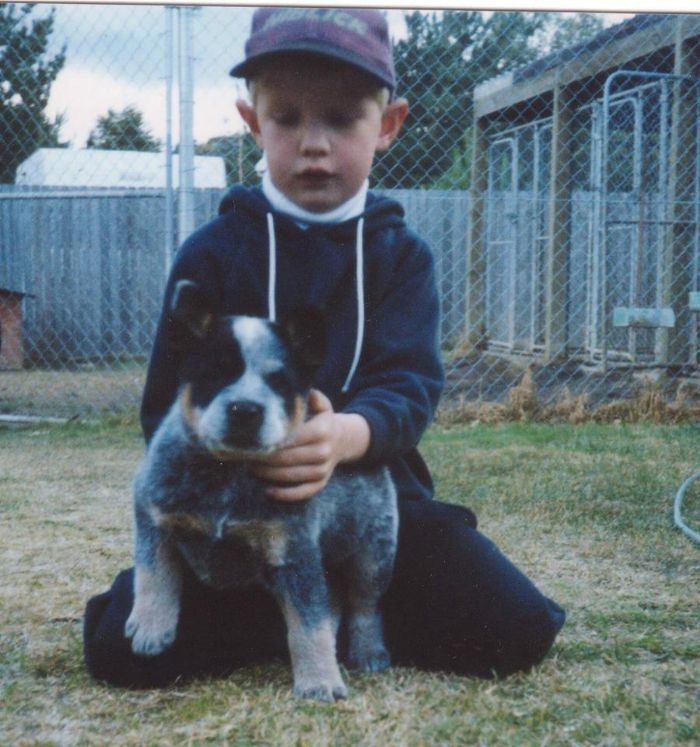 2 June, 2019
Meg won herself an 11 point Best of Breed, getting closer to her Australian Champion title now!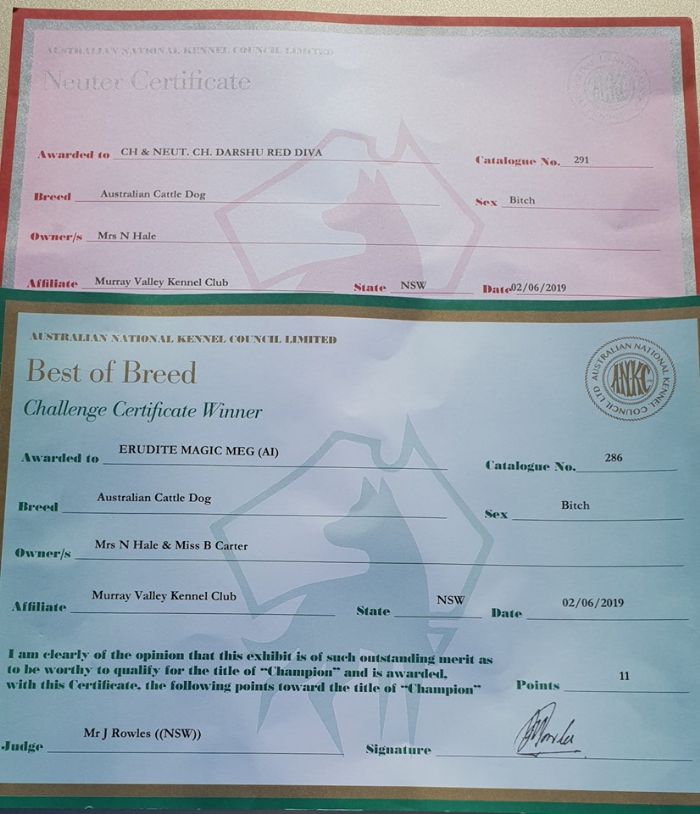 25 May, 2019
Ella came to help mark some lambs. So happy with her attitude to everything, she wore a collar for the first time, tied up for the first time, saw sheep for the first time and showed some baby cover on the lambs. Very kind as well when the lambs attempted to sniff her. I really like her attitude and intelligence.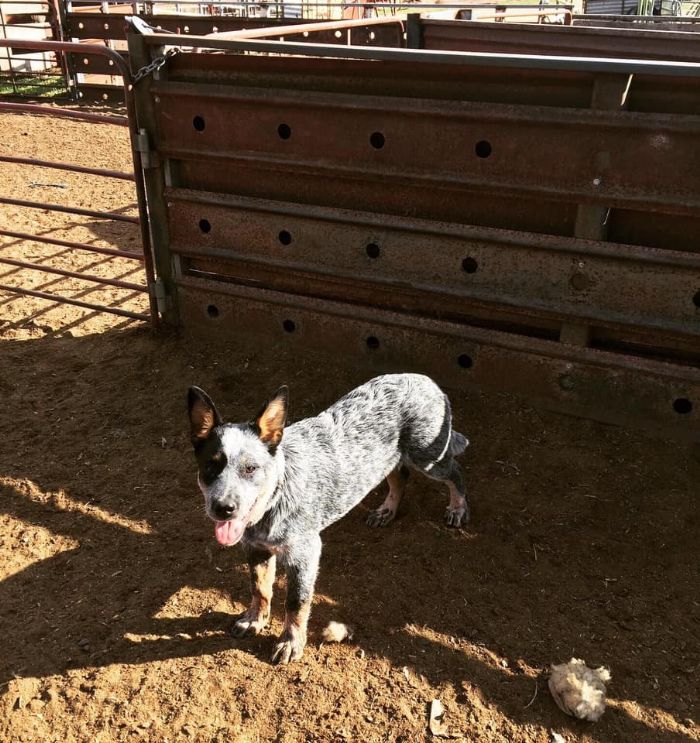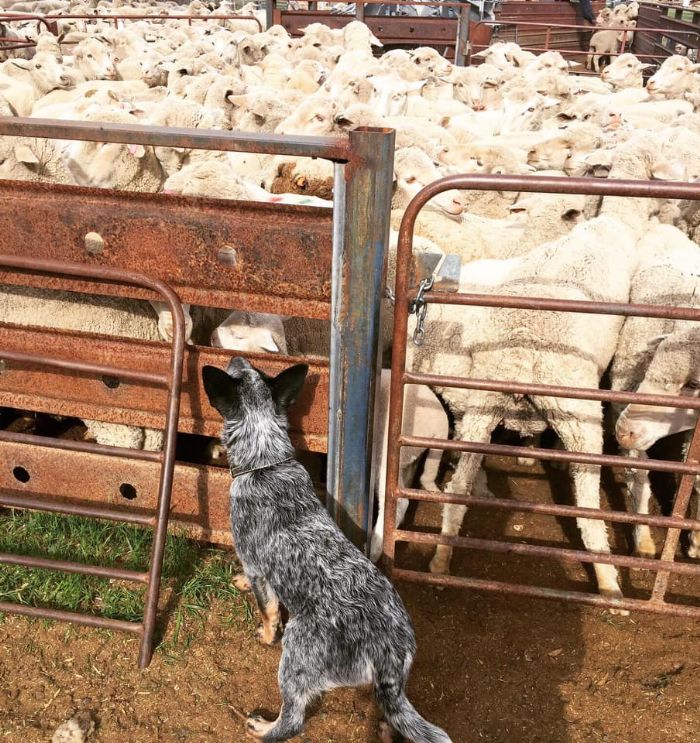 25 May, 2019
Esme did her Endurance Test easily this weekend. The judge made special mention of how relaxed and easy Esme completed the 20km.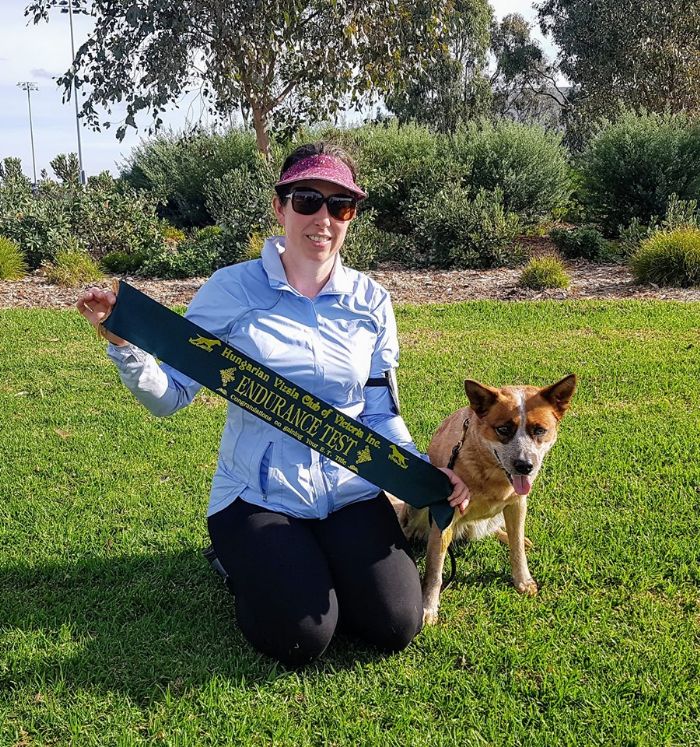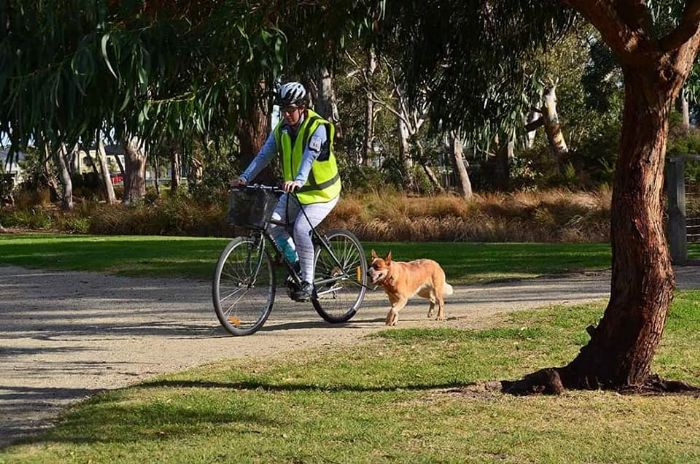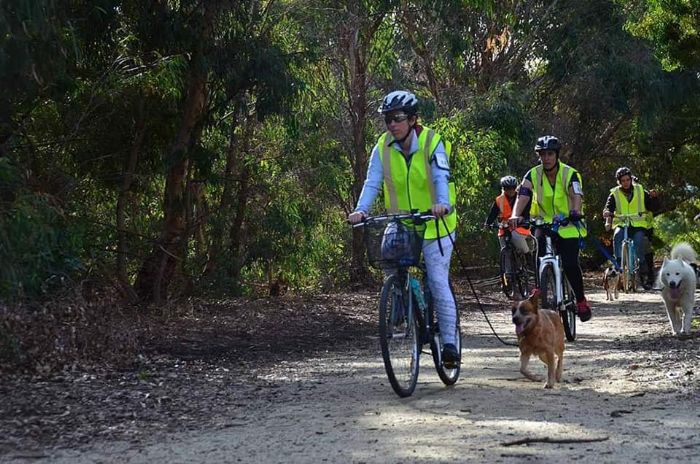 20 May, 2019
From the recent Breaker x Skye litter we ended up with two Ellas. My Ella and Ella who lives with Sally on a 600 head Angus stud. This is Sally's Ella hanging out with the poddy calves in the backyard.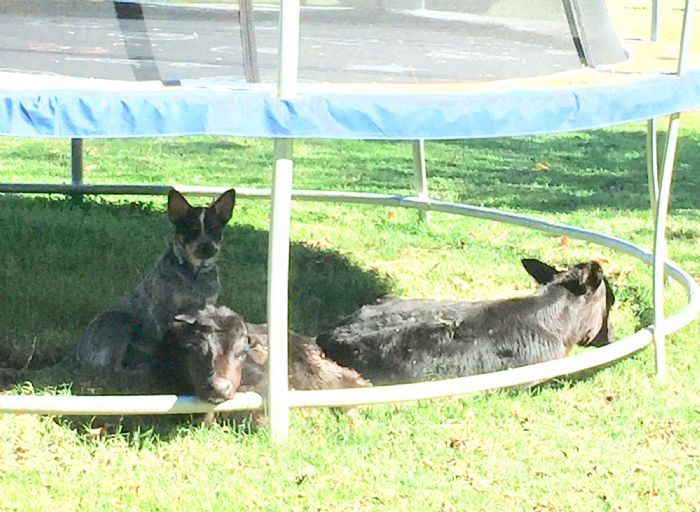 19 May, 2019
The super talented CJ not only earned her Intermediate A course sheep title and her Novice A course ducks title at the Victorian Herding Association trial but she did it with another High in Trial Ducks and High in Trial Combined Stock. She is ready to step up to the Advanced class now at the next trial.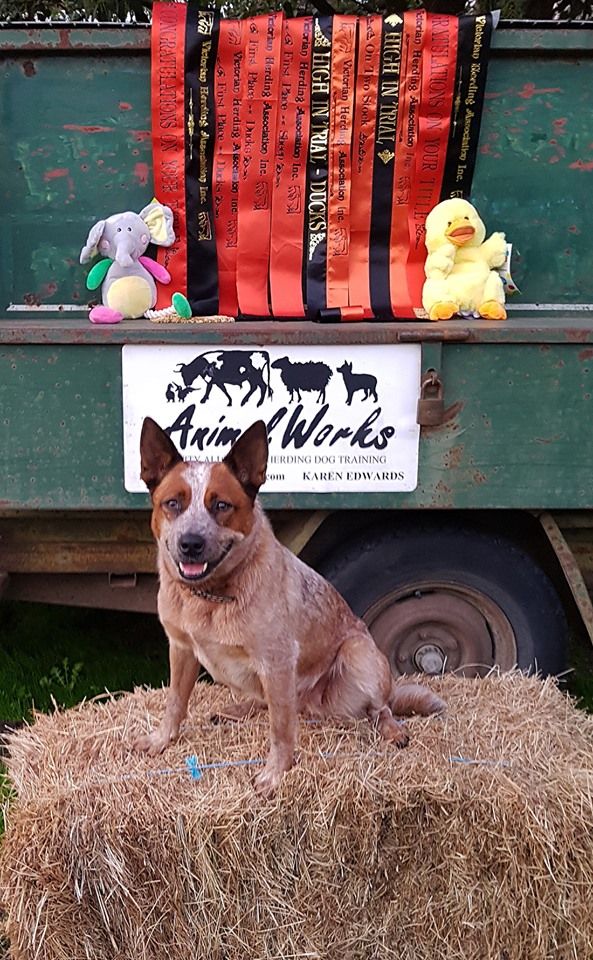 Meg has been practising to enter Junior Handlers with Nicky's neice Olivia. I love the attention Meg is offering.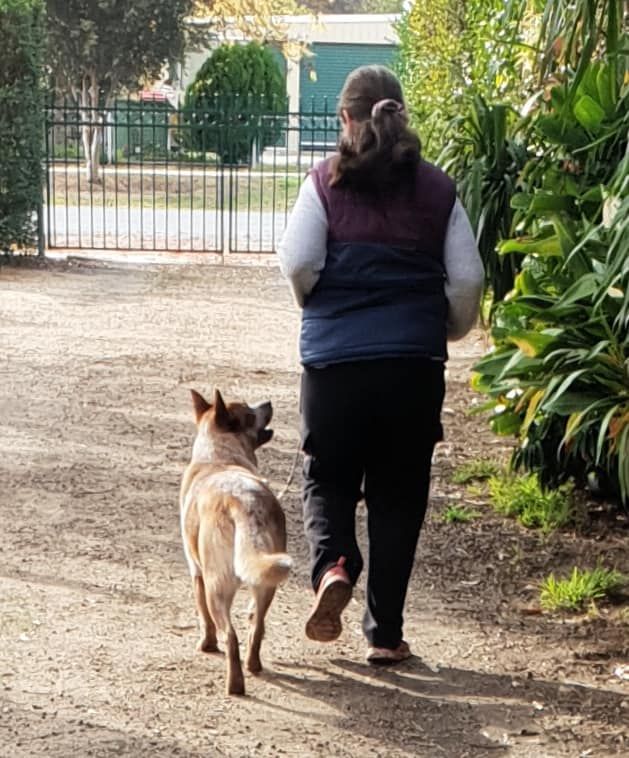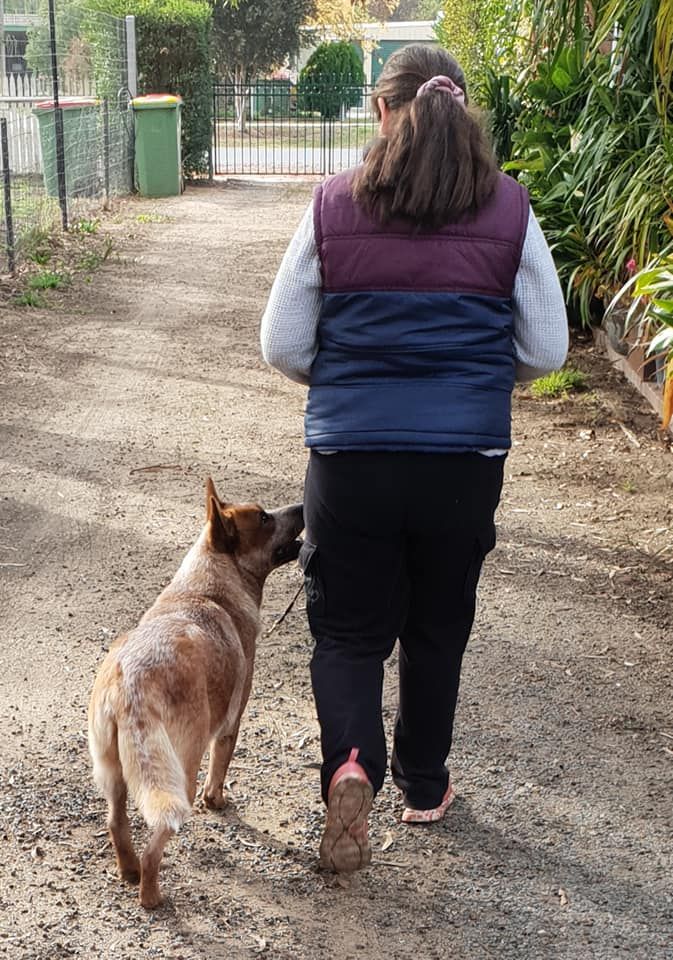 10 May, 2019
Nettie, now called Red, is going great on the sheep property. Learning the ropes in the yards, Robyn who works on the sheep property said she is picking up her job really quickly and soon will be in the race with the sheep. John, property manager, specifically wanted a red cattle dog to add some more push in the yards.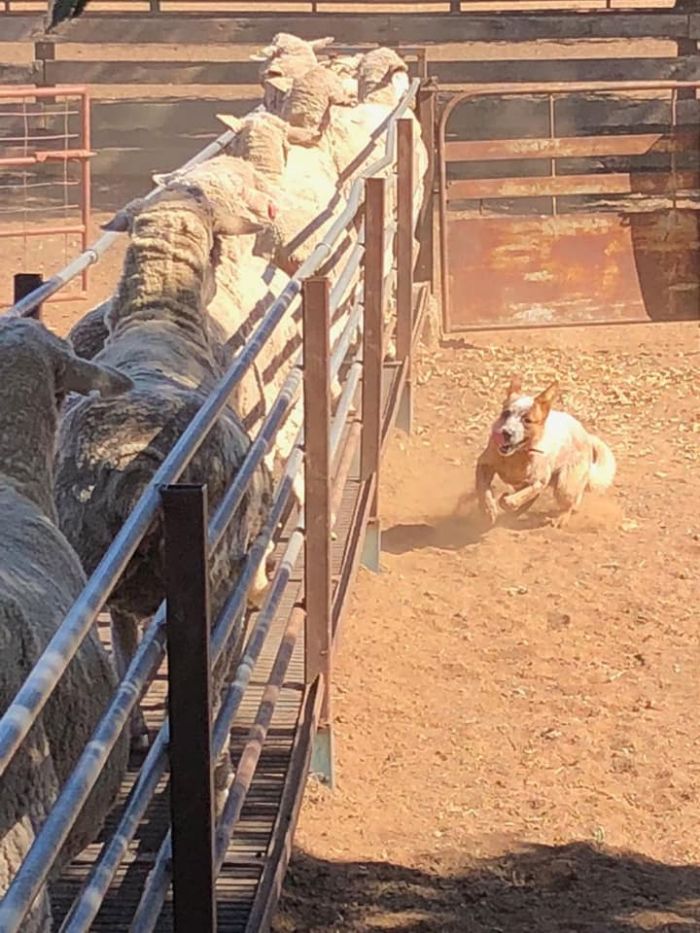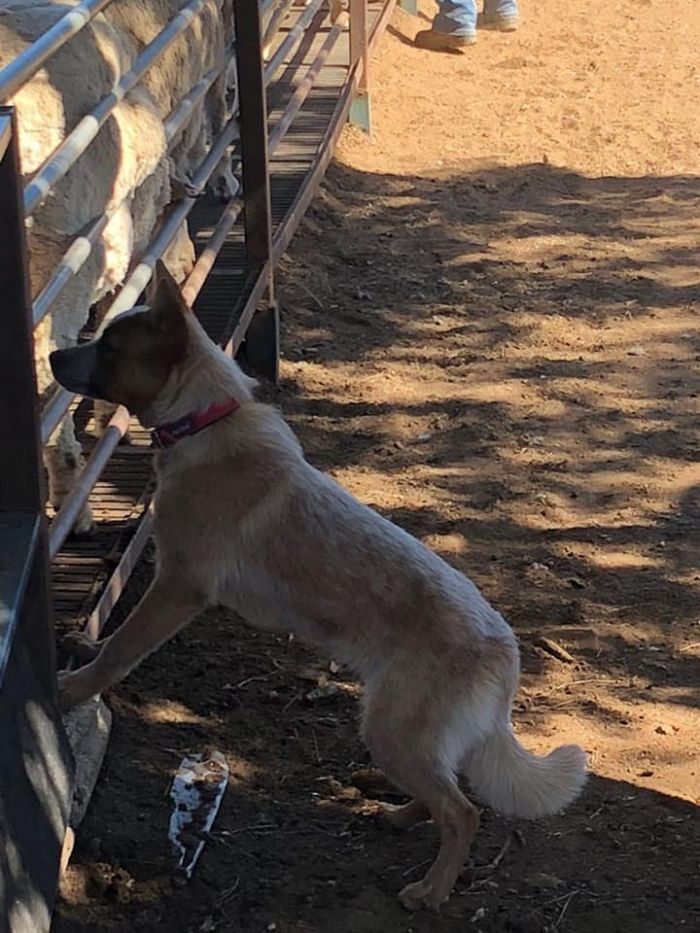 6 May, 2019
Ace is turning into such a handsome puppy! I have retained breeding rights on him and its exciting to think I will have stud dogs in the near future as handsome as this blue boy. His personality is so smart, relaxed and sensible.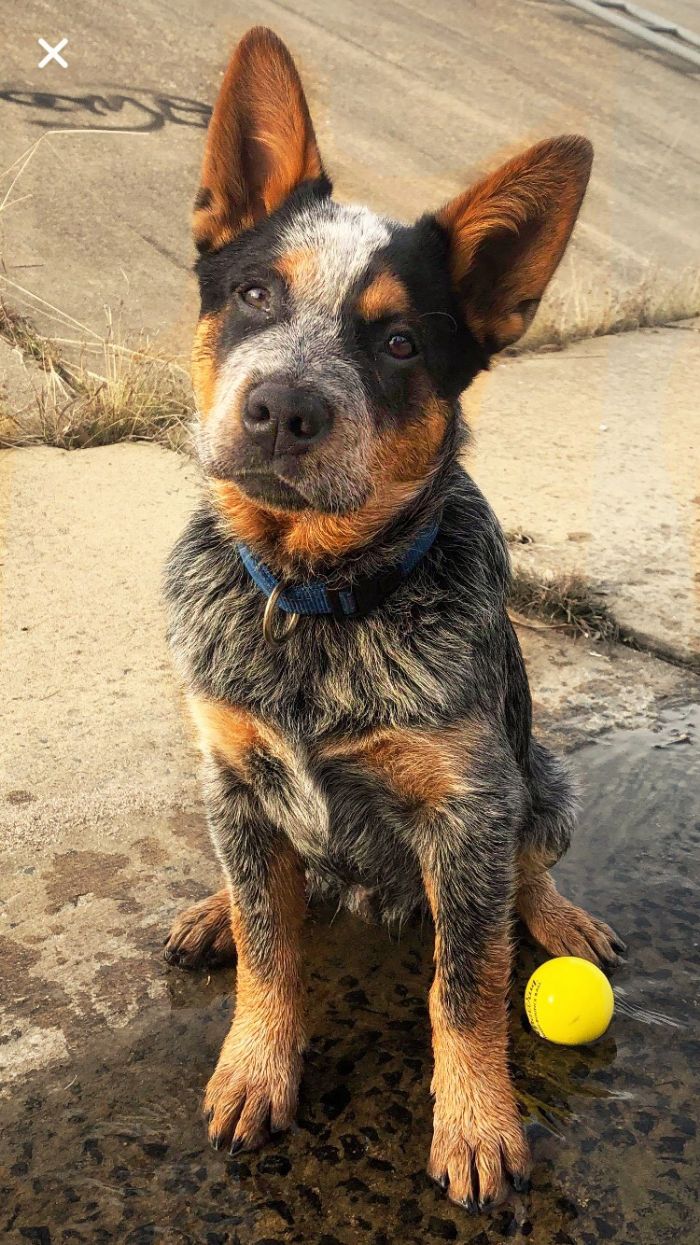 28th April, 2019
Holly in South Australia earned her BH title with Sharon. She is ready to go to the next level already so looking forward to seeing her further trial. The BH is a fairly strict temperament and obedience test before the dogs start trialling in the simulated bite work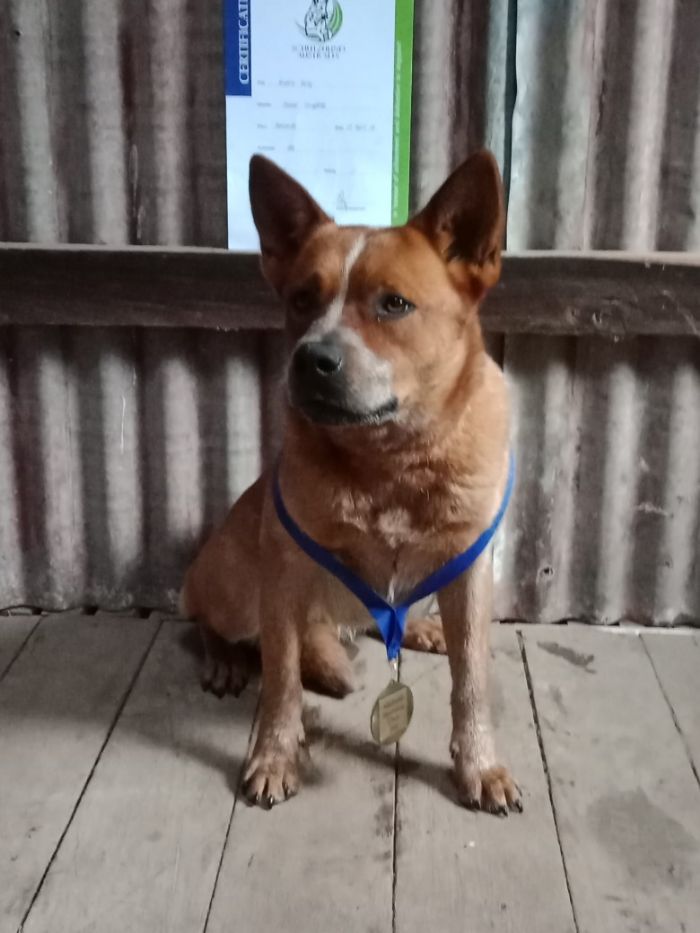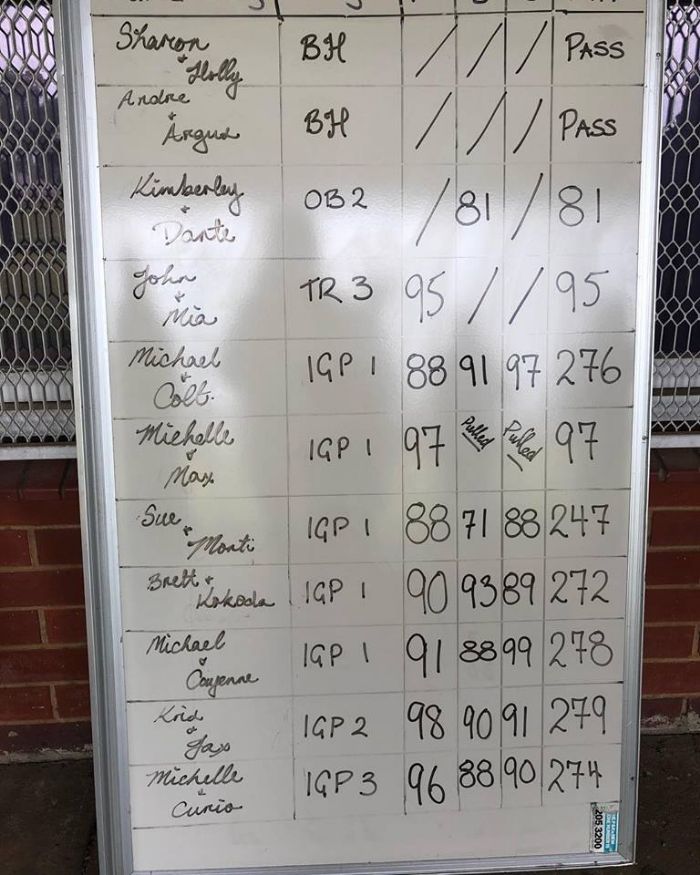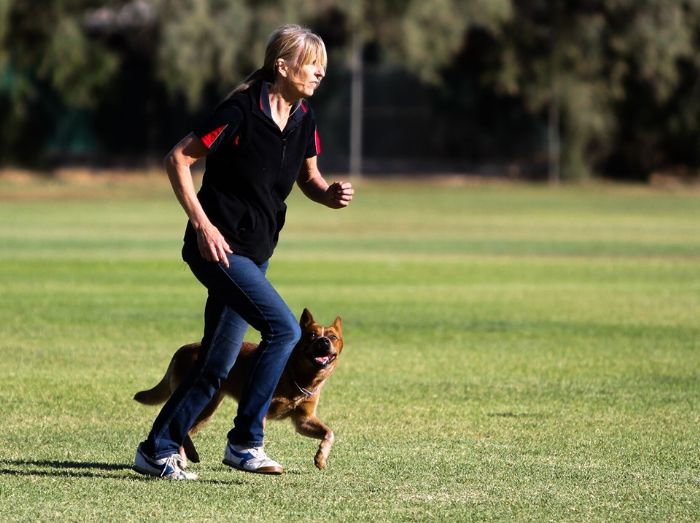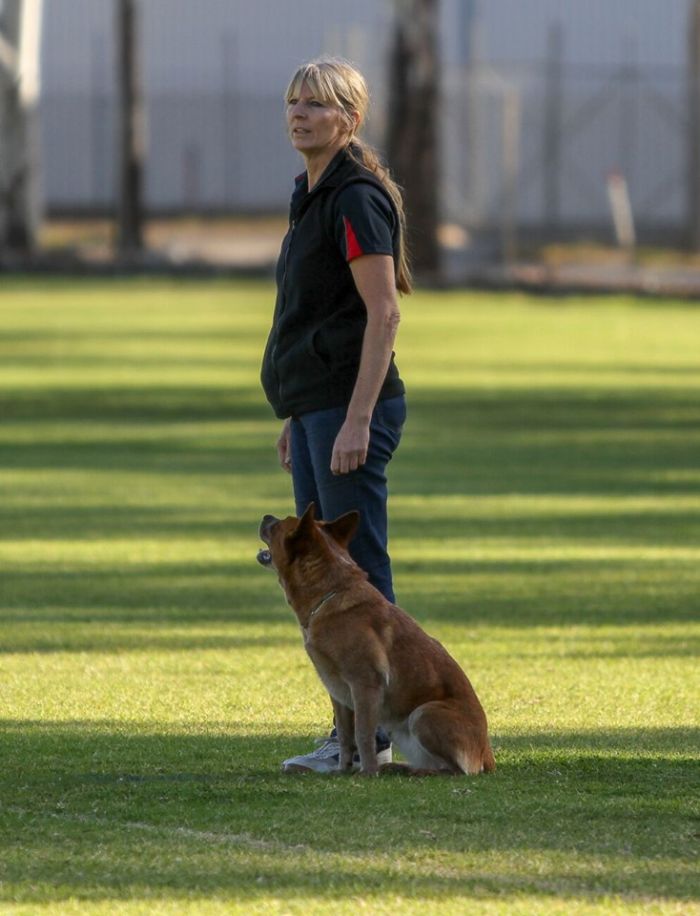 27th April, 2019
Jake competed in his first Noseworks (scent detection) Trial with Jane in Queensland. Jane says he has really taken to this sport. He is just one of the most handsome dogs!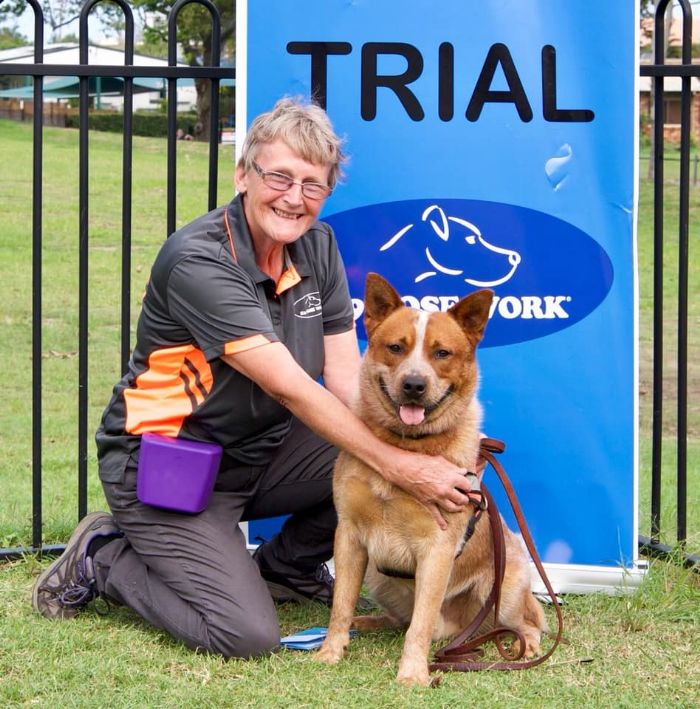 22nd April, 2019
Ella is 12 weeks old now and loving swimming in the Billabong Creek with the other dogs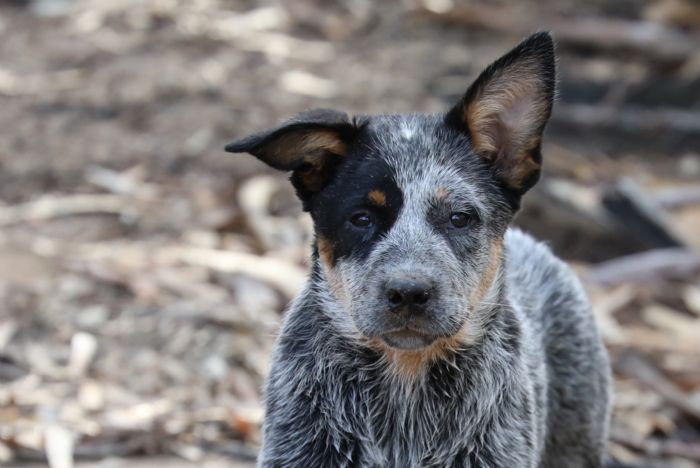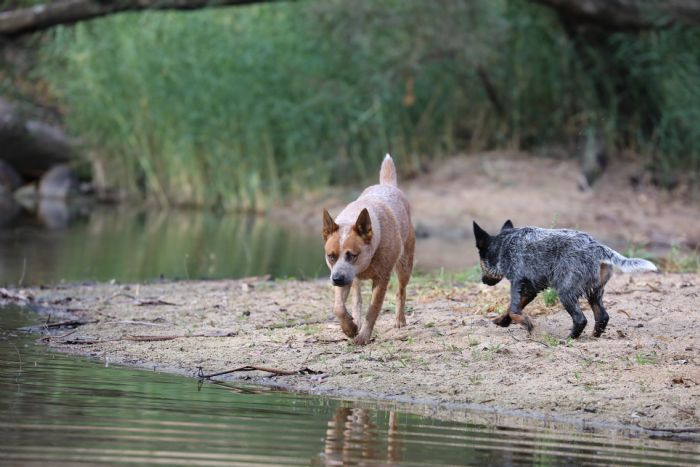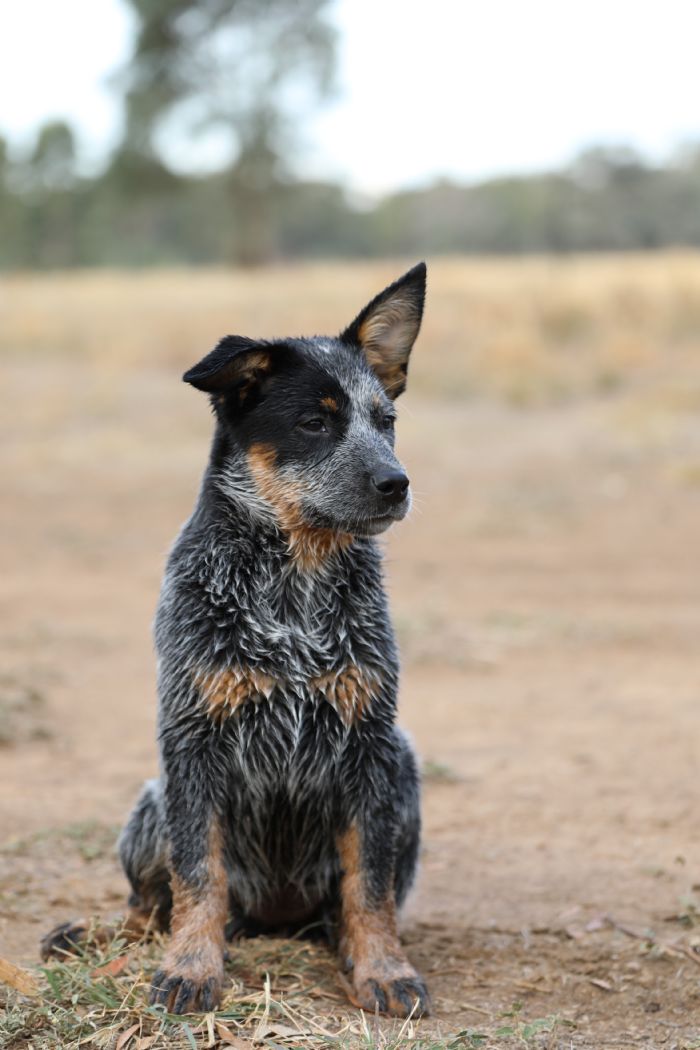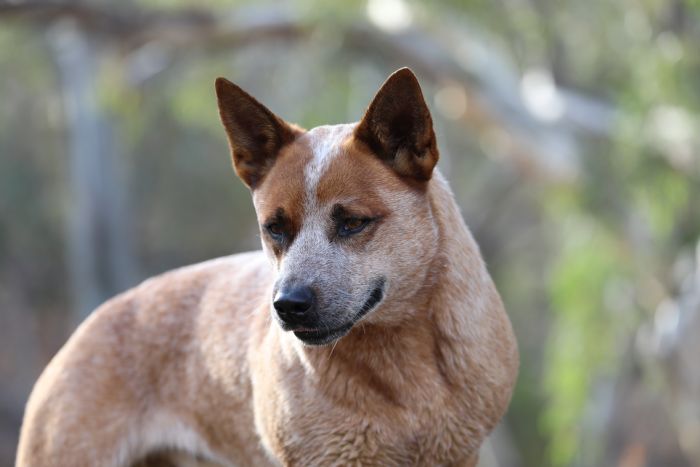 11th April, 2019
Koha is one of the Pyro x Tess pups and he is learning all the cool tricks
He is also such a good puppy around the cats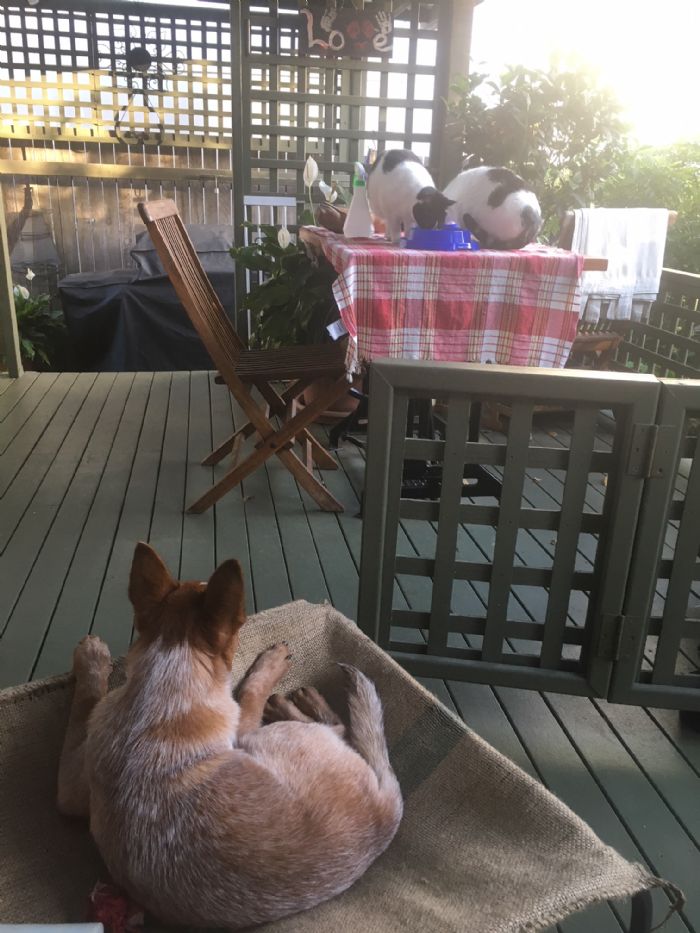 27th March, 2019
​Ella, litter sister to Ace & Bindi, has hit the ground running at the 600 head Angus stud she is living on. 8 weeks old and already out amoungst the youngstock.
25th March, 2019
Ace & Bindi are real water babies. They love heading down to the creek and are very adept swimmers!
22nd March, 2019
The Breaker x Skye pups have left home. Well, 3 of them while Ace & Bindi are staying.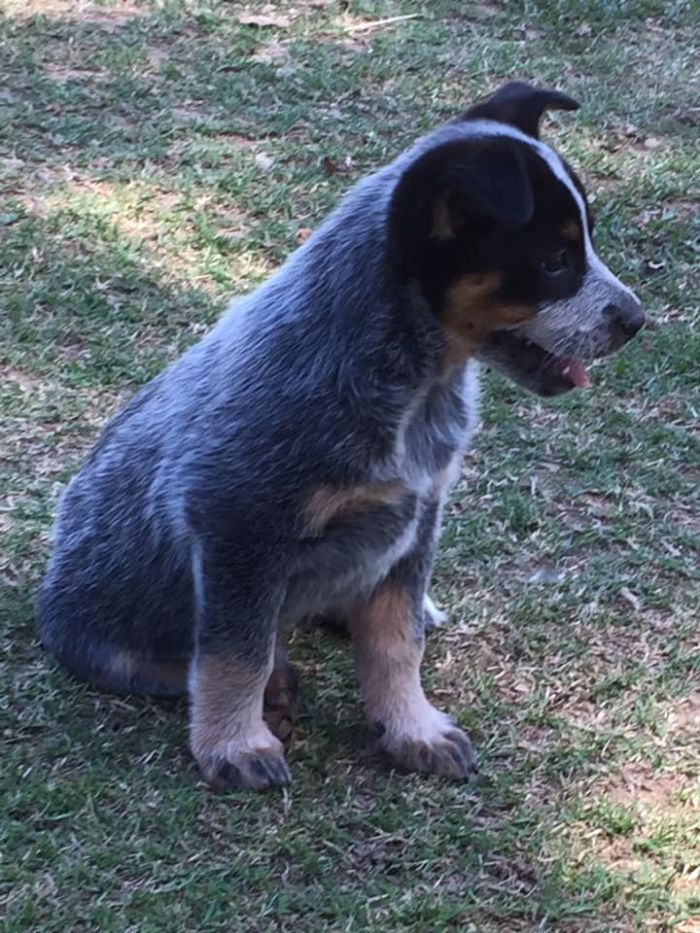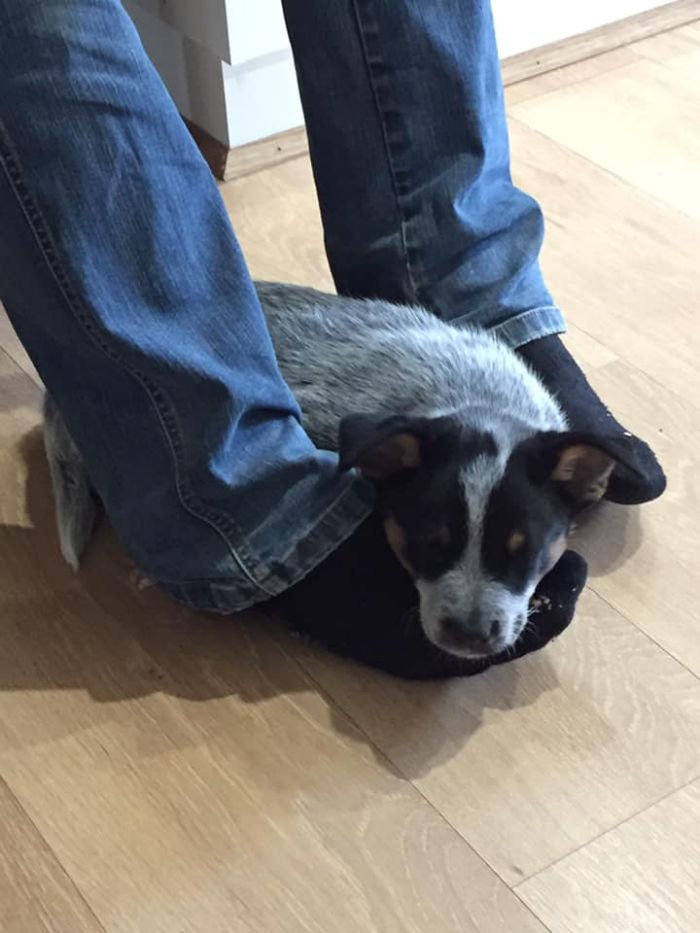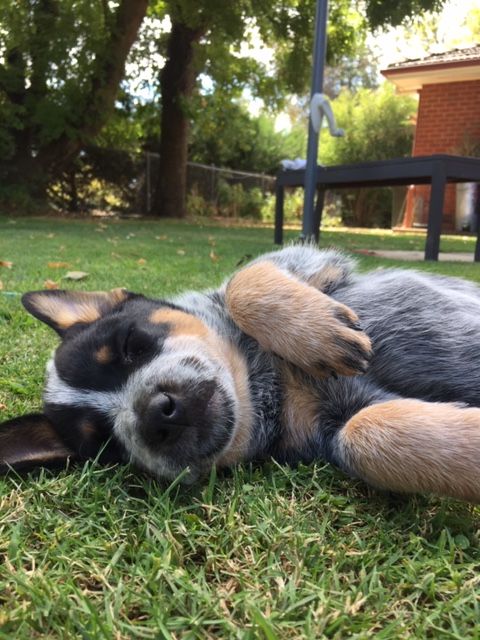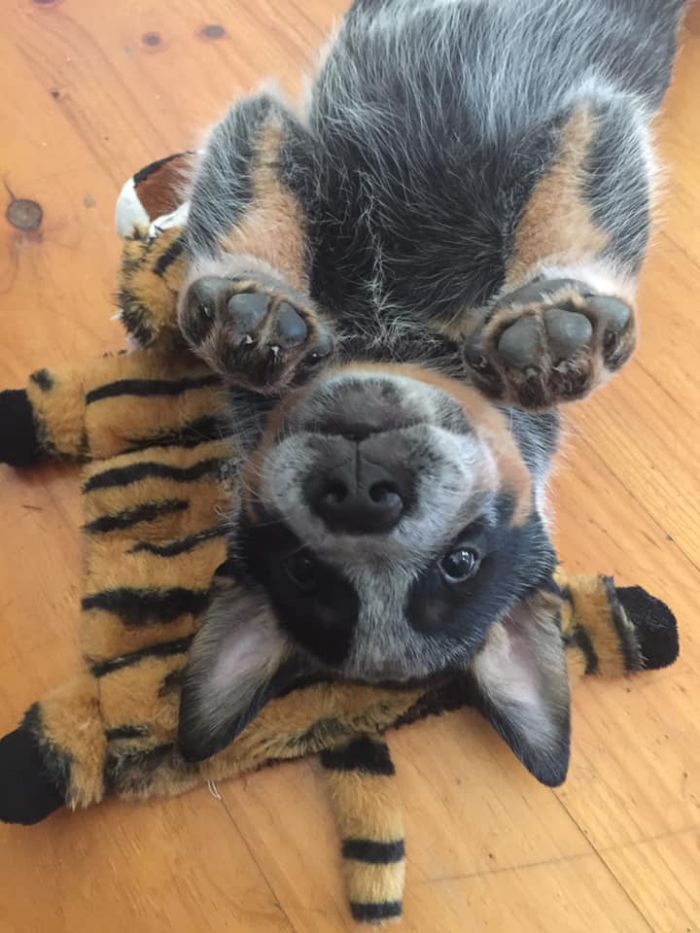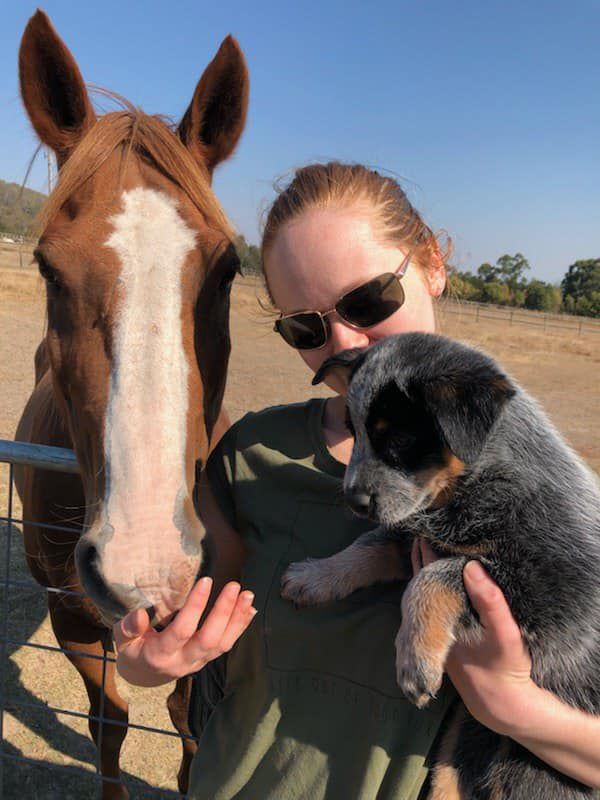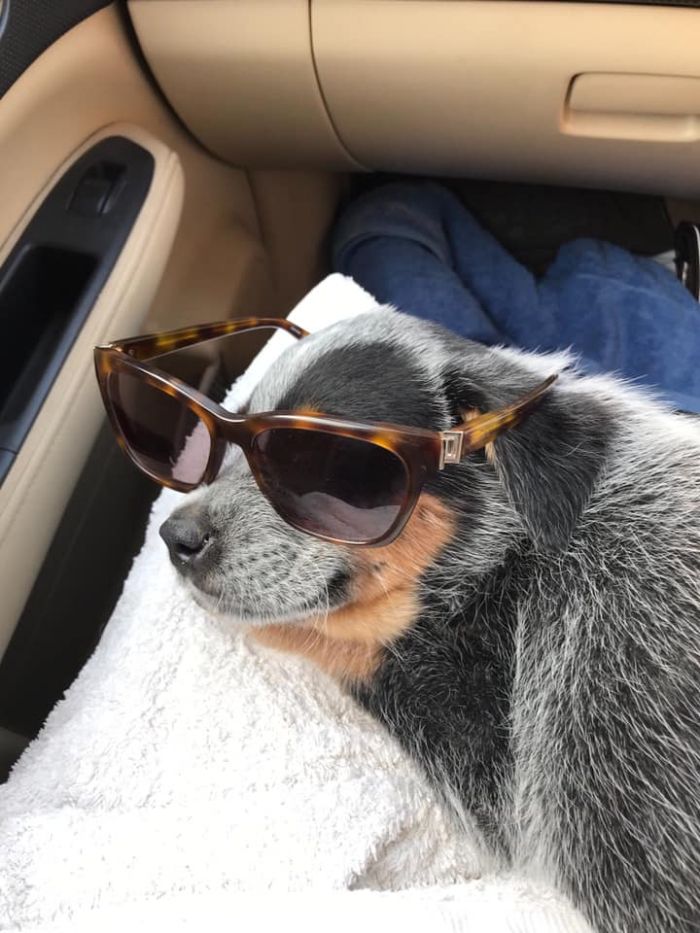 Scott last year gave Ruby a home (Py x CJ) and he is so impressed with her that they have given 'Tess' a home too! Ruby helps with the sheep, so sensible around the horses and apparently just a delight to live with. Hopefully this young girl lives up the the high bar Ruby has already set!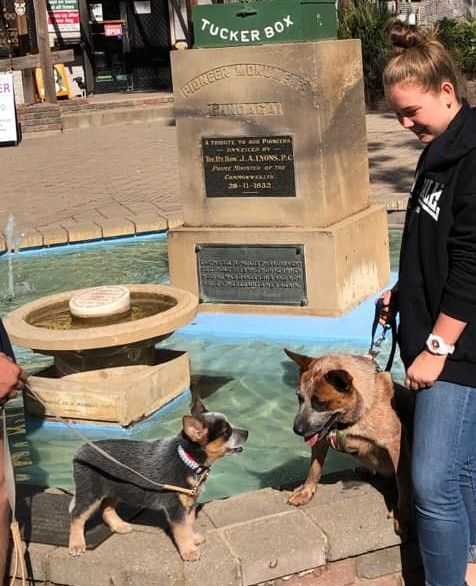 Bindi is staying and she is such a sweet pup.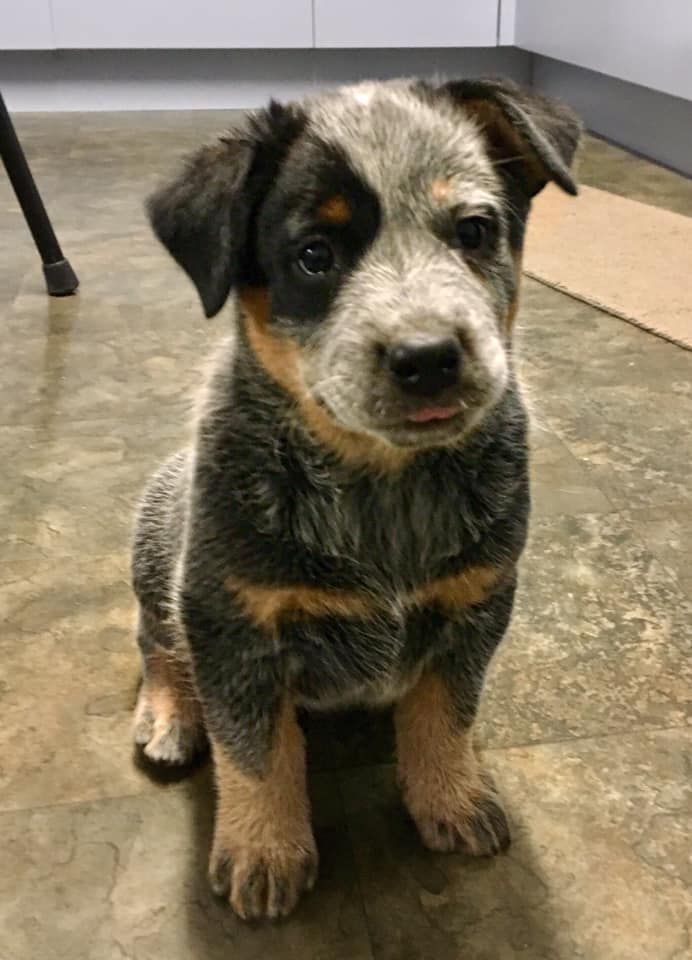 Ace is staying until I can find someone happy to co own him, so I can use him at stud down the track. He is such a handsome puppy who loves hanging out with people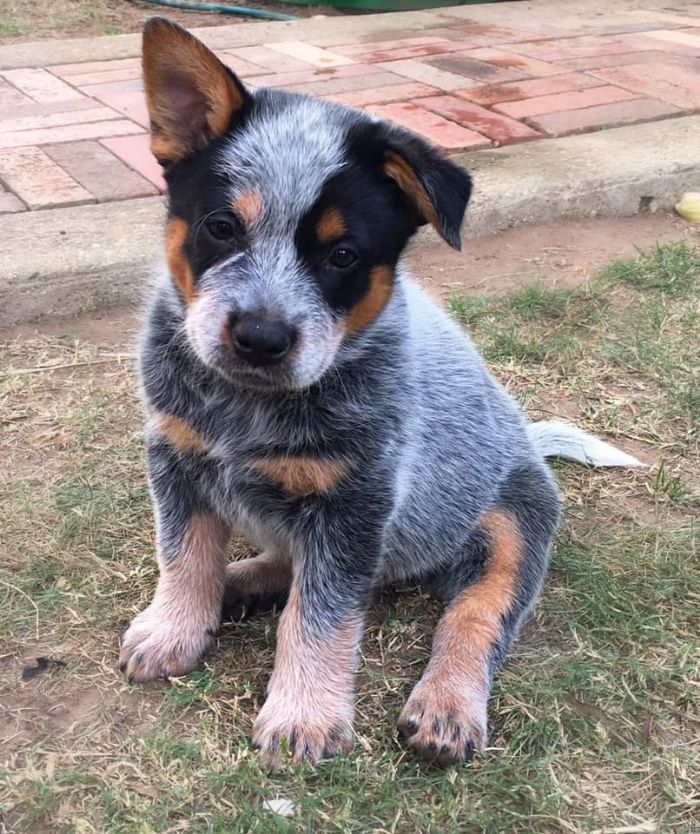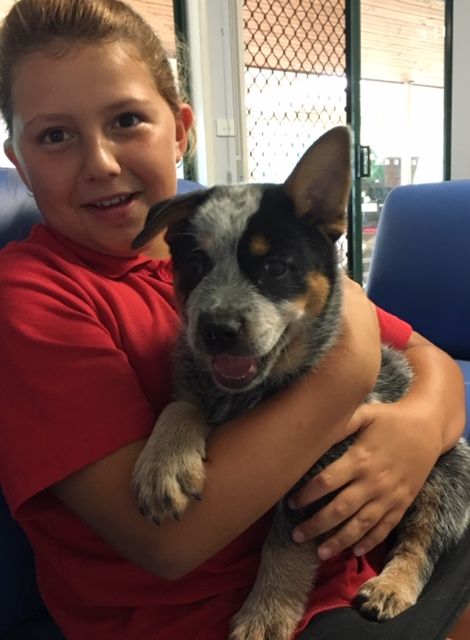 19 March, 2019
Pyro is growing into a handsome dog. Not quite 2 years old yet, but even after siring 2 litters he is still a social, very non aggressive male stud dog.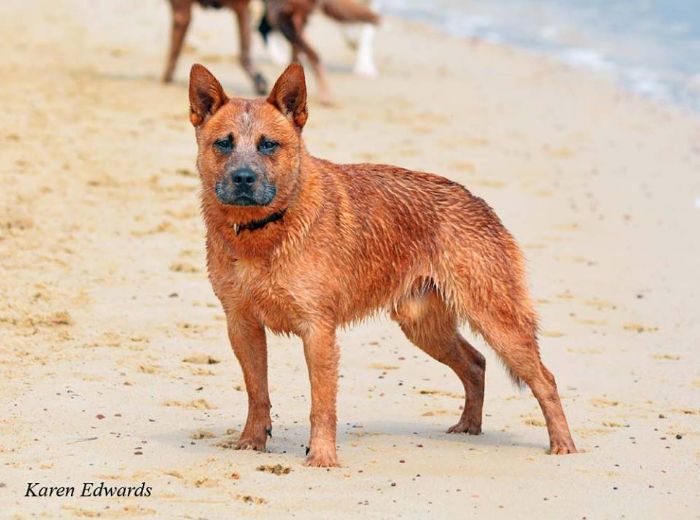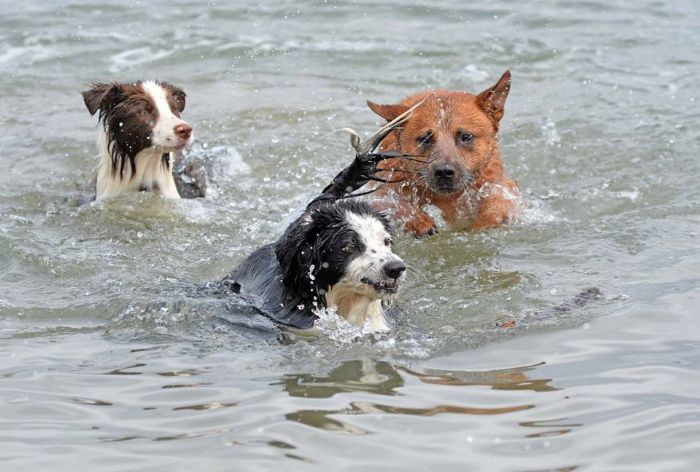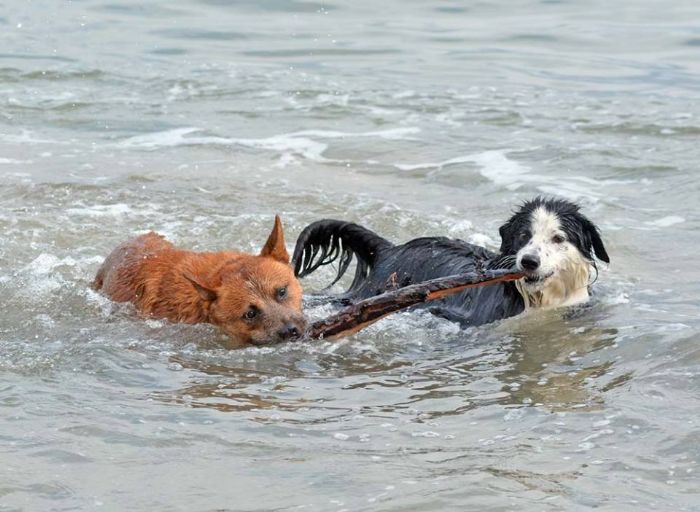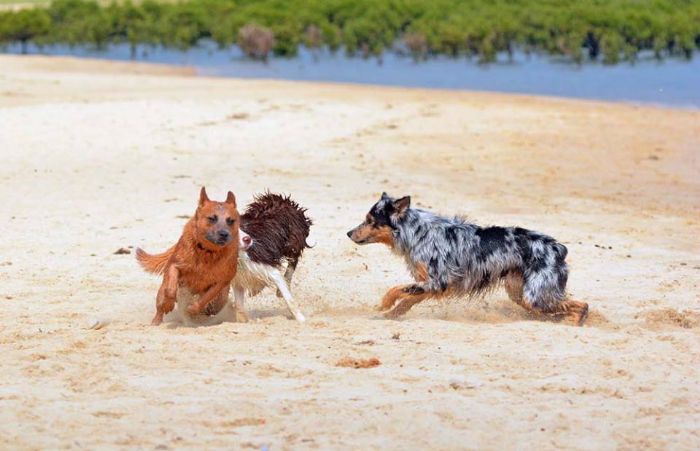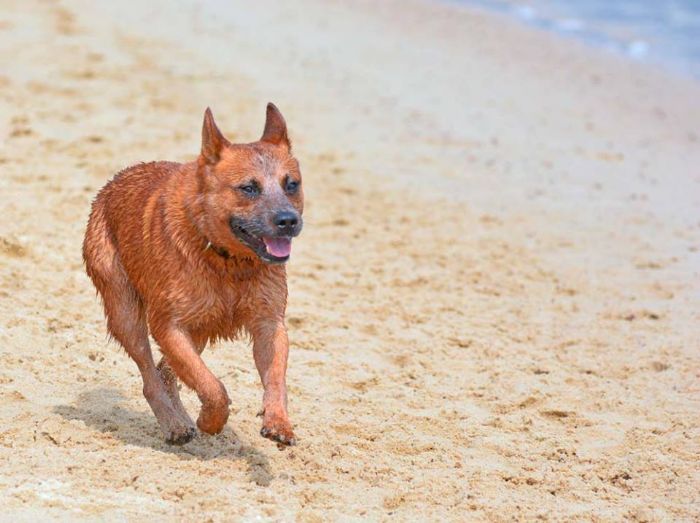 25th February, 2019
Skye's pups are now 4.5 weeks old. So happy with them! I've decided to keep both a boy and a girl. I havent taken deposits for the remaining 3 yet, but will be sorting out homes soon for them.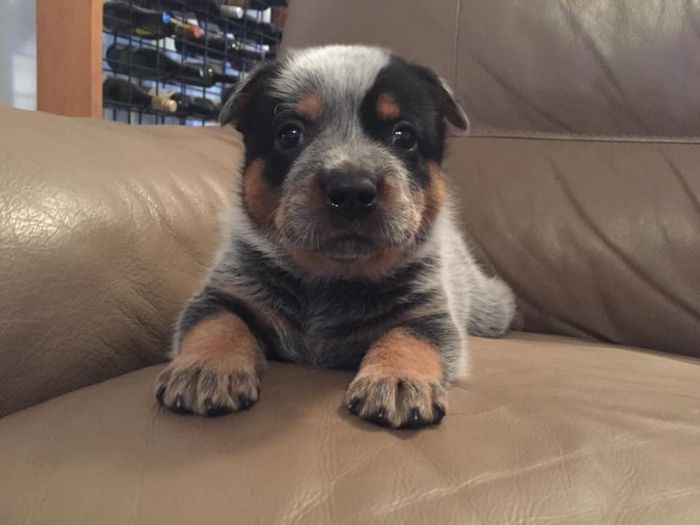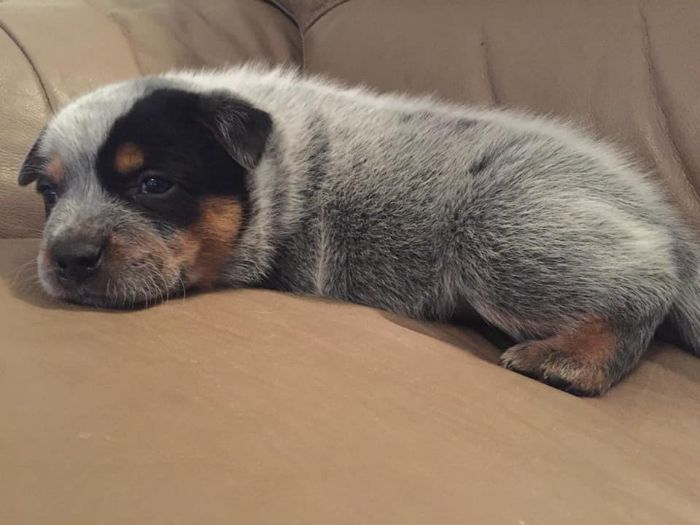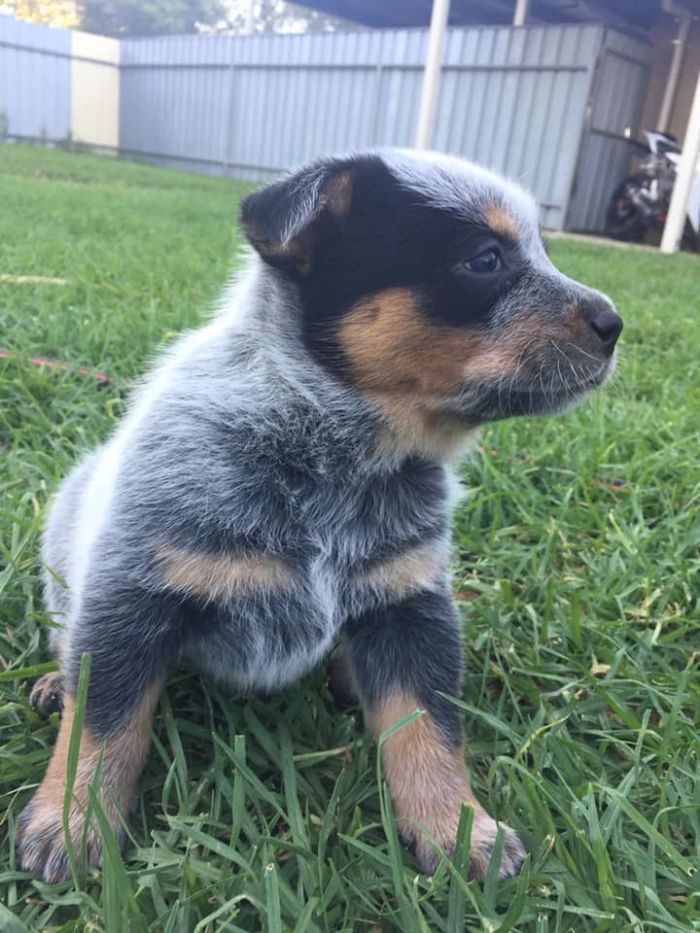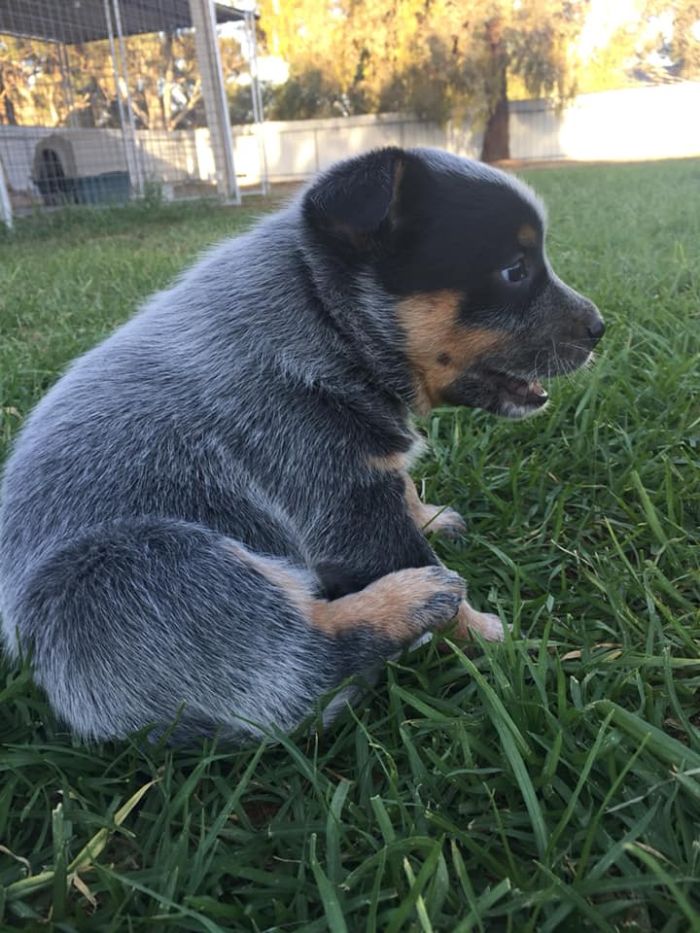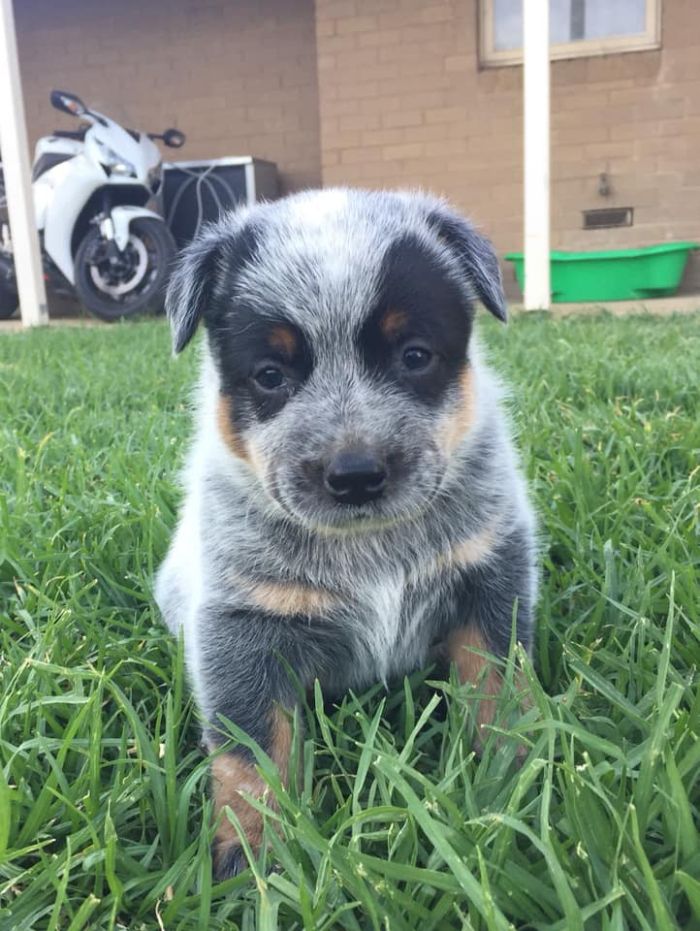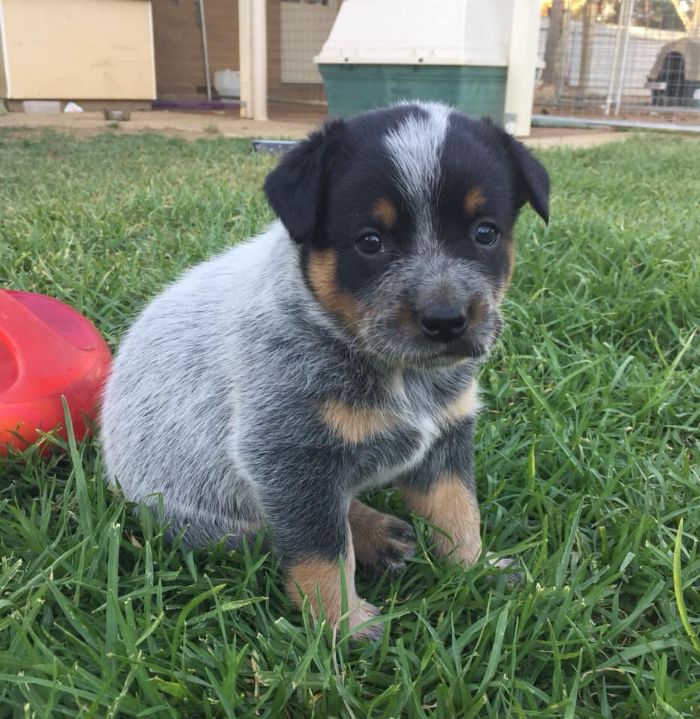 18th February, 2019
Kelly & Esme went to a clinic run by the Victorian Cattle Dog Trialling Association over the weekend. They are the first 'heelers' to ever attend anything with this club in living memory. They both did super.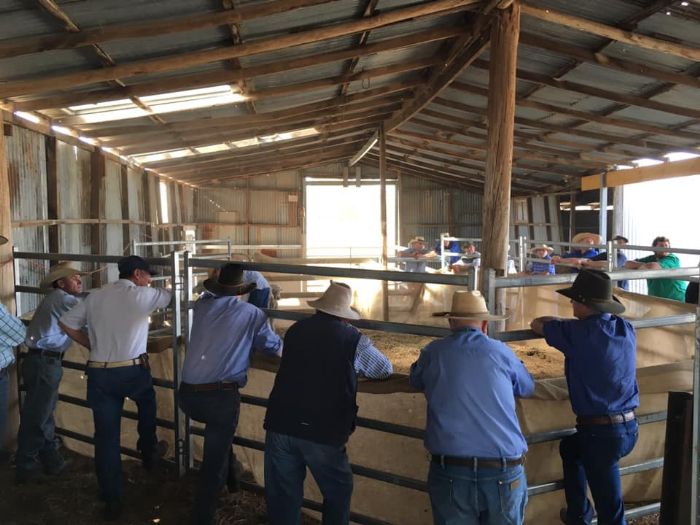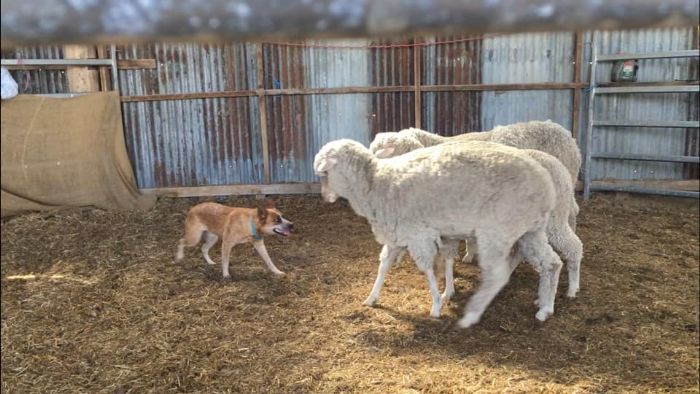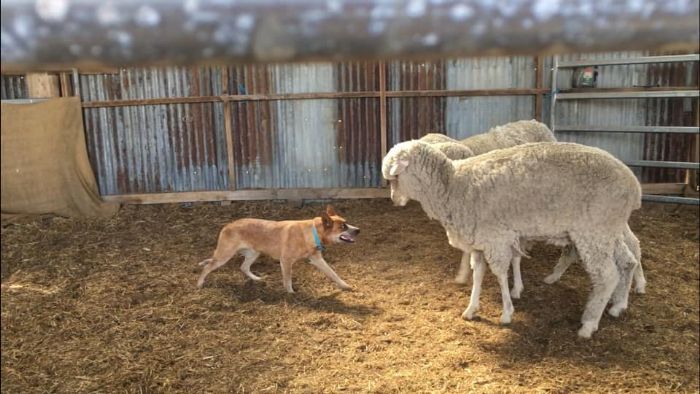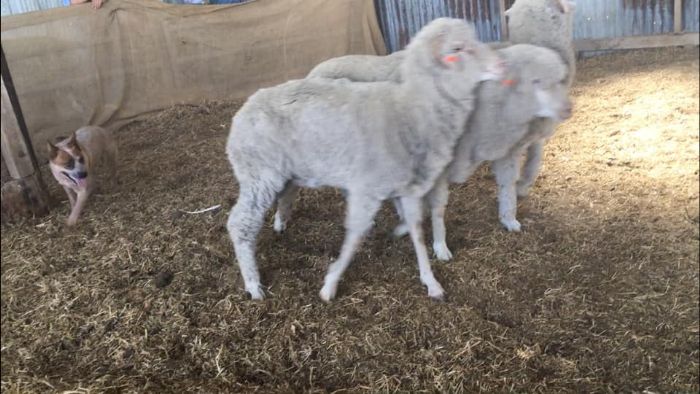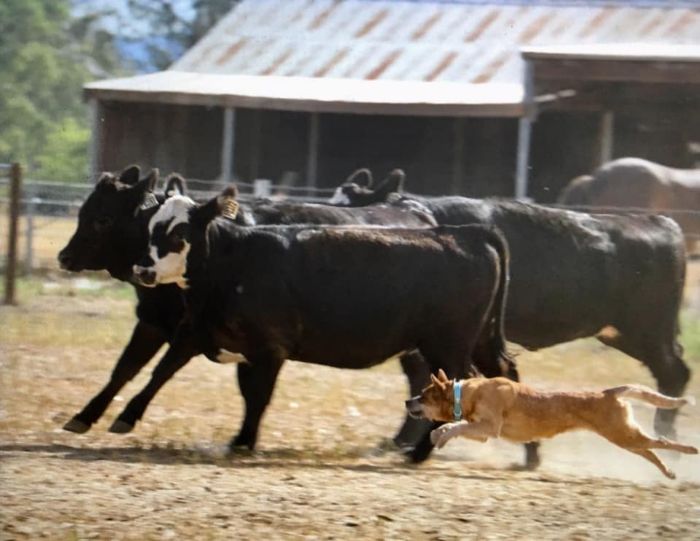 13th February, 2019
Puppy school graduation for Holly - a daughter of Esme & Jake. She looks so much like Esme when she graduated from puppy school.
12th February, 2019
The red boys from Tess & Pyro have 1 week until they head to their new homes. They have been so much fun to have - very sweet like their mum and a great sense of humour from their dad.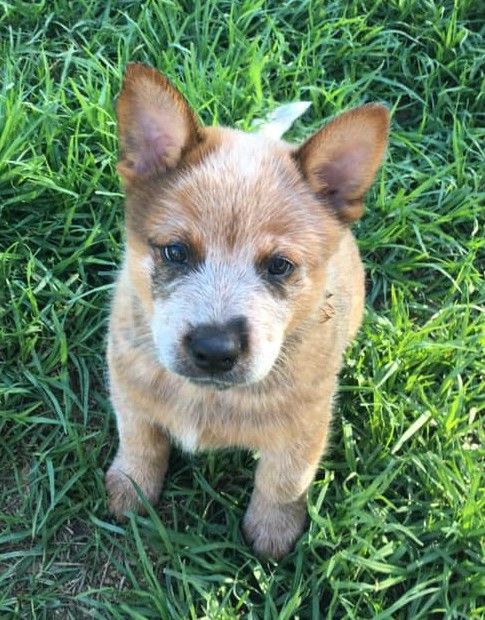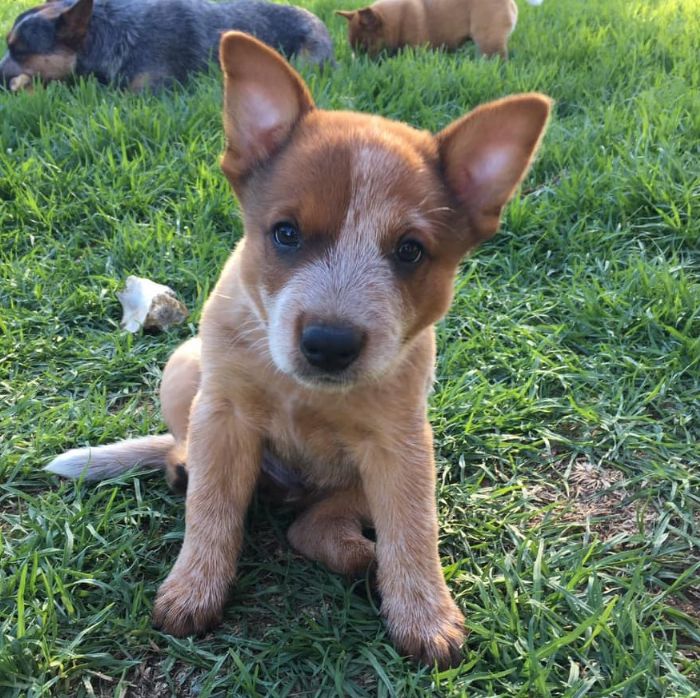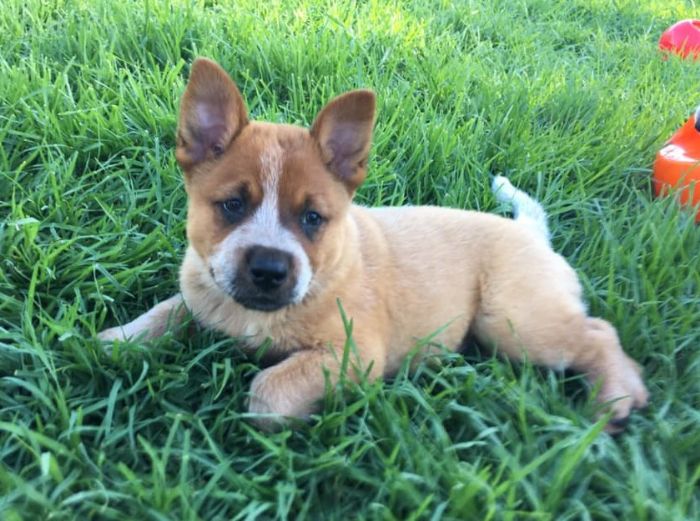 Skye's pups are now 2.5 weeks old and its so nice to have a blue litter again.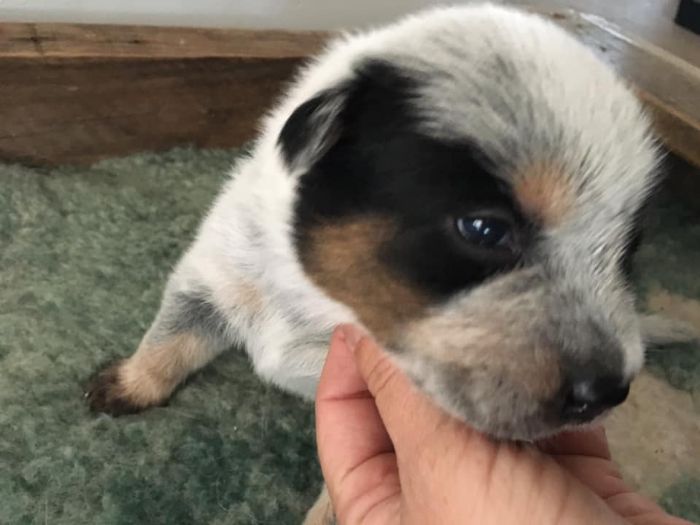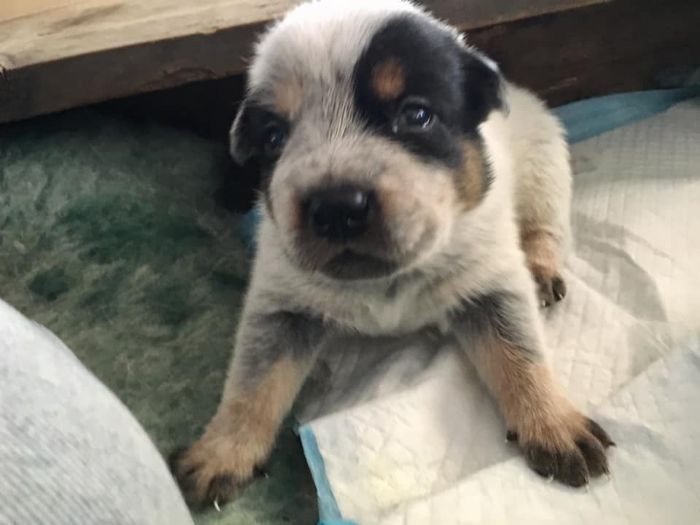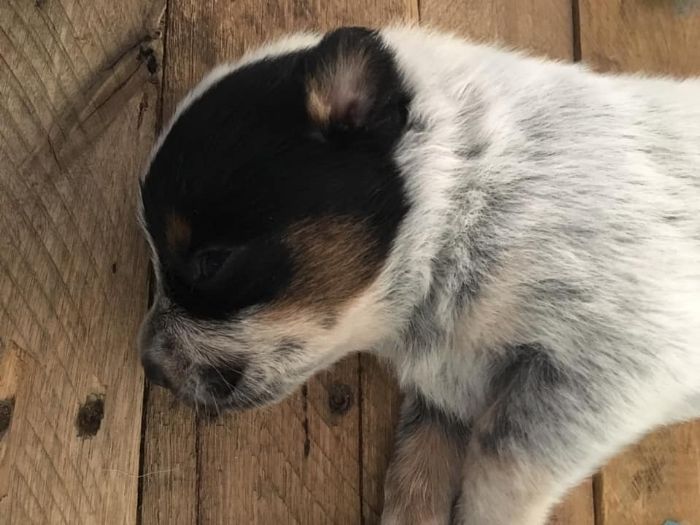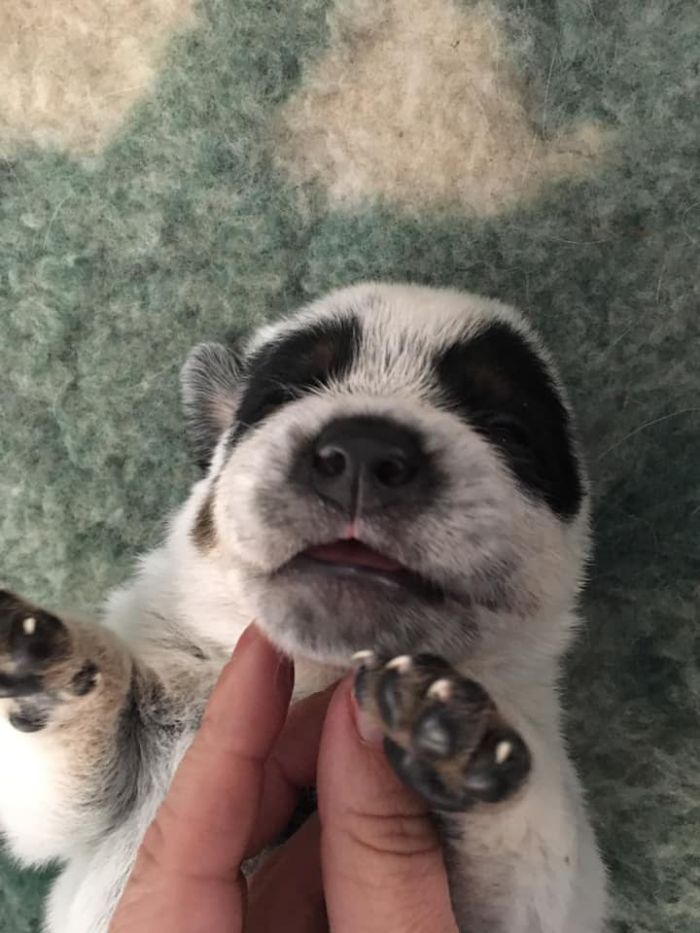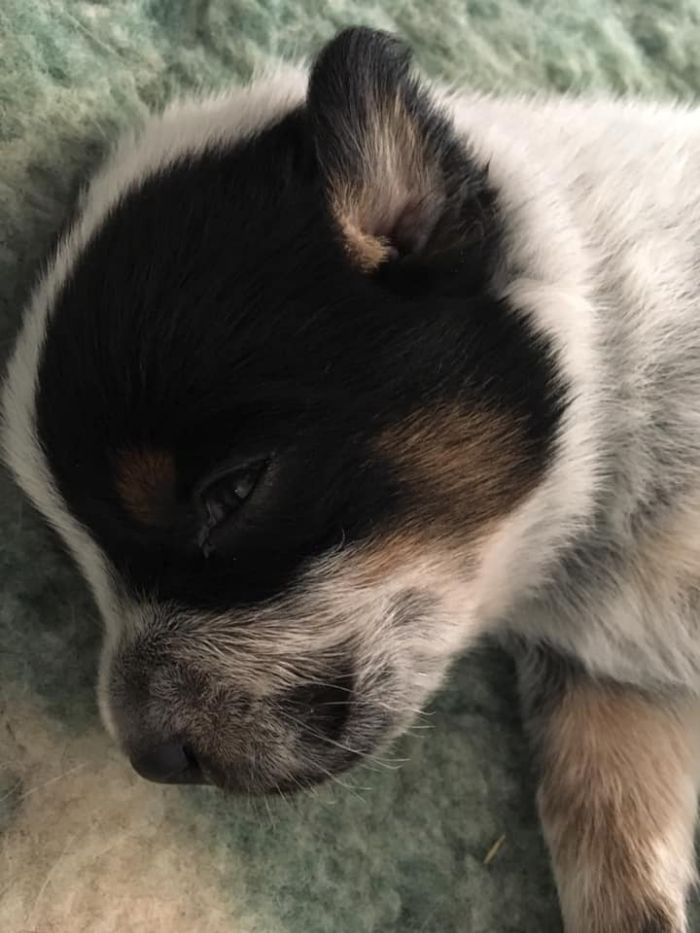 10th February, 2019
Karen had this stunning drawing done of CJ.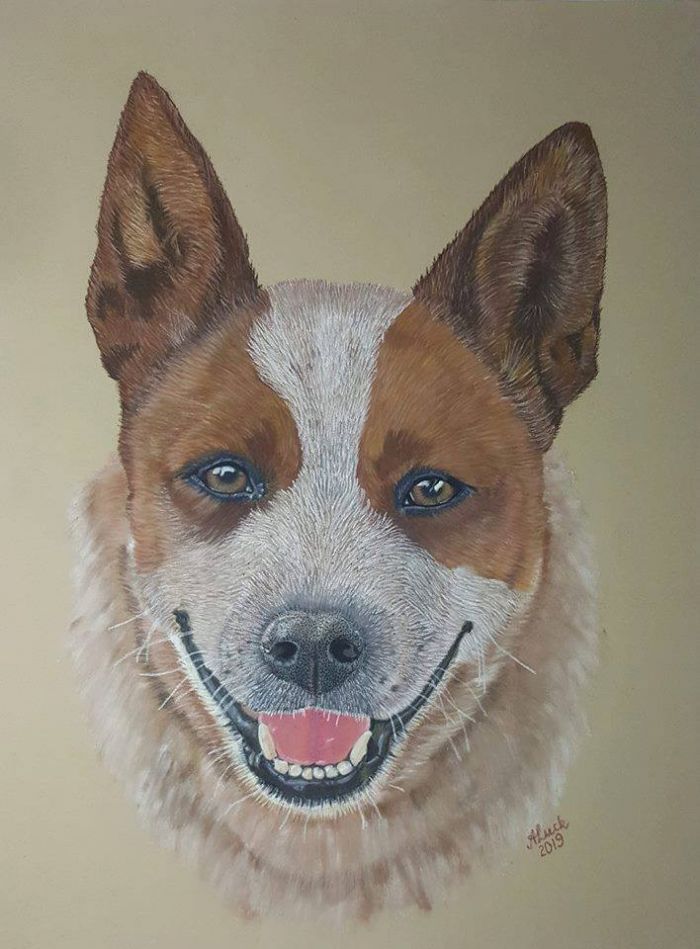 29th January, 2019
CJ is back in training and has been used on some recalcitrant sheep which were standing up some softer dogs. It would take a brave sheep to take on CJ!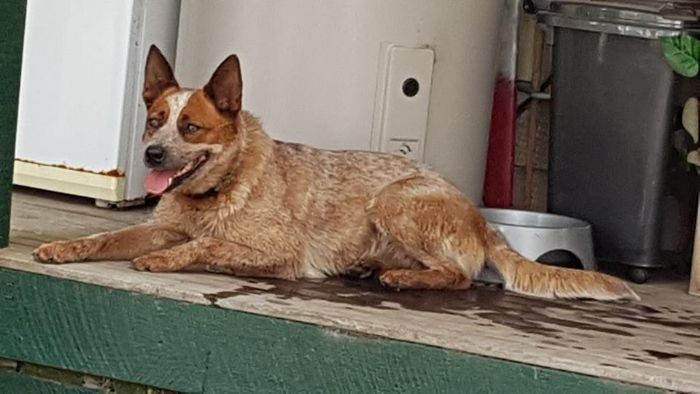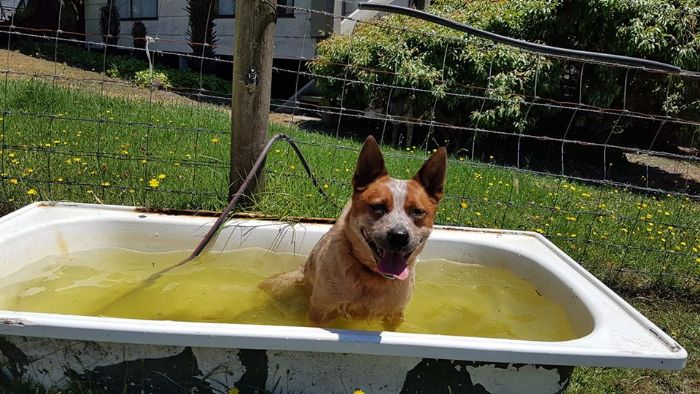 27th January, 2019
Tess & Pyro's pups are the funniest guys. 5 weeks old and already jumping in and out of their kiddy pool, racing around the backyard and using puppy pee pads inside. With Tess as their mum they should grow to be very sensible, smart boys.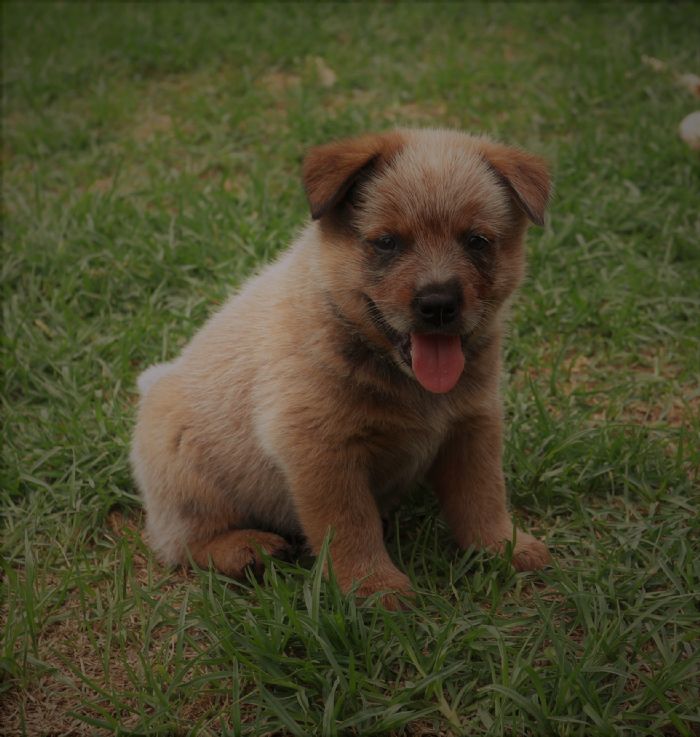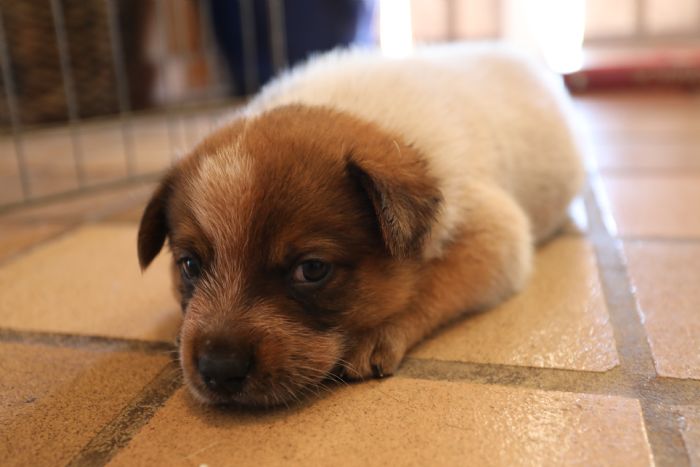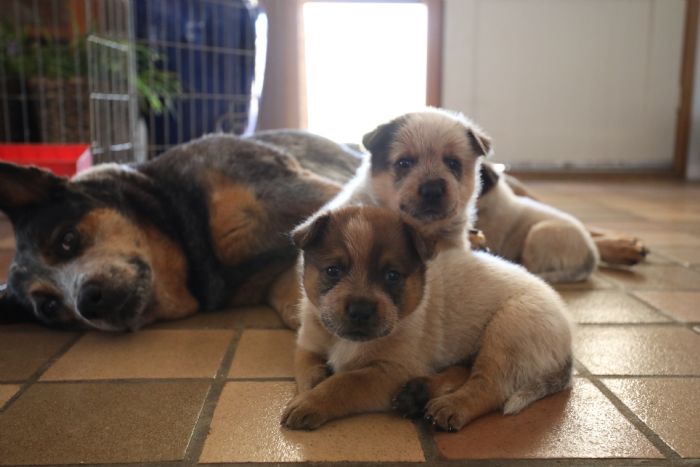 24th January, 2019
​Skye had her beautiful pups to Breaker - 5 puppies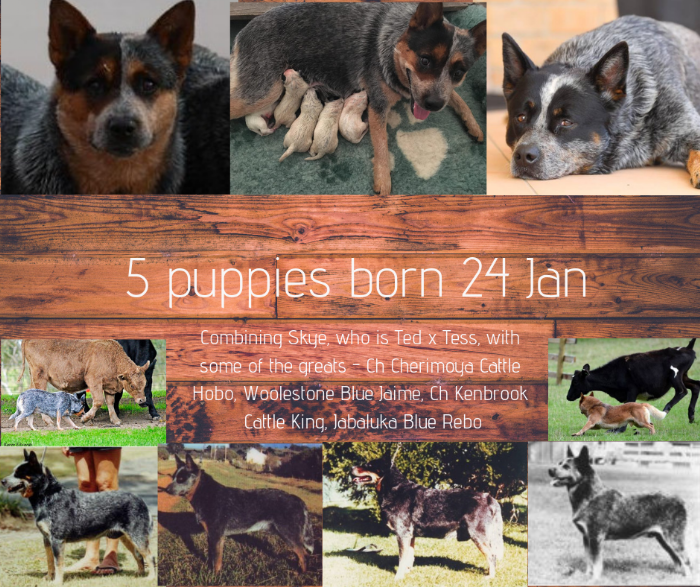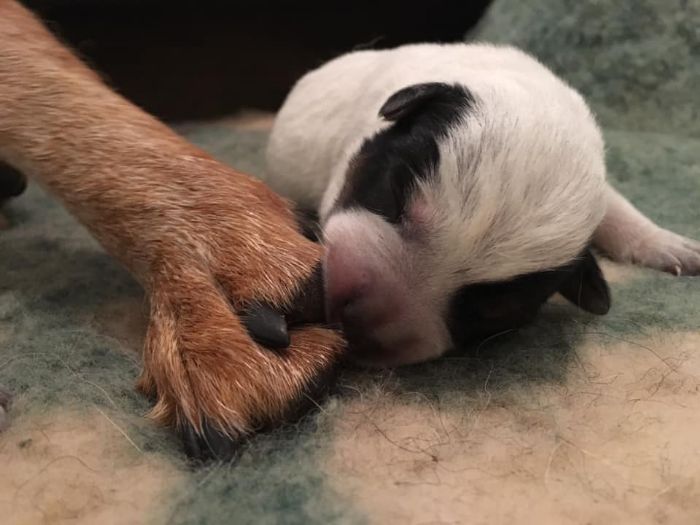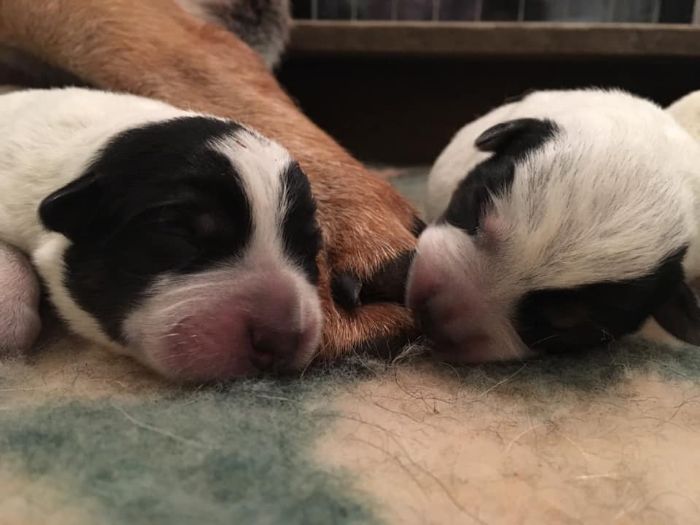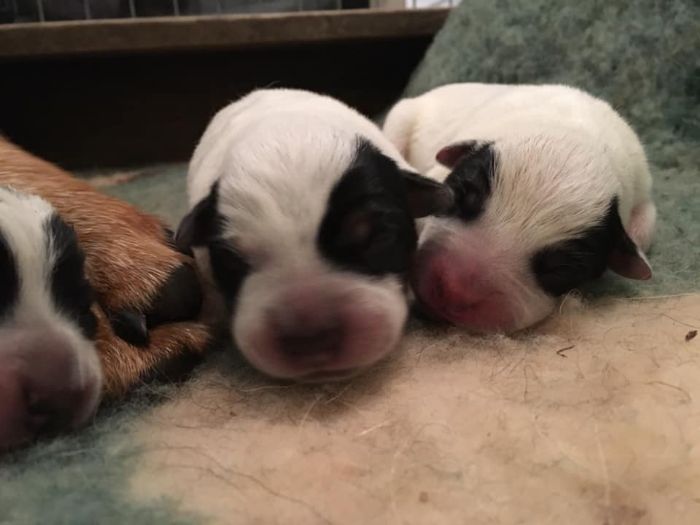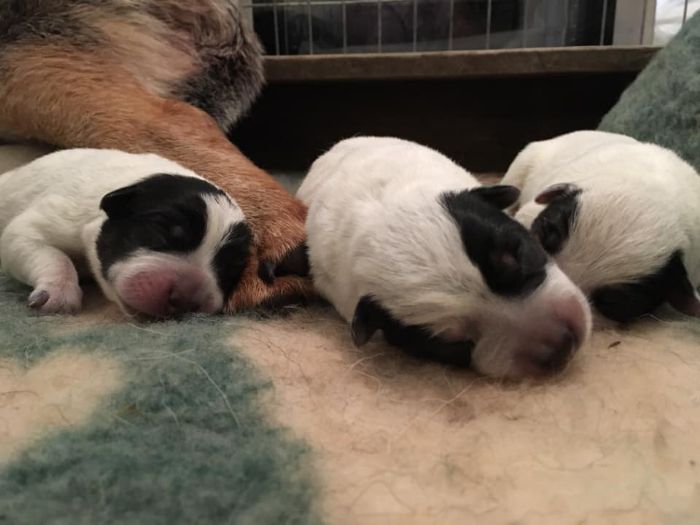 Not only am I breeding Australian Cattle Dogs, I am now enjoying the Australian Stock Horses. I am still a registered Thoroughbred breeder, but haven't had horses in my life for a number of years now.
I had a positive pregnancy scan for Dani - Chalani Chardonnay! I have always loved the Heritage Australian Stock Horses, and with Cooper the black horse also with Chalani bloodlines, he is by Chalani Paper Man, it seemed logical to stick with this great line of horses - polo bred ASH.
The beautiful Dani, the palomino and Tempo, who she is in foal to.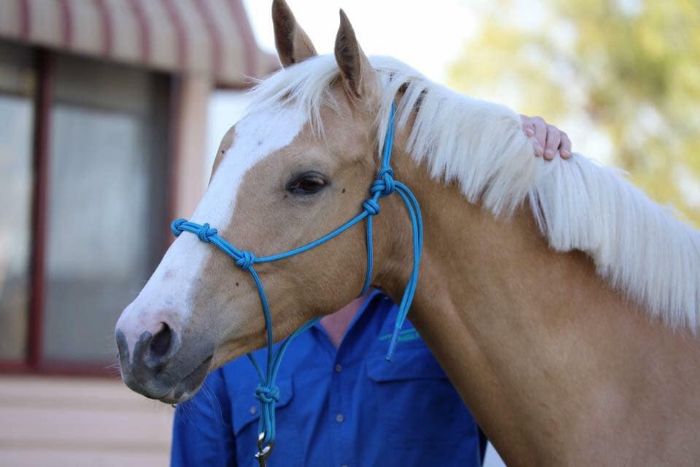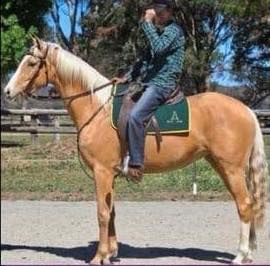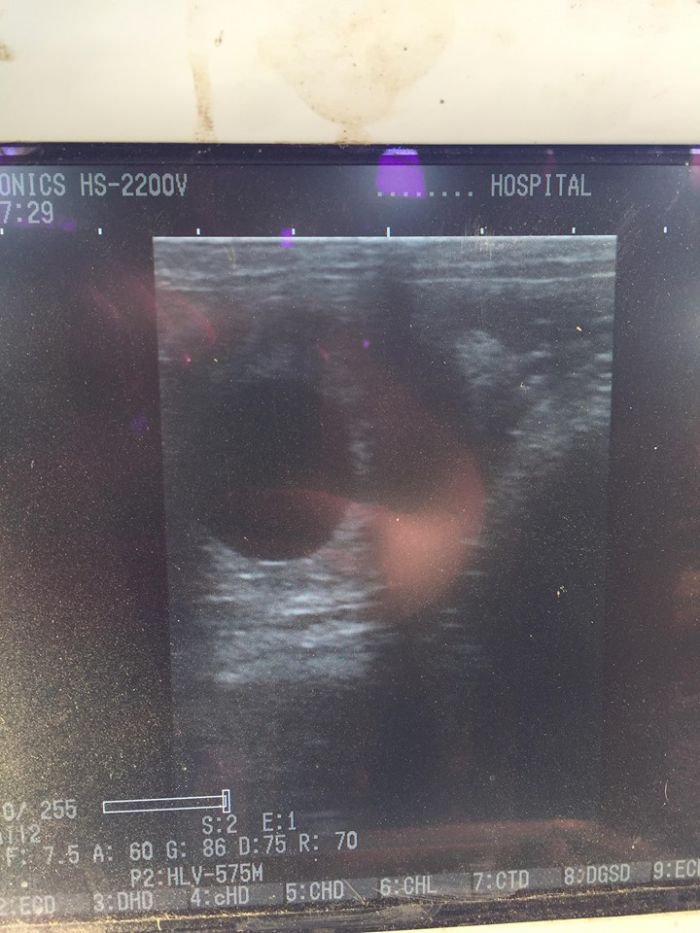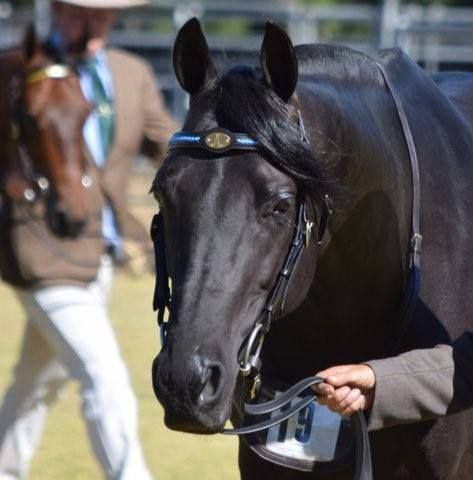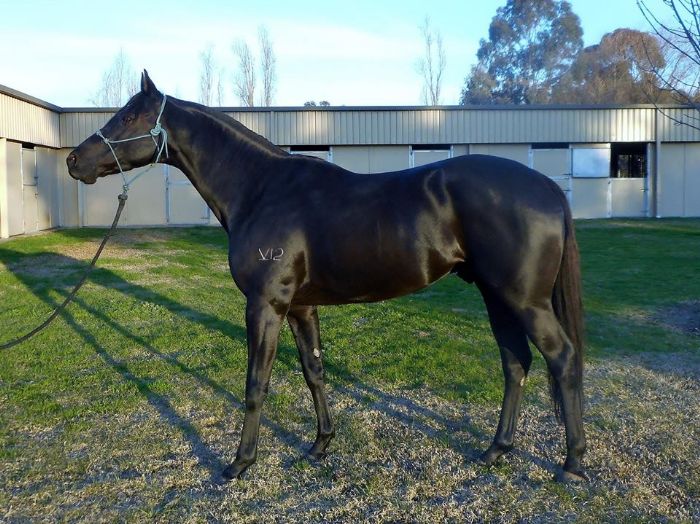 22nd January, 2019
​Mako, just before his first birthday. He is so handsome!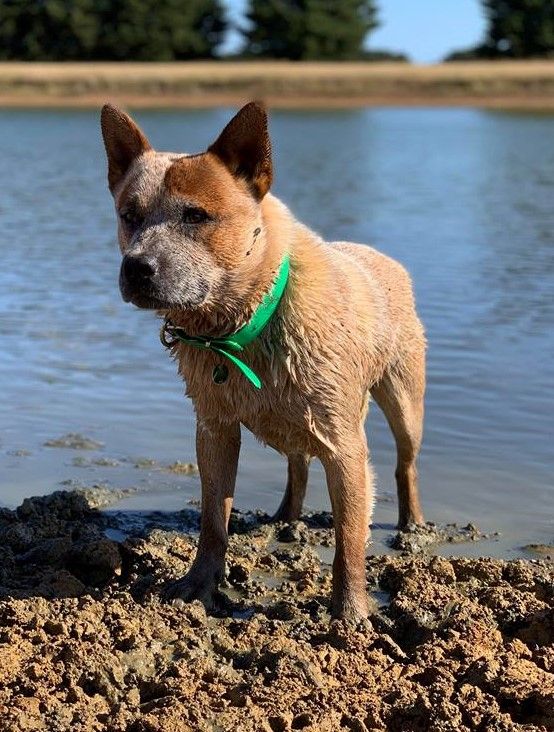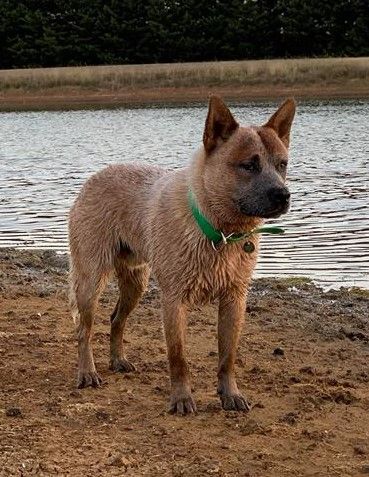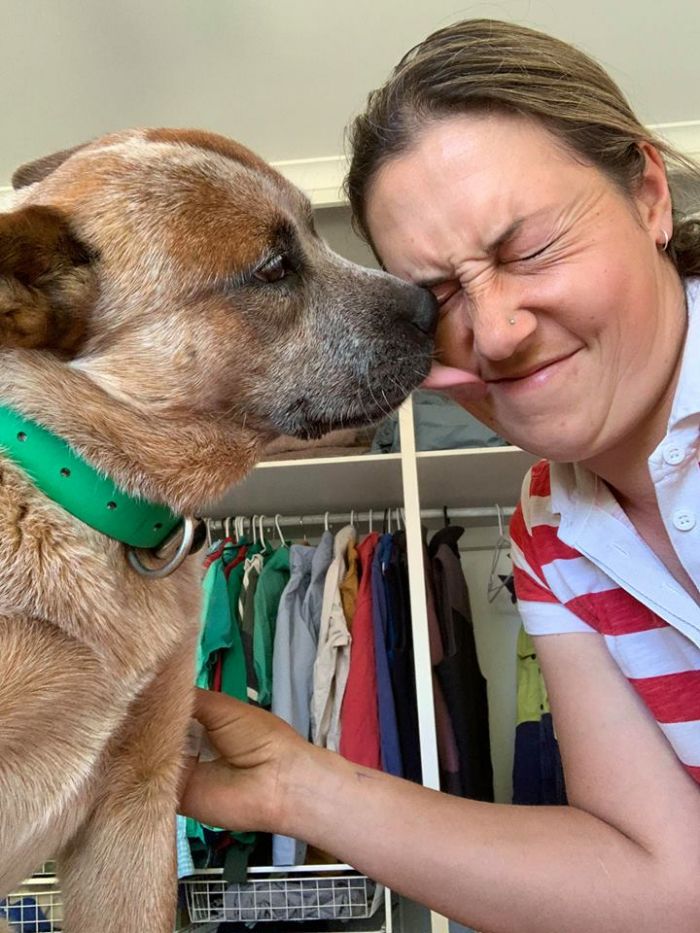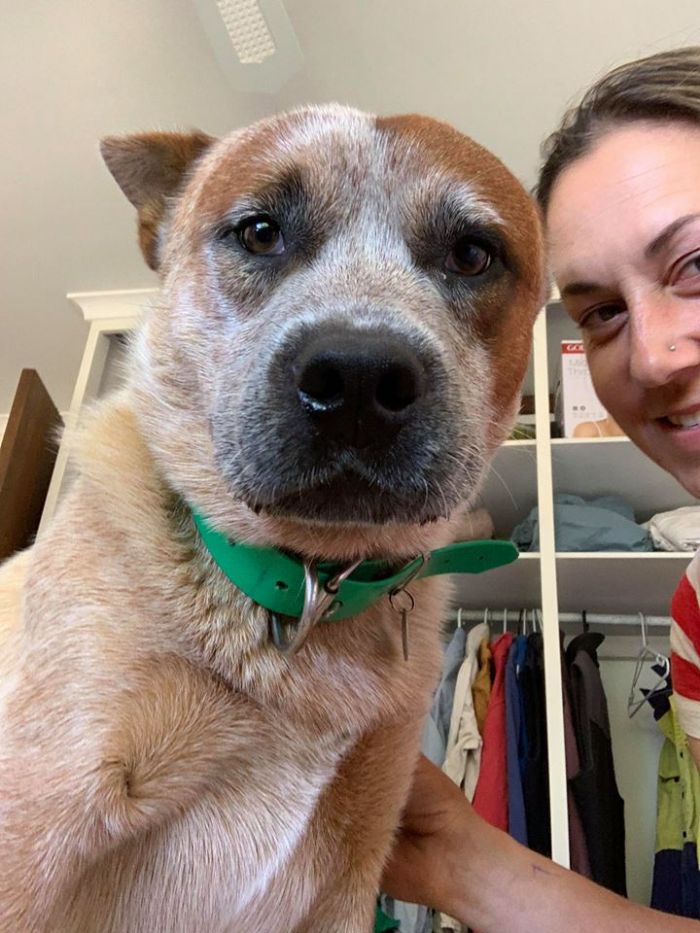 18th January, 2019
Very sad news that Fergie recently died, just pior to her first birthday. Scott, from Mullaway Agricultural, had been teaching her 'on the job' with his senior dogs and she was going so well. It's such a loss as she was shaping into a handy dog.
From Scott - "Fergie was shaping into a good little work dog and a big character. Very full on early onbut I think would have settled with work. Fergie was always looking to please and liked to be with you. She was brave and always sure of her abilities. For an ACD she surprised me by constantly looking for the head of stock to bring them back. Her other ability I was impressed by was her covering of her stock, I think in time her skills could have been enhanced with more work on stock that moved more freely. All in all I believe Fergie had the makings of a very usable work dog on a variety of stock tyes and it is a great disappointment to have lost her so soon"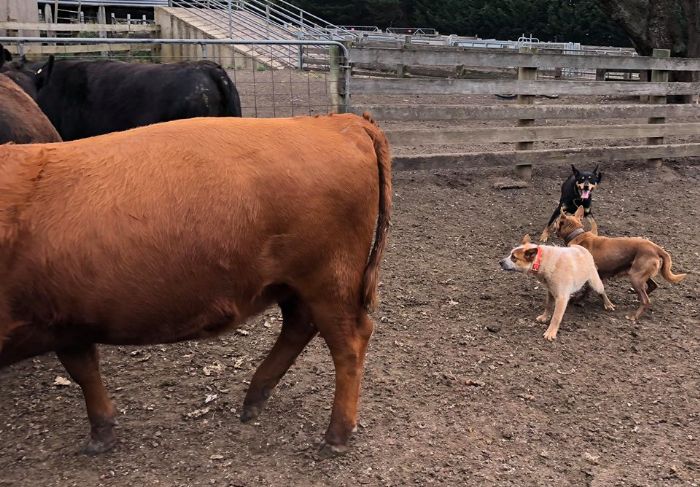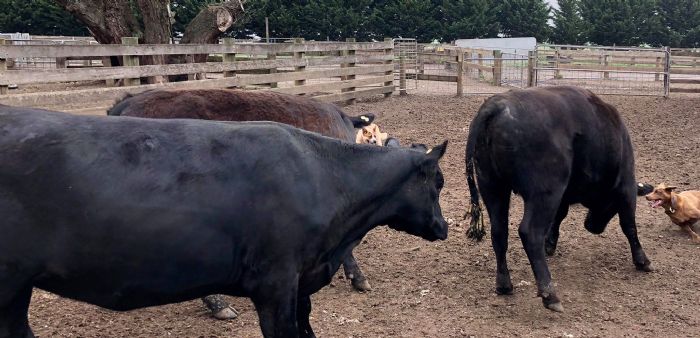 12th January, 2019
Kelly has been out helping with farm chores, moving cow/calf pairs onto more feed. Happy with her ability to stand her ground and bite a nose at a charging cow, and to gather a herd.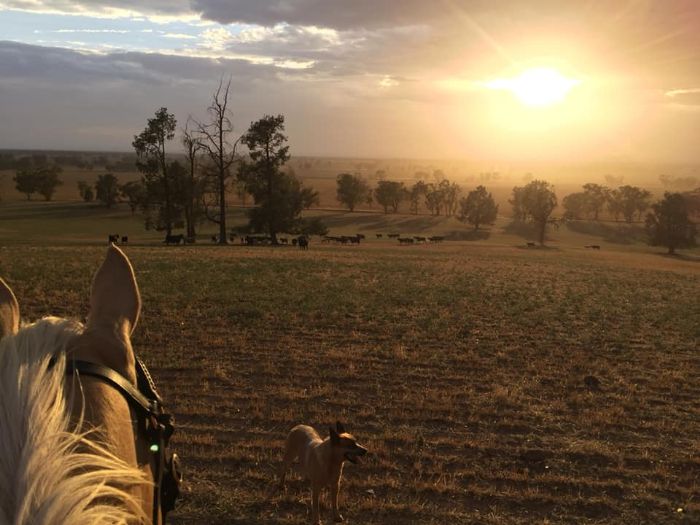 7th January, 2019
Very happy to say Erudite won the Best Australian Cattle Dog Breeder in Australia award, thanks to the Dogzonline pointscore. A HUGE thankyou to my friends who helped make this happen by giving these talented dogs a chance to shine. Really looking forward to this year as the youngsters from last year mature enough to start competing. We have CJ, Esme and Kelly all up in the Intermediate class for A course herding, Skye to begin in Started and to go further in Rally, Bandit to begin his career, Meg to continue with showing and rally, Mako to get serious with his training, and maybe even Lexie to go to Sydney Royal. Jake is having a ball with scent detection work and Pyro is maturing in his work.
All very exciting for 2019. Plus we have the dogs out in working homes with Fergie maturing, Nettie to get a foundation and quite a few more that are getting great reports.
Once again, thankyou to all the wonderful homes!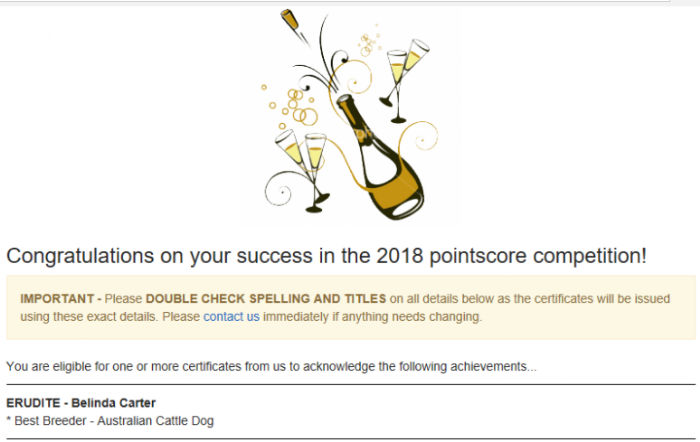 5th January, 2019
Check out Jake learning scent detection work in QLD with Jane from Dogsontrack, by all accounts he uses his nose very well. WIll be fun to see him in this sport this year as it is now recognised by the ANKC.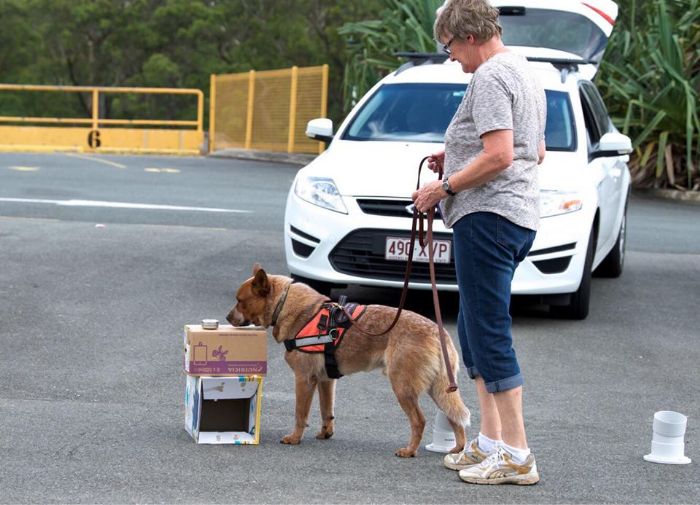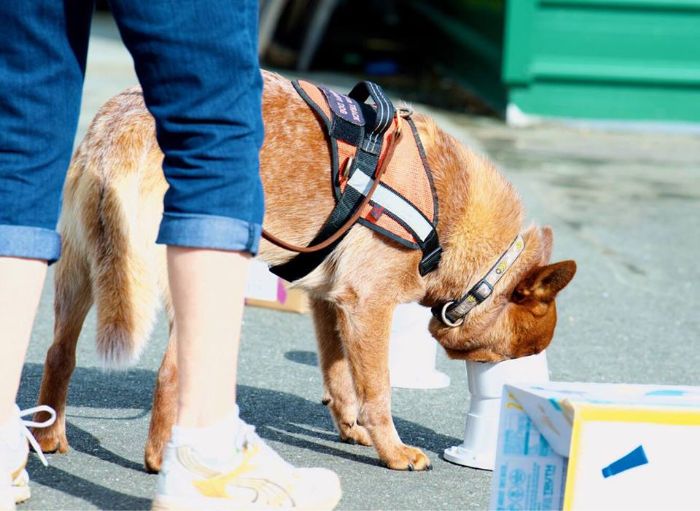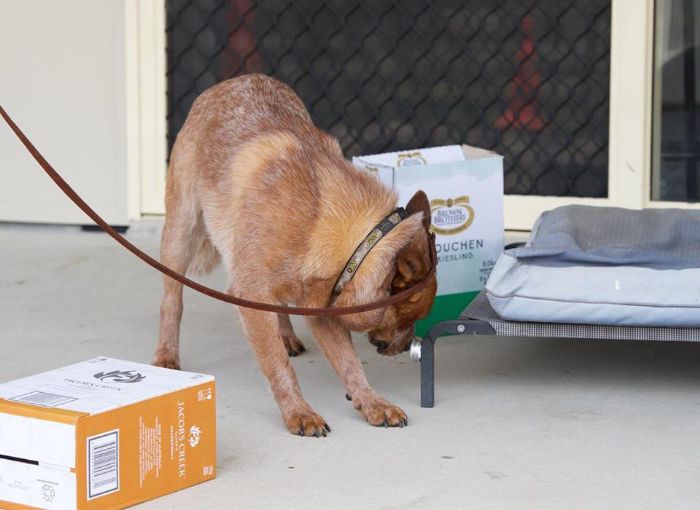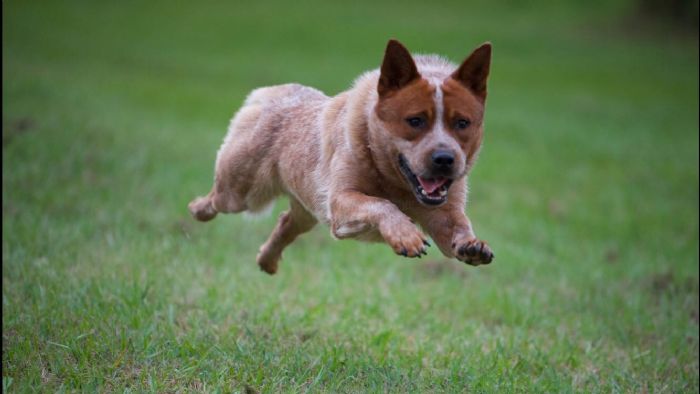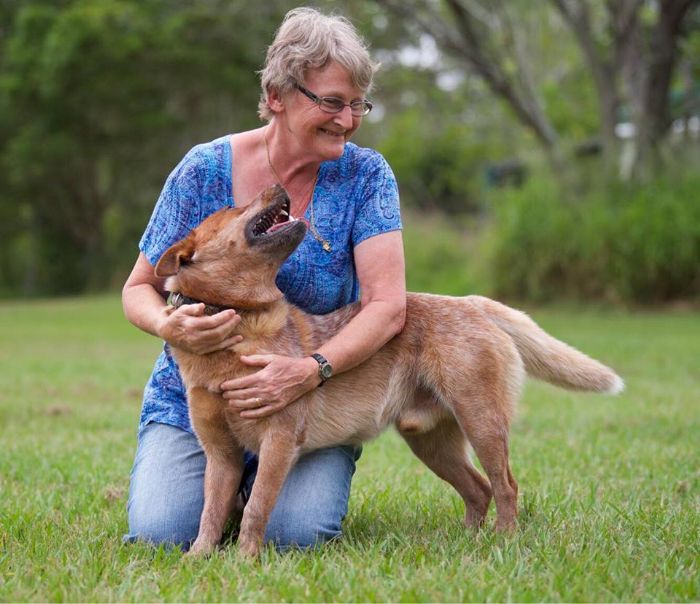 5th January, 2019
Check out the Jake x Esme pups during some of their socialisation exercises. This is great for developing resilience and confidence.
4th January, 2019
The 3 red Tess boys are enjoying the airconditioning while its 47 degrees outside. Home raised pups really do get an awesome start to life.
The biggest pup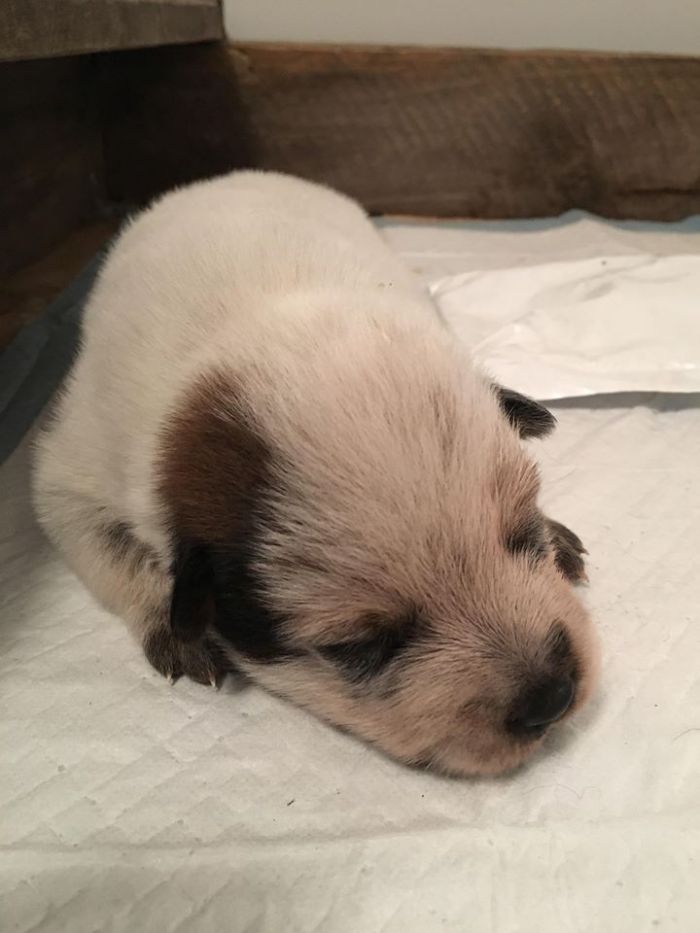 This little boy is so affectionate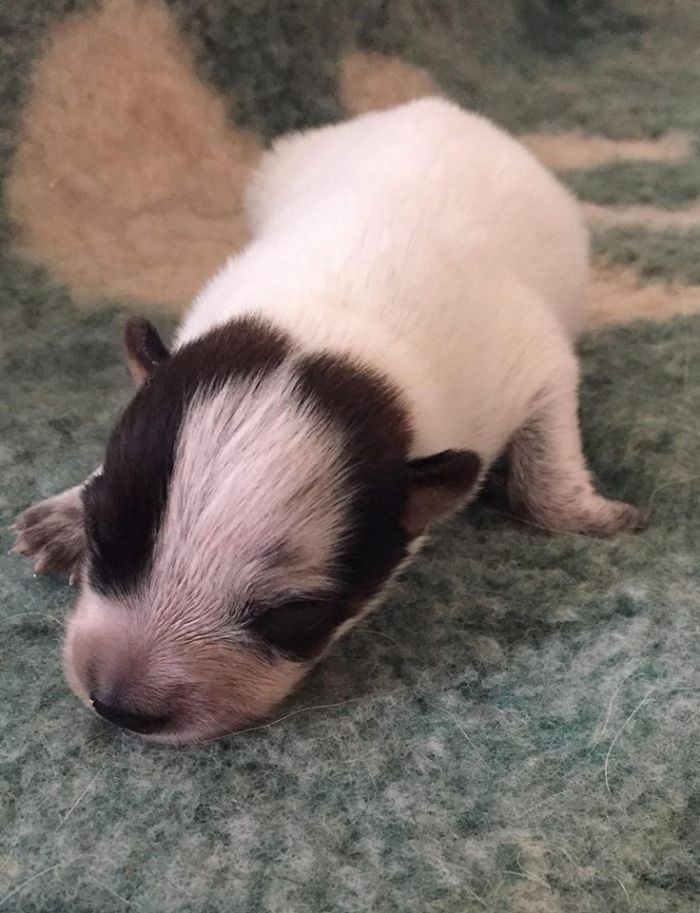 Lastly, this boy is really sweet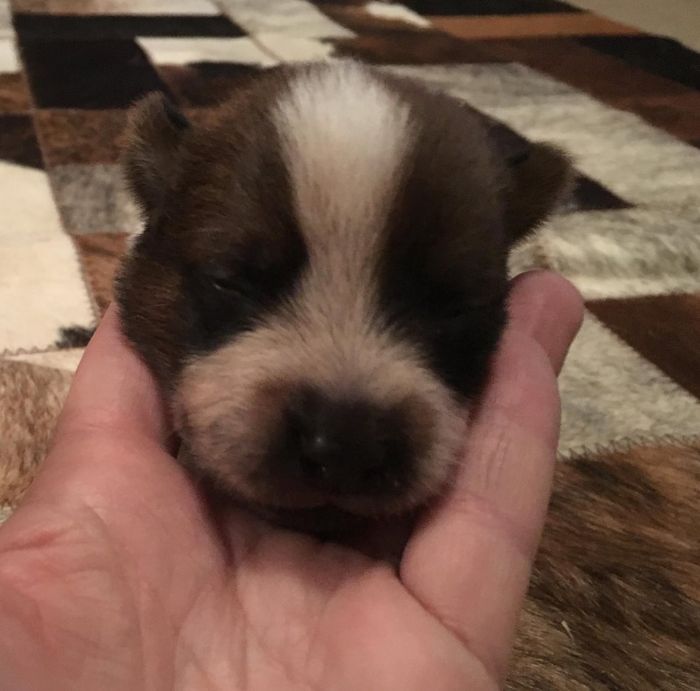 3rd January, 2019
​Lexie is 11 months old now and she turned out just as pretty as I expected. She is a Ted and Kelly daughter.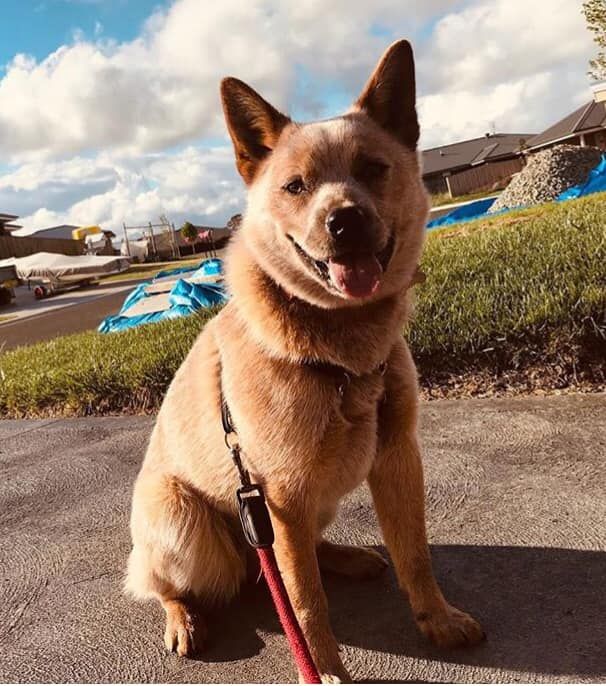 Contact Details
Belinda Carter
Deniliquin, NSW, Australia
Phone : 0438 541302
Email :
[email protected]